Tilar J. Mazzeo: Irena's Children: A True Story of Courage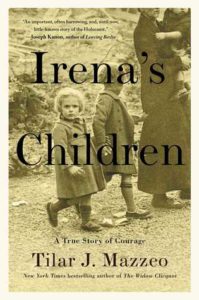 Irena's Children: A True Story of Courage – 9781476778501 – Gallery Books – Hardcover – $26 – ebook versions available at lower prices.
Author Tilar Mazzeo is a terrific storyteller, who took on the task to tell the world about an inspiring, heroic and terrifying story with this book, the true story of one woman who, with a network of associates, saved 2,500 Jewish children from the Nazis during World War II. The main subject of the book is Irena Sendler, who was a young social worker in Warsaw, living in a socially and politically progressive milieu, when the Germans began World War II by invading Poland.
Poland, of course, was quickly defeated by the larger and more modern German army. The conquered country's resources, human and otherwise, were turned toward the use of the German war effort, with hundreds of thousands of Poles used as slave laborers as their country was occupied by a brutal military regime. And the Germans then began their concerted efforts to destroy the large Jewish population of that country. While many Poles opposed the Nazis, with partisans fighting them from the outset of the war, some Poles were active collaborators with the Fascists, and many more simply did their best to survive under impossible conditions.
Some Poles risked everything to rescue Jews from the near total eradication of that community that the Germans sought.
Irena Sendler and a close circle of her friends and work associates undertook what we now can recognize as an heroic effort to save some of the children of the Warsaw ghetto. For almost four years, they took immense risks and dangers upon themselves and their families, to rescue innocents from the horrors they could see were happening all around them.
While everything in this book reads like a terrifying, fast-paced novel, Mazzeo has pieced together a completely true story of unimaginable heroism by many "regular" citizens of Poland. Irena Sendler, together with the help of a network of local people and the Jewish resistance, was able to save upwards of 2,500 Jewish children from likely death in the brutal concentration camps to which most Polish Jews were sent. Irena herself went back and forth into the Jewish ghetto, sneaking children out in a myriad of ways, and then found refuge for the children with local Polish families, convents, churches and farmers.
It was an incredible effort. Irena Sendler knew the terrible risks – she was at one point brutally tortured by the Gestapo – but also knew she could not fail to act.
It is incredible that she and so many of her cohorts survived the war. But then, of course, she and Poland had to survive the takeover of her country by the Soviets, and that meant that the story of her wartime heroism could not be told until long after the war had ended. Mazzeo's effort here to celebrate and tell this amazing story is extraordinary, and much appreciated. Irena Sendler and her network of heroes serves as inspiration and constant reminder that we "regular citizens" must be prepared to face moral choices at any time, sometimes with dire consequences. So many good people were killed in this terrible war.
It is impossible to read this book and not wonder how any of us would have responded then. And of course we must each ask our selves honestly, how will we respond when our time to act is upon us?
I really enjoyed reading this book. It brought up powerful emotions and important questions. Mazzeo is both a fine writer and a terrific researcher, and in this book displays both those talents in full flower. We had a really interesting conversation about this book. There is so much in it I did not want to discuss in detail, so readers will be able to have the full experience of the book for themselves, but we had much to talk about nonetheless.
Tilar Mazzeo is the Clara C. Piper Associate Professor of English at Colby College, in Waterville, Maine. She is the author of numerous works of narrative nonfiction, including the New York Times bestselling The Widow Clicquot.
There's a wonderful portrait of Sendler, written while she was still alive here and a website devoted to her life and story called Life in a Jar.