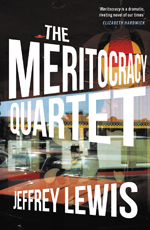 978-1-908323-45-3 – trade paperback – Haus Publishing – March 2015 – 742 pages –  $19.99 (ebook versions available at lower prices)
Jeffrey Lewis has had a really interesting life and career path. He went to Yale, where he was the Class Poet, graduating in the mid-sixties, and went to law school at Harvard. His first career was in law enforcement – he was an Assistant District Attorney in Manhattan. Then he left New York to work on the now famed television show, Hill Street Blues, embarking on what became a terrifically successful career in television and film writing. And then he more or less left television to write serious literary fiction.
In the past few years, Lewis has published a total of six novels. The four that make up the "Meritocracy Quartet" were originally published between 2004 and 2008 – Meritocracy: A Love Story in 2004, The Conference of the Birds in 2005, Theme Song for an Old Show in 2007 and Adam the King in 2008.
Before writing fiction, Lewis won a number of awards including two Emmys, the Writers Guild Award, the Humanitas Prize, the People's Choice Award, and the Image Award of the NAACP, as a writer and producer of Hill Street Blues. His work for television and film includes projects for HBO, Showtime, the BBC, TNT, and many of the major film studios. His last screenplay, before turning full-time to writing fiction, was Paint, set in the New York art world, and is the last unfinished project of the great director Robert Altman.
He lives in Los Angeles, California and Castine, Maine.
The four books in the "Meritocracy Quartet" take place in successive decades and are meant to document and explore what these periods meant to the post war baby boomers. Each novel in the series stands alone, but together, they are a powerful and really striking portrait of the inner and outer lives of the cultural elite of this generation.
Lewis is a wonderful writer. His work is clear, never over wrought and expressive of the emotional lives of his characters. The books all take place in environments Lewis lived in, periods he lived through. It would be all too easy to try to read these novels as romans a clef, but I think they are much more than that. As a true novelist, transforming the lived experience to find its meanings, both for himself and for his readers, Lewis becomes an alchemist of the soul, his words then, taking us to places far beyond. These books are really an impressive accomplishment, and well worth the effort to read all four together, at once, for a deeply rewarding experience.
"Lives are not seamlessly sewn together, but rather forged by coincidence, necessity, and expectation, a fact that Lewis brilliantly conveys. . . . Lewis' memories portray a modern, American life." (San Francisco Book Review)
I really enjoyed talking to Jeff about these books and his work as a writer.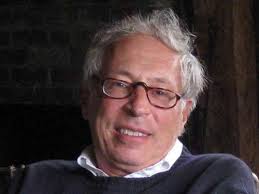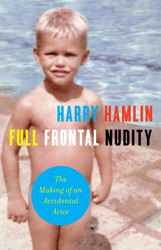 978-1439169995 –  Hardcover – Scribner – $24.00 (e-book edition available)
Harry Hamlin's autobiographical memoir is not what you might expect if you are looking for a traditional "famous actor" tells-all but really tells-very-little story.  Full Frontal Nudity is a completely honest, sometimes hilarious, sometimes sad, sometimes mind-boggling story about Hamlin's growing up in suburban California and coming of age through two different college experiences and the beginning of his life as a professional actor.
This book is a thorough pleasure to read; Harry is a fine writer, and has a remarkable sense of the accidents and sometimes mysteries that go into making us who we are.   And it's also true throughout, whether intentional or not, by telling his own story, he becomes part of the larger social fabric of the 50's, 60's and early 70's, and thus helps us understand what it was like to be alive during that now famous era of history.  And for those many of us who were also there then, his story will remind us of some of the beauty and dangers we lived through.
The subtitle of this engaging memoir is important too: "The Making of an Accidental Actor." Hamlin is clear that who he is today and how he got there represent the sum of a long series of accidents and choices with unintended consequences.  As the book opens, we discover that Harry has an arrest record from 40 years ago that has suddenly prevented him from traveling to Canada, where he actually now lives part of each year.
How this happened is a great story, but what I liked most about it was the way that Harry told it on himself, unafraid to bare the truth about his life.  I know that really good actors must learn how to do this, but they're usually acting someone else's drama, and thus are always protected on some level.  There's no hiding here, and it's a refreshing turn.  Hamlin is an actor, and a good one
Hamlin grew up in California, in a not quite normal household, and after high school headed for Berkeley at what some would say was just the right time – 1969.  On the way to college, he managed an accidental detour that got him, shall we say, distracted.  Intending to sign up for an architecture major, he found that there were no courses available, and the only ones available were drama, thus he embarked on what would eventually become his career.  His time at Berkeley was suitably exotic, and included the drug possession arrest that later caused him so much trouble with the Canadian immigration folks.  His time at Berkeley came to an untimely and early end because of a fire at the fraternity whose president he had become, and almost by magic, and again accidentally, he headed for Yale, where he flourished.  Then another more or less accidental turn – he gives up a safe job as a PBS production assistant and takes an offer from the American Conservatory Theater, where a role in the play Equus ultimately led him to an outstanding film and TV career (notably LA Law, many others).
Overall Full Frontal Nudity is a terrific and wonderfully enjoyable book, and unsurprisingly, we had a thoroughly interesting and revealing conversation about the book and many of the stories he wrote about.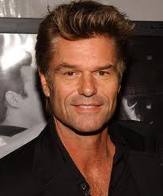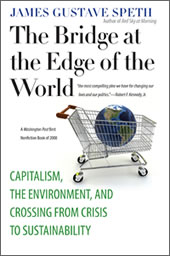 978-0300151152 – paperback – Yale University Press – $18.00
While I was reading The Bridge at the Edge of the World, I often would exclaim out loud as so many of the ideas the author talks about are ones I believe in and feel are important to the dialog about the future of our planet.  This is an important book that should be widely read, discussed and used as the basis of action – and soon!
Co-founder of the NRDC, former Yale University dean, and former White House advisor James Gustave Speth has been a leader in the environmental movement for more than 30 years.
Now, faced with overwhelming evidence of galloping degradation of the planet, Speth has concluded that the environmental project—his project—has failed. No matter how hard environmentalists work, the current of destruction against which they are swimming is simply too swift. In order to preserve a livable planet for future generations, Speth argues in The Bridge at the Edge of the World that the current itself must be altered. And the current is that untouchable edifice, American-style consumer capitalism.
I found this book to be powerful and compelling and wanted to talk to "Gus" Speth about the implications of his thinking.  How should we go forward when we know that the way we live today is putting us on a collision course with the natural world?  How do we build new ways of living that are sustainable?  And how are we going to do this in the face of so many entrenched interests that will oppose the essential changes we feel are necessary for human survival and for the preservation natural systems in a viable planet earth?
While this interview is perhaps all too brief, Speth talks in depth about some of his ideas and answers my questions with his typical incisiveness and intelligence.