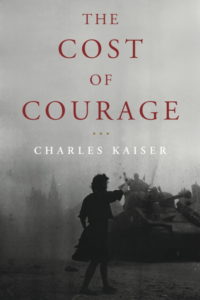 The Cost of Courage – Other Press – Hardcover – 288 pages – 9781590516140 – $26.95 (ebook versions available at lower prices)
I read this beautifully written book about one family's experience of World War II in France just before our recent election. At that time, I was not expecting to have to think about it in the context of our own political situation. Even without understanding that the incredible courage of his subjects may be instructive to us today, this book is about an incredible story of bravery and sacrifice. As of this moment, The Cost of Courage must be read in a new context.
All of us need to consider the lessons learned from the experience of everyday people in horrible circumstances like those of the French in occupied France. These were times of brutal repression and daily violence for individuals who constantly made momentous moral decisions with life and death consequences.
The Cost of Courage recounts the true story of the three youngest children of a bourgeois Catholic family, who worked heroically in the French Resistance during the Nazi occupation of France. Charles Kaiser was lucky enough to know this family from the time he was a small boy, because his uncle was billeted with them after the liberation of Paris by Allied forces.
In 1943, André Boulloche was working underground as General Charles de Gaulle's military representative in Paris, coordinating Resistance activities in northern France. Unfortunately, he was betrayed by one of his associates, arrested and taken prisoner by the Gestapo. His two younger sisters continued to fight against the Germans until Paris was freed in 1944. André Boulloche managed to survive his time in three concentration camps through sheer force of will.
The  elderly Boulloche parents and the oldest brother were also arrested when the Gestapo tried to capture the two sisters. Tragically, these three were on the last train the Germans ran from Paris to Germany before the Allies liberated the city, and they died soon after in Nazi concentration camps.
After the war, the Boulloches remained silent about their terrible wartime. Ultimately, Charles was able to convince the last surviving sister to finally tell her family's incredible story. The Boulloche story is moving and powerful, and we are fortunate it could be told to us by this fine and sensitive writer.
It was a true pleasure for me to be able have this opportunity to talk to Charles about his book and his experience of writing it. Charles and I were in high school together, but have had very little contact since then, and while I have followed his outstanding career as a journalist and author, we have not talked often over these many years. I am gratified to have read this book, and have been inspired by its story. I urge my listeners to read The Cost of Courage, as we are ourselves now live through times that will challenge our own willingness to pay the true cost of courage.
Charles Kaiser started writing for The New York Times while still an undergraduate at Columbia. He spent five years at the Times as a reporter, and after that was the press critic at Newsweek for two years. After writing about media and publishing for the Wall Street Journal, he wrote his first book, 1968 in America, published in 1988. His highly praised book, The Gay Metropolis was published in 1997.
His writing has appeared in New York, the New York Observer, Vanity Fair, the Washington Post, the Los Angeles Times and Manhattan,Inc. among many other publications.
Kaiser was a founder and former president of the New York chapter of the National Lesbian and Gay Journalists Association. He has taught journalism at Columbia and Princeton, where he was the Ferris Professor of Journalism. To learn more about his work, visit his website here.
"In this poignant personal tale, Kaiser explores the emotions and breaks through the silences that haunted an amazing family after their experiences in the French resistance to Nazi occupation. The result is a compelling and heart-wrenching book about courage, love, and the complex shadings of heroism."
—Walter Isaacson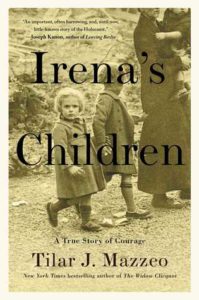 Irena's Children: A True Story of Courage – 9781476778501 – Gallery Books – Hardcover – $26 – ebook versions available at lower prices.
Author Tilar Mazzeo is a terrific storyteller, who took on the task to tell the world about an inspiring, heroic and terrifying story with this book, the true story of one woman who, with a network of associates, saved 2,500 Jewish children from the Nazis during World War II. The main subject of the book is Irena Sendler, who was a young social worker in Warsaw, living in a socially and politically progressive milieu, when the Germans began World War II by invading Poland.
Poland, of course, was quickly defeated by the larger and more modern German army. The conquered country's resources, human and otherwise, were turned toward the use of the German war effort, with hundreds of thousands of Poles used as slave laborers as their country was occupied by a brutal military regime. And the Germans then began their concerted efforts to destroy the large Jewish population of that country. While many Poles opposed the Nazis, with partisans fighting them from the outset of the war, some Poles were active collaborators with the Fascists, and many more simply did their best to survive under impossible conditions.
Some Poles risked everything to rescue Jews from the near total eradication of that community that the Germans sought.
Irena Sendler and a close circle of her friends and work associates undertook what we now can recognize as an heroic effort to save some of the children of the Warsaw ghetto. For almost four years, they took immense risks and dangers upon themselves and their families, to rescue innocents from the horrors they could see were happening all around them.
While everything in this book reads like a terrifying, fast-paced novel, Mazzeo has pieced together a completely true story of unimaginable heroism by many "regular" citizens of Poland. Irena Sendler, together with the help of a network of local people and the Jewish resistance, was able to save upwards of 2,500 Jewish children from likely death in the brutal concentration camps to which most Polish Jews were sent. Irena herself went back and forth into the Jewish ghetto, sneaking children out in a myriad of ways, and then found refuge for the children with local Polish families, convents, churches and farmers.
It was an incredible effort. Irena Sendler knew the terrible risks – she was at one point brutally tortured by the Gestapo – but also knew she could not fail to act.
It is incredible that she and so many of her cohorts survived the war. But then, of course, she and Poland had to survive the takeover of her country by the Soviets, and that meant that the story of her wartime heroism could not be told until long after the war had ended. Mazzeo's effort here to celebrate and tell this amazing story is extraordinary, and much appreciated. Irena Sendler and her network of heroes serves as inspiration and constant reminder that we "regular citizens" must be prepared to face moral choices at any time, sometimes with dire consequences. So many good people were killed in this terrible war.
It is impossible to read this book and not wonder how any of us would have responded then. And of course we must each ask our selves honestly, how will we respond when our time to act is upon us?
I really enjoyed reading this book. It brought up powerful emotions and important questions. Mazzeo is both a fine writer and a terrific researcher, and in this book displays both those talents in full flower. We had a really interesting conversation about this book. There is so much in it I did not want to discuss in detail, so readers will be able to have the full experience of the book for themselves, but we had much to talk about nonetheless.
Tilar Mazzeo is the Clara C. Piper Associate Professor of English at Colby College, in Waterville, Maine. She is the author of numerous works of narrative nonfiction, including the New York Times bestselling The Widow Clicquot.
There's a wonderful portrait of Sendler, written while she was still alive here and a website devoted to her life and story called Life in a Jar.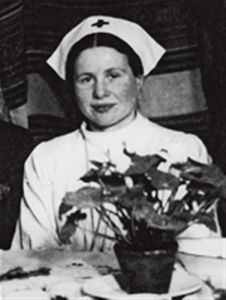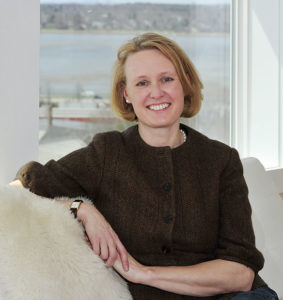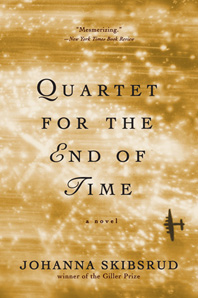 9780393351828 – W.W. Norton – 480 pages – paperback – ebook versions available at lower prices.
I've been interested in Canadian writer Johanna Skibsrud's work for several years, in fact since interviewing independent publisher Andrew Steves of Gaspereau Press. The small Nova Scotia based press was the original publisher of Skibsrud's first novel, The Sentimentalists, selected for the prestigious Giller Prize in 2010. It was a major literary event in Canada for such a tiny press to be recognized for publishing a fine novel that ultimately became a commercially successful book.
Skibsrud is a prolific and multi-talented writer. Her short story collection, This Will Be Difficult to Explain and Other Stories was published in 2011 and shortlisted for Canada's Danuta Gleed Award. She has also published two books of poetry: Late Nights With Wild Cowboys (2008), which was shortlisted for the Gerald Lampert Award for the best first book of poetry by a Canadian poet, and I Do Not Think That I Could Love a Human Being (2010), which was short-listed for the 2011 Atlantic Poetry Prize.
Skibsrud now teaches at the University of Arizona in Tucson, returning to Canada with her family every summer. Since I had the good fortune to be visiting Tucson in January, 2016, I interviewed Johanna there about her newest novel, The Quartet for the End of Time.
This book is inspired by and structured to follow Oliver Messiaen's chamber piece of the same name (Quatuor pour la fin du temps). Messiaen's piece was composed and first performed in 1941 while he was a prisoner of war in a German prison camp. His beautiful and haunting composition was in turn inspired by a text from the Book of Revelation:
And I saw another mighty angel come down from heaven, clothed with a cloud: and a rainbow was upon his head, and his face was as it were the sun, and his feet as pillars of fire … and he set his right foot upon the sea, and his left foot on the earth …. And the angel which I saw stand upon the sea and upon the earth lifted up his hand to heaven, and sware by him that liveth for ever and ever … that there should be time no longer: But in the days of the voice of the seventh angel, when he shall begin to sound, the mystery of God should be finished ….
Skibsrud's novel is centered on a single moment of betrayal and how it affects the four characters whose stories are woven together during the period of the Bonus Army march and the 1930s, leading up to and then through the period of World War II.
The novel's beginning is about Bonus Army marcher and World War I veteran Arthur Sinclair, who is falsely accused of conspiracy and then disappears. The mystery of this event will affect his son, Douglas and also Alden and Sutton Kelly, the children of a U.S. congressman who become connected to Arthur and Douglas while the marchers are camped in Washington, D.C. The book then follows these characters as they live through the period of massive social change that took place during the period leading up to and during World War II.
This novel is thoroughly compelling, beautifully written, complex in form and lyrical in language. I think Johanna has succeeded in her effort to imagine a story of loss and love through the lens of a complicated period of modern history. Tim O'Brien said this about the book, praising "…its intimate and completely compelling portraits of human beings struggling to do the right thing under ambiguous moral circumstances."
I very much enjoyed talking with Johanna Skibsrud about this book and her work as a writer. She is as intelligent and interesting to talk to as she is to read. This interview was recorded in her office at the University of Arizona. If you want to learn more about this author's work, I recommend visiting Johanna's website.
And if you're interested in the Bonus March, which is a far too little known, and truly disheartening episode of American history, you might also be interested in Georgia Lowe's novel, The Bonus. I talked to her about this book and the Bonus March story for Writerscast in 2012.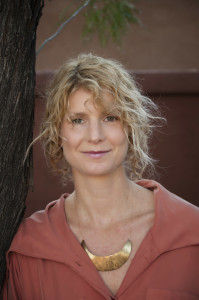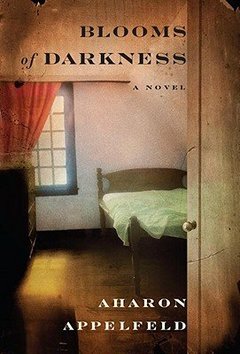 978-0805242805 – Shocken Books – Hardcover – $25.95
Aharon Appelfeld's Blooms of Darkness is a powerful, majestic and triumphant coming of age novel.  It's told entirely in the first person, in sentences that are short, sharp, clear and beautifully composed.   And since we know that it was written originally in Hebrew, the translator, Jeffrey M. Green, deserves special mention for the excellent English version we have here.
The book takes place in an unnamed city in Ukraine from 1943 to the end of the war, not even three years.  The narrator and central character is Hugo, 11 years old at the outset of the novel, taken by his mother to stay with her closest friend Mariana, who turns out to be a prostitute living in a brothel.  Much of the novel, therefore, takes place in the closet and room they share, under constant threat of exposure and death.  The sense of living in a highly charged atmosphere, in such an internal space, is almost palpably claustrophobic, and inhabits every element of the story.  The relationship between Hugo and Mariana is the core of the novel; they each suffer, they depend entirely upon each other.  Their relationship grows and deepens through the course of the novel and its experience becomes a powerful transformative force for Hugo, who, like the author, survives the war as a completely different person than he was when his story begins.
Aharon Appelfeld has lived in Jerusalem for more than sixty years.  He speaks many languages, but now writes only in Hebrew, which he learned only as an adult.  We talked in depth about the events and characters in this beautiful novel, the nature of fiction as opposed to memoir, and about the author's life as a Holocaust survivor and Jewish writer and teacher.  Blooms of Darkness is a novel that has stayed with me since I read it; its story is one of hope and survival, as is the life of its author.  This novel was transformative for me, as was my discussion with its brilliant author.