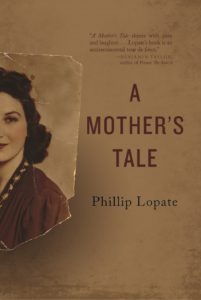 A Mother's Tale – Phillip Lopate – Mad River Books (Ohio State University Press) – Hardcover – 9780814213315 – 196 pages – $24.95 – ebook versions available at slightly lower prices – January 12, 2017
It might be said that a good memoir is a hard thing to find. It takes a special touch from a writer. The best memoirs have humor and self awareness – one must be selective in choosing what is important to share and what must be omitted, valuable to one's self but not so much for the reader.
Philip Lopate is a skilled and experienced writer who inherently understands the necessities of writing about self and family. His mother was a complicated person, his family life unusual and full of strange twists and turns that made him and his brother who they are as adults.
In 1984, Lopate convinced his mother, Frances, to allow him to interview her and record the story of her life. Frances was a powerful and strong willed figure. She was orphaned in childhood, married young, and had to make a life for herself without a support system, as a mother. She worked in a number of fields and late in life became an actress and singer. She appeared in television commercials and performed in plays in New York.
She told Philip all her many criticisms of her husband (his father), recounted the details of her affairs and sexual encounters, told him about her experiences with therapy and continuously complained about how the world had mistreated and misunderstood her. Locate set the tapes aside and never listened to them until thirty years later, when his mother had passed away. At that point Lopate was drawn back to the recordings, perhaps wanting to better understand his mother and himself through her confessions.
A Mother's Tale is essentially then a three-way conversation between Lopate today, his mother, and the younger self he hears talking to her on the tapes.
Lopate seeks to better understand and appreciate his mother and the husband she ostensibly despised, but could never leave. He cannot share her self-pity or the harping on blame assessed to everyone but herself. But through it all, he comes to see her anew, now as a grown man, recognizing more clearly the survivor, her powerful appetite for love and for life, and the ways he finally found to express his love for her.
It's a brave thing to expose oneself and one's family in such a personal piece of writing. Lopate has succeeded with this short memoir, giving us much to savor, appreciate, and ponder about ourselves and our own family histories. This is a terrific book.
"With his signature insight an candor, Lopate reveals his mother for the complicated and troubled character she was, and himself–her darling, her confessor, her victim, her judge–as the child behind the writer he was to become. I could not put it down." — Lynn Freed
Philip Lopate is the author of a number of well respected memoirs and personal essays, as well as two novellas, and is also the editor of several important anthologies. He has won a variety of awards for his writing, as well as for his work as a teacher. He is currently a professor at Columbia University's School of the Arts, where he teaches nonfiction writing.
Philip Lopate is a wonderful conversationalist and an easy person to interview. It was a tremendous pleasure for me to speak with him about this book and his intriguing mother.
Author website here. Author photo by Sally Gall.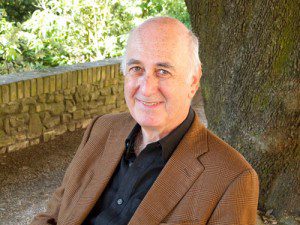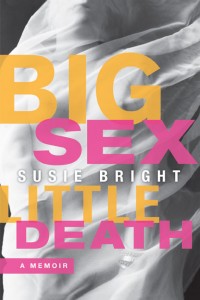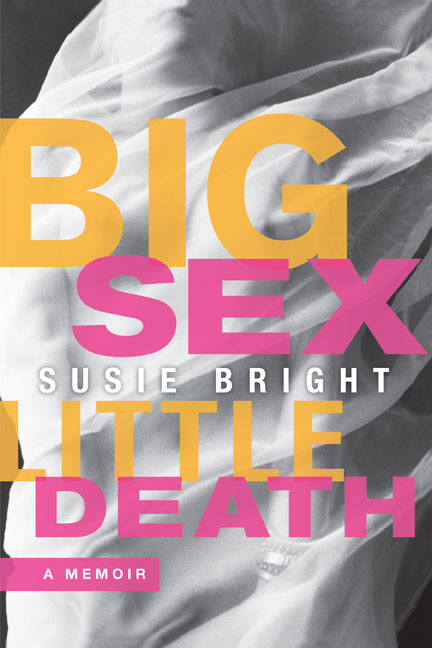 978-1580052641 – Seal Press – $24.95 – Hardcover (ebook and unabridged audio book available)
Reading Big Sex Little Death was a big surprise for me.  I've known Susie Bright for a long time and have worked with her at various times over the years.  I've long admired her work as a sex-positive revolutionist and a terrifically intrepid personality.  I guess I was expecting a sexual travelogue as memoir and a pop culture tone of voice, and maybe some dishing on what it's like to be a famous sexpert.
In fact Big Sex Little Death is mostly a really well written story that focuses more on Susie's early years with her very difficult though intelligent mother (and later years when she was able to live with her anthropologist/linguist father), and her very active life as a political radical.  In Southern California in the 70's, Susie worked on a high school magazine called Red Tide, and later was an activist in the socialist movement of that period.  Where, yes, there was a lot of sex (and sexism).  Her radical political history was all new to me, and is very interesting to read about.
That was all before she became part of the pro-sex feminist movement in the 80's, worked at the now famous Good Vibrations feminist sex shop, and helped found the now-famous lesbian sex magazine, On Our Backs, which for its seven year lifespan was hugely important in helping women define and own their sexuality.  And in many ways that is what is most important about this memoir, that it connects politics and sexuality and helps us remember where so much of the culture we take for granted today came from.
Writing mostly about her earlier years, Susie leaves room, I suppose, for a sequel where she can talk about her later work as a nationally known sex expert, talented writer, and important editor of innumerable anthologies of writing about sex and sexuality.
As one might expect, we had a great time talking about her book and some of her many exploits as a public sex figure in a bizarrely prudish society.  Ultimately this book should be read by anyone interested in late 20th century American culture, regardless of one's gender, sexuality, interest in sex, out there or puritanical, it's well worth your time.   And I am a big fan of Susie's blog too – and I recommend her latest on "sex positive parenting" to anyone who has ever thought about what they are teaching (or not) their children about their own values.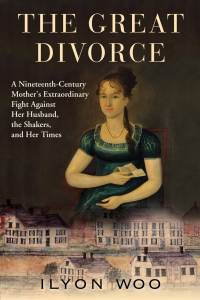 978-0802119469 – Hardcover – Atlantic Monthly Press (ebook versions available $9.99)
Ilyon Woo's The Great Divorce: A Nineteenth-Century Mother's Extraordinary Fight Against Her Husband, the Shakers and Her Times is an absolutely terrific work of historical narrative.  The book tells the story of Eunice Chapman, whose husband left her, taking their children, to join the Shaker community near Albany, New York in 1814.
At that time, women had virtually no rights in society.  Upon being married, they literally lost their identities, which were subsumed completely into the legal identity of their husbands.  So when Eunice's husband joined the Shakers, a radical Christian sect that espoused celibacy, communal living and the literal separation of the sexes (ironically giving women a much greater role in their communities than was common in the larger society), she had no legal way to gain custody or even visitation with her children.  Rather than give up her children to her husband and a religious community with whom she did not agree, she fought her husband and the Shakers for the return of her children.
Ilyon Woo tells the story of Eunice Chapman's years of struggle to regain her children, which is amazing in itself, given the barriers she had to overcome, not to mention the difficulties of time and distance, which made everything slower and more complicated to resolve.  But of course this is also a social history of an era many of us know very little about.  It's a period when women are only just beginning to exercise social power, 30 after the establishment of the United States as a country, 100 years before women win the right to vote.
Through the lens of Eunice Chapman and her heroic struggle, Woo is able to bring this period vividly forward.  We learn a great deal about the Shakers, their history, many of the individuals who made the Shaker sect at least temporarily a very successful, though highly controversial religious and social community, and the nature of their daily lives.  And her portrayal of the city of Albany and the New York state legislature is absolutely terrific.  Woo succeeds in highlighting individual human beings living their lives within the social and historical sweep of their times.  There's a great deal of research here that has been transformed by imagination and her terrific sense of story into a vivid portrayal of an otherwise obscure piece of social history.
This is Ilyon's first book.  I wanted to talk to her about what got her interested in this subject, and learn more about the kind of research she did to be able to tell this story.  And also to learn more about how she feels about this period and the people she wrote about.  It's an amazing story that can and should help anyone faced with any challenge find it easier to rise to the occasion, especially since this is a story with a true happy ending.
Ilyon Woo's website is here.  The site features a video about the book, links to more information about the Shakers, and a really interesting tab about the dramatic readings from the book that the author has organized.  Here is my favorite quote about the book: "By delving so deeply into the sources, Woo brings the past to life in all its wonderful strangeness, complexity, and verve.  This is what history is all about." —Nathaniel Philbrick, winner of the National Book Award.