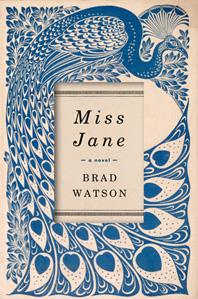 Miss Jane: A Novel – Brad Watson – W.W. Norton & Company – Hardcover – 9780393241730 – 284 pages – $25.95 (ebook versions available at lower prices)
I originated the Writerscast series of conversations with writers at least in part, to remind myself to keep reading book length prose. I didn't want to miss out on discovering great books and finding new writers to read. In this era of too much noise and stimulus, reading a novel or a serious work of nonfiction can be a wonderful pleasure, as well as a reward for escaping the rhythms of daily life. It does take time, and sometimes finding time to read is difficult. But there are some books that are completely fulfilling to spend time with. Having the opportunity to read a novel like Brad Watson's Miss Jane was a deeply rewarding experience, and one I will not soon forget. Discovering books like this one is a special experience for me.
This is the kind of novel that you don't come across that often. It is not action packed. In fact, it is more quiet than any novel I have read in a very long time. And it is fully engrossing.
I really love this book and have found myself talking about it to people all the time. It is that special. The writing is luminous, and the characters are as alive and present as if they were in the room with us as we read. I cannot imagine it is possible to not fall in love with this book.
But enough rhapsodizing about the book. I need to give you just a bit about the story, so you have a sense of what it is about. Miss Jane is based on the life story of Brad's own great-aunt. Because he did not know her at all really, he had to imagine her life in rural, early twentieth-century Mississippi, born with an unusual and not talked about genital birth defect, that would prevent her from having either sex or a marriage. But just as Brad's real aunt lived a full and long life, so he imagines Miss Jane to live, alone, but with family and other relationships as well. Her life was completely her own, and while it was not her choice to be made the way she was, it was her choice completely to live a complex and deeply experienced life of her own.
Brad Watson is a truly fine writer. The reviews for Miss Jane bear that out. He is the author of two collections of stories and the novel The Heaven of Mercury, which was a finalist for the 2002 National Book Award. His fiction has been widely published in magazines. Most recently, Brad was selected to receive the Harper Lee Award for Alabama's Distinguished Writer of the Year for 2017 and Miss Jane is included on the 2017 longlist for the Wellcome Book Prize. He teaches at the University of Wyoming, Laramie.
I hope you will enjoy listening to our conversation about this amazing and wonderful book.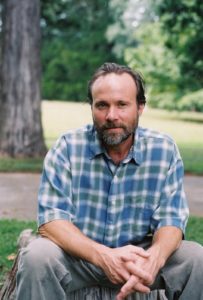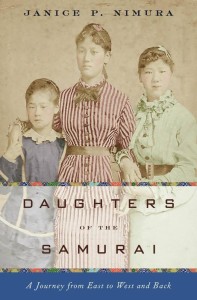 DAUGHTERS OF THE SAMURAI: A JOURNEY FROM EAST TO WEST AND BACK
978-0-393-07799-5 – W.W. Norton – Hardcover – 336 pages – $26.95 (ebooks available at lower prices, paperback edition to be published in May 2016)
Janice Nimura's Daughters of the Samurai is a wonderful book about an extraordinary and little known episode in modern Japanese history. In 1871, soon after the Japanese civil war that led to the modernization of the country, the Japanese government decided to send five young girls to the United States to educated. They were sent along with a delegation of diplomats and civil servants, with a very specific mission to be educated in modern Western ways and then to return to help create new generation of men and women to lead Japan. While each of these young girls had been raised in very traditional samurai households, they were all displaced from their families and clans. Three of the girls stayed the course, while the other two girls went home.
On their arrival in San Francisco, and later, traveling across the country, the Japanese girls became significant public celebrities, written about by newspapers across everywhere. It's incredible to imagine what it must have been like for the girls as well as for the American public, who had never seen anyone from Japan before.
Sutematsu Yamakawa, Shige Nagai, and Ume Tsuda all were raised in middle class or upper middle class homes in the United States and grew up in many ways as typical American schoolgirls, despite their obvious differences from their American friends and family members. Within the families and then in the various schools and colleges they attended, they developed lifelong friendships and connections, and after their ten year sojourn was completed, they returned home to Japan almost as foreigners.
They had started their sojourn in America in radically cross-cultural environments and experiences, then learned a completely new culture, only to return home as yet again out-of-place foreigners, this time in the culture they actually came from. Their unusual experience gave them an incredibly unusual perspective on Japanese culture. As adult women living in a still male dominated society struggling with the tension between modernity and tradition, they each determined to revolutionize women's education and lead their country forward. Ume Tsuda, in particular, made a significant impact on Japanese education that continues into the modern era.
It's impossible not to be captivated by these incredible women and their life stories, both in the United States and in Japan. Nimura's narrative is fascinating and compelling; she brings to life what was once an obscure piece of history, and through the lens of these interesting women, a period in both American and Japanese history of great change in every aspect of culture.
After reading Daughters of the Samurai, it's impossible not to want to share the story with anyone who will listen. I am fortunate that I was able to talk about it with the author herself.  This is a book I am happy to recommend to readers.
Janice Nimura graduated from Yale and then moved to Japan with her new husband, where she lived for three years, became proficient in Japanese, and later earned a Masters degree from Columbia in East Asian Studies, specializing in 19th century Japanese history. At one point she stumbled across a book written by Alice Mabel Bacon (originally from New Haven) called A Japanese Interior, which is about Bacon's visit to Japan in the 1880s. Alice Bacon's story captured Nimura's imagination. She learned about Sutematsu Yamakawa Oyama, Bacon's foster sister and Vassar's first Japanese graduate; Ume Tsuda, whose pioneering women's English school Alice helped to launch; and Shige Nagai Uriu, the third of the little girls who arrived with the Iwakura Mission in 1872 and grew up in America, and then took up the challenge of researching and writing about this amazing episode in modern Japanese and American history.
Author website here.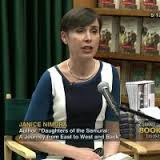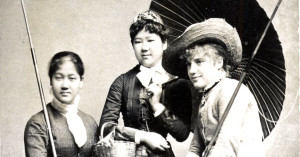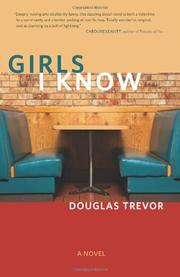 978-0983150534 – Sixoneseven Books – paperback –  May 1, 2013 – $15.95 (ebook versions available at lower prices)
A debut novel set in Boston, Girls I Know has an unusual narrative structure that sometimes feels like a love song to the city of Boston as much as a novel about the protagonist, tortured failed graduate student, Walt Steadman.  Walt is a classic nebbish – dropped out of graduate school writing a thesis on an obscure poetic subject, making his living now as a sperm donor and doing odd jobs.
Walt is painfully obsessive – as a way to channel his feelings of failure and indirection.  He goes to the same small coffee shop for breakfast almost every day, where he befriends the owners and their daughter, Mercedes.  He loves Boston in an obsessive way too.  The real story of the novel begins when Walt is survives a terrible shooting at his favorite restaurant which leaves four people dead, including his friends.
Now he is forced to confront himself and in his recovery, try to find the self he has buried in his self indulgent lifestyle.  The girls he knows are both complicated – the effervescent Ginger Newton, Harvard undergraduate – another obsessive, but a much more active one, she is writing a book called Girls I Know about women and their jobs and the heartbroken and speechless Mercedes, whose parents are now dead.  How he interacts with these two "girls" on his path to self discovery and redemption are what this book is really about.
I liked this book much more than I initially thought I would (coming of age stories are not usually my forte as a reader).  Trevor is a very good storyteller, and his characters are all interesting and well drawn. And his Boston comes to life throughout the book.  Trevor knows his way around characters and places and his writing is strong.  His collection of short fiction, The Thin Tear In The Fabric Of Space, won the Iowa Short Fiction award in 2005.  Author website here.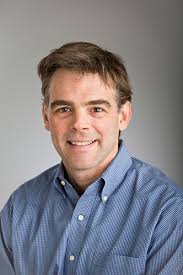 Kudos to this independent publisher, Sixoneseven, for doing an excellent production job and a serious effort to market and promote a very good book.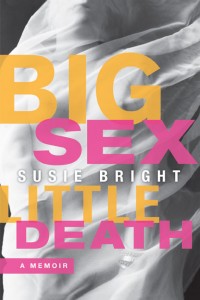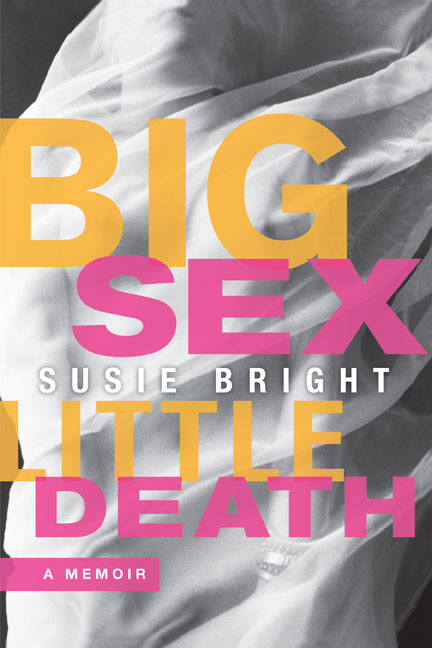 978-1580052641 – Seal Press – $24.95 – Hardcover (ebook and unabridged audio book available)
Reading Big Sex Little Death was a big surprise for me.  I've known Susie Bright for a long time and have worked with her at various times over the years.  I've long admired her work as a sex-positive revolutionist and a terrifically intrepid personality.  I guess I was expecting a sexual travelogue as memoir and a pop culture tone of voice, and maybe some dishing on what it's like to be a famous sexpert.
In fact Big Sex Little Death is mostly a really well written story that focuses more on Susie's early years with her very difficult though intelligent mother (and later years when she was able to live with her anthropologist/linguist father), and her very active life as a political radical.  In Southern California in the 70's, Susie worked on a high school magazine called Red Tide, and later was an activist in the socialist movement of that period.  Where, yes, there was a lot of sex (and sexism).  Her radical political history was all new to me, and is very interesting to read about.
That was all before she became part of the pro-sex feminist movement in the 80's, worked at the now famous Good Vibrations feminist sex shop, and helped found the now-famous lesbian sex magazine, On Our Backs, which for its seven year lifespan was hugely important in helping women define and own their sexuality.  And in many ways that is what is most important about this memoir, that it connects politics and sexuality and helps us remember where so much of the culture we take for granted today came from.
Writing mostly about her earlier years, Susie leaves room, I suppose, for a sequel where she can talk about her later work as a nationally known sex expert, talented writer, and important editor of innumerable anthologies of writing about sex and sexuality.
As one might expect, we had a great time talking about her book and some of her many exploits as a public sex figure in a bizarrely prudish society.  Ultimately this book should be read by anyone interested in late 20th century American culture, regardless of one's gender, sexuality, interest in sex, out there or puritanical, it's well worth your time.   And I am a big fan of Susie's blog too – and I recommend her latest on "sex positive parenting" to anyone who has ever thought about what they are teaching (or not) their children about their own values.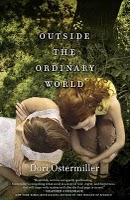 978-0778328896 – paperback original – Mira Books – $14.95 (ebook edition available at a lower price)
Dori Ostermiller's Outside the Ordinary World is a very strong and compelling novel, hardly recognizable as a first novel.   The novel's main character, Sylvia, is an artist and teacher who is grappling with the messiness and unhappiness of her life.  She's distanced from and frustrated with her husband enough to risk an affair with the somewhat exotic father of one of her students.  Since this is in many ways a reflection of Sylvia's own experience as a child, when her mother spent years in her own affair, it triggers Sylvia's memories and ambivalence about much of her own life and thus her unfolding story.
The story unfolds as Sylvia remembers her past and of course must reconnect with her family while she is trying to reconcile her own situation.  We learn about her unusual upbringing as a Seventh Day Adventist, her father, the mercurial and unhappy doctor, who abused his wife and children, and her mother, so unhappy and conflicted that she allowed (or forced) her daughters to participate in her complex "other" relationship, a lack of boundary drawing that has long term ramifications for Sylvia in her own life.  We also meet her grandparents and her sister in the present, for further complications to her situation.
It's risky turf for any writer to take on love, marriage, trust, infidelity and family history with a story line and characters so close to her own.  But I think imagination and creativity using the "stuff" of one's own apparent life is precisely where the most powerful art comes from.  Ostermiller writes beautifully about complex human relationships and tells a difficult story well.  In many ways this novel defines how fiction really works and works best – taking the difficult journey of the soul to resolve difficult emotional and psychic issues (for both the author and the reader).  I really enjoyed this book, as different from my own life experiences and situations as it was.  And it was great fun to talk to Dori about her work, the issues of fiction and the mysteries of human love.
Dori Ostermiller teaches writing and literature in Western Massachusetts.  She is the founder and director of Writers in Progress, a literary arts center housed in the Arts & Industry building (a refurbished old brush factory) in Florence.   Many of her students have published books of their own, including Alison Smith, Kris Holloway, Ellen Meeropol, Kyra Anderson and David Lovelace.
Dori is currently working on her second novel in Northampton, where she lives.  Her website is worth a visit.  And I for one am looking forward to reading her next novel.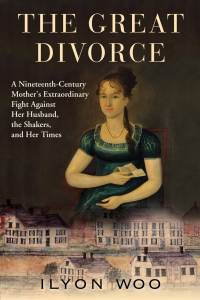 978-0802119469 – Hardcover – Atlantic Monthly Press (ebook versions available $9.99)
Ilyon Woo's The Great Divorce: A Nineteenth-Century Mother's Extraordinary Fight Against Her Husband, the Shakers and Her Times is an absolutely terrific work of historical narrative.  The book tells the story of Eunice Chapman, whose husband left her, taking their children, to join the Shaker community near Albany, New York in 1814.
At that time, women had virtually no rights in society.  Upon being married, they literally lost their identities, which were subsumed completely into the legal identity of their husbands.  So when Eunice's husband joined the Shakers, a radical Christian sect that espoused celibacy, communal living and the literal separation of the sexes (ironically giving women a much greater role in their communities than was common in the larger society), she had no legal way to gain custody or even visitation with her children.  Rather than give up her children to her husband and a religious community with whom she did not agree, she fought her husband and the Shakers for the return of her children.
Ilyon Woo tells the story of Eunice Chapman's years of struggle to regain her children, which is amazing in itself, given the barriers she had to overcome, not to mention the difficulties of time and distance, which made everything slower and more complicated to resolve.  But of course this is also a social history of an era many of us know very little about.  It's a period when women are only just beginning to exercise social power, 30 after the establishment of the United States as a country, 100 years before women win the right to vote.
Through the lens of Eunice Chapman and her heroic struggle, Woo is able to bring this period vividly forward.  We learn a great deal about the Shakers, their history, many of the individuals who made the Shaker sect at least temporarily a very successful, though highly controversial religious and social community, and the nature of their daily lives.  And her portrayal of the city of Albany and the New York state legislature is absolutely terrific.  Woo succeeds in highlighting individual human beings living their lives within the social and historical sweep of their times.  There's a great deal of research here that has been transformed by imagination and her terrific sense of story into a vivid portrayal of an otherwise obscure piece of social history.
This is Ilyon's first book.  I wanted to talk to her about what got her interested in this subject, and learn more about the kind of research she did to be able to tell this story.  And also to learn more about how she feels about this period and the people she wrote about.  It's an amazing story that can and should help anyone faced with any challenge find it easier to rise to the occasion, especially since this is a story with a true happy ending.
Ilyon Woo's website is here.  The site features a video about the book, links to more information about the Shakers, and a really interesting tab about the dramatic readings from the book that the author has organized.  Here is my favorite quote about the book: "By delving so deeply into the sources, Woo brings the past to life in all its wonderful strangeness, complexity, and verve.  This is what history is all about." —Nathaniel Philbrick, winner of the National Book Award.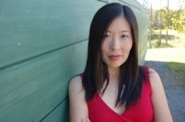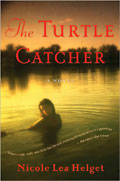 978-0547248004 – Mariner Books – paperback – $13.95 (also available as an e-book)
I found this book, written by an author I had never heard of before, by doing something very old fashioned: browsing in a bookstore.  There are many forms of discovery, but finding a book you want to read in a store is still a great pleasure.  And when you take it home and start reading it, and find out you made a lucky choice to read an exceptionally fine novel, that is a true and deeply rewarding experience.
I was surprised to learn that The Turtle Catcher is Nicole Helget's first novel – she doesn't write like a first novelist at all.  The opening of this novel is absolutely perfect, and is beautifully written, setting the tone for a complicated, very often painful, but also engrossing story.  Helget's novel is mystical and magical, but these moments of "magical realism" where she enters another plane counterpoint brilliantly with the almost plainspoken story she has to tell about immigrant families in a German-American community in rural Minnesota in the early 20th century.  The book is set in the now little discussed period just before, during and after World War I, a time that was very complicated for communities of recently arrived immigrants from the old country, with Germany now the enemy of their new homeland.  The tensions within the town provide a taut backdrop for Helget's for the focus of her story.
The author weaves together the lives of two families living on adjoining farms in the small town of New Germany, Minnesota.  Liesel Richter and Lester Sutter are at the core of the book, along with their fathers and deeply suffering mothers, and what happens to Lester, told brilliantly and painfully in the opening scene of the book is the capstone to a long, rich story of families and communities, hidden wounds and deep suffering transformed into a kind of stoic transcendence Helget's characters embrace, almost because it is all they are capable of doing in the face of such pain.
In The Turtle Catcher, Nicole Helget has created a multi-layered family story whose characters inhabit (and illustrate for readers) a specific place and time, but as with all great novels, through their story, they are transformed into something deeply moving and powerful.  I really loved this novel, and will read it again, I am sure.
I wanted to talk to Nicole about the emotional content of the book, how she came to create this novel (it started with a short story), and discuss some of the complexities of her really wonderfully drawn characters.  I think we succeeded in exploring this writer's work in a really interesting conversation I hope will encourage readers to seek this novel out and read it for themselves.  I do think Nicole Helget is a terrific writer, someone whose work I am deeply gratified to have discovered.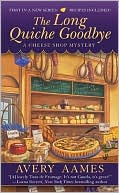 978-0425235522 – Berkley – Mass Market Paperback Original – $7.99 (also available as an ebook 978-1101188644 at $6.99)
I don't often read mysteries, but a few weeks ago, right in the middle of summer, the season for entertaining novels (often known as "beach reads") I decided to give this novel a try.  The tongue-in-cheek title first caught my attention, and I really liked the unusual setting for the novel (small town Ohio) and the quirky but very believable cast of characters.  So The Long Quiche Goodbye is definitely a fun read but not just a throwaway summer book.  Avery Aames is a good writer and she has deft with her creation and handling of characters.
As I mentioned, I am not a steady reader of mysteries, so I may not be as experienced as some are with the various forms and formats of mysteries – they do fall into a set of recognizable patterns, I know.  In The Long Quiche Goodbye, our main character is Charlotte Bessette, the proprietor of the family owned cheese shop called Fromagerie Bessette, in the small town of Providence, Ohio.  At the gala re-opening of the store after a full scale renovation and modernization, the store's landlord (whom we already know not to like) is found stabbed to death with one of the store's knives, and Charlotte's grandmother is the prime suspect.
We're off from there, with a full cast of local characters, friends, family, police, and a couple of other prime suspects in town to make things interesting.  And it's Charlotte who takes the lead in finding out who the real killer must be, as clearly, she feels (and we come to feel as well) that it could not have been her wonderful grandmother (who is the Mayor of the town!)
Avery Aames had a lot of fun writing The Long Quiche Goodbye, I think, and her pleasure and involvement with her characters comes across in the way she writes their story.  I also had a great time talking to her about this well written book, her work as a writer, and the next books in the series that this book inaugurates.  It looks like this series will be successful, and deservedly so – this first in the "Cheese Shop Mysteries" is already a national bestselling mystery novel.  You can visit Avery's website to learn more.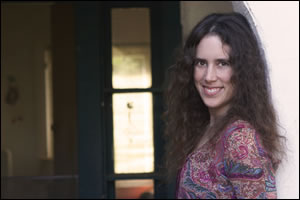 978-0345492623 – Ballantine – Paperback – $15.00 (also available as an e-book at $9.99)
Writerscast is proud to present the third in a series of authors reading from their work, called AuthorsVoices.   I hope you will agree that hearing these works read aloud by the original authors adds to your experience of the writing.
I love getting a sense of the author's distinct sense of her or his own words. With writers touring in support of their books less frequently now, these podcasts should provide readers with an opportunity to hear some of our best contemporary authors reading from, and sometimes performing their own works.
Gayle Brandeis' Delta Girls was a great discovery for me.  I loved her writing, her characters, and the pace and flow of the novel.  I particularly enjoyed the way Gayle set up the alternating stories of the two women, Izzy and Karen and of course brought them together with what was for me a very surprising climax to the story.  In this reading from the novel, Gayle reads the opening two chapters, where the two characters are introduced and their ultimately intertwining stories begin.
Gayle has a terrific website where you can learn more about her and her work.  Her's her brief bio as a writer:
Gayle Brandeis grew up in the Chicago area and has been writing poems and stories since she was four years old. She is the author of Fruitflesh: Seeds of Inspiration for Women Who Write (HarperOne), Dictionary Poems (Pudding House Publications), the novels The Book of Dead Birds (HarperCollins), which won Barbara Kingsolver's Bellwether Prize for Fiction in Support of a Literature of Social Change, Self Storage (Ballantine) and Delta Girls (Ballantine), and her first novel for young readers, My Life with the Lincolns (Holt).  It's great hearing her own voice here speaking the words she has written.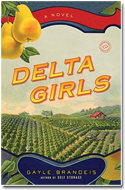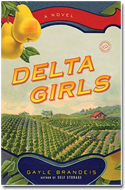 978-0345492623 – Ballantine – Paperback – $15.00 (also available as an e-book at $9.99)
I think I have been lucky lately – I keep finding new novelists I have never heard of before, whose work turns out to be really good.  Literary discovery is very exciting.  Gayle Brandeis is one of those novelists whose work is completely new to me.  Delta Girls is her third novel for adults, and she has one other for young adults.  Her social awareness as a writer has been recognized for a previous novel (that I now want to read) called The Book of Dead Birds – it won Barbara Kingsolver's Bellwether Prize for Fiction in Support of a Literature of Social Change, which I consider high praise indeed.  One of Gayle's great accomplishments in Delta Girls is to include a strong undercurrent of social awareness in a way that enhances the story and does not in any way intrude on one's enjoyment of the novel and its characters.
Delta Girls is a terrific novel (great cover too, and yes, I do think the overall book package does contribute to the experience for the reader).  Its construct is unusual – each chapter is the alternating story of two characters whose relationship is not divulged until nearly the end of the book.  First is Izzy, who with her nine year old daughter Quinn, is constantly on the move as an itinerant fruit picker in California.  As the story opens, they arrive at a pear orchard in the Sacramento River Delta.  As with all her stops, Izzy has no intention of staying very long. But the orchard, its locale, and the family that owns it has a strong attraction for both Izzy and Quinn, and they both allow themselves to become involved and attached to the orchard and its people.   We know that Izzy has a secret in her past, and that she has worked hard to stay away from the public eye, but events occur that put her in the middle of developments in the Delta and she will have to risk everything to save the ones she loves.
In the alternating narrative of the book, we meet Karen, a rising young star in figure skating with a pushy mother and a powerful and attractive new skating partner.  Nathan is sexy, dangerous, and deeply attractive to Karen.  As she reaches her 18th birthday, events come to a head in an unexpected and very public way.
Each main character is faced with a sudden thrust into the spotlight, and of course their narratives become more connected — but you will need to read the book to find out the surprising way their lives will intersect.
This is a very satisfying novel to read, with great characters, and of course the pear orchard and the Delta of the Sacramento River is a terrific backdrop for the book.  The author's deep love for her characters as well as her understanding of the power of place, and its influence on people's lives show constantly throughout the novel.
Gayle is a thoughtful and accomplished writer whose work I am really pleased to have discovered.  It is writing I want to explore more deeply.  Talking to her about this book was a pleasure I am happy to share here.  You can visit Gayle's website here to learn more about her work.