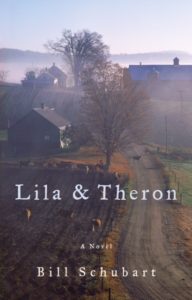 Lila and Theron (A Novel) – Bill Schubart – Charles Michael Publishing – Hardcover — 9781682613566 – 192 pages- $19.95 – ebook versions available at lower prices – June 6, 2017
This small book is short and sweet in a very good way. Through well written fiction, the book documents and celebrates an imagined place and people in time, that have only recently disappeared from the American landscape. It's difficult for most of us moderns to imagine life without all the technological conveniences we have come to take for granted today. It was not that many years ago that the isolated mountain communities of northern Vermont were still home to small farmers, whose daily lives were closer in rhythm to the nineteenth century than to even the twentieth, much less the technologically advanced twenty first century of today. Some of these hardy folk still farmed with horses into the 1960s, and many small-scale daily and truck farming operations managed by dint of endless toil, to support the families on the land they had worked for generations.
To most of us, these lives will be as foreign as science fiction. Harsh circumstances often make people harsh, but Schubart's characters find a way to access their humanity despite all the struggles of life which which they must cope. It's a joy to get to know these characters and to share the stories of their lives. Schubart, now in his seventies, bridges this time frame. He grew up in northern Vermont, and while his life experience was vastly different from the farm people he writes about here, these are people he knew and loved during the his youth, and it benefits us all that he has brought them to life in this lovely novel.
Thelma dies at nineteen giving birth to a son, Theron. When the son first meets his father, he learns his mother's death is his fault and can only muster the question, "How did she die?"

Looking away, the father mutters, "She died givin' birth ta you. An' I lost all her help and comforts."

"I have long considered Bill Schubart to be the wisest columnist in America. That same wisdom, deep life experience, and empathy come shining through on every page of his new novel, Lila and Theron. Full of joy, sadness, humor, and insight, Lila and Theron is a clear-eyed celebration of our almost boundless capacity, despite all our human frailties, to love both one another and the place we call home. Over the years, I have known many true and good country people like Lila and Theron, whom I have been proud and honored to call my friends. This is a beautiful book." – Howard Frank Mosher, author of Marie Blythe and Walking to Gatlinburg.
Bill Schubart has lived with his family in Vermont since 1947. He writes about Vermont in fiction, humor and opinion pieces, is the author of several books, is a regular commentator on Vermont Public Radio, and active in Vermont community and political life. Learn more about him and his work at his website.
It was a true pleasure for me to share a conversation about Vermont and its people, small-scale farming, and the art of fiction with my old friend, Bill Schubart.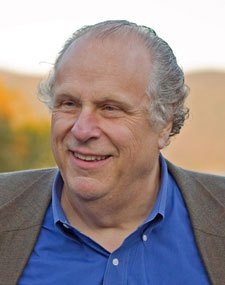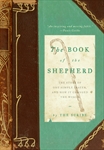 978-0061732300 – Hardcover – HarperCollins – $19.99
The Book of the Shepherd: The Story of One Simple Prayer and How it Changed the World is a beautifully written parable that made me think of writers like Paulo Coelho and Kahlil Gibran.  The conceit of the book is that the author finds a manuscript in a house in Vermont, and has it translated, thus this story.  It's a short book, and an easy read, but of course, because it is a parable, the book demands to be re-read and thought about deeply.
The story has no distinct place or time.  Joshua is the shepherd who is troubled by the code of "an eye for an eye" that governs his world.  He has a dream about "a new way" and sets off on a quest to find it.
Stone the builder who erects a house that falls on its occupants. Sever the hands of the criminal who pilfers livestock or grain or another's garment. Whip the child who defies an elder. For such is the law and the law must be obeyed.

For generations, these ironclad rules had governed the people. Nobody questioned whether it was right to humiliate a child or execute a murderer. An eye for an eye was the way of the world.

But was there another way?
Joshua is accompanied by Elizabeth, a former slave who is kind and generous, and David, a boy who must learn to walk in new shoes. Joshua believes that "an age of miracles" will come when the new way is found.
As with any quest, there is adventure along the way. En route to a cave near the Great Inland Sea, the travelers meet a number of interesting and compelling characters, including the Storyteller, the Apothecary, the Blind Man, and the Stranger. Each passes on an important lesson as the travelers journey toward what we realize is their destiny. At the cave, Joshua must see if he can bring forth secrets long buried. But he, Elizabeth, and David will discover that what they have been searching for has been inside them all along.  In the end, The Book of the Shepherd is compelling and meaningful, whatever your political, social or religious outlook or beliefs.  It's not heavy handed or preachy, and even for many secularists, will be well worth the investment of time to read.
Joann Davis is an experienced writer and former book editor.  She is extremely articulate and passionate about her work, and was a pleasure to interview.  We talked about her work as a writer, her own spirituality, and how The Book of the Shepherd can change people and the world for good.