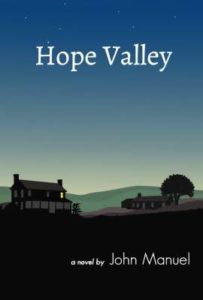 Hope Valley: A Novel – John Manuel – self published – paperback – 9780998111209 – 284 pages – $14.95 (ebook version available at lower price)
In the early 1970s I lived in the more or less rural county outside Durham, North Carolina. It was a far different cultural milieu than I had ever experienced previously, surrounded mostly by farmland and people who had grown up as native North Carolinians. To someone like me, raised in the urban and suburban northeast, North Carolina was, at that time, still very much the traditional Old South, resisting so much of the cultural change that was sweeping America then.
But it was not long after this that things began to change significantly in the South, as increasing numbers of transplants came to places like Durham, Charlotte and many other towns and cities in North Carolina.
John Manuel, who was a classmate of mine in college, got to North Carolina himself in the early 1970s and has stayed there as a writer and cultural observer with considerable skills in both. John is the author of two fine books, The Natural Traveler Along North Carolina's Coast (John Blair, 2003) and The Canoeist (Jefferson Press, 2006). His environmental journalism has been published in Audubon and many other magazines and his short stories have appeared in the Savannah Anthology and the New Southerner.
John's novel, Hope Valley, is set in the same general area in which I lived when I was there, and both the geographical setting of the book and its characters will feel both familiar and comfortable to anyone who spent time there or in other parts of the South during the late 20th century, a period of immense change and disruption.
The story centers on Hurley and Opal Cates, who in their retirement live on a small farm on the edge of the growing orbit of Durham. Hurley is committed to caring for his property, particularly its large lawn, and also the house he built for his son, Buddy. But Buddy sells his house to a young female couple, creating a bit of a crisis for the Cates family. Despite many challenges, the two families learn how to co-exist, despite their vast cultural differences.
Much of the novel involves the ways that Hurley and Opal and their new neighbors learn to live together. But things are not so easily resolved, and this sometimes sad and also uplifting story becomes a parable about the difficulties that face modern America today. The book carries a warm and loving message about acceptance and change, and the meaning of respect, mutuality and yes, the valley of hope we all desire for our families and communities.
Hope Valley is a well conceived and beautifully written book that I hope will reach a wide audience, not just in the south. My conversation with author John Manuel reflects my deep appreciation for his book, and John's quiet, sincere belief in humanity and our future. Learn more about John and his work at his website. You can find the book at most online retailers and also at independent booksellers in North Carolina, for example, the wonderful Regulator Bookshop in Durham.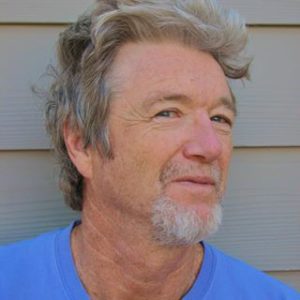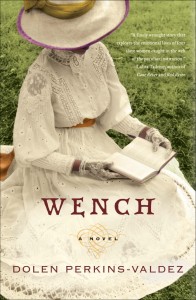 978-0061706547 – Hardcover – Amistad/HarperCollins – $24.99
Dolen Perkins-Valdez' first novel, Wench, just blew me away.  The writing is beautiful, and the story is compelling.  Perkins-Valdez has been able to imagine her characters in a very difficult time, in very difficult circumstances, capturing their pain and suffering as well as their joys, and the complexity of life lived by humans.  No stick figures here, male or female, black or white.  The author is sympathetic in the strongest sense of that word – she understands people.  She does not excuse anything, but she is able to imagine who they are, and therefore her readers are given no excuses either.  Here's the story of the book (I took this from the author's own website, which is one of the better author websites I have seen recently):
In 1851, a lawyer named Elias P. Drake purchased a plot of land near Xenia, Ohio with the intent to establish a summer vacation resort where the country's elite could relax and enjoy the mineral springs in the area. At the time, it was believed that natural water could cure illnesses and bring about good health.  What made this resort unusual, however, was that it became a popular vacation destination for southern slaveholders and their enslaved mistresses.  Ultimately, these flagrantly open relationships offended the northern abolitionists who also frequented the resort.  After four years, the resort closed.
This part of the story has been confirmed by historians.  I took this forgotten historical note and sketched in a fictional account of what it would have been like to be an enslaved woman traveling to this free state each summer.  Why wouldn't the women try to escape? What kinds of emotional attachments did they have with these men?  Initially, I believed that it was entirely possible that they actually loved the men.  Ultimately, I discovered that it was much more complicated than that.
Situated in the free state of Ohio, Tawawa House offers respite from the summer heat. A beautiful, inviting house surrounded by a dozen private cottages, the resort is favored by wealthy Southern white men who vacation there, accompanied by their enslaved mistresses.
Regular visitors Lizzie, Reenie, and Sweet have forged an enduring friendship. They look forward to their annual reunion and the opportunity it affords them to talk over the changes in their lives and their respective plantations. The subject of freedom is never spoken aloud until the red-maned, spirited Mawu arrives and voices her determination to escape. To run is to leave behind the friends and families trapped at home. For some, it also means tearing the strong emotional and psychological ties that bind them to their masters.
When a fire on the resort sets off a string of tragedies, Lizzie, Reenie, and Sweet soon learn tragic lessons,that triumph and dehumanization are inseparable and that love exists even in the cruelest circumstances as they bear witness to the end of an era.
That's the bare bones of the story.  Obviously, you need to read this book to understand how good it is.  And do listen to this interview.  In it, Dolen talks about how she became a writer, how this book came about, how she feels about her characters, and a great deal more.  Dolen Perkins-Valdez is a writer who deserves our attention.  I'm very much looking forward to her next book, and hoping she will be writing many more after that.
As an aside, the cover is beautiful, and perfect for this book, and has a sort of subliminal effect on me, which maybe contributed subtly to how much I liked reading this book and talking to its author.