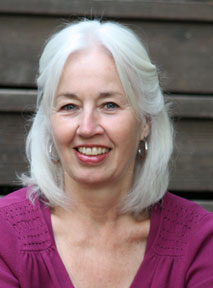 Publishing Talks began as a series of conversations with book industry professionals and others involved in media and technology about the future of publishing, books, and culture. As we continue to experience disruption and change in all media businesses, I've been talking with some of the people involved in our industry about how publishing might evolve as our culture is affected by technology and the larger context of civilization and economics.
I've now expanded the series to include conversations that go beyond the future of publishing. I've talked with editors and publishers who have been innovators and leaders in independent publishing in the past and into the present, and will continue to explore the ebb and flow of writing, books, and publishing in all sorts of forms and formats, as change continues to be the one constant we can count on.
It's my hope that these conversations can help us understand the outlines of what is happening in publishing and writing, and how we might ourselves interact with and influence the future of publishing as it unfolds.
Over the past few years, I've talked to several independent publishers in an effort to document the extraordinary period of the past 40 years, which has been a kind of golden age of innovation and creativity as publishing has literally been redefined. The list of great publishers established during this time in almost every category of publishing is amazing.
One of those presses that has had a special impact on my own work is North Atlantic Books, founded by Richard Grossinger and Lindy Hough as an outgrowth of their literary journal called Io, which they began together in 1965 when they were undergraduates at Amherst and Smith Colleges respectively. Richard and Lindy have been mentors, friends, and colleagues of mine for more than forty years, and their influence on my thinking about writing, ideas and books has been profound.
Since both Richard and Lindy are writers and editors with their own individual interests and styles, I thought it would make sense to interview each of them separately for this series of conversations. These two conversations can stand independently or together. They tell two versions of an amazing and almost mythologic story, which I hope listeners will find as compelling as it was for me when I spoke to them.
Io Magazine traveled with Lindy and Richard, moving to Michigan, Maine, Vermont and eventually California. Io is one of a number of influential literary magazines established in the sixties and seventies, publishing poets, film-makers and visual artists, many of whom were related to what has become known as the New American Poets, with influences ranging from Black Mountain College and the New York School to hermeticism and mystical spirituality. Io was singular in that it was most frequently a one-subject magazine, and this led eventually to the establishment of North Atlantic Books, which was incorporated in 1974 as a non-profit literary publisher in California.
North Atlantic Books has become one of the most successful and influential independent presses in America with a strong focus on spirituality and alternative health, while continuing its commitment to literary publishing.
Lindy graduated from Smith College and received an MFA in Creative Writing at Goddard College. She is the author of seven books of poetry, non-fiction, and fiction (including one book I published in 1978, the excellent Outlands & Inlands). She has taught literature and writing in Michigan, Maine, Vermont and California, and is currently finishing a novel.
This is the "official" description of North Atlantic Books, taken from its website:
North Atlantic Books is a nonprofit publisher committed to an eclectic exploration of the relationships between mind, body, spirit, and nature. Founded in 1974 by Richard Grossinger and Lindy Hough, NAB aims to nurture a holistic view of the arts, sciences, humanities, and healing. Over the decades, it has been at the forefront of publishing a diverse range of books in alternative medicine, ecology, and spirituality. NAB is the publishing program of the Society for the Study of Native Arts and Sciences, a 501(c)(3) nonprofit educational organization that promotes cross-cultural perspectives linking scientific, social, and artistic fields. With more than one thousand books in print, NAB has operated from Berkeley, California, since 1977.
Richard and Lindy are now retired from full time work with the press they founded, and each is now actively writing and editing books.
Our conversation was recorded in December, 2016. (55 minutes runtime)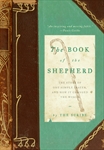 978-0061732300 – Hardcover – HarperCollins – $19.99
The Book of the Shepherd: The Story of One Simple Prayer and How it Changed the World is a beautifully written parable that made me think of writers like Paulo Coelho and Kahlil Gibran.  The conceit of the book is that the author finds a manuscript in a house in Vermont, and has it translated, thus this story.  It's a short book, and an easy read, but of course, because it is a parable, the book demands to be re-read and thought about deeply.
The story has no distinct place or time.  Joshua is the shepherd who is troubled by the code of "an eye for an eye" that governs his world.  He has a dream about "a new way" and sets off on a quest to find it.
Stone the builder who erects a house that falls on its occupants. Sever the hands of the criminal who pilfers livestock or grain or another's garment. Whip the child who defies an elder. For such is the law and the law must be obeyed.

For generations, these ironclad rules had governed the people. Nobody questioned whether it was right to humiliate a child or execute a murderer. An eye for an eye was the way of the world.

But was there another way?
Joshua is accompanied by Elizabeth, a former slave who is kind and generous, and David, a boy who must learn to walk in new shoes. Joshua believes that "an age of miracles" will come when the new way is found.
As with any quest, there is adventure along the way. En route to a cave near the Great Inland Sea, the travelers meet a number of interesting and compelling characters, including the Storyteller, the Apothecary, the Blind Man, and the Stranger. Each passes on an important lesson as the travelers journey toward what we realize is their destiny. At the cave, Joshua must see if he can bring forth secrets long buried. But he, Elizabeth, and David will discover that what they have been searching for has been inside them all along.  In the end, The Book of the Shepherd is compelling and meaningful, whatever your political, social or religious outlook or beliefs.  It's not heavy handed or preachy, and even for many secularists, will be well worth the investment of time to read.
Joann Davis is an experienced writer and former book editor.  She is extremely articulate and passionate about her work, and was a pleasure to interview.  We talked about her work as a writer, her own spirituality, and how The Book of the Shepherd can change people and the world for good.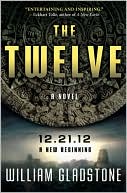 978-1593155568 – Hardcover – Vanguard Press – $19.95
William Gladstone, author of the new novel, The Twelve, interviewed by Writerscast host David Wilk.
The Twelve is a terrific first novel by an experienced book industry professional, west coast based William Gladstone.  I know the author personally, and I've read this novel at various stages of its development.  In its final published form, it has become a compelling read on a subject of great interest to many people – the future.  It's a book with a strong spiritual message but one that does not get in the way of its fast moving and intriguing story.
The publisher's description of the book goes like this: "The Twelve is an extraordinary and unforgettable novel about a most unusual man. As a child, Max lives in a world of colors and numbers, not speaking until the age of six. As an adult, Max ventures on a journey of destiny to discover the secret behind the ancient Mayan prophecy about the "end of time," foretold to occur on December 21, 2012.
When he is fifteen years old, Max has a near death experience during which he has a vision that reveals to him the names of twelve unique individuals. While Max cannot discern the significance of these twelve names, he is unable to shake the sense that they have deep meaning. Eight years pass before Max meets the first of the twelve.
With this, Max's voyage of discovery begins, as he strives to uncover the identities and implications of "the twelve"—individuals he will meet during his journey towards truth, all of whom seem connected, and all of whom may hold the answer to what will happen at the exact moment the world may end. The novel takes the reader on a series of global adventures, culminating in a revelation of why and how Max and the twelve are destined to unite to discover the magnitude of the meaning of December 21, 2012. Only the twelve can provide the answers, as the fate of all humanity rests in the balance."
In my fast-paced interview with author Gladstone, we talk about the genesis of the novel, his sense of the meaning of the book, and what the future holds for humanity.