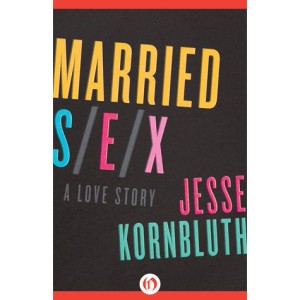 978-1504011259 – Open Road Media – paperback – 246 pages – $12.99 (ebook versions available at lower cost)
I've been a subscriber to Jesse Kornbluth's excellent newsletter, HeadButler, for awhile now, and have very much enjoyed his approach to books, music and art (politics and culture too). In many ways, he represents to me the quintessential New York intellectual: smart, well read, opinionated and caring about the future of humanity and our civilization. He's a writer of screenplays and a number of interesting and successful nonfiction books, and he has long been involved in the emerging forms and formats of online digitally-based culture, going back to his days as editorial director at AOL.
Married Sex is his first novel. It is short, extremely well written, and completely compelling. Jesse has brilliantly portrayed his characters, both male and female, and pinpoints them for the reader in very few words. It's also a fun book to read. Sex with intelligence, you might say.
Without giving away very much of the story, let's just say that the focus is on a couple who have been together a long time in a committed, deeply sexual romantic relationship. Then something happens that changes everything. You have to read the book to find out more. I think you will enjoy this book a lot. I love this line about it from Kirkus: "A libidinous fairy tale with an unusual Prince Charming."
And I also think you will enjoy listening to my conversation with Jesse as well. He's funny and trenchant, and we had a great time talking to one another about the book, his work, and how this book fits into his life. And oh yes, let's get this settled right away – it's a novel, not a memoir.
I often recommend Jesse's newsletter and website to friends, HeadButler.com, what he calls "a cultural concierge site." I've discovered and sometimes rediscovered a number of books and records through his literate and intelligent recommendations. It's all free, based on the perhaps dubious concept of readers buying things he recommends from Amazon.
Jesse Kornbuth was the Editorial Director at AOL, was a contributing editor to Vanity Fair and New York magazines and is the author of four nonfiction books, including Highly Confident: The Crime and Punishment of Michael Milken. He has written several screenplays for ABC, PBS, and Warner Bros.
Married Sex is Kornbluth's first novel. He lives in Manhattan with his family. I am looking forward to reading his next book.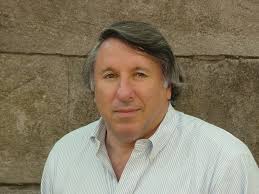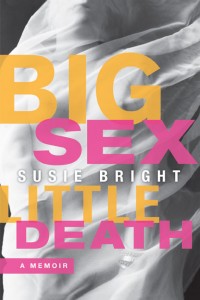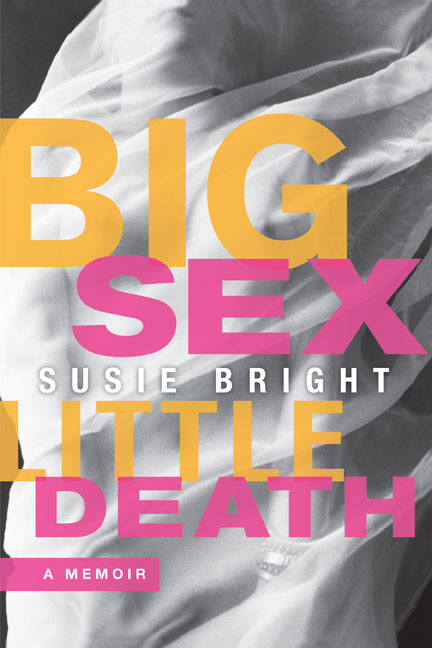 978-1580052641 – Seal Press – $24.95 – Hardcover (ebook and unabridged audio book available)
Reading Big Sex Little Death was a big surprise for me.  I've known Susie Bright for a long time and have worked with her at various times over the years.  I've long admired her work as a sex-positive revolutionist and a terrifically intrepid personality.  I guess I was expecting a sexual travelogue as memoir and a pop culture tone of voice, and maybe some dishing on what it's like to be a famous sexpert.
In fact Big Sex Little Death is mostly a really well written story that focuses more on Susie's early years with her very difficult though intelligent mother (and later years when she was able to live with her anthropologist/linguist father), and her very active life as a political radical.  In Southern California in the 70's, Susie worked on a high school magazine called Red Tide, and later was an activist in the socialist movement of that period.  Where, yes, there was a lot of sex (and sexism).  Her radical political history was all new to me, and is very interesting to read about.
That was all before she became part of the pro-sex feminist movement in the 80's, worked at the now famous Good Vibrations feminist sex shop, and helped found the now-famous lesbian sex magazine, On Our Backs, which for its seven year lifespan was hugely important in helping women define and own their sexuality.  And in many ways that is what is most important about this memoir, that it connects politics and sexuality and helps us remember where so much of the culture we take for granted today came from.
Writing mostly about her earlier years, Susie leaves room, I suppose, for a sequel where she can talk about her later work as a nationally known sex expert, talented writer, and important editor of innumerable anthologies of writing about sex and sexuality.
As one might expect, we had a great time talking about her book and some of her many exploits as a public sex figure in a bizarrely prudish society.  Ultimately this book should be read by anyone interested in late 20th century American culture, regardless of one's gender, sexuality, interest in sex, out there or puritanical, it's well worth your time.   And I am a big fan of Susie's blog too – and I recommend her latest on "sex positive parenting" to anyone who has ever thought about what they are teaching (or not) their children about their own values.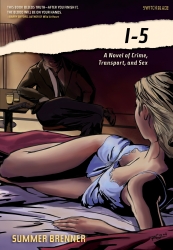 978-1-60486-019-1 – Paperback – PM Press – $15.95
This is a slim novel that packs a pretty powerful punch.  Summer Brenner was best known to me as a poet, but it turns out she has been writing fiction for quite some time.  She has a political interest, as this novel demonstrates, but it is not a tract.  It's a sensitive portrayal of an Eastern European woman who has been tricked into coming to America, where she has been enslaved in a money for sex ring that makes a business out of the correlation between the desires of women to escape the misery of their lives and men who are willing to pay for sex of all kinds with women, whose real lives they care nothing about.
As the story of I-5 unfolds, Anya, the main character, is traveling the interstate corridor up central California from Los Angeles to Oakland; adventures ensue, some of them strange, some of them desperate, all of them painful and sad.  Still, Brenner's characters matter, she is sympathetic to all of them as human beings, even the worst exploiters in the crew.  That makes this novel much more than a book about sex, money, power and violence; in Brenner's hands, these characters transcend their typologies to become real people trapped in their individual gulags.  She writes visually, so that with a relatively few words, we can see what she wants us to see, the places her characters inhabit, and even their interior worlds.  It's gut wrenching book, but our faith in the ability of people to overcome the obstacles between themselves and their humanity is never lost.
This is really a terrific book; yes, the cover makes it look like a trashy paperback from the 50s, but done in a modern enough way that there is no mistaking it for anything exploitative.  I-5 is a hardboiled story, and it is as noir as any book you will read, but it's a transformative experience to read and one that should not be missed.  In my interview with Summer, we talked quite a bit about the how she came to write this book, and many of the issues of sexual slavery in America and worldwide today.  She expresses a deep emotional connection with the characters in her novel, based on her own experiences as a woman.  Her abilities to imagine her characters and their stories is remarkable.  Summer Brenner is a writer more people should know, and one who important things to say.