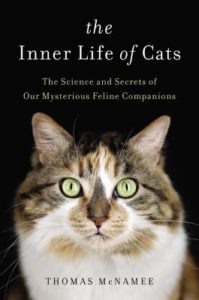 The Inner Life of Cats: The Science and Secrets of Our Mysterious Feline Companions – Thomas McNamee – Hachette Books – Hardcover – 9780316262873 – 288 pages – $27.00 – ebook versions available at lower prices – March 28, 2017
What a fun read! Thomas McNamee's story begins with the story of finding his own cat, Augusta, and that story becomes the framework for a comprehensive understanding of how cats develop both physiologically and psychologically, and of course how their owners do as well.
McNamee recounts the evolution of cats and much more as he tells the story of his own cat's adventures. He talks to all kinds of experts, animals behaviorists, activists and researchers to help his readers understand these strange and different animals who have lived with and among humans for so long. His book is well grounded in every way.
The author has strong opinions about these animals. He is clearly someone who loves cats and wants to improve the way other cat lovers live with and treat their pets. He aims for them to have happier and better relationships with them, and I suspect that reading this book will in fact help make that happen for them.
While I am decidedly not a cat person, Tom McNamee is such a fine writer and storyteller, I found this book impossible to put down. I am guessing true cat loving humans will as well.
McNamee is the author of several successful books, including The Grizzly Bear; Nature First: Keeping Our Wild Places and Wild Creatures Wild; a novel, A Story of Deep Delight; The Return of the Wolf to Yellowstone; Alice Waters and Chez Panisse: The Romantic, Impractical, Often Eccentric, Ultimately Brilliant Making of a Food Revolution; The Man Who Changed the Way We Eat: Craig Claiborne and the American Food Renaissance; and most recently, The Killing of the Wolf Number Ten.
McNamee also  wrote the PBS documentary Alexander Calder, which won a Peabody Award and an Emmy. In 2016, he was awarded a Guggenheim Fellowship to work on The Inner Life of Cats.
​He was a board member and chairman of the Greater Yellowstone Coalition. He has also served as a board member of Rare Conservation and the Center for Urban Education about Sustainable Agriculture. After two decades in New York City, he then lived on a cattle ranch in Montana for eight years. He now lives and writes in San Francisco.
Thomas McNamee's website is here.
"The Inner Life of Cats is filled with shining prose, moments of sheer cat joy–and intimate, careful scientific observation. Thomas McNamee's naturalist's eye, combined with his humor and heart, bring the always wild, yet domesticated cat into delightful, insightful focus."
―Cat Warren, New York Times bestselling author of What the Dog Knows
Talking with Tom about this book was a true pleasure. Full disclosure: I published his excellent book, The Killing of Wolf Number Ten (a great book – it is the story of the return of wolves to Yellowstone National Park).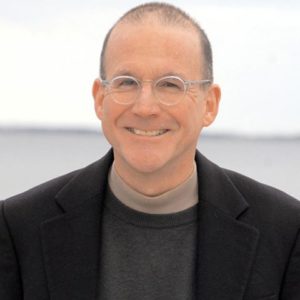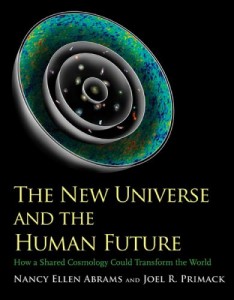 978-0300181241 – Yale University Press – paperback – $20 (ebook versions available)
This was an exciting and extraordinary book for me to take on.  At the very moment I discovered Joel Primack and Nancy Abrams' cool new book The New Universe and the Human Future, I was also discovering Big History and working on a book project that relates exactly to the ideas in this book.  So it was a lucky coincidence for me to find this book and even better to have the chance to speak with the authors.  My first two-author interview also, which was fun, not the least because Joel and Nancy work brilliantly together.
I suspect I learned more about the universe from this book than from anything else I have read in my entire life – and I thought I had been pretty good about keeping up with Big Science over the past thirty years or so.
In The New Universe, Nancy Abrams, a cultural philosopher and Joel Primack, an astrophysicist—combine their knowledge and experience to present the most accurate possible portrayal of our current understanding of the universe in which we live.  It's pretty stunning to realize that we are indeed time travelers, since we are able to see the history of the universe in light as it reaches us.  And to understand the scale of time in which humans are so small.
But Abrams and Primack are after more than just telling what scientists know and what cosmologists understand about the universe and our place in it.  By showing us the absolute miracle of human life on planet Earth, they infuse a scientifically grounded spirituality into the core of our understanding.  While they quickly dispense with any notions of Biblical literalism that are disproven by the physical facts that science has uncovered about space and time, cosmology and biology, what they want to show us is that it is possible for the world now to finally share a scientifically grounded creation story.  Whereas today we seem to have highly fragmented and differing worldviews that prevent us from living intelligently on our small planet, by understanding how unique our planet and we as a species are in the universe, and how we got here, we may yet be able to unite to save ourselves from extinction.  Knowing that it is likely that this is the the only planet able to foster intelligent life does force us to acknowledge our responsibilities not only to ourselves but to the universe we inhabit.
The book is full of incredible information and insights, brilliantly illustrated, our creation story well told.  I find myself going back to it frequently as the richness of information the authors share calls out to be re-read.  And there's a great website for the book that I recommend visiting as well.
Nancy Ellen Abrams is an attorney, cultural philosopher, and lecturer at the University of California, Santa Cruz.  Joel R. Primack, Distinguished Professor of Physics at the UC Santa Cruz, is one of the principal creators of the modern theory of the universe on the grand scale.   Together they have authored several books, including The View From the Center of the Universe. They live in Santa Cruz, California.