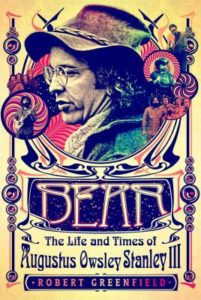 Bear: The Life and Times of Augustus Owsley Stanley III – Robert Greenfield – Thomas Dunne Books – Hardcover – 9781250081216 – 288 pages – $25.99 (ebook versions available at lower prices)
For many of us who came of age during the decade loosely known as "the sixties," the name Augustus Owsley Stanley, AKA Owsley or Bear, remains iconic and recognizable. He is best known as the maker of some of the best LSD ever manufactured;  "Owsley" branded acid could convince psychedelic adventurers that the tab on their tongues would be safe to take and would produce a good trip. And of course his role as the LSD source for the very famous "acid tests" run by writer Ken Kesey and the Merry Pranksters was well known to most hippies and fellow travelers "back in the day."
But few then knew much else about this mythic character. Owsley, who was the scion of an iconic southern political family, known to his friends and admirers as Bear, was an individualist in an era of individualism, a deeply anti-authoritarian truth seeker, who lived his life accordingly during a time when it was all too easy to simply proclaim oneself "against the man," but then do very little concretely to make things different. Owsley was himself a different sort of individual, his thoroughly unique mind and personality opened doors for others and changed the world in meaningful ways for thousands of people.
Owsley seems to have been everywhere and done every thing that mattered during one of the most creative and recognized periods of modern history. He was a self taught sound engineer and chemist, and later in his life a practical climate scientist and accomplished craftsperson. He was brilliant and iconoclastic, difficult and sometimes paranoid (taking lots of acid does change one's brain chemistry).
Early on, Owsley recognized that the Grateful Dead, then just among the many early Bay Area hippie groups, was an historic band, and being in the right place at the right time, he provided the money they needed to hone their sound, and ultimately become one of the greatest bands of all time. As their founding sound engineer and musical adviser, he recorded almost all of the Dead's greatest live performances (which have been released over the years to great acclaim), and designed the massive sound system that was known as the Dead's signature Wall of Sound. Owsley even designed the band's now ubiquitous logo after he realized the need to identify their equipment when the group played at live venues with other bands.
Being the central popularizer of LSD and creator of the Grateful Dead's sound system might be sufficient accomplishments for most people, but there is much more to tell about Owsley's life than this. Owsley's complete life story is here brilliantly and lovingly chronicled by Robert Greenfield, himself a well traveled and accomplished veteran of sixties pop culture. This is a fine biography, compelling and sympathetic, and whether you were "there" then or not, it is well worth reading about this fascinating and perceptive individual. When I read the book, I found myself wishing that Bear was still alive and still around to tell tales and open minds. We'll just have to make do with this story of his life and times. It's almost enough.
Robert Greenfield is the former Associate Editor of the London bureau of Rolling Stone magazine. He is the author of several classic rock books, among them S.T.P.: A Journey Through America with the Rolling Stones, as well as the definitive biographies of Timothy Leary and Ahmet Ertegun. With Bill Graham, he is the co-author of Bill Graham Presents: My Life Inside Rock and Out, which won the ASCAP-Deems Taylor Award. He has also written novels and short fiction. His novel Temple, won the National Jewish Book Award and was a New York Times Notable Book of the Year. His book, Timothy Leary: A Biography, which he spent ten years researching and writing, is a major work of cultural history, as is another fine book, A Day In The Life: One Family, The Beautiful People, and the End of the Sixties. Greenfield lives in California.
It was a great pleasure for me to talk with him about Bear, this book, and the period that so much influenced who we are today.
Interestingly, even though Bear was killed in a car accident in 2011, his website is still up and running, and is interesting to visit.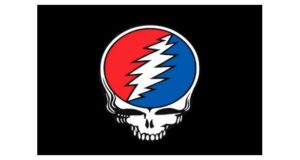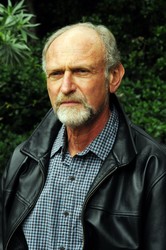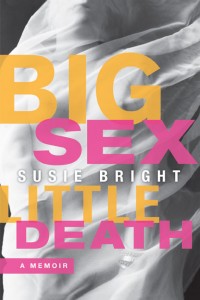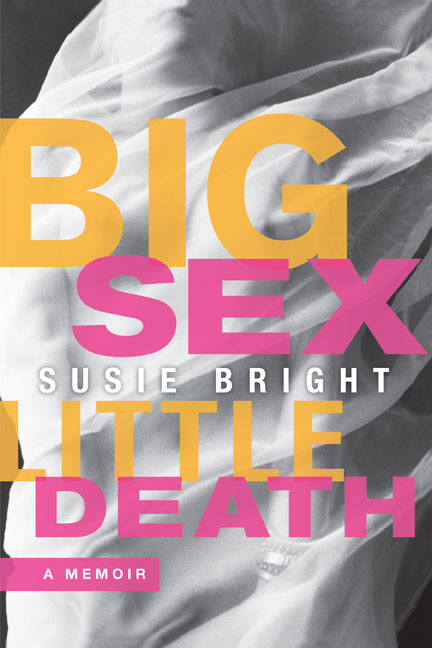 978-1580052641 – Seal Press – $24.95 – Hardcover (ebook and unabridged audio book available)
Reading Big Sex Little Death was a big surprise for me.  I've known Susie Bright for a long time and have worked with her at various times over the years.  I've long admired her work as a sex-positive revolutionist and a terrifically intrepid personality.  I guess I was expecting a sexual travelogue as memoir and a pop culture tone of voice, and maybe some dishing on what it's like to be a famous sexpert.
In fact Big Sex Little Death is mostly a really well written story that focuses more on Susie's early years with her very difficult though intelligent mother (and later years when she was able to live with her anthropologist/linguist father), and her very active life as a political radical.  In Southern California in the 70's, Susie worked on a high school magazine called Red Tide, and later was an activist in the socialist movement of that period.  Where, yes, there was a lot of sex (and sexism).  Her radical political history was all new to me, and is very interesting to read about.
That was all before she became part of the pro-sex feminist movement in the 80's, worked at the now famous Good Vibrations feminist sex shop, and helped found the now-famous lesbian sex magazine, On Our Backs, which for its seven year lifespan was hugely important in helping women define and own their sexuality.  And in many ways that is what is most important about this memoir, that it connects politics and sexuality and helps us remember where so much of the culture we take for granted today came from.
Writing mostly about her earlier years, Susie leaves room, I suppose, for a sequel where she can talk about her later work as a nationally known sex expert, talented writer, and important editor of innumerable anthologies of writing about sex and sexuality.
As one might expect, we had a great time talking about her book and some of her many exploits as a public sex figure in a bizarrely prudish society.  Ultimately this book should be read by anyone interested in late 20th century American culture, regardless of one's gender, sexuality, interest in sex, out there or puritanical, it's well worth your time.   And I am a big fan of Susie's blog too – and I recommend her latest on "sex positive parenting" to anyone who has ever thought about what they are teaching (or not) their children about their own values.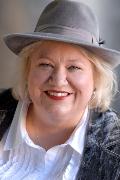 978-0312-60360-1 – Hardcover – Minotaur – $24.99 (also available as an e-book at $11.99)
Writerscast is proud to present the second in our series of authors reading from their work called AuthorsVoices.   I hope you will agree that hearing these works read aloud, especially by the original authors, will add greatly to the experience of the writing and the authors' distinct sense of their own words. With writers touring for books less frequently now, these podcasts should provide readers with an opportunity to hear some of our best contemporary authors reading  from, and sometimes performing their own works.
Kelli Stanley's City of Dragons is a great noir mystery novel with a great woman detective main character.  The novel is set in Stanley's meticulously recreated 1940's era San Francisco that she plainly deeply loves.  I read this book a few months ago, thought it was terrific, and interviewed Kelli (here).  For AuthorsVoices Kelli provides an introduction to the book and does a terrific reading of Chapter 1 of her novel in full.  Note to listeners: language in this piece does include some words not allowed on broadcast radio or television.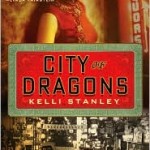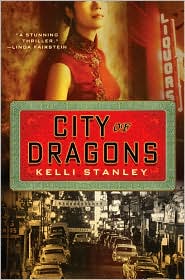 978-0312603601 – Hardcover – Thomas Dunne/Minotaur Books – $24.99
Reading Kelli Stanley's City of Dragons was a pleasure from beginning to end.  I liked her incredible attention to details in the San Francisco of the 1940s setting.  I really liked her main character, the wounded private eye, Miranda Corbie.  Kelli's love of noir fiction, and love for a great story really show.  Good fiction should be able to take you into another place and time coupling the author's skills with your own imagination.  This book certainly succeeds in grabbing you early, and keeping your attention.  Anyone who has read and loved the great classic detective novels will feel at home with Kelli Stanley's writing.  And she has that political edge that so many writers of the 30s and 40s brought to their work.
There's a lot going on here.  You can feel San Francisco in the dark of pre-World War II, taste the cigarettes and booze, and feel the very real danger her characters experience, the otherness of Chinatown, and the deaths and broken lives that dot this sometimes harsh and painful cityscape.  And you can feel throughout how much heart and soul the author has put into this book.  It's a pleasure to read, and has a story that won't let go.  Lots of fun overall, and City of Dragons works on many levels, so it will satisfy readers looking for entertainment or something with a bit more depth as well.
Kelli loves her work and loves to talk about it too, so we had a great conversation.  This is a writer with a great future and I am very much looking forward to her next book.  I'm also hoping to get her to contribute a reading from this novel to Writerscast in the near future.  Kelli's own website is worth a visit as well.  City of Dragons is available as an e-book in various formats, and in digital audio as well.