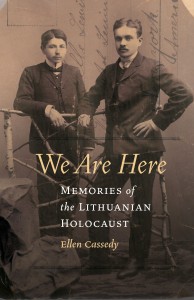 978-0803230125 – University of Nebraska Press – Paperback – $19.95 (ebook versions available at variable lower prices)
Finding this book was a happy accident for me.  Much of my own family is from Lithuania and I have long been interested in the history and culture of the Jewish community prior to World War II.  I've read a number of books by Jews who survived the Holocaust in Lithuania – terrible stories of suffering and loss.  But Ellen Cassedy's story resonated even more deeply for me.  She went to Lithuania to study Yiddish as part of her quest to connect to her Jewish roots on her mother's side and to explore the country and culture of her family's birth.
She also needed to learn some of the secrets of her Holocaust survivor Uncle's past, and as she explored and connected to Jews and gentiles alike, her experiences in modern Lithuania changed her perspective and understanding of the complex connections between people, their history, and their present.   Much of what she believed was true about Lithuania as well as her family's experience in the terrible war years was upended by what she learned and the people she met and interacted with there.
Cassedy's story should be meaningful not just for Jews seeking to understand their European roots.  Through her eyes, we learn a lot about her hard work in trying to master the complexity of the beautiful and difficult Yiddish language.  She spends time with old people, young people, survivors, witnesses, goes through old Lithuanian and Russian archives, interviews city and country folk, including an old man who wants to "speak to a Jew" before he dies and learns a great deal about the issues that confront a country that was taken over by both Nazi and Soviet dictatorships.  In the end, her journey transforms her, and in this memoir she allows us to travel with her through a difficult and rewarding emotional and physical landscape.  I truly enjoyed this book and talking to Ellen about it was a pleasure.  And I learned some new Yiddish words and expressions too!
Her own website is well worth a visit – nice video of Lithuania and more about her other work.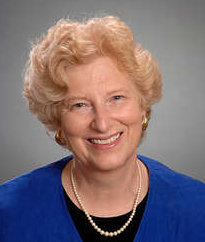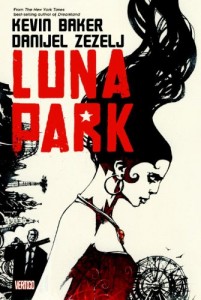 978-1401224264 – paperback – Vertigo – $14.99
Luna Park is an outstanding first graphic novel by historian and novelist Kevin Baker.  Baker is certainly well-known for his best selling New York City based trilogy of historical novels (Paradise Alley, Dreamland and Strivers Row).  And recently he was the consultant for the History Channel's extremely fine mini-series, America: The Story of Us, as well as being the author of its companion book.
Luna Park is centered on a former Russian soldier, Alik, who fought in Chechniya now living in Coney Island, working as the enforcer for a small time Russian mobster.  He is addicted to heroin, and haunted by his memories of the horrors of the war and his own part in it.  He desperately loves the prostitute Marina, whose daughter is held captive by the mob boss as a way to keep her under his control.
Alik comes up with a desperate plan he has convinced himself will save Marina, her daughter and himself.  It's at this point that the story takes a turn, as Alik discovers he is destined to repeat his past lives repeatedly, including a few pasts the present Alik does not know he had.   There are flashes from present- day run down Coney Island to the Russia of 10 years ago during the Second Chechen War to an earlier time period in Coney Island, when the area was at its peak as an amusement park that really was amazing to behold.
Baker keeps us traveling with him throughout, even though the story is complex, the pain palpable and the suffering of the characters in their struggles seems to never let up.  The work of the artist Danilej Zezelj is perfectly suited for this story.  His art is dark, powerful and energetic, and adds tremendously to the strength of the story.  DC Comics deserves praise putting Baker and Zezelj together, it's a terrific collaboration.
Kevin Baker and I talked at length about this, his first graphic novel, both in the context of his work as a fiction writer and historian, and of course his deep interest in the City of New York, especially its seamier areas like Coney Island, as well as how writing a graphic novel in collaboration with an artist is different from other types of writing.  we were able to range widely about a number of other subjects, making this conversation one I hope listeners will particularly enjoy.