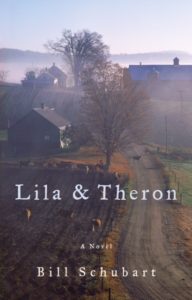 Lila and Theron (A Novel) – Bill Schubart – Charles Michael Publishing – Hardcover — 9781682613566 – 192 pages- $19.95 – ebook versions available at lower prices – June 6, 2017
This small book is short and sweet in a very good way. Through well written fiction, the book documents and celebrates an imagined place and people in time, that have only recently disappeared from the American landscape. It's difficult for most of us moderns to imagine life without all the technological conveniences we have come to take for granted today. It was not that many years ago that the isolated mountain communities of northern Vermont were still home to small farmers, whose daily lives were closer in rhythm to the nineteenth century than to even the twentieth, much less the technologically advanced twenty first century of today. Some of these hardy folk still farmed with horses into the 1960s, and many small-scale daily and truck farming operations managed by dint of endless toil, to support the families on the land they had worked for generations.
To most of us, these lives will be as foreign as science fiction. Harsh circumstances often make people harsh, but Schubart's characters find a way to access their humanity despite all the struggles of life which which they must cope. It's a joy to get to know these characters and to share the stories of their lives. Schubart, now in his seventies, bridges this time frame. He grew up in northern Vermont, and while his life experience was vastly different from the farm people he writes about here, these are people he knew and loved during the his youth, and it benefits us all that he has brought them to life in this lovely novel.
Thelma dies at nineteen giving birth to a son, Theron. When the son first meets his father, he learns his mother's death is his fault and can only muster the question, "How did she die?"

Looking away, the father mutters, "She died givin' birth ta you. An' I lost all her help and comforts."

"I have long considered Bill Schubart to be the wisest columnist in America. That same wisdom, deep life experience, and empathy come shining through on every page of his new novel, Lila and Theron. Full of joy, sadness, humor, and insight, Lila and Theron is a clear-eyed celebration of our almost boundless capacity, despite all our human frailties, to love both one another and the place we call home. Over the years, I have known many true and good country people like Lila and Theron, whom I have been proud and honored to call my friends. This is a beautiful book." – Howard Frank Mosher, author of Marie Blythe and Walking to Gatlinburg.
Bill Schubart has lived with his family in Vermont since 1947. He writes about Vermont in fiction, humor and opinion pieces, is the author of several books, is a regular commentator on Vermont Public Radio, and active in Vermont community and political life. Learn more about him and his work at his website.
It was a true pleasure for me to share a conversation about Vermont and its people, small-scale farming, and the art of fiction with my old friend, Bill Schubart.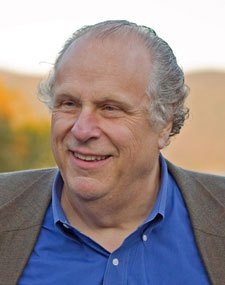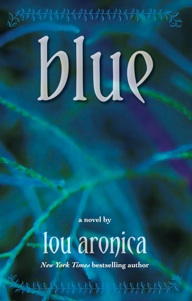 978-1936558001  – paperback – The Fiction Studio –  $16.95 (e-book versions available $7.99)
Lou Aronica's Blue is an unusual novel, combining elements of science fiction, fantasy, romance and serious fiction, to create a moving story that focuses on the relationship between a daughter and her father in a terrifically moving and affecting way.  Lou is an experienced and skillful writer who deftly manages to tell a story that is full of sadness and emotion and manages to avoid the deeply sentimental that might otherwise overtake the reader.  Which is not to say it is not a story that will affect the reader – and some may find it difficult going, to say the least.
Reviewers and interviewers must always be careful in describing any novel's storyline, to avoid ruining the book for prospective readers.  For those who don't want to know too much, let's just say that Blue takes on family relationships in the face of grave illness in a beautifully imagined way.  There is plenty of sadness in this novel, but Aronica succeeds in the true storyteller's art, the transformation within a story to something greater than the experience itself.
The book is set in a contemporary suburban Connecticut much like the one the author actually lives in, so the characters and settings are all familiar and well told.  At the heart of the story is the relationship between Chris Astor and his fourteen-year-old daughter, Becky, and her mother, from whom Chris is now divorced.   Facing the greatest challenge of their lives, they must all learn to trust each other, and ultimately to believe in imagination and its transformational power, in order to come to terms with what is happening to them.
Blue is a remarkable and uplifting novel.  I think Lou Aronica has succeeded in his goal for this book (from his website): "I wanted to write a novel that conveyed my feelings about the incomparable value of imagination and hope. Blue puts its characters through the wringer, but it is at its heart an extremely optimistic novel."
Full disclosure: I am happy to say that Lou is someone whose friendship I value.  I do want to say, also, that even if I just like a book and don't love it, I'm unlikely to want to write about it and certainly won't want to talk about it with the author.  I feel my responsibility as an interviewer requires that I really get into a book in order to be able to ask meaningful questions about it and talk about it intelligently.  I don't love every book I read, but I truly do deeply enjoy and admire every book I write about here and talk about with their authors.  For me, there is no question that Blue is a terrific book and my conversation with Lou reflects that assessment.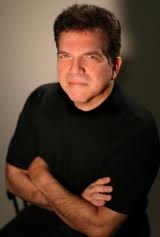 This is a book I am happy to recommend to readers, and I think it will be especially moving to anyone who is the parent of children of any age.