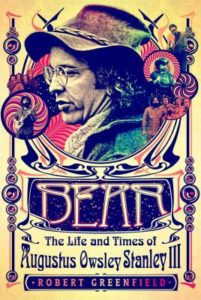 Bear: The Life and Times of Augustus Owsley Stanley III – Robert Greenfield – Thomas Dunne Books – Hardcover – 9781250081216 – 288 pages – $25.99 (ebook versions available at lower prices)
For many of us who came of age during the decade loosely known as "the sixties," the name Augustus Owsley Stanley, AKA Owsley or Bear, remains iconic and recognizable. He is best known as the maker of some of the best LSD ever manufactured;  "Owsley" branded acid could convince psychedelic adventurers that the tab on their tongues would be safe to take and would produce a good trip. And of course his role as the LSD source for the very famous "acid tests" run by writer Ken Kesey and the Merry Pranksters was well known to most hippies and fellow travelers "back in the day."
But few then knew much else about this mythic character. Owsley, who was the scion of an iconic southern political family, known to his friends and admirers as Bear, was an individualist in an era of individualism, a deeply anti-authoritarian truth seeker, who lived his life accordingly during a time when it was all too easy to simply proclaim oneself "against the man," but then do very little concretely to make things different. Owsley was himself a different sort of individual, his thoroughly unique mind and personality opened doors for others and changed the world in meaningful ways for thousands of people.
Owsley seems to have been everywhere and done every thing that mattered during one of the most creative and recognized periods of modern history. He was a self taught sound engineer and chemist, and later in his life a practical climate scientist and accomplished craftsperson. He was brilliant and iconoclastic, difficult and sometimes paranoid (taking lots of acid does change one's brain chemistry).
Early on, Owsley recognized that the Grateful Dead, then just among the many early Bay Area hippie groups, was an historic band, and being in the right place at the right time, he provided the money they needed to hone their sound, and ultimately become one of the greatest bands of all time. As their founding sound engineer and musical adviser, he recorded almost all of the Dead's greatest live performances (which have been released over the years to great acclaim), and designed the massive sound system that was known as the Dead's signature Wall of Sound. Owsley even designed the band's now ubiquitous logo after he realized the need to identify their equipment when the group played at live venues with other bands.
Being the central popularizer of LSD and creator of the Grateful Dead's sound system might be sufficient accomplishments for most people, but there is much more to tell about Owsley's life than this. Owsley's complete life story is here brilliantly and lovingly chronicled by Robert Greenfield, himself a well traveled and accomplished veteran of sixties pop culture. This is a fine biography, compelling and sympathetic, and whether you were "there" then or not, it is well worth reading about this fascinating and perceptive individual. When I read the book, I found myself wishing that Bear was still alive and still around to tell tales and open minds. We'll just have to make do with this story of his life and times. It's almost enough.
Robert Greenfield is the former Associate Editor of the London bureau of Rolling Stone magazine. He is the author of several classic rock books, among them S.T.P.: A Journey Through America with the Rolling Stones, as well as the definitive biographies of Timothy Leary and Ahmet Ertegun. With Bill Graham, he is the co-author of Bill Graham Presents: My Life Inside Rock and Out, which won the ASCAP-Deems Taylor Award. He has also written novels and short fiction. His novel Temple, won the National Jewish Book Award and was a New York Times Notable Book of the Year. His book, Timothy Leary: A Biography, which he spent ten years researching and writing, is a major work of cultural history, as is another fine book, A Day In The Life: One Family, The Beautiful People, and the End of the Sixties. Greenfield lives in California.
It was a great pleasure for me to talk with him about Bear, this book, and the period that so much influenced who we are today.
Interestingly, even though Bear was killed in a car accident in 2011, his website is still up and running, and is interesting to visit.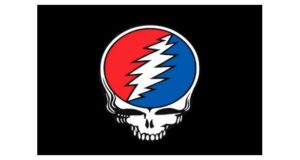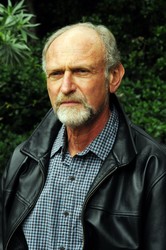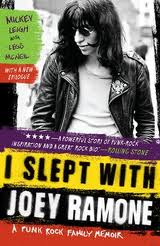 978-1439159750 – paperback – Simon & Schuster – $15.99 (ebook versions available $12.99)
Mickey Leigh grew up in Queens in the 1950s and 1960s as Mitchel Hyman.  His brother was Jeffrey Hyman, more famously known as Joey Ramone, lead singer of the great American punk rock band, The Ramones.  I Slept with Joey Ramone (subtitle: a punk rock family memoir) tells their story from the beginning to the end of Joey's relatively short life and just a bit farther into the almost present day.  Mickey had some writing help from rock journalist Legs McNeil, and throughout the book, the story is told compellingly in Mickey's voice and from his perspective.
We start in Queens where the boys grow up somewhat rockily.  Their family situation was never easy, and Mitchel and Jeff were bullied misfits.  Joey had both physical and psychological issues that manifested early in his life. Music became their savior very early, but at the beginning it was Mitchel (Mickey) who was the musician, and it took some time before the very complicated Jeff got together with the band that became the Ramones and found not only his voice, but his new identity.
The Ramones story as told by Mickey Leigh, is pretty incredible, even for fans who know something about the band and were there during the glory days.  The relationships between the various band members were legendarily terrible.  How this band stayed together and made such incredible music is still a mystery.  Mickey was there at the beginning; John Cummings, aka Johnny Ramone, was initially his best friend.  Mickey ended up being the band's first roadie, while Joey, the quintessential misfit outsider, became the front man singer of what eventually became one of the greatest rock bands of all time. Later Mickey had his own career with a number of bands, as well as being a songwriter too.
The many stories and incidents recounted in this book are never boring, even when the sometime strange and complicated elements of Joey Ramone's personality begin to repeat themselves over years.  There is a tremendous amount of love here, and some not so nice things as well.  Mickey's own story is complicated and he has alot to say about alot of the people he worked with, for and sometimes against throughout the years.  Nothing here is ever boring.  It's sometimes sad and frustrating to know how things were for Joey Ramone and his family, friends and associates, as it was often difficult, confusing and painful for all of them.  Even years later, when they were inducted into the Rock and Roll Hall of Fame, the Ramones created an emotionally complicated scene.
Ultimately, Mickey (and doubtless Legs too) has captured beautifully a unique and special part of modern musical history, that is also the story of redemption, which is after all, the real story of rock and roll.  And at the end Joey and Mickey always did make up.  As Mickey tells it, the last time really counted the most. "He pulled me down to him, and he just didn't let go. I can still feel that hug."  This is a book well worth reading for anyone interested in New York punk rock.  I had a great time talking to him about the book and his experiences in rock and roll.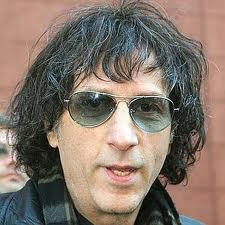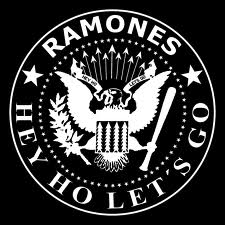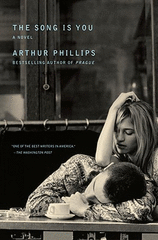 9781400066469 (hardcover)
Random House, $25.00
Writerscast host David Wilk interviews author Arthur Phillips, acclaimed author of Prague, The Egyptologist and Angelica. Phillips, who was born and raised in Minnesota, and educated at Harvard, now lives in Brooklyn, which is also the setting for his newest novel The Song is You. It is a beautifully written, complicated, sometimes painful, often extremely funny and very modern novel.  Music is a critical underpinning of the story, and the complexity of the relationship between listener and performer is deeply entwined with the unusual love story that is at the heart of the novel.   Phillips is widely considered one of the best novelists writing today – and The Song is You is solid evidence of how good he really is.
In this first segment of a lively two part interview with David Wilk, Phillips talks in detail about his new book The Song is You, what it is about, how he came to write it, what music means in the novel and for his main character, as well as what it has meant to him, how he writes, and how he sees his work in the context of his own daily life.