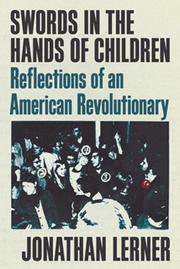 Swords in the Hands of Children: Reflections of an American Revolutionary – Jonathan Lerner – OR Books – Hardcover – 9781944869472 – $22 – 224 pages – December 5, 2017. Ebook versions available at a lower price. Order direct from the publisher, OR Books.
As Writerscast listeners doubtless know, I am interested in books about the sixties, a period in our history that shaped so much of what is now our current worldview and world situation, for better and for worse. This was a period in American history marked by social and political conflict, sparked principally by the Vietnam War. For many young people, it was the time in their lives when political and social idealism flourished, yet for some, directions taken and decisions made, acts committed, that would later appear misguided and wrong.
In the early sixties, Jonathan Lerner was a student at Antioch College, who almost accidentally became a full-time staff member of Students for a Democratic Society, the most powerful organization of the New Left (among its founders, the recently deceased Tom Hayden). In this book, Jonathan recounts the story of his life during the most fraught years of the political upheavals of this era.
Jonathan Lerner was at the center of many of the most important political events of that time. He became a founding member of the Weatherman faction of SDS, which ended up taking over the organization in 1969, and was the editor of its newspaper Fire! and an "above ground" representative of the Weather Underground organization, that was responsible for much of the far left spawned violence of the era.
The Weather Underground ultimately carried out a campaign of bombings across America. Some of its members died, many stayed underground for years, and some went to jail. Lerner tells some compelling stories about this time in particular and the people he worked and lived with. Overall, he seems to have been almost an accidental radical, who like many in the sixties, "went with the flow" of events and people around him, trying to find his place in a complicated environment.
Jonathan tells his story with brutal honesty, questioning much of what he once took for granted, as an insecure gay man existing in an environment that was not supportive in any way. This memoir has much to offer to those of us still seeking to understand the politics and culture of our youth, as well as for those too young to have experienced the sixties directly.
Lerner is the author of the novels Caught in a Still Place and Alex Underground, and is today a journalist focusing on architectural, urbanist and environmental issues. He lives in the Hudson Valley of New York state with his husband.
We had a great conversation in our wide ranging conversation. Visit Jonathan's website here.
"Imagine if your favorite uncle, a brutally honest, worldly, self-reflective gay raconteur, had been, as a twenty year-old, a lieutenant in an underground guerrilla army dedicated to the violent overthrow of the government of the United States. Jonathan Lerner is that favorite uncle you never had, telling unbelievable true stories―no bullshit―from the 'revolution' fifty years ago. This is the closest you'll ever get to being there." ―Mark Rudd, national secretary of SDS, founding member of the Weather Underground and author of Underground: My Life with SDS and the Weathermen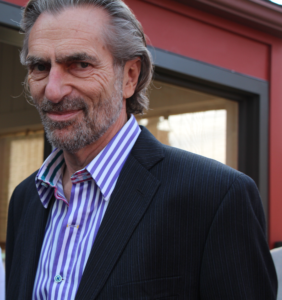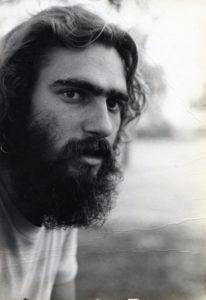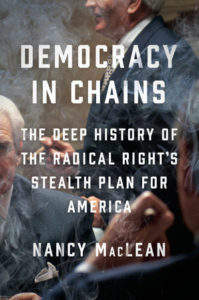 Democracy in Chains: The Deep History of the Radical Right's Stealth Plan for America – Nancy MacLean – Viking – Hardcover – 9781101980965 – $28.00 – 368 pages – June 13, 2017
I will say this clearly and forthrightly: whatever your political opinions or positions, you must read this book. It shines an important light on the history of what has now become the most potent force in modern American politics. This book reveals in detail how the Koch brothers and other shadowy billionaires' political philosophy has been weaponized in an ongoing war against democratic beliefs and institutions.
Professor MacLean came across this historical record more or less by accident, while she was researching the Nobel Prize-winning political economist, James McGill Buchanan, the principal architect of the ideas and institutions  the Koch brothers and their allies have harnessed to radically alter the American political landscape in their distorted image of "economic libertarianism." This philosophy fully recognizes that anti-democratic efforts are necessary to secure the wealth of the few against the "predations" of the democratic majority, and all their work for the last forty years or more has been aimed toward controlling and weakening democratic institutions. They have been remarkably successful in their efforts.
There is so much to learn in this book, yet still so much more for us to uncover, and ultimately then, so much that needs to be done by those who feel the need to defend democratic liberalism and American institutions. It is remarkable to learn that this effort is essentially part of a longstanding effort to reach far back into our history to undo FDR's democratic reforms, as well as those of JFK, LBJ, and the civil rights movement. And that Charles Koch is so ironically a follower of the principles of that old Bolshevik, V.I. Lenin.
We learn here that Koch and his cronies have built a secret cadre of true believers who want to do what their hero Buchanan did in Pinochet's Chile, which was to use the institutions of government to control and contain democracy. They have come a long way toward succeeding in our own country, as most citizens are completely unaware of what they are doing, especially with their takeover of the judiciary. And in Trump's America, they are free to have their way with us.
One way you can tell Nancy MacLean has made an impact with her research is the level and sheer ferocity of mostly personal attacks from the right against her. Those who post in opposition seem to have neither read the book, nor care to think about the author's actual work. One of the tools used by the Koch-financed opponents of democracy is the personal attack and what they call the "increased transaction cost" for anyone who opposes their views. Since they usually cannot win intellectual or even political arguments, they prefer to disparage and attack those who dare stand against them on other grounds than reason.
I urge listeners to read this book, think about what MacLean has uncovered, and then, if you agree with what she says, use what you learn from this book to stand up for freedom and democracy against oligarchy.
"This sixty-year campaign to make libertarianism mainstream and eventually take the government itself is at the heart of Democracy in Chains. . . . [MacLean] takes the time to meticulously trace how we got here. . . . If you're worried about what all this means for America's future, you should be. . . . And if someone you know isn't convinced, you have just the book to hand them."
—NPR
"It's the missing chapter: a key to understanding the politics of the past half century. To read Nancy MacLean's new book, Democracy in Chains: The Deep History of the Radical Right's Stealth Plan for America, is to see what was previously invisible."
—George Monbiot, The Guardian
"[A] riveting, unsettling account of 'Tennessee country boy' James McGill Buchanan, key architect of today's radical right."
—O, The Oprah Magazine
Nancy MacLean is also the author of Behind the Mask of Chivalry (a New York Times "noteworthy" book of the year) and Freedom is Not Enough. She is currently the William Chafe Professor of History and Public Policy at Duke University, and lives in Durham, North Carolina.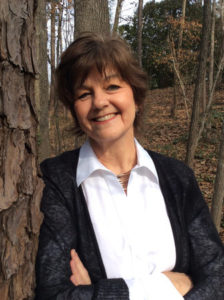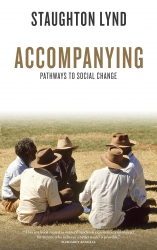 978-1-60486-666-7 – PM Press – Paperback – $14.95 (ebook versions available at lower prices)
For me and for many others who came of age politically in the mid-to-late sixties, Staughton Lynd was an early and important figure.  He had been a Quaker and war resister, Civil Rights Movement participant, was cogent and critical about social structures and an early leader in the anti-Vietnam War movement.  He taught at Yale, but left academia, earned a law degree, and with his similarly activist partner and wife Alice Lynd, moved to Youngstown, Ohio and became active in the effort to save the steel mills there.  While that effort did not succeed, the Lynds have remained in Ohio for over 30 years working at a grass roots level in the labor movement, as well as with imates of Ohio prisons and with others across the country.
Accompanying is a short book, but extremely focused and coherent.  Lynd contrasts the hierarchical "organizing" efforts of the sixties civil rights and antiwar movements with the concept of "accompaniment" first articulated by Archbishop Oscar Romero of El Salvador, wherein organizers listen to their colleagues rather than instructing them.  Lynd then applies this distinction between organizing and accompaniment to the social movements in which he has been a participant for the past fifty years, which include the labor movement, civil rights, antiwar organizing, prisoner insurgencies, and the Occupy movement of the past few years. Alice Lynd, who has been his partner in all these efforts, adds her experience as a draft counselor during the Vietnam War era and now as an advocate for prisoners in maximum-security facilities.
The Lynds together bring an incredible range of experience, dedication and commitment to the human spirit and to the kind of social change that so many have wished for and demanded for so long.  I was struck by how their description of accompaniment resonates so well with the principles of cooperation and listening espoused by so many who have grown up in the Internet era.  It's crucial to connect these ideas to political and economic analysis and to questioning the organizing principles of our society.  Anyone interested in social change in the modern world should read this book and attend to its simple and powerful precepts.  Here's a great piece by Lynd speaking at the IWW Centenary in 2005, a website with more information about his work, and the publisher page for Lynd and his books (recommend buying directly from the publisher, PM Press, to support its work).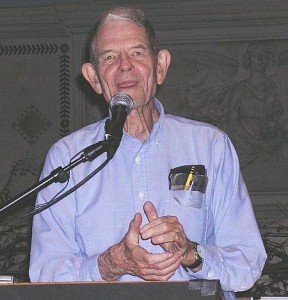 I am honored to have been able to have this conversation with this ever intelligent, dedicated, and coherent activist and writer.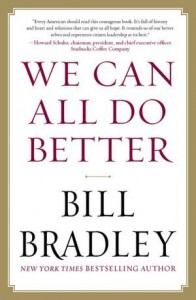 978-1593157296 – Vanguard Press – Hardcover – $24.99 (ebook versions available at lower prices)
Bill Bradley is one of my favorite contemporary politicians.  I felt badly for all of us when he left the national political scene and then went to work in investment banking.  Much like another politician I admire, Mario Cuomo, he is smart, well versed in a wide range of subjects, able to communicate complicated ideas without dumbing them down, and above all, he is passionately a humanist, who clearly likes people, and loves what America could and should be, as a leader on the world stage.
While I certainly do not agree with all of his ideas, what he has to say is well worth paying attention to, especially since he is so intelligent, and his arguments are so well reasoned, grounded in ideas and carefully constructed (how novel!)  Moreover, he represents what the current political discourse so desperately needs, namely leadership that does not trivialize, demonize or mock those with whom one disagrees.
Bradley believes deeply in the power of citizens to make change, and dispensing with so much of what goes for political discourse these days, in We Can All Do Better Bradley makes a strong case for why America cannot continue on its current deeply divided, politically gridlocked, and ineffectual political, social and foreign policy paths.
Bradley first reviews the current "state of the nation."  He makes clear that, contrary to right wing pronouncements,  government is not the cause of our problems. He rightly points out the damaging and dangerous role of money and politics, talks cogently about why and how our existing foreign policy, electoral, and economic paths will lead to a dismal future for America, and sets forth clearly and coherently what needs to be done to for us to  make changes for the better.
As the book title says, "we can all do better."  Rather than blaming and scapegoating (groups of other citizens, the other political party, or just government itself) or as so many do, simply ignoring what we don't like, and disengaging from the political process, Bradley continually and powerfully makes his case we can all—elected officials and private citizens alike—do a better job together.  Bradley is a great voice for uniting rather than dividing, for working together, and for allowing ourselves to see more clearly who we are – and can be – as citizens and participants in the modern world.
Bill Bradley, born and raised in Missouri, was a star basketball player at Princeton, a Rhodes scholar, and then had a Hall of Fame career in the NBA.  He was a three term senator from New Jersey, and ran for president in 2000.  We Can All Do Better is his sixth book.  He's been involved in investment banking and serves as a corporate director for a number of companies.  He hosts a radio show called American Voices on Sirius/XM satellite radio.
("For 40 years, I've traveled around America listening to the stories Americans tell about their lives. I was always moved, and so I wanted to create a show where you can hear some of them too." – Sen. Bill Bradley)
It was a great pleasure for me to have the opportunity to speak to Senator Bradley about We Can All Do Better for Writerscast.  You can learn more about the book at Sen Bradley's website.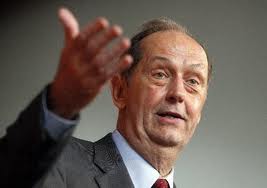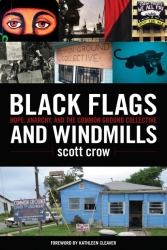 978-1604860771 – PM Press – paperback – $20.00.
I knew I would be interested in reading Black Flags and Windmills after reading the publisher's description of this book:
When both levees and governments failed in New Orleans in the Fall of 2005, scott crow headed into the political storm, co-founding a relief effort called the Common Ground Collective. In the absence of local government, FEMA, and the Red Cross, this unusual volunteer organization, based on 'solidarity not charity,' built medical clinics, set up food and water distribution, and created community gardens. They also resisted home demolitions, white militias, police brutality and FEMA incompetence side by side with the people of New Orleans.
crow's vivid memoir maps the intertwining of his radical experience and ideas with Katrina's reality, and community efforts to translate ideals into action. It is a story of resisting indifference, rebuilding hope amidst collapse, and struggling against the grain. Black Flags and Windmills invites and challenges all of us to learn from our histories, and dream of better worlds. And gives us some of the tools to do so.
This short description made me realize that I had not really thought about what it was like in New Orleans and the Gulf Coast during and after Katrina, beyond the media images of human suffering and devastation we all saw on television and online.  And that I really had no idea what was going on there in the weeks and months after this massive dislocation.  I think I suspected that things were pretty grim, but I wanted to learn more first hand.
crow is an anarchist organizer who went to New Orleans immediately after the storm hit, mainly to look for a colleague and friend he knew had stayed in the city throughout.  His story about the early days there, where he and a few other people tried to assist, outside of all official structures and organizations, is mind blowing and powerful.  But the ongoing story of the work that he and others did to help create community based self-help structures is really at the heart of his memoir, and is at once uplifting and inspiring for anyone who is searching for ideas and principles that will help us, not just in times of stress and turmoil, but all of the time and forever, as we try to find better ways to build community and live together on a crowded planet without falling into authoritarian and top down structures and systems.
No doubt that not every reader will agree with everything that scott believes in and does, but this is a valuable story for anyone interested in how human beings can work together for the common good.
Here's his official bio, for those who want to know more about his background and current work: scott crow is an Austin, TX based anarchist community organizer, writer, and trainer who began working on anti-apartheid, international political prisoner and animal rights issues in the mid 1980s. He is the co-founder and co-organizer of several social justice groups and education projects throughout Texas and the South including Common Ground Collective (with Malik Rahim), Radical Encuentro Camp, UPROAR (United People Resisting Oppression and Racism), Dirty South Earth First!, and North Texas Coalition for a Just Peace. He has trained and organized for Greenpeace, Ruckus Society, Rainforest Action Network, A.C.O.R.N., Forest Ethics, and Ralph Nader, and many smaller grassroots groups. He is currently collaborating on long-term sustainable democratic economic mutual aid projects within Austin.
This is a talk that I think is well worth a listen.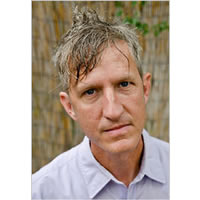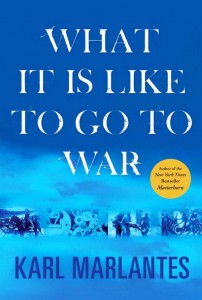 978-0802119926 – Atlantic Monthly Press – Hardcover – $25.00 (e-book and audiobook editions available)
I read Karl Marlantes' novel, the extraordinary Matterhorn last year (and interviewed him about it for Writerscast – you can listen to that interview here).  I don't think I am alone in believing that Matterhorn is perhaps the finest and most important war novel of the Vietnam generation; for me at least, it belongs in the pantheon of great American war novels (going back to WWI, Thomas Boyd's Through the Wheat is another great novel written by an former Marine).
It took Karl Marlantes more than 30 years to write and publish the novel we read as Matterhorn its final form.  His new book, What It Is like to Go to War, now follows as a deeply thoughtful and moving work of nonfiction about the nature and meaning of war, and what it means to the individual warriors who participate who fight, as well as to the society that gives them that responsibility.
There are many parallels between the two books.  I'd recommend you take on the novel first, spend some time thinking about its story and characters, and then move on to this new work of nonfiction, which is a combination of personal memoir, meditation and social, political and cultural analysis and polemic.
Insofar as fiction gives us our deepest emotional and spiritual truths, Matterhorn cannot fail to move you and allow you to feel the reality  of what it is like when our best and brightest go to war.  Then What It Is Like to Go to War gives us another carefully wrought perspective, what Marlantes has learned from his own experiences and from many years of studying and thinking about war and society.
And we should all be paying attention to what he says here.  America has had more people fighting wars for a longer period of time than at any other time in our history.  Indeed what does this say about contemporary American society?
In 1969, when he was just 23, Karl Marlantes was an inexperienced lieutenant in charge of a platoon of Marines whose lives were in his hands.  His experiences in the jungles of Vietnam , molded and shaped him throughout his life.  He has thought deeply about his wartime experiences, how they affected him and his comrades, as well as how other soldiers before and since have gone through similar experiences.  In What It Is Like to Go to War, Marlantes weaves accounts of his own combat experiences with analysis, self-examination, and powerful ideas drawn from his wide reading from Homer to the Mahabharata to Jung.
Unlike many of us who feel that war must be ended in modern society, Marlantes starts from the belief that war is an inevitable component of societal and political being.  What he is after is to make us think about preparing warriors not for fighting, which we already do quite well, but for living with the effects on those who go to war that derive from participating in the morally unnatural but societally sanctioned acts of killing other human beings.
Most societies that preceded us have used powerful rituals, myths and ceremonies to integrate acts of war into the fabric of their cultures, and to reintegrate their warriors thoroughly into their societies, while our secular, materialist society really offers no tools or methods to warriors (or for that matter to civilians) to create a holistic "story" of why and how war is meaningful and necessary.
One of the many points he made in this book really struck me is that those who send men and women to war are themselves warriors, that actual soldiers (as opposed to guns and bombs) are their weapons.  These individuals must fully comprehend what they do, and must find ways to integrate their own acts of war as much as the soldiers on the battlefield who wield the weapons and who witness so much death and destruction on both sides of battle.
I found that the author's afterword to the book was very important to my understanding and acceptance of his work:
"We must be honest and open about both sides of war.  The more aware we are of war's costs, not just in death and dollars, but also in shattered minds, souls, and families, the less likely we will be to waste our most precious asset and our best weapon: our young."
"The substitutes for war…are spirituality, love, art, and creativity, all achievable through individual hard work."
I can't recommend this book to readers enough.  It's book that, like the work of my friend, Paul Chappell, (Will War Ever End and The End of War) has the potential to shift our societal dialogue about war and what it can and should mean to a modern society.
There's a fine review of What It Means to Go to War in the NY Times and a very worthwhile interview with Karl on Livewriters about Matterhorn.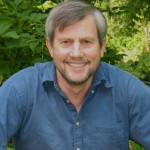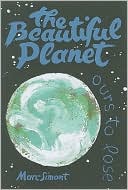 978-1935212-09-6 – Easton Studio Press – Paperback – $15.00
The Beautiful Planet: Ours To Lose is an impassioned anti-war cartoon book by one of America's foremost illustrators. Marc Simont's drawings, taken from five decades of editorial cartooning, capture the essence of a brooding Nixon, a smiling Reagan, a bland Bush One, and a dumbfounded Bush Two as they prosecute their wars. Simont's fierce portrayals of the Military-Industrial Complex are intimately linked to his passionate indignity on behalf of all civilians, soldiers, and prisoners who have suffered.
Continually struck by the majesty of the planet as it floats in space like a jewel, Simont asks, will it survive?

 Born in Paris in 1915 to Catalonian parents (his father was himself a world renowned illustrator), Marc Simont spent his childhood in France, Spain and finally the United States, where he settled in 1934. After serving time in the U.S. Army during World War II, Simont went on to illustrate over a hundred books working with a wide range of authors, including Margaret Wise Brown, Red Smith, and James Thurber.  Simont received the Caldecott Medal in 1957 for his illustrations to A Tree is Nice by Janice May Udry and a Caldecott Honor in 1950 for The Happy Day by Ruth Krauss.

 He is the author/illustrator of seven books, most recently The Stray Dog (2001), which won yet another Caldecott Honor, was chosen by The New York Times as one of the ten best illustrated books of the year, became an ALA Notable Children's Book and received the Boston Globe-Horn Book Honor Book Award.
Internationally acclaimed for its grace, humor and beauty, Marc Simont's art is in collections as far afield as the Kijo Picture Book Museum in Japan.  He was chosen as the 1997 Illustrator of the Year in his native Catalonia and received the Hunter College James Aronson Award for Social Justice Journalism in 2008.
Interviewing Marc about this terrific book was a special occasion for me.  I love the illustrations he has done for so many exceptional children's books, many of which I know well, having read them to my own children.   I was lucky to have the opportunity to work with him in producing The Beautiful Planet, which collects the pithy, humane and piercing political cartoons he has been making and publishing in The Lakeville Journal since the 1940's.  In this conversation, we talked about his early life, coming to America, his early work as an illustrator, his many well known collaborators, and of course his political cartoons that are collected here in this, his newest book.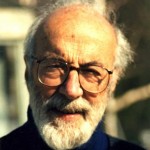 Marc's approach is never to attack, but always to expose fallibility.  He is a wonderful man whose work is marked by a love for humanity and an appreciation for actual human beings; he is a true humanist and a brilliant artist.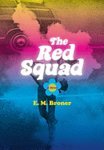 978-0307-37791-3 – Hardcover – Pantheon – $24.00 (also available as an e-book; a paperback edition will be out in July 2010 – 978-0307-45584-0 – $15.00)
This is a sometimes hilarious, always engaging, warm and sexy novel about a group of midwestern academics from the sixties, told from the vantage point of Anka Pappas, who, forty years after this fraught period in her life, finds out the entire group was under surveillance by the federal, state and local governments.  The story weaves together past and present, as Anka reconnects with her friends and associates – much drama, emotion, and memory unfolds, demonstrating that the past is not at all a dead or forgotten issue.  It's a complicated story that Ms. Broner tells quite skillfully, keeping alot of balls in the air (it does help to have a cast of characters in the front of the book to which the reader can refer, as there is alot of perspective changing going on, sometimes at very high speed).
Broner knows that the political engagement of the sixties and early seventies can not be seen as an isolated period.  It is deeply connected to our present.  And through this book, she shows us that the issues that engaged the young activists of that earlier period are still with us today.  The power relationships in our society ultimately have not been changed; there is much work to be done, and much more engaged life to be lived.
There's no preaching here, this is a book written by a smart, accomplished writer, who knows how to make a story work, and who clearly had a great time writing this book.  Talking to Esther Broner about the book was alot of fun for me.  In this interview, she talks about this book and how it relates to her own life.  We talk about politics, the nature of fiction and nonfiction, memoir and story, reality and imagination, appearance and reality, and of course the connection between the activism of the 1960's and how it relates to us today.
This is an enjoyable, funny book that carries a powerful political and emotional punch, written by a skilled and experienced author whose work deserves a wide audience.