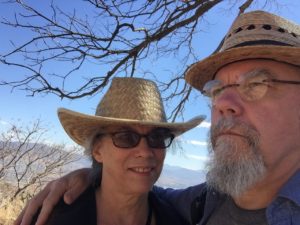 Publishing Talks began as a series of conversations with book industry professionals and others involved in media and technology about the future of publishing, books, and culture. As we continue to experience disruption and change in all media businesses, I've been talking with some of the people involved in our industry about how publishing might evolve as our culture is affected by technology and the larger context of civilization and economics.
I've now expanded the series to include conversations that go beyond the future of publishing. I've talked with editors and publishers who have been innovators and leaders in independent publishing in the past and into the present, and will continue to explore the ebb and flow of writing, books, and publishing in all sorts of forms and formats, as change continues to be the one constant we can count on.
For the past several years, I've been talking to editors and publishers of independent presses about their work, including a number of important literary publishers.
Steve Clay is an old friend, who has been involved with poetry, art and publishing for about the last forty years or so. Steve is the publisher of Granary Books, through which he has done some extraordinary work with an incredible range of poets, artists and crafts people. He has been the instigator of literally hundreds of important standout works of art.
He calls himself an editor, curator, and archivist specializing in the American art and literature of the 1960s,'70s, and '80s. Steve is also the author, with Rodney Phillips, of A Secret Location on the Lower East Side: Adventures in Writing 1960-1980 (1998) and editor, with Jerome Rothenberg, of A Book of the Book: Some Works & Projections about the Book & Writing. He lives in New York City.
But this outline of his work barely scratches the surface of Steve's work.  In our conversation, I tried to give him the opportunity to talk broadly about the scope of his creative work. He is truly an exemplar of the powerful nexus of writing, editing, and publishing, the "making public" work so critical to art and those who make and experience it. His work is a gift I urge you to spend some time to discover and explore on your own.
A good start is to visit the Granary Books website. Then go to the absolutely essential From a Secret Location: Poetry, Little Mags, Small Presses, and transient documents from the mimeo era and beyond.
There is another useful interview with Steve conducted by the brilliant poet Bill Corbett for the Paris Review here.
When Columbia University, which purchased the Granary Books archive, opened their first exhibit from the Granary archives in 2015, Mark Dimunation, chief of the Rare Book and Special Collections Division of the Library of Congress said about Steve: "Beginning in 1985 he has concocted a mix of poets, artists, printers and craftspeople whose work defines an era and fundamentally shapes our understanding of the artists' book."
Enjoy!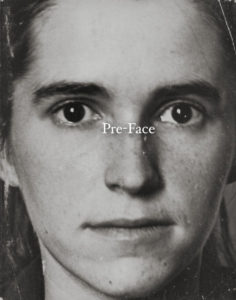 Pre-Face image from A Secret Location on the Lower East Side: Adventures in Writing, 1960–1980 (The New York Public Library and Granary Books, 1998), based on Bernadette Mayer, Studying Hunger (New York and Bolinas, CA: Adventures in Poetry and Big Sky, 1975). Cover photograph of the author by Ed Bowes.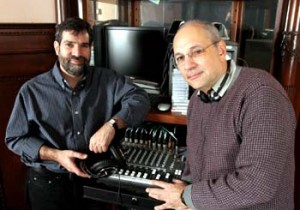 In this series of interviews, called Publishing Talks, I have been talking to book industry professionals and other smart people about the future of publishing, books, and culture.  This is a period of disruption and change for all media businesses.  We must wonder now, how will publishing evolve as our culture is affected by technology, climate change, population density, and the ebb and flow of civilization and  economics?
It's my hope that these conversations can help us understand the outlines of what is happening in publishing and writing, and how we might ourselves interact with and influence the future of publishing as it unfolds.
PennSound is a very special online resource that was instigated by founders Al Filreis and Charles Bernstein with the incredible support of the University of Pennsylvania in Philadelphia. There is really nothing like it in the world, and for anyone interested in poetry, poetics, or the literary world of the past 100 years, it is an incredibly important resource.  The energy and dedication that has gone into this unmatched collection of recordings of poets reading, lecturing and talking about poetry is a gift whose impact will be felt for many years to come.
Filreis wears many hats – he is Kelly Professor at UPenn, Director, Center for Programs in Contemporary Writing, Co-Director, PennSound, Publisher of the literary magazine Jacket2 as well as Faculty Director, Kelly Writers House. In addition, he is the author of a number of books of criticism.  Charles Bernstein, an old friend of mine, is one of the most important poets and critical thinkers of his generation of writers.  He was the David Gray Professor of Poetry and Letters at the SUNY Buffalo and Director of the Poetics Program, which he co-founded with poet Robert Creeley. At SUNY, he co-founded the Electronic Poetry Center with Loss Glazier. Charles is currently the Donald T. Regan Professor of English and Comparative Literature at the University Pennsylvania.  He was a co-founder also of the important literary magazine L-A-N-G-U-A-G-E and is the author of many books of poetry and theoretical writings about poetry, language and thinking.  Also in this discussion is Michael Hennessey, the editor of PennSound, and author of the "PennSound Daily" column. Michael holds an MFA in Creative Writing from Emerson College and has published critical work in magazines and anthologies.
I wanted to talk to Filreis, Bernstein and Hennessey about how PennSound came into being, to learn more about its scope and breadth, and to hear first hand their plans for the future. My hope is that our discussion will draw as much attention and support to PennSound as possible.  And I can't help enjoying the appropriateness of presenting an audio experience of this essential audio resource.  There is something new and compelling posted at PennSound almost every day.  Please visit, spend some time, and enjoy the rich trove of poetry as spoken and discussed by the poets themselves.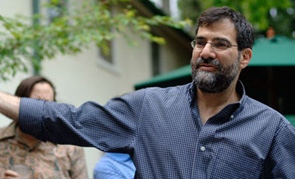 Even those who don't read or even like poetry have their minds changed by the experience of hearing the words out loud.
PennSound is an incredible project established by Al Filreis and Charles Bernstein with tremendous support from the University of Pennsylvania, collecting poetry in audio form from an incredible array of sources.  There really isn't anything like it anywhere.  There are historical recordings, so many of which are fantastic and powerful, that it is almost impossible to know where to start.  All the poets whose work matters to me are here.  And there are many voices from the recent past and the present as well.  You can spend hours on this site and of course you will never be able to experience the full range of what they have, there is just too much.  And there is new work added or highlighted every day!  Amazing.  For anyone interested in the sound of writing, this is a site you must visit.
Al Filreis and Charles Bernstein at PennSound (photo by Mark Stehle)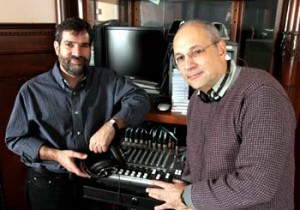 PennSound Daily is written by Michael S. Hennessey.
Want to read more?
Control the number of PennSound Daily entries you're viewing with the drop-down box at the top of the page, or
visit the PennSound Daily archive.
You can subscribe to
PennSound Daily with your favorite RSS feed reader. Or, use this link
to add PennSound Daily to your Google Reader or iGoogle homepage.