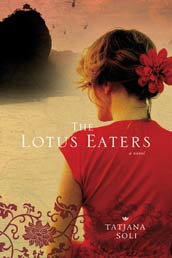 978-0312611576 – St. Martin's Press – Hardcover – $24.99 (also available as an e-book)
I know I am not alone having read both Tatjana Soli's The Lotus Eaters and Karl Marlantes' Matterhorn – they are unavoidably linked as both are set in Vietnam during the American war.  Of course they are incredibly different in outlook, approach and story, but reading them together is a wonderful experience.  As Writerscast listeners know, I loved Matterhorn – I do think it is the great novel of the Vietnam War that we have been waiting to experience for several decades.
At the same time, Tatjana's novel is simply remarkable.  She writes beautifully, inhabits her characters, their place and time, their suffering, challenges and transcendent moments.  As she told me in her interview, she fell in love with the Vietnam of that era from afar, and learned everything she could about it in order to be able to write this story.  Her main character is a young photographer, Helen, who comes to Vietnam early in the war, mainly because her brother died there, and she is drawn to the place where he lost his life, to figuratively solve the mystery of his death.  But that is just the beginning of her journey.  The war, the soldiers and other journalists, and the people of Vietnam overtake her.  She becomes deeply connected to this place and time.  Soli brilliantly portrays the landscape and the people of Vietnam, the suffering and horror of a seemingly endless war, and the way that war overtakes every element of human and natural life.
Helen falls in love with another photographer, Sam Darrow, a grizzled veteran who teaches her how to cope with war, survive, thrive, document, participate, suffer and love the danger and energy of men at war.  But the truest, and deepest story is her love for Linh, an exceptionally complicated Vietnamese former soldier, who has gone to work for the American news agency Helen works for.  At the end of the book, which thankfully avoids the cliched approach of much modern fiction, Helen and Linh journey out of Vietnam through Cambodia, an even more horrendous landscape of death and together find their way to safety, a harrowing journey that mirrors where they have traveled emotionally through the course of the novel.
A woman among men sees war more clearly than most, I think; in this book, that vision focuses and transforms the reader as well.  Tatjana Soli's story about writing this book and what it means to her is great to hear.  I think she is a terrific writer, worth reading, and well worth listening to as well.