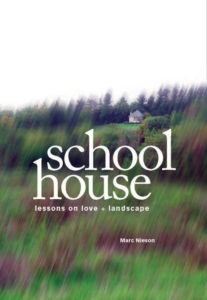 Schoolhouse: Lessons on Love & Landscape – Marc Nieson – Ice Cube Press – paperback – 9781888160925 – 272 pages – $19.95
Memoirs are most often stories of self discovery. To work for readers, they have to engage us indirectly – we have to buy into the narrator's central problem the story will show us being solved. Marc Nieson's memoir is about a period in his life when he was confused about love and self-identity. He left his home and long term lover in New York City to attend the famed Writer's Workshop at the University of Iowa, and ended up living in a former one room schoolhouse on 500 acres of beautiful Iowa landscape.
Escaping the travails of modern life, and living in the woods, the comparisons to Walden cannot help being made. City-bred Nieson learns how to observe the natural world, and in so doing, learns how to understand himself at the same time. Nieson keeps us involved throughout his narrative, and we come to the end of the story fully engaged in his personal adventure.
The book is structured like a schoolbook, each chapter being named after a school subject (i.e. Geography, History, Social Studies, What I Did On My Summer Vacation), which gives the book a certain charm, and while it's a conceit, this organization helps keep the narrative moving forward. It's a fully transformational story, even if you have never experienced the woods or the Iowa landscape.
As Nieson writes: "Here on a quiet Iowa hillside, I was hoping … to both learn and unlearn who I was. To try living not only alone and apart, but a more consciously observed life — both inside and out." I think he achieved what he was hoping to do in Iowa.
"Those of us who have lived in old one-room schoolhouses understand the solitude, solace, and proximity to nature that they provide. During his year living in Union #9, Marc Nieson embraced these opportunities for inner growth. His new memoir—a must read—traces the story of his journey of discovery along the trail through the woods surrounding his house and along the path of human relationships. Read Schoolhouse, and you will open the door to the mind of an engaging voice, a probing, reflective writer who delights the reader with his lyrical prose on every page."
—Mary Swander, author, Out of this World: A Woman's Life Among the Amish
Marc Nieson has degrees from both the Iowa Writers' Workshop and NYU Film School. His background includes children's theatre, cattle chores, and a season with a one-ring circus. He's been awarded a Raymond Carver Short Story award and recent fiction appears in Everywherestories: Short Fiction From A Small Planet (Press 53), Museum of Americana, and Tahoma Literary Review. He is also a screenwriter, whose credits include Speed of Life, The Dream Catcher, and Bottomland. He teaches at Chatham University in Pittsburgh, and is working on a new novel, Houdini's Heirs.
In this interview, Marc and I talked in detail about this excellent book and his work as a writer and teacher. Special kudos to Ice Cube Press for publishing this memoir.
Author website here.
Ice Cube Press website here.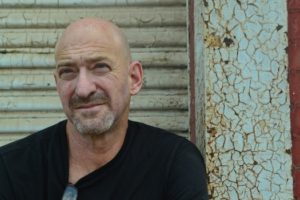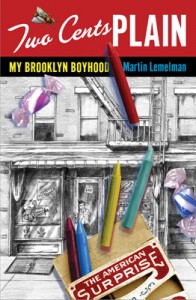 978-1608190041 – Bloomsbury – Hardcover – $26.00.
Martin Lemelman grew up in the back of a candy store in Brooklyn, NY.  He has illustrated more than thirty children's books and his work has appeared in numerous magazines.  Lemelman is now a Professor in the Communication Design Department at Kutztown University and lives in Allentown, Pennsylvania.
Martin's first memoir done in graphic format, with drawings, photographs of personal objects and places, was Mendel's Daughter, published in 2006.  Told in his mother, Gusta's voice, the book recounts the story of her life, beginning in pre-war Poland, through her harrowing experience of survival in the Holocaust and displaced persons' camps, and finally coming to Brooklyn, where she lived with her husband (also a survivor) and two children.
Two Cents Plain is not literally a sequel to Mendel's Daughter, but it is a continuation of Lemelman's family storytelling.  Two Cents Plain collects the memories and artifacts of the author's childhood in Brownsville, a neighborhood of Brooklyn filled with Jews speaking Yiddish and children growing up in a comfortable city neighborhood.  Later in the story, as times change, Martin and his family's experience in Brooklyn is not so pleasant.  But that's ultimately the background of the story Lemelman tells.  His real focus is the dynamic story of his parents and how their life experiences in the Holocaust shaped them, and of course shaped their children's experience as a family in post-War America.
Lemelman's story is full of struggle, his parents were complicated and sometimes difficult for their children to understand, and life in a candy store was never easy.  But his Brooklyn memories also is also include the joys of egg creams and comic books, malteds and novelty toys, where the neighbors, the deli man, the fish man, and the fruit man, all are brought to vivid life in story and illustration. The changes in the city during the sixties are very personalized for Martin and his family and in the climax of the story, the family must leave their home once again.
I really loved reading and absorbing this book, the combination of Lemelman's story telling voice and gorgeous illustrations work beautifully to transport the reader into another time and place.  And the author does a fine job of balancing between the sentiment of memory of his childhood with the clarity of the adult rememberer, which is keeps us anchored as the story unfolds.  There are layers of memory, emotion, people and place that are richly evoked in this book.
In our interview, I wanted to explore with Martin not only the story of his life and his parents gripping and sometimes painful experiences, but the period of the fifties and sixties and how he used the graphic memoir form to reflect and amplify the power of his story.  This is a unique and wonderful book whose creator is quite cogent about his work.  Martin has put together a very interesting and useful website for the book that is worth visiting (most useful after you have read the book, I think).  I am looking forward to reading the next book in this series of memory stories.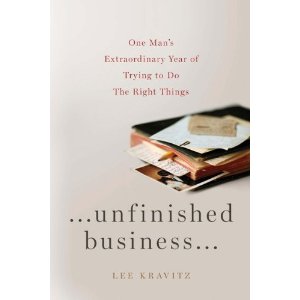 978-1596916753 – Bloomsbury – Hardcover – $25.00 (also available as e-book in various formats $9.99)
Well admittedly I might have liked Unfinished Business because I am roughly the same age as the author, have been through similar experiences in the same era, and like Lee Kravitz, have to confess to being something of a workaholic.  Like him, when I look back on my past, I worry about some of the people I used to be friends with I no longer see, and doubtless, like him, have some "unfinished business" in my life that I'd be better off dealing with.
Today there must be literally thousands, hundreds of thousands of people who share many of Lee Kravitz's experience of losing his job and having a crisis of identity, of being, and who like he did, feel a desperate need to reintegrate their lives, and their singular sense of self.  Not everyone will have the opportunity to take the journey that he did, a full year of exploration and reconnecting with family, friends, teachers, people who literally made him who he is today.
I don't think you have to literally share Lee's direct experience, or feel as fragmented as lost as he did then to gain deeply from reading his book and sharing his journey.  Lee spent many years as a journalist and editor, and writing seems to come easily to him.  Many of his experiences are brilliantly described, and his honesty and clarity go a long way to making this book work for readers.  This book can be transformative for many people who feel that modern life has separated them from those they once felt closest to, perhaps inspiring them to close their own circles and remake their own lives.  Enough people have responded that way for the author to create a website "My Unfinished Business" on just that subject.  I suspect that if you like this book, or even our conversation about it, his site is well worth a visit.
I very much enjoyed talked to Lee about his book and some of the stories about his family, friends and others whose stories he told in Unfinished Business. He's as good a storyteller talking as he is writing.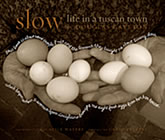 978-1-59962-072-5 – Hardcover – Welcome Books – $50.00
If you love beautiful books, Slow: Life in a Tuscan Town by Douglas Gayeton will be irresistible.  Gayeton is a film maker who ended up living in a small town in Tuscany that his wife (at that time) was from.  When she left him, he stayed.  He learned to speak Italian, and fell in love with the people, the place, and the pace of a community that was completely foreign to him and his American way of being.  As he told me in this interview, as a film maker, he is used to telling stories.  When he began to take photographs, thousands of them, the only way he could make sense of them was to create a narrative from them.
Which he did, by writing notes on the actual photographs, and also by layering multiple shots of the same scene over time.  The effect of the images and words here is mesmerizing.  And of course the representation of these people, their way of living, and the places they inhabit embody the stories Gayeton tells here.
This is both a personal narrative and one that – as great art must do – transcends and transforms the specific experiences portrayed.  Gayeton takes us on his journey to help us understand ourselves through an experience of others, just as he did.  I view these photographs and read the writing on them (notes, anecdotes, recipes, and many facts about Tuscany and Tuscan life), and find myself transported – beyond the "real" places he pictures to an almost spiritual state of being that is based in the imagination and soul of place.  "Slow" living is something all of us who are seeking meaning need to experience, Slow: Life in a Tuscan Town is a doorway that will help us enter that experience.  Welcome Books deserves a lot of credit for making this spectacular book.
DOUGLAS GAYETON is a filmmaker, photographer, and writer. His images are held in a number of influential museum and private collections around the world, and have been featured in numerous print and online media, such as Time Magazine. Since the early 90s he has created award-winning work at the boundaries of traditional and converging media for AOL, MSN, MTV, Yahoo, Fox, Vivendi, Sony, Viacom, Sega, Intel, National Geographic, PBS, Warner Bros., Columbia, and Virgin Records. Recent projects include LOST IN ITALY, a 26 episode interstitial TV series Gayeton created, directed, and shot for Fine Living, and A SECOND LIFE ODYSSEY for HBO, the first documentary shot inside a virtual world.
Doug Gayeton is also a terrific interviewee, who tells his story particularly well.