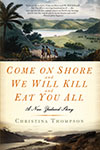 978-1596911277 – Bloomsbury USA – $15.00 – paperback (ebook editions available)
Christina Thompson's Come on Shore and We Will Kill and Eat You All – A New Zealand Story gets one's immediate attention for its outstanding title, of course.  How could one resist?  This tightly woven memoir was recommended to me by a writer friend who admires stylish writing and it certainly does offer some very fine writing.
But I was most drawn to it at the outset, because Ms. Thompson is an anthropologist, a field of study I have always loved.  Early in her career, she lived and worked in Australia, and traveled to nearby Pacific islands, including New Zealand, where she met and eventually married a Maori, the point where this book really starts to take off.
The title of the book comes from a statement made by Maoris at an early meeting with some European explorers.  It perfectly stands for the cultural gulf between the two peoples and the lack of understanding each had for the other's entirely foreign culture.  This theme of misunderstanding, and of culturally determined viewpoints, runs throughout the entire book.  Because she is now directly connected to the Maori/Polynesian worldview by dint of marriage, and because she has an anthropologist's ability to look beyond her own viewpoint, Thompson is able to navigate the intricacies of cross-cultural interaction better than most writers.
Thompson talks about her family, children, American and Maori relations as part of the effort to understand differences, and to explain behavior.  It's inevitable that Maori and Polynesian cultures are poorly understood in either Europe or America, where the author and her family now lives.  In this memoir, author Thompson looks at the past and the present through the lens of contact and perception with a powerful incisiveness.  Sometimes we are lulled by the commonplace story of the present, and then are shaken awake by its connections to a violent past.  The historical Maoris were a violent and warlike people, and their collision with the equally violent (and self-centered) Europeans of the colonial imperial era created a long period of difficulty for the native people of New Zealand and surrounding regions of the Pacific.
This book is one I can recommend to anyone who wants to see beyond her or his own experience, to learn the limits of anyone's personal perspective as it is part of a cultural construct, and to peek into the different ones that are around us in our now hyper-connected universe.  Another fine book I am pleased to recommend.  And I do think our conversation expands on the ideas that are present in the book.
Christina Thompson is the editor of Harvard Review. Her essays and articles have appeared in a number of magazines and journals, including Vogue, American Scholar, the Journal of Pacific History, Australian Literary Studies, and in the 1999, 2000, and 2006 editions of Best Australian Essays. She lives near Boston with her husband and three sons.You can read excerpts from this book, find some very interesting resources and learn more about the author and her work at www.comeonshore.com.