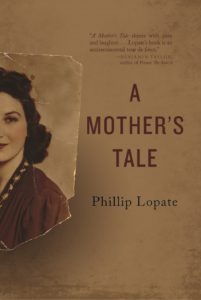 A Mother's Tale – Phillip Lopate – Mad River Books (Ohio State University Press) – Hardcover – 9780814213315 – 196 pages – $24.95 – ebook versions available at slightly lower prices – January 12, 2017
It might be said that a good memoir is a hard thing to find. It takes a special touch from a writer. The best memoirs have humor and self awareness – one must be selective in choosing what is important to share and what must be omitted, valuable to one's self but not so much for the reader.
Philip Lopate is a skilled and experienced writer who inherently understands the necessities of writing about self and family. His mother was a complicated person, his family life unusual and full of strange twists and turns that made him and his brother who they are as adults.
In 1984, Lopate convinced his mother, Frances, to allow him to interview her and record the story of her life. Frances was a powerful and strong willed figure. She was orphaned in childhood, married young, and had to make a life for herself without a support system, as a mother. She worked in a number of fields and late in life became an actress and singer. She appeared in television commercials and performed in plays in New York.
She told Philip all her many criticisms of her husband (his father), recounted the details of her affairs and sexual encounters, told him about her experiences with therapy and continuously complained about how the world had mistreated and misunderstood her. Locate set the tapes aside and never listened to them until thirty years later, when his mother had passed away. At that point Lopate was drawn back to the recordings, perhaps wanting to better understand his mother and himself through her confessions.
A Mother's Tale is essentially then a three-way conversation between Lopate today, his mother, and the younger self he hears talking to her on the tapes.
Lopate seeks to better understand and appreciate his mother and the husband she ostensibly despised, but could never leave. He cannot share her self-pity or the harping on blame assessed to everyone but herself. But through it all, he comes to see her anew, now as a grown man, recognizing more clearly the survivor, her powerful appetite for love and for life, and the ways he finally found to express his love for her.
It's a brave thing to expose oneself and one's family in such a personal piece of writing. Lopate has succeeded with this short memoir, giving us much to savor, appreciate, and ponder about ourselves and our own family histories. This is a terrific book.
"With his signature insight an candor, Lopate reveals his mother for the complicated and troubled character she was, and himself–her darling, her confessor, her victim, her judge–as the child behind the writer he was to become. I could not put it down." — Lynn Freed
Philip Lopate is the author of a number of well respected memoirs and personal essays, as well as two novellas, and is also the editor of several important anthologies. He has won a variety of awards for his writing, as well as for his work as a teacher. He is currently a professor at Columbia University's School of the Arts, where he teaches nonfiction writing.
Philip Lopate is a wonderful conversationalist and an easy person to interview. It was a tremendous pleasure for me to speak with him about this book and his intriguing mother.
Author website here. Author photo by Sally Gall.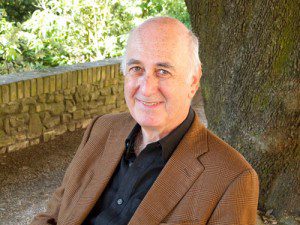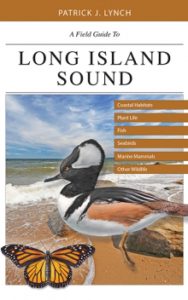 A Field Guide to Long Island Sound: Coastal Habitats, Plant Life, Fish, Seabirds, Marine Mammals, and Other Wildlife – Patrick Lynch – Yale University Press – paperback (flexibind) – $27.50 – 9780300220353 – 416 pages
I grew up around Long Island Sound, and have lived near it most of my life. I have always loved the shoreline and the water, the birds, marine life and the landscapes of the coast, and I have enjoyed its beauty and diversity, and even spent time as an amateur naturalist studying its ecosystems, but it was not until I read Pat Lynch's comprehensive guidebook that I felt I fully understood this magnificent environment.
This book is beautifully illustrated, and full of fascinating and readable information about the natural history of Long Island Sound, and its varying New York and Connecticut coastlines. This estuarine body of water is surrounded by millions of people – and threatened not only by over-population and industry, but now by climate change as well. While we have made a great deal of progress in recent decades in improving the ecological health of our waters, we must increase our level of involvement now, as climate change will have tremendous impacts on the all important marshlands of the Sound and other coastal zones.
Long Island Sound comprises a diverse collection of marine, estuarine, and terrestrial ecosystems, and is located in one of the most densely populated regions in the United States. The Sound and its coastlines are home not only to myriad species of plants and animals—from shorebirds and turtles to whales, seals, and fish—but also to more than twenty million people.
Author and illustrator Patrick Lynch has put together a thoroughly engaging guide to this incredibly complex set of environments. The book includes maps, photographs, and drawings, and covers every aspect of the Sound's various ecosystems and locales.
On reading the book, I felt that I learned more than I have done in a lifetime of living on or near the Sound and for me, it is now an indispensable companion whenever I walk the coastline or am lucky enough to get out on the water near where I live. If you live anywhere near New York or Connecticut, this book will help you fully understand the importance and breadth of the Sound environments. And even if you live in another part of the country, Long Island Sound is well worth learning about, just as any other great natural area would be. I only wish we could have had this conversation at the beach or some other interesting outdoor venue, but the Sound is too windy for making intelligible recordings.
Patrick J. Lynch is a former senior digital officer in Yale University's Office of Public Affairs and Communications and is an award-winning author, designer, illustrator, and photographer. He lives in North Haven, Connecticut. He was kind enough to spend some time with me in New Haven recently to talk about this book and his sense of the future of Long Island Sound.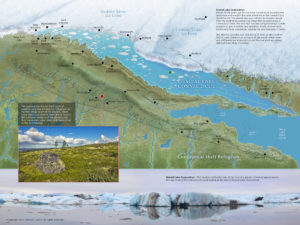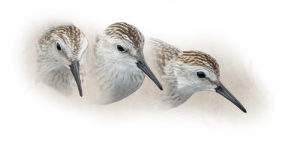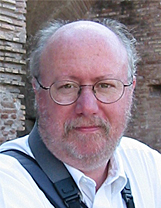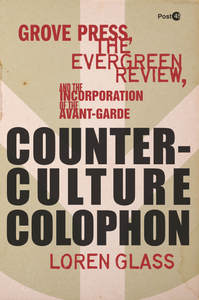 Counterculture Colophon: Grove Press, the Evergreen Review, and the Incorporation of the Avant-Garde (Post*45) – 978-0804784160 – Stanford University Press – Hardcover – $27.95 (ebook versions available at substantially lower prices)
This book has turned out to be one of the most influential on my recent thinking  about publishing and how it should work, proving that history can tell us a great deal about both the present and the future. Grove Press was immensely influential in changing American culture from the 1950s through the 1980s, and remains meaningful today, with its massive backlist representing the golden age of the literary avant-garde of that time. Its longtime owner and spiritual leader, Barney Rosset, has been an almost mythic hero to many who got into publishing because of what he accomplished with Evergreen Magazine and Grove Press.  How a publisher could become so powerfully influential makes for a terrific and inspiring story.
Grove's accomplishments and innovations are legion and well documented by Loren Glass in this book. While Counterculture Colophon is written as an academic history, and sometimes Glass falls prey to academic terminology that may put off the non-scholarly readers, I was happy to overlook the academic jargon and focus on the compelling story he tells of Grove and what it has meant for modern publishing.
This heroic and sometimes tragic saga reminds us of what it means to be a passionate and committed publisher. It's difficult for anyone alive today to believe that up until the 1960s it was illegal to publish and sell literary books that included sexually explicit content.  Battles were fought – and finally won at great expense –  by Grove Press against the US government and many local jurisdictions over DH Lawrence's Lady Chatterley's Lover, Henry Miller's Tropic of Cancer and William Burroughs' notorious Naked Lunch. These cases literally led to "the end of obscenity" and created the groundwork that has enabled modern literary publishing to flourish in our time.
Rosset and Grove, together with myriad editors and publishers in Paris, London, San Francisco, and New York, were at the heart of a revolution in publishing, both in content and in form that in many ways inspired and led directly to an equivalent revolution in the overall American culture, that reverberates today.  Grove was at the heart of political, cultural and literary ferment in North America, introducing new voices not only from here, but from around the world, to American readers. Rosset more or less invented the trade paperback, and was a leader in introducing trade books to be used as supplemental reading for college courses, of course hitting its stride at the very moment that the Baby Boom generation went to college. The magazine and press brought an emerging set of writers to an emerging generation of readers, inspiring and changing the way millions read and thought about writing, politics, theater and art. Grove Press was as much a cultural institution as it was a publisher.
And, importantly, what this book most strongly highlighted for me is the meaning and power of a publisher's brand. It is widely accepted that most publishers today have no identity with readers. Grove Press and its house literary journal, the Evergreen Review, were made into powerful and coherent brands that recognized the publisher as enabled it to introduce formerly unknown writers and artists to their audiences. Using graphics, typography and a consistently subversive publishing program, Grove was able to become a recognized brand for readers, the power of which, seemingly very few publishers have understood or been able to duplicate.
Counter Culture Colophon is a book I strongly recommend to anyone interested in contemporary literature and of course, publishing. Loren Glass was able to interview Rosset and many other principle players in the story of the press. And for many, it will be a truly inspiring tale.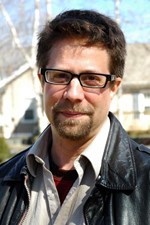 Loren Glass is a Professor of English at the University of Iowa. There is a really nice video of Glass speaking about Rosset and Grove at the Chicago Humanities Festival here. (55 minutes)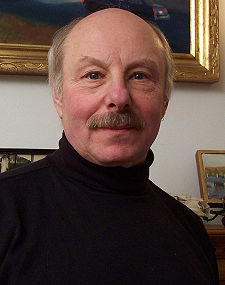 Genetically and biologically, we humans must still be heavily pre-literate, so the oral transmission of ideas, art and culture is powerful for us; we listen and concentrate on the words differently than we are used to doing when we consume written texts.  I have always enjoyed hearing writers read their work.  The author's voice carries intonation and meaning that adds to the impact of the work and makes me feel closer to the writing.
So it's a great pleasure to feature one of my favorite writers, James Howard Kunstler, in the AuthorsVoices series here at Writerscast.  Kunstler is the author of a long list of really interesting books.  He started out as a novelist, publishing novels on a variety of topics and settings through the nineties, when he switched to publishing nonfiction books about social and geographical issues, focusing on the suburbanization of America for the most part.  The in 2005, Grove Atlantic published his The Long Emergency, a brilliant and troubling book about climate change and the "converging catastrophes of the 21st Century."
In February, 2011, I interviewed Jim about the post-apocalyptic World Made by Hand series of novels that are his imaginings of what life will be like in the world after the collapse he predicted in The Long Emergency.  At that time, he had written and published two books in the series, World Made by Hand and The Witch of Hebron.  That interview can be found here. The third book in the series is still in progress, and it is from that novel that Jim is reading in this recording.
Kunstler's excellent and active website is here.  He blogs weekly and always has something interesting to say.  You can read about his newest book, Too Much Magic, here; this book tells us how and why the long emergency is already upon us.  The world in the novels he imagines may get here sooner than we think.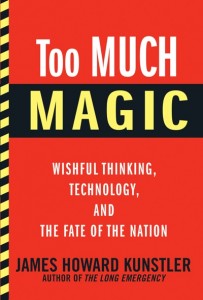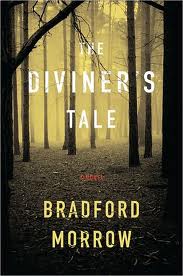 978-0547382630 – Hardcover – Houghton Mifflin Harcourt – $26.00 (ebook version also available)
I have read a number of truly fine books over the past couple of years, most of which I have talked about on Writerscast.  It's important to me that I've only been writing and talking about books I really liked.  A few of these wonderful books have just bowled me over, and Bradford Morrow's The Diviner's Tale is one of those.  It's a tightly woven story and powerfully interior, paradoxically, as it is set in a variety of geographic locales (all familiar to the author and therefore quite beautifully described).
Reading this book, I found myself propelled by the force of the story, and enthralled with the main character Cassandra Brooks, a single mother of two boys, daughter of a professional dowser, who is blessed and cursed by visions (Cassandra in Greek mythology had the gift of prophecy) and conflicted about her own ability to find water underground (the last name Brooks is no accident either).
The book opens with a chilling and frightening event – Cassandra is walking the woods for a client and comes across a hanged girl, who is to her, not an apparition.  But when she brings the local sheriff to the scene (he is a former love interest – it's a typical small town in upstate New York where everyone knows everyone), there is no sign of the hanged girl.  But they find another girl, and that launches the story's trajectory which ultimately forces Cassandra to confront long buried secrets in her past and some very real and dangerous possibilities for her in the present.
While the story is set in upstate New York, near the Delaware River, a significant part of the book takes place in the beautifully drawn islands of Maine near Mt. Desert – more water, more mystery, more danger for Cassandra and the reader.
Morrow is a terrific writer, and has written a number of very fine novels, but this one may well be his best book thus far.  The Diviner's Tale is a bit of a mash up, taking elements of mysteries, thrillers, and even supernatural novels, merging them into a dark melange that stands alone as an original work of modernist fiction.  I liked what Joyce Carol Oates said about it – "luminous and magical…a feat of prose divination."  Well put indeed.
This book is a great pleasure to discover.
And talking to Brad was a pleasure as well.  He knows himself, his work, and what it means.  He talks fluently about this book, and the story of how the novel was born is definitely worth hearing.  I hope you will enjoy our conversation as thoroughly as I did.
The author's website is worth a visit too – you get a chance to read some of his stories and find out more about his many projects (I knew Brad first as the editor of the extraordinary and long lasting literary magazine Conjunctions, now up to issue #55, and which has managed to retain its sense of discovery over many years and many different literary styles and genres).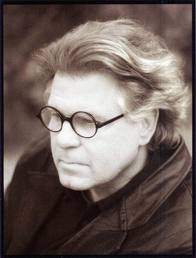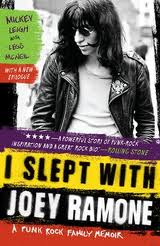 978-1439159750 – paperback – Simon & Schuster – $15.99 (ebook versions available $12.99)
Mickey Leigh grew up in Queens in the 1950s and 1960s as Mitchel Hyman.  His brother was Jeffrey Hyman, more famously known as Joey Ramone, lead singer of the great American punk rock band, The Ramones.  I Slept with Joey Ramone (subtitle: a punk rock family memoir) tells their story from the beginning to the end of Joey's relatively short life and just a bit farther into the almost present day.  Mickey had some writing help from rock journalist Legs McNeil, and throughout the book, the story is told compellingly in Mickey's voice and from his perspective.
We start in Queens where the boys grow up somewhat rockily.  Their family situation was never easy, and Mitchel and Jeff were bullied misfits.  Joey had both physical and psychological issues that manifested early in his life. Music became their savior very early, but at the beginning it was Mitchel (Mickey) who was the musician, and it took some time before the very complicated Jeff got together with the band that became the Ramones and found not only his voice, but his new identity.
The Ramones story as told by Mickey Leigh, is pretty incredible, even for fans who know something about the band and were there during the glory days.  The relationships between the various band members were legendarily terrible.  How this band stayed together and made such incredible music is still a mystery.  Mickey was there at the beginning; John Cummings, aka Johnny Ramone, was initially his best friend.  Mickey ended up being the band's first roadie, while Joey, the quintessential misfit outsider, became the front man singer of what eventually became one of the greatest rock bands of all time. Later Mickey had his own career with a number of bands, as well as being a songwriter too.
The many stories and incidents recounted in this book are never boring, even when the sometime strange and complicated elements of Joey Ramone's personality begin to repeat themselves over years.  There is a tremendous amount of love here, and some not so nice things as well.  Mickey's own story is complicated and he has alot to say about alot of the people he worked with, for and sometimes against throughout the years.  Nothing here is ever boring.  It's sometimes sad and frustrating to know how things were for Joey Ramone and his family, friends and associates, as it was often difficult, confusing and painful for all of them.  Even years later, when they were inducted into the Rock and Roll Hall of Fame, the Ramones created an emotionally complicated scene.
Ultimately, Mickey (and doubtless Legs too) has captured beautifully a unique and special part of modern musical history, that is also the story of redemption, which is after all, the real story of rock and roll.  And at the end Joey and Mickey always did make up.  As Mickey tells it, the last time really counted the most. "He pulled me down to him, and he just didn't let go. I can still feel that hug."  This is a book well worth reading for anyone interested in New York punk rock.  I had a great time talking to him about the book and his experiences in rock and roll.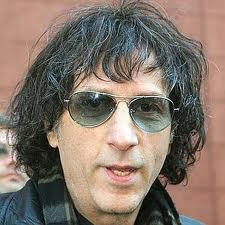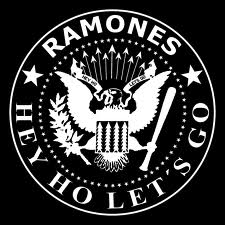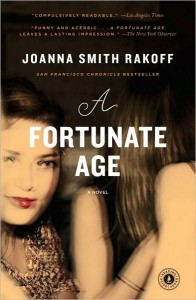 978-1416590804 – Paperback – Scribner – $15.00
Joanna Smith Rakoff is a wonderful writer – she's a poet and an essayist, and her skill as a writer shines throughout her novel A Fortunate Age.  This was not a book I expected to enjoy as much as I did; Rakoff won me over with the details of her sprawling story, and her characters, whom I similarly did not expect to like so much.  The book is modeled directly on Mary McCarthy's now classic, The Group, whose characters were Vassar women, in a story set in the 1930s and 1940s, whereas Rakoff's characters are all friends from Oberlin, living in New York City in the late 1990s and the early years of the new century.
Like the novel Rakoff used for inspiration, this is a complicated story with a number of characters told over a number of years.  This novel is set mostly in New York City with flashbacks to her characters' earlier lives, especially their time in college in Oberlin, and some side stories as well.  Essentially, it's a coming of age story, and based on the supposition, I think, that for so many of us, the decade crossing from our twenties to our early thirties truly marks the painful bridge from still youthful adulthood to "real" life.  It's not an easy transition, and for many has the sense of hyper-focused reality that makes it all the more powerful for those experiencing it.
In talking with Joanna, I wanted to explore her interest in Mary McCarthy and her novel that A Fortunate Age is based on (and The Group is also a book I recommend to modern readers, it is a book that is probably more neglected than it should be).  Joanna talks about the striking similarities she felt between the lives of her own age group and that of McCarthy's and how that led her to write her own book.  We also talked about the way her book is imagined and how through fiction she worked to represent a particular time and place, a milieu that she evokes through this story, the breadth of her characters and their individual linked stories.  As she points out, this novel is, for her almost Victorian in the way its characters function against and within an overall cultural structure toward understanding their social being.   There is alot going on in her book, which Rakoff manages quite masterfully, and her ability to handle complexity of story and persona shines in this interview as well.  I'm certainly looking forward to reading her next book and to talking to her again.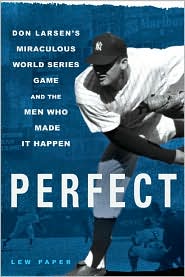 978-0451228192 – Hardcover – New American Library – $24.95
An entire book about one baseball game is probably unimaginable to many people.  Even diehard fans, even those who feel they have heard the story of Don Larsen's unique feat more than enough times, will be surprised at how easy this book is to (avidly) consume.  Lew Paper manages to keep our attention, even though we know how the story comes out, even though we may know the game, the players, the era so well.  And there are plenty of surprises in these pages.
Paper is a very good writer, almost effortless, and a he is a natural storyteller who plainly loves the material he is writing about.  He uses the game as the structure for telling much more than the story of a single game, of course.  He portrays many of the players in this game, Dodger greats like Jackie Robinson, Carl Furillo, Roy Campanella, Junior Gilliam, and hard-luck pitcher Sal Maglie, the powerful Yankee team of the fifties, which sported Mickey Mantle, Yogi Berra, Billy Martin, Gil McDougal, Moose Skowron and Hank Bauer, all in the prime of their careers.  He brings to life the story of this great team rivalry between two boroughs of the greatest city on earth in the middle of the 1950s, an era that still can fascinate and enthrall us.  And of course baseball is the constant through time, whose essence does not change at all.
It does help to be a baseball fan to like this book, I am sure, and maybe having grown up in or near this great era of intra-New York City competition adds to one's interest as well.  It was definitely a different time than today, when even star players held real jobs during the off season, and the amount of money won in a World Series could be just enough to give a player some modest luxuries and fleeting financial security.  And of course many of these players had grown up during the Depression, lived through or even fought in World War II or the Korean War.  That may account for some of the different attitudes and behaviors they exhibited on the field and among friends.
But there can be no doubt that Lew Paper has brought this game, these players, this era, vividly to life in a beautiful and brilliant manner.  Talking to him about this book, the research he did to write it, and some of his experiences in talking to surviving players, relatives and witnesses to Don Larsen's spectacular (and still unique) feat , was a great pleasure for me.  I do love baseball, the game and its history have a terrific pull on me, as it does on many others, but baseball is also just a wonderful lens through which to see human beings, our culture, our foibles, our strengths and our desires.  Thanks to Lew Paper for this book and a terrific interview about it.