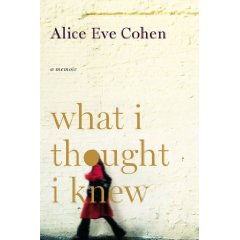 978-0670020959 – Hardcover
Viking – $24.95
Alice Eve Cohen's memoir tells an incredible story – a writer and playwright, she was diagnosed as infertile in her thirties, she adopted a daughter with her then-husband (whom she later divorced).  At 44 she began to experience strange physical symptoms – after six months of suffering she was finally recognized as being pregnant.  In many ways that was only the beginning of her story – which is an incredible, honest, sometimes funny but as often a painful journey of discovery.
I generally am not that interested in the modern memoir – most people's stories are just not that interesting.  But I was attracted to Alice's story right away, partly because of my own experience with DES and its damages to the children whose mothers took that fertility drug.  Alice's persona shines through her story.  She is vivid and clear about everything that happened to her and how she felt at the time, and later, and she pulls no punches, including her own foibles, fears, and weaknesses throughout.
Overall What I Thought I Knew is a wonderful book that holds our attention throughout.  It's transformative for the author and for the reader.  In my interview with Alice Eve Cohen, we talked in detail about the book and her experiences then and now (the events took place several years ago).  She's not only a wonderful writer but a great interview subject as well.