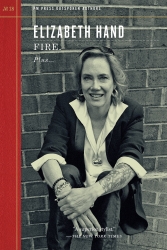 Fire (Outspoken Authors Series) – Elizabeth Hand – PM Press – paperback – 978-1-629632-34-6 – 128 pages – paperback – $12.98 (ebook version available at $9.99)
Over the years, I had heard of Elizabeth Hand, and knew she was a writer to be reckoned with, but I had never read her science fiction and mystery novels or stories. She was just not on my radar. Now, having read this fantastic short collection of some of her fiction and nonfiction, I have belatedly begun to understand the scope of her work and enjoyed the opportunity to experience her powerful writing.
Fire is a short book that packs a big punch. Maybe it is the ideal introduction to Hand's work, and maybe that was PM Press' intention in publishing it. The title story was written especially for this book. It is a powerful post-apocalyptic short story set in a world – our own – approaching global conflagration.
In a useful essay, "The Woman Men Couldn't See," Hand examines the work and life of Alice Sheldon, who wrote some stunning science fiction novels under the pseudonym "James Tiptree, Jr." in order to conceal identity from both readers and her bosses at the CIA. In another nonfiction contribution called "Beyond Belief," Hand talks about how she went from being a troubled teenager to a serious writer. Other pieces include some of her short fiction, a bibliography of her writing, and PM's own interview with the author (which I tried to not replicate in my own conversation with Elizabeth).
After seeing Patti Smith perform, Hand became involved in the nascent punk scenes in DC and New York. She worked at the Smithsonian's National Air and Space Museum in Washington, D.C. Hand is the author of a number of novels and three collections of stories and her work has been recognized by the Nebula, World Fantasy, Mythopoeic, Tiptree, and International Horror Guild Awards. Her novels have been chosen as notable books by both the New York Times and the Washington Post. Hand is a regular contributor to the Washington Post Book World and the Magazine of Fantasy and Science Fiction, and lives with her family on the coast of Maine.
Talking to Elizabeth Hand was great fun for me. She is as good a conversationalist as she is a writer, and has alot to say that I think listeners will find interesting.  I hope this interview with Elizabeth Hand will be a useful and meaningful contribution to our literary landscape. Now that I have become familiar with her work I intend to add Elizabeth Hand's fiction to my ever expanding list of "must-read" books. Thanks to PM Press for introducing me to this wonderful writer's work.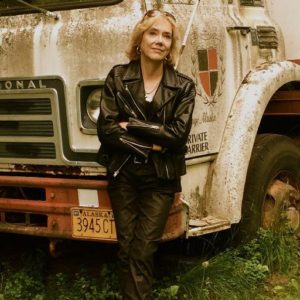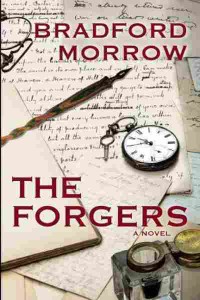 978-0802123213 – Mysterious Press – 258 pages – Hardcover – $24.00 (ebook editions available at lower prices)
Brad Morrow is really an excellent writer, mainly of literary fiction, and as listeners of Writerscast will likely know, I have interviewed him twice before, once for the fine novel, The Diviner's Tale (2011) and again for Publishing Talks about his now 25 year old literary magazine, Conjunctions.
The Forgers is a complex and finely crafted mystery novel. It is pretty clearly Brad's homage to the form, one which I assume he loves, and the writing style demonstrates just how much in command of his craft he is.
I myself am not generally a reader of mysteries and detective novels, though I appreciate a good one. So I am not as familiar with the intricacies of the form as are those who read deeply in this genre. One reviewer I read observed that The Forgers follows the form of one of Agatha Christie's most famous novels. Well it might. As I read the book, the writing style reminded me of early twentieth century English writers. Because its main character is a both a literary forger and a dedicated bibliophile, and much of the book's action takes place in Ireland, it has a decidedly British feel to it.
But it is an American story, and as such a grisly murder that opens the book is at its center. The setting for much of the novel is the farthest reach of Long Island, an isolated area that is perfect for this sort of crime.
The main character is one of those quirky characters that inhabit mysteries and suspense novels. He's very compelling, but he keeps his distance, to say the least. Morrow knows the world of books and collectors, as he is one himself, but I don't think anyone would mistake his main character for an authorial stand in. At least I hope not. The narrator takes us through a tangled web of a story, and while we get to know him, much is left to mystery.
Readers will enjoy the slow, building pace of the novel, and the payoff that comes at the end. It's a fun book to read, and as I said earlier, beautifully written by a masterful writer.
Brad Morrow has written a number of fine novels, teaches at Bard College, founded and still edits the literary journal, Conjunctions, and has won many awards for his work. If you have not read his work before now, you should! And The Forgers would be a good book to start with. Author website here.
It's always a great pleasure to speak with Brad about his work. He's a great conversationalist and very easy to talk to, and I think our discussion about The Forgers will be much enjoyed by listeners.
The Forgers is remarkable. Bradford Morrow is remarkable. The Real Thing, which is rare on this earthly plane.
—Michael Cunningham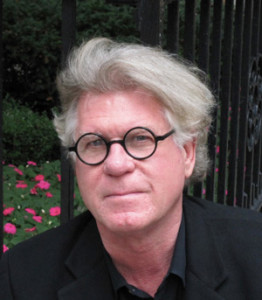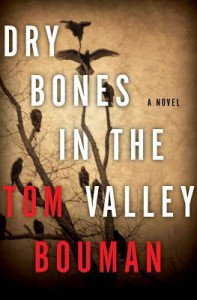 Dry Bones in the Valley – 978-0393243024 – Hardcover – W.W. Norton -$24.95 (ebook version available at lower prices)
This is a very fine mystery set in an unusual locale – rural Pennsylvania (fracking country). I don't usually read mysteries, but one of the pleasures of doing interviews with writers has been that I have been sent books by publishers that I would normally never have even looked at on my own. It's fun to pick up a book, to start reading a few pages and then to be thoroughly hooked. That happened for me with Tom Bouman's fine first novel. I really liked the portrayal of his main character, the local policeman, Henry Farrell. He's terrifically drawn and is a compelling, complicated, extremely human character.  And I liked the way Bouman worked his way slowly into the depths of the story. And I really loved the way he wrote about the people who live in this isolated rural county in Pennsylvania.
Bouman's interest in the outlaws and eccentrics who inhabit this world, his appreciation and even love for those who have kept to themselves, and to older forms of relationships among family and neighbors is palpable and powerful.
The book revolves around a body found in the woods and the search, naturally enough, for the killer. This novel is well worth spending some time as the story unravels. Great characters and fine writing make for a terrific read.
Author website here. Bowman used to work in publishing – he was an editor – and now lives in northeastern Pennsylvania with his family.  As of this writing, he is attending law school, so it may be a little while yet before he publishes his next book. And here is a terrific piece that Bouman wrote for Modern Farmer about rural crime fiction (that is a genre I did not know even existed!) I am hoping we'll see a new book from Tom Bouman before too much time passes.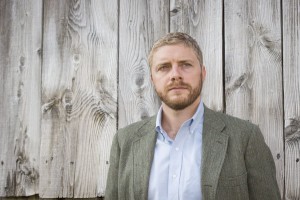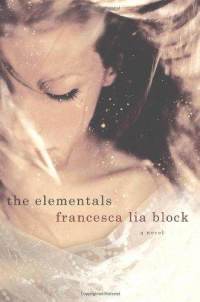 978-1250005496 – St. Martin's Press – Hardcover – $24.99 (ebook versions available at $11.99)
Francesca Lia Block has been one of my favorite writers for many years.  I first discovered her through an early novel called Girl Goddess #9, and her outstanding series of novels under The Weetzie Bat rubric.  She's best known and identified as an author of YA or Young Adult books for girls and young women, but I've always thought that was a reductionist labeling that, as with other excellent writers, unfairly tends to limit her readership.  Francesca is certainly not limited in her imaginative powers and writing ability, and her work can and should be read by adults who appreciate great storytelling and imaginative, edgy fiction.  And if you love Los Angeles, as I do, there is no one better at capturing its modern day heart and soul.
The Elementals is a haunting and powerful novel about a young girl, Ariel Silverman, who is obsessed by the murder of her best friend, Jeni.  She goes to Berkeley for college, the same place where Jeni was killed the summer before.  While Ariel tries to live the life of a college freshman, she cannot set aside the mystery behind Jeni's death, and spends much of her time trying to understand what really happened to her friend.  She comes into contact with a number of strange and interesting characters.  And meanwhile, her mother is wrestling with breast cancer, and Ariel feels like she no longer can rely on her for support.  And maybe needs to find her own path anyway.
The book is both myth and mystery, rich in realistic detail and simultaneously an almost fairy tale like storytelling.  This is one of my favorite novels of the year.
Francesca grew up and still lives in Los Angeles.  She has written novels, short stories, screenplays, and teaches writing.  She recently edited an anthology of her students' fiction called Love Magick, which I am pleased to have published.  Visit Francesca's website for more about her many books.
In our lively and interesting conversation about The Elementals, we were very careful not to give away any of the critical story line of the novel that would spoil it for readers.  Enjoy….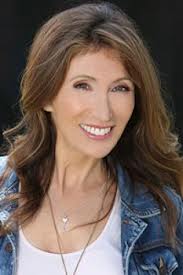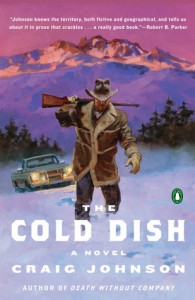 978-0143123170 – Penguin Books – Paperback – $15.00 – ebook editions available
What a great discovery!  This is really about an entire series of novels, not just this first book, The Cold Dish (which is exceptional, by the way).  As soon as I started reading this novel, I was hooked, and knew I would be reading and enjoying many more of Craig Johnson's novels.  Out of the seven he has published thus far, I've read four this summer, and I would have read more of them if I had not been distracted by a very busy period with lots of intense work.  So I am actually looking forward to this fall and winter when I can sit by the proverbial fire and read three more really good books.
As Craig said when we talked, this series of books is driven by his characters, and it's true enough, everyone in these books is vividly drawn and incredibly alive.  That's what got A&E Television to buy the books to turn into their latest successful television series, a story Craig definitely enjoys telling.  Walt Longmire, the Sheriff of Absaroka County, Wyoming, is one of the great modern heroes, full of flaws and the kind of intrepid it's impossible not to love.   And unusually for me, at least, I don't mind at all the way these books have been adapted for television.  A&E wisely kept them character based, and while it is plainly impossible for any video medium to be as imaginatively rich as a great novel, they've done a terrific job with Longmire.
Author Johnson is plainly having a great time writing these novels, and well he may.  He's created a cast of characters it's impossible not to be attracted to.  The Cold Dish introduces us to Walt Longmire, a twenty-five year veteran sheriff in the least populated county in Wyoming, his best friend, Henry Standing Bear, and his favorite deputy, Philadelphia-born Victoria Moretti.   Longmire is not an altogether happy man, having lost his beloved wife, and now lives alone in what might loosely be called an unfinished house.  His daughter is away in law school and he is mostly alone.  His peaceful unhappiness is interrupted by the death of Cody Pritchard, a young man who had previously been involved in an ugly incident of rape two years earlier with three other high school boys, all of whom had been given suspended sentences for raping a local Cheyenne girl.  He's shot at long distance by an unusual and historic 45-70 Sharps buffalo rifle.  Thus starts an adventure that can only be called gripping and powerful.  As one reviewer said: "Longmire faces one of the more volatile and challenging cases in his twenty-four years as sheriff and means to see that revenge, a dish that is best served cold, is never served at all."
Johnson is a fine literary writer taking on a popular form and making it his own.  The Longmire series is the kind of book series readers love, and it's just as attractive to those who are seeking adventure between book covers.  Talking to Craig about his books was a true pleasure for me.  Craig lives in Ucross, Wyoming, population 25, where he truly lives the kind of life he writes about.
Author website here.  A&E Longmire site here.
The book series:
The Cold Dish
Death Without Company
Kindness Goes Unpunished
Another Man's Moccasins
The Dark Horse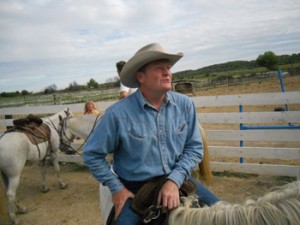 Junkyard Dogs
Hell is Empty
As the Crow Flies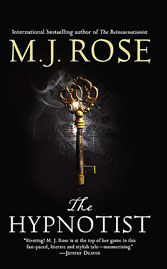 978-0778329206 – Mira Books – paperback – $14.95 (e-book and audio book editions available)
M.J. Rose is a critically acclaimed novelist – she's best known for her thrillers, of which The Hypnotist is one.  It's in a series with The Reincarnationist and The Memorist, all them with reincarnation as a central theme.  MJ's characters are compelling and well drawn, and her stories are complex and original, the books are fun to read and impossible to put down.  What more could you ask of a novel?
M.J. is also well known among writers for her activism in behalf of writers, and her brilliant understanding of marketing.  But that's a different conversation than the one we had about The Hypnotist, a book I deeply enjoyed reading, for me perfect as I got to read the book on vacation, and it is way better than most books we think of as "beach reads."  As one reviewer said: The Hypnotist has "something for everyone: murder, suspense, history, romance, the supernatural, mystery and erotica."
The detective Lucian Glass becomes deeply involved in the pursuit of anti-hero Malachai Samuels, whose Phoenix Foundation is committed to the study of reincarnation (at almost any cost).  Glass is a tortured soul whose own life connects him to the present and past day lives of other characters in this novel.  It's a complexly drawn story and one that will reward readers, even those who have no interest in the paranormal or esoteric metaphysical subjects that are do beautifully woven through the story. You will enjoy the denouement, and the story will stay with you long after you have turned the last page of the book.
Rose is a skillful writer who treats her readers to a high level of originality and surprising story making.  She is also fun and rewarding to talk to about her books, as she shows in this insightful interview.  She has a great website, a couple of blogs, and aside from having written 11 works of fiction, she has also co-authored two books about writing, and has been profiled in Time Magazine, Forbes, The New York Times, Business 2.0, Working Woman, Newsweek and New York Magazine, and has been on many television shows.  She is also the founder of the very successful book promotion business, AuthorBuzz.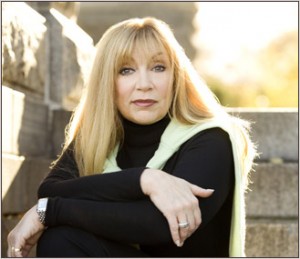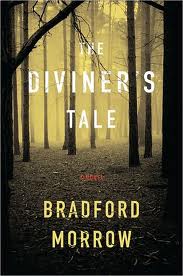 978-0547382630 – Hardcover – Houghton Mifflin Harcourt – $26.00 (ebook version also available)
I have read a number of truly fine books over the past couple of years, most of which I have talked about on Writerscast.  It's important to me that I've only been writing and talking about books I really liked.  A few of these wonderful books have just bowled me over, and Bradford Morrow's The Diviner's Tale is one of those.  It's a tightly woven story and powerfully interior, paradoxically, as it is set in a variety of geographic locales (all familiar to the author and therefore quite beautifully described).
Reading this book, I found myself propelled by the force of the story, and enthralled with the main character Cassandra Brooks, a single mother of two boys, daughter of a professional dowser, who is blessed and cursed by visions (Cassandra in Greek mythology had the gift of prophecy) and conflicted about her own ability to find water underground (the last name Brooks is no accident either).
The book opens with a chilling and frightening event – Cassandra is walking the woods for a client and comes across a hanged girl, who is to her, not an apparition.  But when she brings the local sheriff to the scene (he is a former love interest – it's a typical small town in upstate New York where everyone knows everyone), there is no sign of the hanged girl.  But they find another girl, and that launches the story's trajectory which ultimately forces Cassandra to confront long buried secrets in her past and some very real and dangerous possibilities for her in the present.
While the story is set in upstate New York, near the Delaware River, a significant part of the book takes place in the beautifully drawn islands of Maine near Mt. Desert – more water, more mystery, more danger for Cassandra and the reader.
Morrow is a terrific writer, and has written a number of very fine novels, but this one may well be his best book thus far.  The Diviner's Tale is a bit of a mash up, taking elements of mysteries, thrillers, and even supernatural novels, merging them into a dark melange that stands alone as an original work of modernist fiction.  I liked what Joyce Carol Oates said about it – "luminous and magical…a feat of prose divination."  Well put indeed.
This book is a great pleasure to discover.
And talking to Brad was a pleasure as well.  He knows himself, his work, and what it means.  He talks fluently about this book, and the story of how the novel was born is definitely worth hearing.  I hope you will enjoy our conversation as thoroughly as I did.
The author's website is worth a visit too – you get a chance to read some of his stories and find out more about his many projects (I knew Brad first as the editor of the extraordinary and long lasting literary magazine Conjunctions, now up to issue #55, and which has managed to retain its sense of discovery over many years and many different literary styles and genres).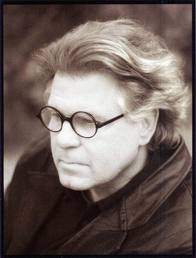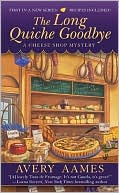 978-0425235522 – Berkley – Mass Market Paperback Original – $7.99 (also available as an ebook 978-1101188644 at $6.99)
I don't often read mysteries, but a few weeks ago, right in the middle of summer, the season for entertaining novels (often known as "beach reads") I decided to give this novel a try.  The tongue-in-cheek title first caught my attention, and I really liked the unusual setting for the novel (small town Ohio) and the quirky but very believable cast of characters.  So The Long Quiche Goodbye is definitely a fun read but not just a throwaway summer book.  Avery Aames is a good writer and she has deft with her creation and handling of characters.
As I mentioned, I am not a steady reader of mysteries, so I may not be as experienced as some are with the various forms and formats of mysteries – they do fall into a set of recognizable patterns, I know.  In The Long Quiche Goodbye, our main character is Charlotte Bessette, the proprietor of the family owned cheese shop called Fromagerie Bessette, in the small town of Providence, Ohio.  At the gala re-opening of the store after a full scale renovation and modernization, the store's landlord (whom we already know not to like) is found stabbed to death with one of the store's knives, and Charlotte's grandmother is the prime suspect.
We're off from there, with a full cast of local characters, friends, family, police, and a couple of other prime suspects in town to make things interesting.  And it's Charlotte who takes the lead in finding out who the real killer must be, as clearly, she feels (and we come to feel as well) that it could not have been her wonderful grandmother (who is the Mayor of the town!)
Avery Aames had a lot of fun writing The Long Quiche Goodbye, I think, and her pleasure and involvement with her characters comes across in the way she writes their story.  I also had a great time talking to her about this well written book, her work as a writer, and the next books in the series that this book inaugurates.  It looks like this series will be successful, and deservedly so – this first in the "Cheese Shop Mysteries" is already a national bestselling mystery novel.  You can visit Avery's website to learn more.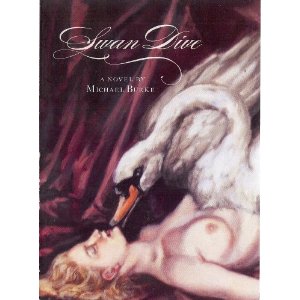 978-1929355501 – Pleasure Boat Studio/Caravel Books – paperback – $15.00 (also available as an e-book at $9.99)
This is Michael Burke's first novel, and it's a good one.  He is probably much better known as a sculptor and graphic artist; he is clearly an accomplished writer as well, and as with his art, there is a great deal of thought behind the manifestation he has chosen for this story.  Michael Burke is also the son of renowned philosopher and poet Kenneth Burke, which may help explain some of his accomplishments.
While I was preparing to interview Michael about his very well written and entertaining novel, I read a fascinating profile of him and his work as an artist in the Harvard Alumni Magazine, an article that in itself is well worth reading.
This is an intellectual novel, but it is never heavy handed.  The dialogue is smooth, funny, and vibrant.  The story pays homage to Leda and the Swan but that motif never gets in the way of the story, and it's not even necessary to know any Greek mythology to enjoy the book, which unfolds naturally.  Of course we know there is a denouement coming, it's a murder mystery after all, but there is plenty of complexity to keep us interested and engaged.
Swan Dive's main character, Johnny "Blue" Heron, is a modernized Dash Hammett sort of hero, smart, mouthy and alot more in need of help than he realizes.  The book has many interesting and engaging characters, an unpredictable narrative, some sex, and an overall verve and political awareness that makes clear the author is socially engaged and has something important to say about the world we live in.  You can read this book purely for fun, or as a neo-noir genre revival novel, but there's alot more going on here for anyone who wants to delve into its many layers.
Swan Dive is a book I will recommend to mystery lovers who want a book with depth, a fast paced narrative and interesting characters.  In my discussion with author Michael Burke, we had a lively discussion about this book and how he came to write it, his background as an artist, and where he is headed as a writer (there's another Blue Heron novel in the works).  I'm definitely looking forward to reading more of his writing.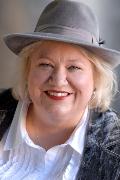 978-0312-60360-1 – Hardcover – Minotaur – $24.99 (also available as an e-book at $11.99)
Writerscast is proud to present the second in our series of authors reading from their work called AuthorsVoices.   I hope you will agree that hearing these works read aloud, especially by the original authors, will add greatly to the experience of the writing and the authors' distinct sense of their own words. With writers touring for books less frequently now, these podcasts should provide readers with an opportunity to hear some of our best contemporary authors reading  from, and sometimes performing their own works.
Kelli Stanley's City of Dragons is a great noir mystery novel with a great woman detective main character.  The novel is set in Stanley's meticulously recreated 1940's era San Francisco that she plainly deeply loves.  I read this book a few months ago, thought it was terrific, and interviewed Kelli (here).  For AuthorsVoices Kelli provides an introduction to the book and does a terrific reading of Chapter 1 of her novel in full.  Note to listeners: language in this piece does include some words not allowed on broadcast radio or television.