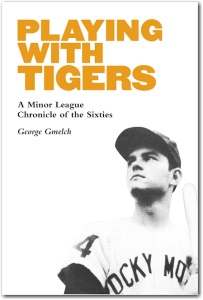 9780803276819 – University of Nebraska Press – 288 pages – Hardcover – $26.95 (ebook versions available at roughly similar prices)
Today, George Gmelch is a successful anthropologist, with a number of books to his credit. But when he was a young man, he was a very good baseball player, with the typical dreams so many shared of becoming a professional baseball player and making it to the Major Leagues. Growing up in an all-white suburb in California in the late fifties and early sixties, George led a fairly sheltered childhood, playing ball and having fun. In 1965 he signed a contract to play professional baseball with the Detroit Tigers organization and so began a four year period of coming of age, during which George experienced the challenges of life in baseball's minor leagues.
While learning to be a professional athlete, he also became aware of the realities of race and class; minor league baseball in the nineteen sixties was often played in small towns in the south where segregation was still in effect, despite the advances of the civil rights movement. And as an adolescent on his own with other boys in the cocoon like world of pro sports, he also had his first experiences of sex and romance, living, traveling and playing ball. Somewhat unlike most of his teammates, George paid attention to the events of the era, including the Vietnam War, the rise of the counter culture, and civil rights protests.
Playing with Tigers is a memoir certainly unlike most others written by baseball players. The sixties was a time of turmoil involving young people of all backgrounds and professional baseball was not immune from its disruption. George was likely more socially aware than most of his compatriots, and his direct experience of racial issues ultimately led to the end of his professional baseball career.
To write this book, George relied on the journals he kept as a player, as well as letters from that time, and in addition he used his skills and experience as an anthropologist to interview thirty former teammates, coaches, club officials – and even some former girlfriends. This is a unique story, documenting a socially disrupted period in American history through the lives of many of the young people who lived through it. We get to experience first hand the naivete, frustrations and joys of a young man trying to find his way in a complex time. And clearly, some of the motivation for writing this book was unfinished business, events, relationships with people, his baseball experience, on which George wanted to gain some closure.
I read alot of baseball books, as many listeners know. Among the many I have read the past couple years, I found Playing With Tigers extremely compelling, and one I had fun reading. I very much enjoyed the opportunity to speak with George Gmelch for the second time – in 2013, George and I talked for Writerscast about another of his baseball books, Inside Pitch. In addition to being an intensely personal memoir, Playing With Tigers opens a door to a period in our history that deserves a lot more exploration than it seems to have been given. George has some great stories and a deep understanding and love for the people and places he's experienced. This is a fine book and you do not need to know anything about baseball to like it.
George Gmelch is a professor of anthropology at the University of San Francisco and at Union College in Schenectady, New York. His books include In the Ballpark: The Working Lives of Baseball People, with J. J. Weiner (Bison Books, 2006), and Inside Pitch: Life in Professional Baseball (Bison Books, 2006). He is the editor of Baseball without Borders: The International Pastime (Nebraska, 2006). His writing has also appeared in the New York Times, the Washington Post, Psychology Today, Society, and Natural History.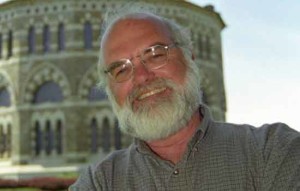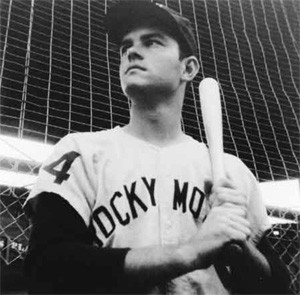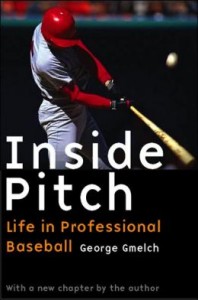 978-0803271289 – University of Nebraska Press Bison Books – paperback – $16 (no ebook edition available!)
Given my longstanding interest in baseball and an early background in anthropology, it's kind of surprising to me that I missed knowing about the work of George Gmelch until very recently.
I ran across George's books in some random searching having to do with baseball, and happily was able to get an introduction to him through my anthropologist brother.  When he was young, George was a baseball player, and a pretty good one.  Like so many others, he played for several years in the lower minor leagues, but never made it to the Major Leagues.  It's possible he quit too early, but it's also likely that he made the right choice to quit baseball and go back to school (and got his Ph.D. at UC Santa Barbara) and then became an accomplished cultural anthropologist, studying tourism, sport cultures, and migration. He has worked among and written about Irish Travellers, English Gypsies, return migrants in Ireland and Newfoundland, commercial fishermen, Alaska natives, and Caribbean villagers and tourism workers, and has taught at several universities.
Given his training as an anthropologist and his unusual background as a minor league baseball player, it made sense that he could study baseball players, perhaps in ways that non-players could never manage.  So some 30 years after his playing days ended, George arranged with friends still in the game to spend time with major and minor league players as an observer.  Over the course of five years, he interviewed more than 100 players, coaches and managers, and got to experience and document the inner workings and social milieu of modern day baseball as it is lived by its participants.
Inside Pitch: Life in Professional Baseball is nothing like a typical anthropological ethnography.  There's a great deal of George's personal story throughout, and it's neither dry nor academic.  But the observational techniques and abilities of the trained anthropologist are brought to bear, as George ruminates on the differences between modern players and those of his own era.
It's unusual for us to get an insider's view of the game that gets past the public relations walls that the institution and all its participants have build around it to protect the image of the game.  Minor league players, though rarely interested in George's own experience as a player, were always willing to tell him about their experiences, and even normally wary major leaguers were willing to talk to him once he explained that he was a former player doing anthropology, not a reporter looking for an angle.
So if you love baseball, Inside Pitch is a terrific read, and will enrich your understanding of what it is really like to play professional baseball.  I was especially taken with the writing about and the interviews with players that illustrated the psychological struggles that players go through.  I recently read the excellent RA Dickey memoir, Wherever I Wind Up: My Quest for Truth, Authenticity, and the Perfect Knuckleball, which is a terrific complement to Inside Pitch, as so much of Dickey's story is about how he managed to conquer his personal demons and harness his inner being to finally become a successful pitcher after years of struggle.  Gmelch both give us many quotes of players talking about their mental struggles and writes about these issues perceptively.
Baseball is generally considered a cerebral game because of its complexity and pace.  That, and the fact that there are so many games in a very long season, create a very challenging emotional and psychological environment for players.   We rarely, if ever, get to see close up what that can mean for them.  And because the vast majority of players who play in the minor leagues never make it to the majors or only get there for a brief time, reading about their struggles can change the way you think about the players who do get to the majors and stay there for any length of time.  They really do have to be special, lucky and to have developed a solid psyche in order to be able to survive and thrive in such a difficult and fraught environment.
George Gmelch has written eleven books and now teaches at the University of San Francisco, where he co-directs the anthropology program. I've now got an earlier book of his, In the Ballpark: The Working Lives of Baseball People on my reading list as well.  Talking to him about his experiences as a player, anthropologist and writer was a terrific pleasure for me.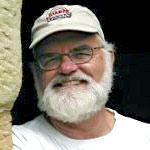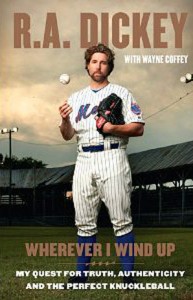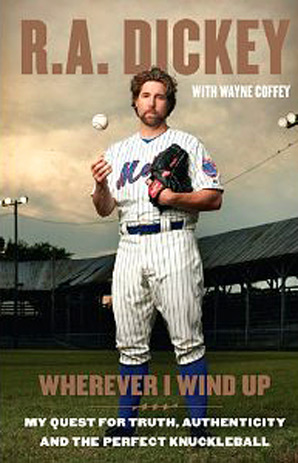 Alert to listeners: we had such a good conversation that I lost track of time, and this is a longer than average podcast at 54 minutes.