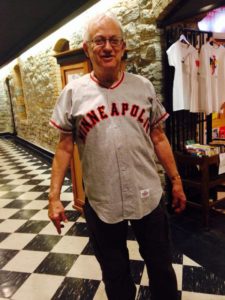 Publishing Talks began as a series of conversations with book industry professionals about the future of publishing, books, and culture. As we continue to experience disruption and change in all media businesses, I've been talking with some of the people involved in our industry about how the book business might evolve as our culture is continues to be affected by technology and macro-economic factors.
I've now expanded this series to include conversations that go beyond the future of books and publishing. I've talked with editors, publishers, booksellers and others who have been innovators and leaders in independent publishing, and will continue to explore the ebb and flow of writing, books, and publishing in all sorts of forms and formats, as change continues to be the one constant we can count on.
For the past several years, I've been talking to editors and publishers of independent presses about their work, including a number of important literary publishers. In this conversation, I am speaking with an old friend and colleague, David Unowsky, founder of the outstanding St. Paul bookstore, the Hungry Mind, which evolved into many other book related ventures, including a literary review and a successful independent press.
The store eventually sold its name to help stay in business in the face of ever increasing financial pressures, and ultimately, under its new name, Ruminator Books, closed in 2004. Which means it was in business for over 30 years, and was for most of that time an incredibly important place, not only to Twin Cities residents, but for the many writers and publishers whose work the store supported, and importantly provided an entry point into the book business for many individuals who have gone on to a wide variety of positions in the book industry.
The Hungry Mind was and remains for many, a special place, and David Unowsky was its beating heart and soul. I'm really pleased to have the chance here for David to talk about his work as a bookseller, communitarian, publisher and entrepreneur. David and "the Mind" – and all the wonderful people and books that passed through its doors –  are central to our understanding of what might eventually be considered a "golden age" of books in our country.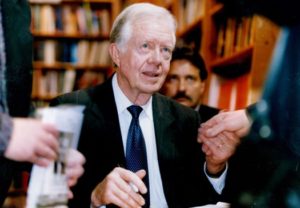 Jan. 12, 1994: Former President Jimmy Carter made an appearance at the Hungry Mind Bookstore in St. Paul to sign his latest book,"Turning Point: A Candidate, a State and a Nation Come of Age." In the book, Carter describes how his first race in the pre-civil-rights South almost was taken away by a political boss.
Photo: Minneapolis Star Tribune.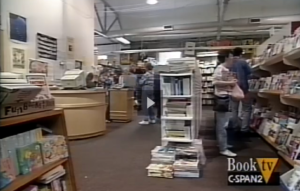 Screen shot from a 1998 C-Span program about Hungry Mind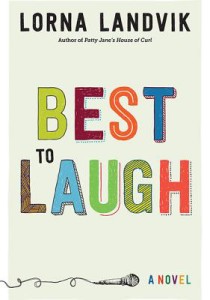 978-0-816698-97-4 – University of Minnesota Press – Paperback- 312 pages  – $16.95 (ebook editions available at lower prices)
I have been reading and enjoying Lorna Landvik's wonderfully funny books for a long time. I can't remember how I discovered her writing but am guessing it might be the fact that she is from Minnesota that got me to try out one of her early books. And then since her books so perfectly capture the Minnesota social landscape and ethos, I kept going and read most of her novels. I come by my Minnesota interest because part of my family is from Minnesota, and I lived in St. Paul for a few years in the seventies, and I maintain a strong interest in the North Country and especially its literary life (oh and their baseball team too — see my recent interview with former Minnesota Twin Jim Kaat).
I suspect Landvik gets typecast by many readers as a "women's" writer – her books are rich with female characters and speak to and for women's social ethos. And in a book business that lives and dies by book categorization, maybe she is typecast also because her books are funny, and have titles that sound like they come from a female centric universe (Angry Housewives Eating Bon Bons, Your Oasis on Flame Lake, Patty Jane's House of Curl). But it's a mistake for any reader to overlook Landvik as there is a lot going on in these books. Landvik is certainly entertaining – her background as a stand up comedian and actor informs her writing and her stories. But comedians and comedic novelists are usually mining something deeper, and Landvik's humor leverages a clear understanding of human nature and both our fallibility and the strength that allows us to live through pain and grief and the difficulties of daily life.
Best to Laugh is Landvik's most recent novel, published last year by the adventurous University of Minnesota Press. It's her most autobiographical novel, for sure. Her main character in this book, Candy Pekkala is half Korean and half Norwegian (unlike Landvik). She goes to Hollywood to follow her dream to be a stand up comedian (as Landvik did). The book follows her adventures in La-La land as she falls in with her neighbors in Peyton Hall, a class LA building that houses a cast of interesting and compelling characters, who all become Candy's family as she becomes the success she has aimed to become. The combination of "old Hollywood" and less romantic 70's era Los Angeles makes for a terrific backdrop. And the characters are picture perfect. Candy, her friends and family are impossible to resist.
In real life, Landvik did work as a stand up comedian in Los Angeles, temping at places like Atlantic Records and the Playboy Mansion (writing film reviews for Hugh Hefner's private VHS tape collection) while pursuing her showbiz dream. Despite her success as a comedian, Landvik eventually turned to writing, which she turned out to be pretty good at doing. She still likes to perform – her 'Party in the Rec Room' is performed once a year at the wonderful Bryant Lake Bowl theater in Minneapolis (yes, theater in a bowling alley!) This is an all-improvised show based on audience suggestion. Landvik describes it this way "While I enjoy a meaty, dramatic role, to me there's nothing more satisfying than making a roomful of people snort beer up their noses as they laugh."
You might find yourself doing the same while reading Best to Laugh.
Author website here. Author page, on Goodreads, worth a visit.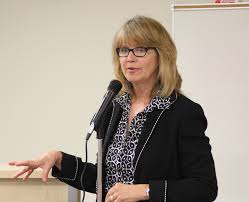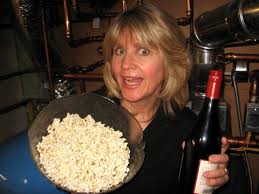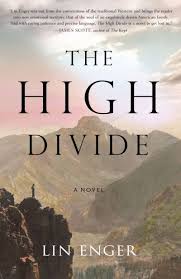 The High Divide: A Novel – 978-1616203757 – Algonquin Books – Hardcover – $24.95 – ebook versions available at lower prices. Paperback edition due to be published in 2015.
This is a wonderful novel, set in a period and place I have long been drawn to, the northern plains of the late 19th century. In The High Divide, Enger tells the story of a family – father, mother and two young sons – who are living a typical hard life in Minnesota. One day Ulysses Pope, the father walks out and when he fails to return, his family must try to cope, and of course, try to understand why he left and where he has gone. Driven by a desperate need to know more, the two sons set out to find him, leaving their mother, Gretta, at home to worry about her family, and then herself to set out on her own journey, now to search for her missing family.
Their searches lead them to the rough frontier country of Montana, that still reverberates with the terrible era of conquest of American Indians and destruction of the buffalo, massive changes in land and culture. Gretta must grapple with the possibility of losing her husband to another woman, and the boys must decide where their loyalties lie, and what they must do to save their family. Ultimately, the father's secret must be uncovered, his story told, and the family come to terms with their history, in order to be able to go on. In my discussion with Lin, we covered alot of interesting territory. I very much enjoyed our conversation and the opportunity to talk to him about this excellent book and his thinking about writing.
The High Divide is a confidently told and powerful story, set in a period when modern terms of psychological awareness and emotional understanding did not exist. All the characters are ultimately trying to come to terms with the damage done by war and violence. Enger is fully in command of his story and characters, and pulls the reader through to a well earned climax. I really enjoyed this book, and am happy to have discovered a writer whose work I will now be following with interest.
Lin Enger
I grew up in Minnesota, have spent most of my life in the state, and now live in Moorhead, where I teach English at Minnesota State University. Over the years I have received several awards for my fiction: a James Michener Fellowship, a Minnesota State Arts Board Fellowship, a Jerome travel grant, and a Lake Region Arts Fellowship. I have an MFA from the Iowa Writers' Workshop, where I was a Teaching-Writing Fellow. My first novel, Undiscovered Country, was published by Little, Brown and Company in 2008. My short stories have appeared in Glimmer Train, Ascent, Great River Review, American Fiction, and other journals. During the 1990s my brother, the novelist Leif Enger, and I had a great time collaborating (as L. L. Enger) on a series of mystery novels for Pocket Books.
"The High Divide is a deeply moving, gripping novel about one man's quest for redemption and his family's determination to learn the truth. Written with lean, crisp prose, Enger seamlessly blends historical events with the personal, and deftly pulls the reader into America's Great Plains during the 19th Century. The narrators' voices are captivating, and I was spellbound by the author's ability to express the human condition and especially the complicated bonds between fathers and sons. Layered with meaning, this remarkable novel deserves to be read more than once. The High Divide proves Enger's chops as a masterful storyteller." —Ann Weisgarber, author of The Promise
"The High Divide, a novel about a family in peril, is haunting and tense but leavened by considerable warmth and humanity. Lin Enger writes with durable grace about a man's quest for redemption and the human capacity for forgiveness."
—Benjamin Percy, author of Red Moon
"Lin Enger sets out from the conventions of the traditional Western and brings the reader into new emotional territory, that of the soul of an exquisitely drawn, American family. Told with caring patience and precise language, The High Divide is a novel to get lost in."
—James Scott, author of The Kept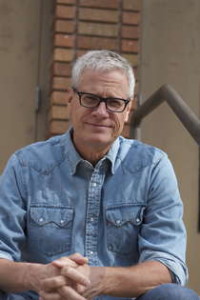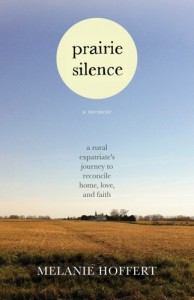 978-0807044735 – Beacon Press – hardcover –  $24.95
(ebook editions available at lower prices)
Melanie Hoffert's Prairie Silence is about growing up on the prairie of North Dakota.  The silence she talks about is most often her own, though there are many other kinds of silences in the small town she grew up in.  Her story is about growing up gay in a place that seems alien to her, in a family she felt she could reveal her true self to (until much later in her life after she had moved away – her eventual coming out story is just emblematic of the awkwardness that she mostly recognizes now was projected rather than felt).
Now living in Minneapolis, Hoffert feels the need to return home to her family farm, to work with her farmer father and brother, reconnect to her mother, and to better understand the place she came from.  Interacting for a solid period of time with family, friends and neighbors gives the book its narrative, and places her in the complicated nexus of self, place and other.
Prairie Silence is a warm, sometimes surprising memoir that combines an internal voice with a clear eyed reflection of the northern plains we often call the "heartland," whose residents often and perhaps ironically, have terrible challenges connecting with their own hearts and souls, and thus are unable to sympathize with the hearts of others, especially those who don't share their own values.   But as she learns more about the people she left behind, Hoffert does find connections, and real ones, with many of those to whom she could not trust to reveal herself.
Hoffert's prose is plainspoken and clear, just as she was in her interview with me about this strong debut work of nonfiction.  A warm and loving memoir I highly recommend and an excellent introduction to a fine new writer.
Melanie has an MFA in creative writing from Hamline University, and her work has appeared in several literary journals. She received the 2005 Creative Nonfiction Award from the Baltimore Review and the 2010 Creative Nonfiction Award from New Millennium Writings. Since 2008 she has worked for Teach For America as managing director of TFANet, the online social-networking hub for their corps members and alumni.
Author website here.
"Sometimes at dusk, when the world is purple, I go searching for elements of a small town in the city. I usually walk down alleys, where yellow light spills from the back of houses onto piles of dusty red bricks and onto old lumber; where forgotten white Christmas lights crawl like vines over many of the fences; where junk cars sit as if in a museum; and recycling bins display the ingredients of meals consumed weeks ago. In alleys people do not have a need to present a manicured life and I feel closer to the neighbors I will never know. In these alleys, where the roads are narrow and life is presented as it is lived—messy and whimsical—I see glimpses of what I left behind."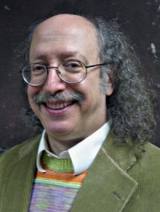 In this series of interviews, called Publishing Talks, I talk to book industry professionals and other smart people about the future of publishing, books, and culture.  This is a period of disruption and change for all media businesses.  How will publishing evolve as our culture is affected by technology, climate change, population density, and the ebb and flow of civilization and  economics?
I hope these Publishing Talks conversations will help us better understand the outlines of what is happening in publishing, books and reading culture, and how we can ourselves both understand and influence the future of books and reading.  Over the past couple of years, I've been talking to a wide variety of people in the book business, mostly about the future of writing, publishing, and reading. But the future is always built on what has gone before now.  And there has been so much incredibly creative and wonderful publishing work done in recent years, I've wanted to share some of the experiences of people who have accomplished so much, with vision, talent and amazing effort.
I've known Allan Kornblum, founder of Coffee House Press (and its predecessor, Toothpaste Press), a long, long time.  He and I started out in publishing in similar ways and around the same time, the early 1970s.  Allan started out as many of us did in those days publishing a handmade mimeo magazine.  But he discovered fine printing by taking classes at the University of Iowa with the renowned Harry Duncan (Cummington Press – there is a great interview with him in a wonderful book called Against the Grain, interviews with independent publishers, you can access this book online through Project Muse).  Allan's Toothpaste Press used letterpress printing to create beautiful poetry books and chapbooks for ten years beginning in 1973, when Allan and his wife Cinda lived in West Branch, Iowa (home of Herbert Hoover).
The Kornblums eventually faced an existential crisis with Toothpaste, to either become a letterpress "art press," producing limited editions at high prices, with limited readership and distribution, or to aim for a broader audience, which for a low margin literary press, requires financial support.  Kornblum elected to create a nonprofit publishing venture, renamed Coffee House Press, and moved to the Twin Cities in Minnesota, the literary mecca of the midwest (then as now), where the press has thrived along with several other excellent publishers, with a literary arts center, and an extremely supportive community of readers and writers.  Now having published there for almost thirty years, Coffee House is an established an active organization, with a strong board and staff, and a tremendous list of books to its credit, many of which have won awards and have sold extremely well.  Coffee House has maintained consistently high editorial and production standards, but it has also been a successful and innovative book marketer, embracing a wealth of tools and approaches to finding audiences for its books.
Interviewing Allan for Publishing Talks was a pleasure for me.  I'd also like to recommend listeners to a written interview with Allan from 2006 that can be found at NewPages.com.  And visit the Coffee House Press website to see their latest books as well as their exceptional and impressive backlist.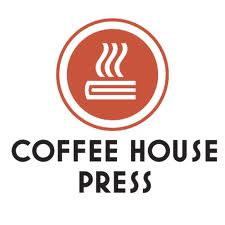 Listener alert!  These interviews with independent publishers, documenting their history and experiences, are longer than usual.  This one is 53 minutes long.  Pull up a chair….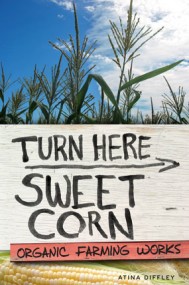 Turn Here Sweet Corn: Organic Farming Works – 978-0816677719 – University of Minnesota Press – Hardcover – $24.95 (ebook versions available)
As I write this, it's August, 2012, and sweet corn is beginning to be abundant here in Connecticut, where I live.  This is my favorite season, and my favorite summer vegetable too.  When I discovered this wonderful book, I picked it up immediately, and began to read it voraciously.  I really like this book, and corn is, of course, an evocation of much more for the author and her readers.  Atina Diffley has a great story to tell, and she tells it well in this lovely, powerful, evocative book.
Atina's story is literally grounded by her connection to the earth and to living in community.  As she tells us, she has always wanted to farm.  As she has worked with the land to grow food, she has learned how farming is a synthesis of land and people.  Wherever she is, along with her farmer husband, Martin, she is a sensitized and active member of her the ecosystem, paying close attention to the living world around her.  It's a great lesson for a world that seems alienated from the natural world.  Atina tells us about how she came to being a local organic farmer, a story of farming within close range of the Minneapolis/St. Paul urb for more than thirty years.  It's been an incredible struggle, but also, an incredible success, as she shows how a conscious connection between farm and city, between farmer and the food system can create healthy systems that last.  There are many practical lessons as well as inspiration, beauty, and sustenance here for anyone interested in building a new food system in America.
And in addition to a brilliant and beautiful story of land and living, Atina also tells the incredible story of the battle she and Martin led against the Koch brothers pipeline across Minnesota.  It's more or less mind boggling to imagine what they went through, and inspiring to see that it is possible for intelligent and organized opposition to powerful corporate forces can in fact be victorious – right over might.
This is a great book and one I am very happy to recommend to friends, family and colleagues.  Talking to Atina about her book was a great pleasure for me, and I hope our conversation will be illustrative of how wonderful this book is.  And thanks to the courageous and intelligent University of Minnesota Press for publishing this terrific memoir (a terrific publisher!).  Having sold the farm to the food cooperatives that supported it for so many years, Atina is now an organic consultant and public speaker on farming and food issues.  Her website is here.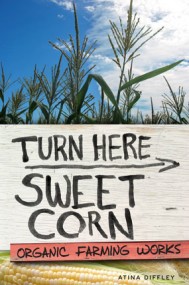 We had a great interview in which we covered a wide range of subjects related to her book and to the important issues she raises about our connection to the land, to food, to the reason why organic farming is so important, and to the meaning of food to our lives.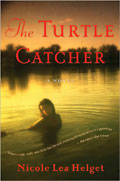 978-0547248004 – Mariner Books – paperback – $13.95 (also available as an e-book)
I found this book, written by an author I had never heard of before, by doing something very old fashioned: browsing in a bookstore.  There are many forms of discovery, but finding a book you want to read in a store is still a great pleasure.  And when you take it home and start reading it, and find out you made a lucky choice to read an exceptionally fine novel, that is a true and deeply rewarding experience.
I was surprised to learn that The Turtle Catcher is Nicole Helget's first novel – she doesn't write like a first novelist at all.  The opening of this novel is absolutely perfect, and is beautifully written, setting the tone for a complicated, very often painful, but also engrossing story.  Helget's novel is mystical and magical, but these moments of "magical realism" where she enters another plane counterpoint brilliantly with the almost plainspoken story she has to tell about immigrant families in a German-American community in rural Minnesota in the early 20th century.  The book is set in the now little discussed period just before, during and after World War I, a time that was very complicated for communities of recently arrived immigrants from the old country, with Germany now the enemy of their new homeland.  The tensions within the town provide a taut backdrop for Helget's for the focus of her story.
The author weaves together the lives of two families living on adjoining farms in the small town of New Germany, Minnesota.  Liesel Richter and Lester Sutter are at the core of the book, along with their fathers and deeply suffering mothers, and what happens to Lester, told brilliantly and painfully in the opening scene of the book is the capstone to a long, rich story of families and communities, hidden wounds and deep suffering transformed into a kind of stoic transcendence Helget's characters embrace, almost because it is all they are capable of doing in the face of such pain.
In The Turtle Catcher, Nicole Helget has created a multi-layered family story whose characters inhabit (and illustrate for readers) a specific place and time, but as with all great novels, through their story, they are transformed into something deeply moving and powerful.  I really loved this novel, and will read it again, I am sure.
I wanted to talk to Nicole about the emotional content of the book, how she came to create this novel (it started with a short story), and discuss some of the complexities of her really wonderfully drawn characters.  I think we succeeded in exploring this writer's work in a really interesting conversation I hope will encourage readers to seek this novel out and read it for themselves.  I do think Nicole Helget is a terrific writer, someone whose work I am deeply gratified to have discovered.