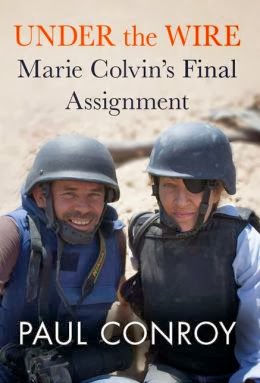 978-1602862364 – Weinstein Books – hardcover – October 8, 2013 – $26.00 (ebook versions available, prices vary depending on retailer)
Marie Colvin was an award-winning journalist who wrote principally for the London Sunday Times for almost thirty years until she was killed covering the siege of Homs in Syria in February, 2012.  She was raised in Oyster Bay (Long Island), NY, graduated from Yale in 1978 who worked for the British newspaper The Sunday Times from 1985 until her death.
Marie was an activist journalist in the best sense of the word, committed to reporting the lives and conditions of the oppressed and especially civilians suffering in wars, armed conflicts and governmental actions.  Her writing was vivid and clear, gripping and very muscular.
Colvin specialized in the Middle East, but also worked in East Timor, Sri Lanka, Chechniya and the Balkans. She was recognized by the British Press awards for her reporting in Chechniya (and an amazing escape from that war zone, also grippingly reported). In East Timor in 1999, she helped save the lives of 1,500 refugees stranded in a United Nations compound that was surrounded by the Indonesian Army after the Timorese chose independence from Indonesia in a referendum.  Colvin and two other journalists refused to leave and forced the UN to stay as well, and eventually the refugees were extracted and taken in by Australia.
In 2001 she became the first Western journalist in years to enter Tamil Tiger rebel territory in northern Sri Lanka. When she returned to the government-controlled area, her group was fired on by Sri Lankan military, and she was wounded by shrapnel, losing the use of an eye.  She famously wrote a 3,500 word dispatch about her adventure while in the hospital in NY for surgery. From that time onward, her black pirate-style eye-patch became  the emblem that represented her irrepressible spirit to all.
John Burns, the veteran New York Times foreign correspondent, called her "one of the most respected and celebrated reporters on Fleet Street…She was, of course, absolutely fearless, though she knew the dangers well."
Alan Philps, a former Telegraph foreign correspondent said: "What she brought to journalism was being a great eyewitness and being incredibly brave. It was a role she settled into and she never saw another form of journalism she wanted to do, but that meant she sacrificed everything for the job."
In 2010 at a London newspaper industry service for fallen British journalists, she gave a moving speech about the work and risks of foreign correspondents: "We always have to ask ourselves whether the level of risk is worth the story. What is bravery, and what is bravado?
"Journalists covering combat shoulder great responsibilities and face difficult choices. Sometimes they pay the ultimate price."
Marie Colvin reported from Libya in the middle of many battle zones during the revolution against Qadaffi, where she worked with photographer Paul Conroy, who became a close friend of Colvin's.  In 2012, the two of them, working for the Sunday Times, made their way into Homs in Syria, where the government was bombarding the local population into submission.
Under the Wire is Conroy's story about his friendship and work with Marie Colvin in Libya and Syria.  Most of the book is a blow by blow account of their time in Homs, where Marie was killed while trying to leave Homs after many days in terrible danger, along with French photographer Remi Ochlik and Conroy was grievously wounded as well.
The book is a vivid and powerful account, not only of the work of the foreign correspondents who went to Syria to document what was going on there, but of the people in the country on the rebel side, who wanted Marie, Paul and other western journalists there to report what was happening.  Acts of bravery, selflessness and heroism abound.
Paul Conroy's story is a gripping and painful celebration of the human spirit, full of bravery and hope and a wonderful memorial to the work and life of Marie Colvin.  It's also a reminder, as the civil war in Syria continues, of how much we need people like Marie to serve as a public conscience in the face of oppression and state sponsored violence.
Marie Colvin's work has been published as On the Front Line: The Collected Journalism of Marie Colvin.   Visit her website to learn more about her life and work, and the Marie Colvin Memorial Fund.  The Colvin family has established a memorial fund in honor of Marie. The fund will direct donations to charitable and educational organizations that reflect Marie's lifelong dedication to humanitarian aid, human rights, journalism and education.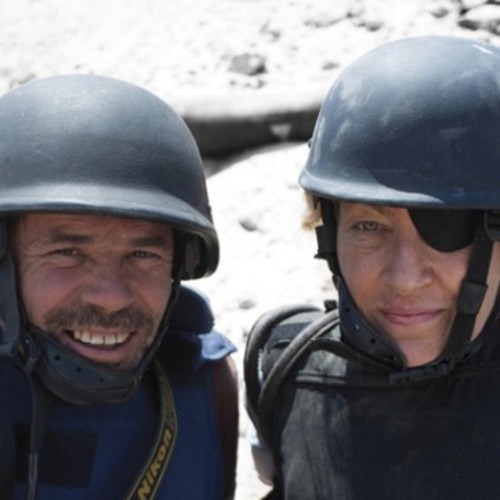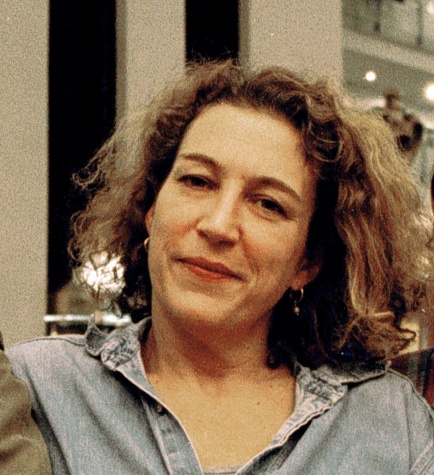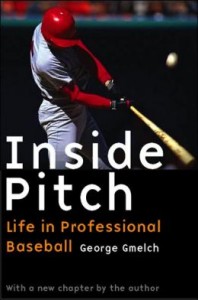 978-0803271289 – University of Nebraska Press Bison Books – paperback – $16 (no ebook edition available!)
Given my longstanding interest in baseball and an early background in anthropology, it's kind of surprising to me that I missed knowing about the work of George Gmelch until very recently.
I ran across George's books in some random searching having to do with baseball, and happily was able to get an introduction to him through my anthropologist brother.  When he was young, George was a baseball player, and a pretty good one.  Like so many others, he played for several years in the lower minor leagues, but never made it to the Major Leagues.  It's possible he quit too early, but it's also likely that he made the right choice to quit baseball and go back to school (and got his Ph.D. at UC Santa Barbara) and then became an accomplished cultural anthropologist, studying tourism, sport cultures, and migration. He has worked among and written about Irish Travellers, English Gypsies, return migrants in Ireland and Newfoundland, commercial fishermen, Alaska natives, and Caribbean villagers and tourism workers, and has taught at several universities.
Given his training as an anthropologist and his unusual background as a minor league baseball player, it made sense that he could study baseball players, perhaps in ways that non-players could never manage.  So some 30 years after his playing days ended, George arranged with friends still in the game to spend time with major and minor league players as an observer.  Over the course of five years, he interviewed more than 100 players, coaches and managers, and got to experience and document the inner workings and social milieu of modern day baseball as it is lived by its participants.
Inside Pitch: Life in Professional Baseball is nothing like a typical anthropological ethnography.  There's a great deal of George's personal story throughout, and it's neither dry nor academic.  But the observational techniques and abilities of the trained anthropologist are brought to bear, as George ruminates on the differences between modern players and those of his own era.
It's unusual for us to get an insider's view of the game that gets past the public relations walls that the institution and all its participants have build around it to protect the image of the game.  Minor league players, though rarely interested in George's own experience as a player, were always willing to tell him about their experiences, and even normally wary major leaguers were willing to talk to him once he explained that he was a former player doing anthropology, not a reporter looking for an angle.
So if you love baseball, Inside Pitch is a terrific read, and will enrich your understanding of what it is really like to play professional baseball.  I was especially taken with the writing about and the interviews with players that illustrated the psychological struggles that players go through.  I recently read the excellent RA Dickey memoir, Wherever I Wind Up: My Quest for Truth, Authenticity, and the Perfect Knuckleball, which is a terrific complement to Inside Pitch, as so much of Dickey's story is about how he managed to conquer his personal demons and harness his inner being to finally become a successful pitcher after years of struggle.  Gmelch both give us many quotes of players talking about their mental struggles and writes about these issues perceptively.
Baseball is generally considered a cerebral game because of its complexity and pace.  That, and the fact that there are so many games in a very long season, create a very challenging emotional and psychological environment for players.   We rarely, if ever, get to see close up what that can mean for them.  And because the vast majority of players who play in the minor leagues never make it to the majors or only get there for a brief time, reading about their struggles can change the way you think about the players who do get to the majors and stay there for any length of time.  They really do have to be special, lucky and to have developed a solid psyche in order to be able to survive and thrive in such a difficult and fraught environment.
George Gmelch has written eleven books and now teaches at the University of San Francisco, where he co-directs the anthropology program. I've now got an earlier book of his, In the Ballpark: The Working Lives of Baseball People on my reading list as well.  Talking to him about his experiences as a player, anthropologist and writer was a terrific pleasure for me.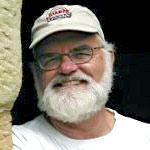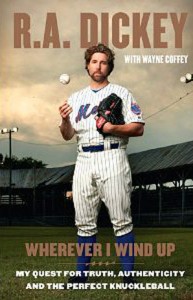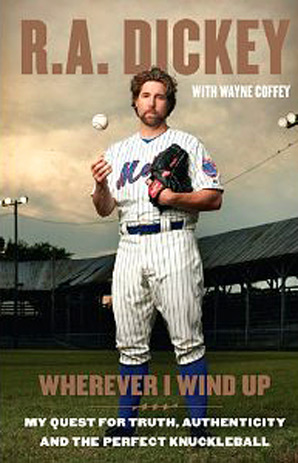 Alert to listeners: we had such a good conversation that I lost track of time, and this is a longer than average podcast at 54 minutes.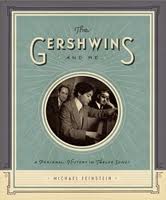 978-1451645309 – Simon & Schuster – Hardcover –  $45 (ebook editions available at lower prices)
Michael Feinstein is doubtless the most active supporter and proponent of the Great American Songbook we have.  Aside from his own inspiring performances, he is an incredible impresario of the music he loves and that he loves to share.  His "Michael Feinstein's American Songbook" show is on PBS (and past seasons are available on DVD).  He performs more than 200 times a year, and records regularly.
Michael has been nominated for five Grammys, most recently in 2009 for The Sinatra Project and his TV special, Michael Feinstein – The Sinatra Legacy, is currently airing on PBS.
He is also the founder of the Feinstein Initiative, that preserves and promotes the Great American Songbook, and serves as Artistic Director of the Palladium Center for the Performing Arts, a $170 million, three-theatre venue in Carmel, Indiana, which opened in January 2011. The theater is home to an annual international Great American Arts festival, diverse live programming and a museum for his rare memorabilia and manuscripts. Starting in 2010, he became the director of the Jazz and Popular Song Series at New York's Jazz at Lincoln Center. In 2013, he will replace the late Marvin Hamlisch as the lead conductor of the Pasadena Pops.
His many other credits include scoring the original music for the film Get Bruce and performing on the hits television series "Better With You," "Caroline in the City," "Melrose Place," "Coach," "Cybill" and "7th Heaven."
Feinstein was born in Columbus, Ohio, where he started playing piano by ear as a 5-year-old. After graduating from high school, he worked in local piano bars for two years, and then moved to Los Angeles when he was 20. The widow of legendary concert pianist-actor Oscar Levant introduced him to Ira Gershwin in July 1977. Feinstein became Gershwin's assistant for six years, deeply influencing his life and setting him on the path that has become his life as a singer, songwriter and promoter of music.
In The Gershwins and Me, Feinstein tells a personal story in which each of the twelve chapters highlights one of the Gershwin classic songs, using them to tell the story of the Gershwin brothers and their family, illuminating their music and incredible creativity, and telling memorable personal stories throughout. In this unusual narrative, Feinstein tells a moving chronicle of his own life with the Gershwins and his vision of how their music inculcates so much of modern American life.  It's a wonderful, personal and special book that I very much enjoyed discussing with author Michael Feinstein, whose amazing website demonstrates the incredible breadth of his work in music.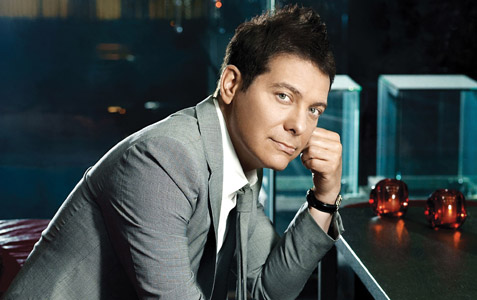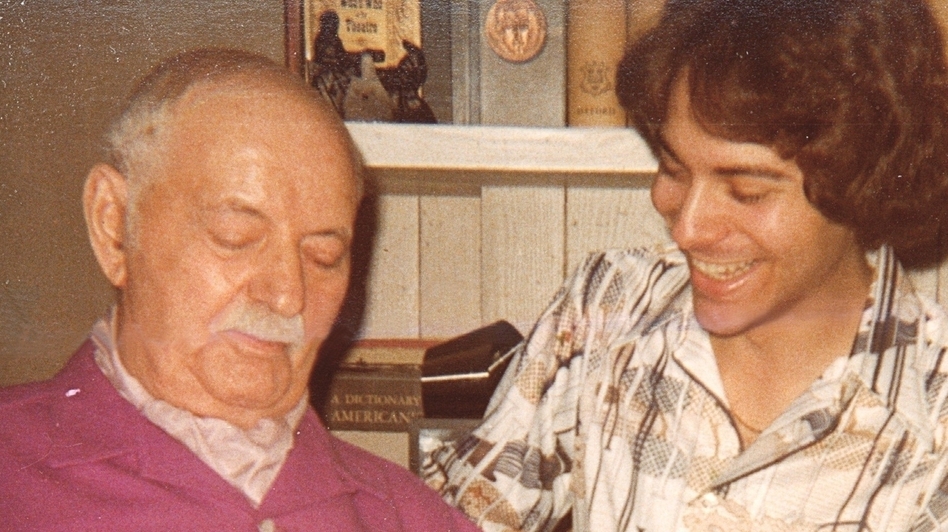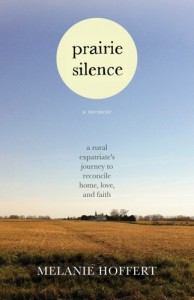 978-0807044735 – Beacon Press – hardcover –  $24.95
(ebook editions available at lower prices)
Melanie Hoffert's Prairie Silence is about growing up on the prairie of North Dakota.  The silence she talks about is most often her own, though there are many other kinds of silences in the small town she grew up in.  Her story is about growing up gay in a place that seems alien to her, in a family she felt she could reveal her true self to (until much later in her life after she had moved away – her eventual coming out story is just emblematic of the awkwardness that she mostly recognizes now was projected rather than felt).
Now living in Minneapolis, Hoffert feels the need to return home to her family farm, to work with her farmer father and brother, reconnect to her mother, and to better understand the place she came from.  Interacting for a solid period of time with family, friends and neighbors gives the book its narrative, and places her in the complicated nexus of self, place and other.
Prairie Silence is a warm, sometimes surprising memoir that combines an internal voice with a clear eyed reflection of the northern plains we often call the "heartland," whose residents often and perhaps ironically, have terrible challenges connecting with their own hearts and souls, and thus are unable to sympathize with the hearts of others, especially those who don't share their own values.   But as she learns more about the people she left behind, Hoffert does find connections, and real ones, with many of those to whom she could not trust to reveal herself.
Hoffert's prose is plainspoken and clear, just as she was in her interview with me about this strong debut work of nonfiction.  A warm and loving memoir I highly recommend and an excellent introduction to a fine new writer.
Melanie has an MFA in creative writing from Hamline University, and her work has appeared in several literary journals. She received the 2005 Creative Nonfiction Award from the Baltimore Review and the 2010 Creative Nonfiction Award from New Millennium Writings. Since 2008 she has worked for Teach For America as managing director of TFANet, the online social-networking hub for their corps members and alumni.
Author website here.
"Sometimes at dusk, when the world is purple, I go searching for elements of a small town in the city. I usually walk down alleys, where yellow light spills from the back of houses onto piles of dusty red bricks and onto old lumber; where forgotten white Christmas lights crawl like vines over many of the fences; where junk cars sit as if in a museum; and recycling bins display the ingredients of meals consumed weeks ago. In alleys people do not have a need to present a manicured life and I feel closer to the neighbors I will never know. In these alleys, where the roads are narrow and life is presented as it is lived—messy and whimsical—I see glimpses of what I left behind."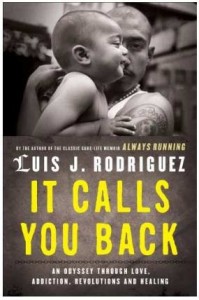 978-1-416584162 – Touchstone – Hardcover – $24.99 (978-1-416584179, paperback $15.99; ebook editions available at lower prices)
This is flat out a stunning book.  Luis tells his life story pulling no punches, avoiding no pain, either that he has given to others or that others gave to him.  Years ago, when I read his first memoir Always Running (some pieces of which are repeated or retold here), I knew that he was a great storyteller.  His poetry is crystal-like, full of shards of emotion and insight.
Rodriguez is a powerful writer.  His prose flows like a river and carries you along with Luis, as he makes terrible mistakes, strives to become better, to understand who he is in a terrible, painful and challenging world.  He grew up in California, child of immigrants, always struggling, and early on in life, unlike anyone else in his family, was drawn into the gang life, engaged in all sorts of crime, did drugs, was violent, full of rage and sorrow.  But he was always a reader, always smart enough, emotionally engaged enough, to want more, to be engaged, to struggle.  In It Calls You Back, Rodriguez documents everything, how he became a writer, politically engaged, an activist working with gangs, a lover, husband and father, whose own son makes the dramatic and terrible mistake that changes his life forever, despite everything Luis thought he had done to help his son escape La Vida Loca (the crazy life) of the gangs.
It has taken years for Rodriguez to become who he is today, but his past life is always with him, always running inside his heart and soul.  His life's work is all about engagement, transformation, and social change.  I admire what he has done to turn his experiences into such powerful action. Reading this book is as transformative for the reader as it was for the author.  I hope my conversation with Luis will help illuminate and amplify the story he has to tell.
Visit the author's website here and that of his independent Tia Chucha Press, learning and cultural center here.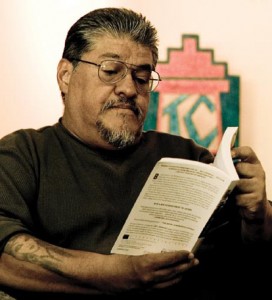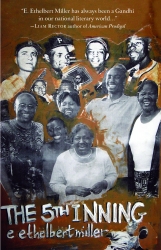 978-1604865219 – PM Press – Paperback – $15.95 (ebook versions available at lower prices)
E. Ethelbert Miller  is a writer and literary activist.  He is currently the board chairperson of the Institute for Policy Studies (IPS).  Since 1974, he has been the director of the African American Resource Center at Howard University.  Ethelbert is also the former chair of the Humanities Council of Washington, D.C. and a former core faculty member of the Bennington Writing Seminars at Bennington College.  He's published more than ten books, in both poetry and prose, has edited a number of anthologies, and his writing is widely anthologized.  He's won all sorts of awards and recognition for his writing and for his longstanding work in support of writing as a community and cultural effort.   In addition, for several years he hosted the popular weekly radio program Maiden Voyage on WDCU-FM, as well as Vertigo On The Air on WPFW.
Ethelbert has long been a favorite poet of mine, whom I got to know years ago when I lived in Washington, D.C., where Eth still resides.  We're of a similar age and share various passions, not the least of which is baseball.
So it is no wonder that I jumped at the chance to read his memoir, The Fifth Inning, and then to talk to him about it on Writerscast.  This is a terrific book, unusual in its shape and structure, which is both poetically charged and carefully built.  Ethelbert allows himself to write honestly and purely about his own life, his insecurities, pain and suffering, but without ever becoming self indulgent or overwrought.  There is always hope, and the sense that something good, or even great, will come from all this "stuff" we go through in life.
Thinking of a baseball game, the fifth inning out of nine is, of course, the turning point.  After the fifth inning, a game can end early but still be considered an official game – a life lived, though abbreviated.  So here he is, in the fifth inning of his imagination, looking back at the beginning of the game, and at the present where it's about to start the last stretch toward the end and the final score.  It's a good time to take stock and get ready to see what you can do to get past the hitters coming up to bat.  When you're pitching you need to pace yourself, remember what worked and didn't work in the early innings, and use what you have learned to keep the hitters off stride and getting the outs you need to win the game.
Poets' memoirs are sometimes brittle and too carefully built to sustain a personal story.  Ethelbert is not that kind of poet.  He's active and alive in every moment, and brings his readers right into his head and heart.  This is a beautifully constructed and written piece of personal writing that I hope will find a audience far beyond the literary community.  What Ethelbert has to say about being human and growing older is important for all of us to hear.
Ethelbert's website is here, well worth a visit.  And I wanted to mention that this is a Busboys & Poets book published by PM Press, a publisher I hope readers will learn about and support.  Buy the book direct from the publisher to support independent publishing and alternative culture.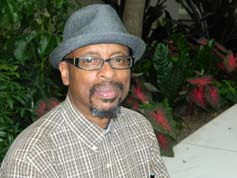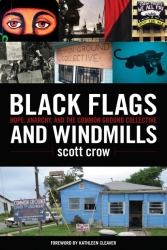 978-1604860771 – PM Press – paperback – $20.00.
I knew I would be interested in reading Black Flags and Windmills after reading the publisher's description of this book:
When both levees and governments failed in New Orleans in the Fall of 2005, scott crow headed into the political storm, co-founding a relief effort called the Common Ground Collective. In the absence of local government, FEMA, and the Red Cross, this unusual volunteer organization, based on 'solidarity not charity,' built medical clinics, set up food and water distribution, and created community gardens. They also resisted home demolitions, white militias, police brutality and FEMA incompetence side by side with the people of New Orleans.
crow's vivid memoir maps the intertwining of his radical experience and ideas with Katrina's reality, and community efforts to translate ideals into action. It is a story of resisting indifference, rebuilding hope amidst collapse, and struggling against the grain. Black Flags and Windmills invites and challenges all of us to learn from our histories, and dream of better worlds. And gives us some of the tools to do so.
This short description made me realize that I had not really thought about what it was like in New Orleans and the Gulf Coast during and after Katrina, beyond the media images of human suffering and devastation we all saw on television and online.  And that I really had no idea what was going on there in the weeks and months after this massive dislocation.  I think I suspected that things were pretty grim, but I wanted to learn more first hand.
crow is an anarchist organizer who went to New Orleans immediately after the storm hit, mainly to look for a colleague and friend he knew had stayed in the city throughout.  His story about the early days there, where he and a few other people tried to assist, outside of all official structures and organizations, is mind blowing and powerful.  But the ongoing story of the work that he and others did to help create community based self-help structures is really at the heart of his memoir, and is at once uplifting and inspiring for anyone who is searching for ideas and principles that will help us, not just in times of stress and turmoil, but all of the time and forever, as we try to find better ways to build community and live together on a crowded planet without falling into authoritarian and top down structures and systems.
No doubt that not every reader will agree with everything that scott believes in and does, but this is a valuable story for anyone interested in how human beings can work together for the common good.
Here's his official bio, for those who want to know more about his background and current work: scott crow is an Austin, TX based anarchist community organizer, writer, and trainer who began working on anti-apartheid, international political prisoner and animal rights issues in the mid 1980s. He is the co-founder and co-organizer of several social justice groups and education projects throughout Texas and the South including Common Ground Collective (with Malik Rahim), Radical Encuentro Camp, UPROAR (United People Resisting Oppression and Racism), Dirty South Earth First!, and North Texas Coalition for a Just Peace. He has trained and organized for Greenpeace, Ruckus Society, Rainforest Action Network, A.C.O.R.N., Forest Ethics, and Ralph Nader, and many smaller grassroots groups. He is currently collaborating on long-term sustainable democratic economic mutual aid projects within Austin.
This is a talk that I think is well worth a listen.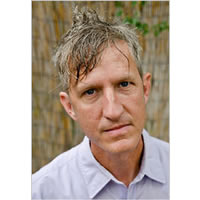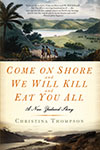 978-1596911277 – Bloomsbury USA – $15.00 – paperback (ebook editions available)
Christina Thompson's Come on Shore and We Will Kill and Eat You All – A New Zealand Story gets one's immediate attention for its outstanding title, of course.  How could one resist?  This tightly woven memoir was recommended to me by a writer friend who admires stylish writing and it certainly does offer some very fine writing.
But I was most drawn to it at the outset, because Ms. Thompson is an anthropologist, a field of study I have always loved.  Early in her career, she lived and worked in Australia, and traveled to nearby Pacific islands, including New Zealand, where she met and eventually married a Maori, the point where this book really starts to take off.
The title of the book comes from a statement made by Maoris at an early meeting with some European explorers.  It perfectly stands for the cultural gulf between the two peoples and the lack of understanding each had for the other's entirely foreign culture.  This theme of misunderstanding, and of culturally determined viewpoints, runs throughout the entire book.  Because she is now directly connected to the Maori/Polynesian worldview by dint of marriage, and because she has an anthropologist's ability to look beyond her own viewpoint, Thompson is able to navigate the intricacies of cross-cultural interaction better than most writers.
Thompson talks about her family, children, American and Maori relations as part of the effort to understand differences, and to explain behavior.  It's inevitable that Maori and Polynesian cultures are poorly understood in either Europe or America, where the author and her family now lives.  In this memoir, author Thompson looks at the past and the present through the lens of contact and perception with a powerful incisiveness.  Sometimes we are lulled by the commonplace story of the present, and then are shaken awake by its connections to a violent past.  The historical Maoris were a violent and warlike people, and their collision with the equally violent (and self-centered) Europeans of the colonial imperial era created a long period of difficulty for the native people of New Zealand and surrounding regions of the Pacific.
This book is one I can recommend to anyone who wants to see beyond her or his own experience, to learn the limits of anyone's personal perspective as it is part of a cultural construct, and to peek into the different ones that are around us in our now hyper-connected universe.  Another fine book I am pleased to recommend.  And I do think our conversation expands on the ideas that are present in the book.
Christina Thompson is the editor of Harvard Review. Her essays and articles have appeared in a number of magazines and journals, including Vogue, American Scholar, the Journal of Pacific History, Australian Literary Studies, and in the 1999, 2000, and 2006 editions of Best Australian Essays. She lives near Boston with her husband and three sons.You can read excerpts from this book, find some very interesting resources and learn more about the author and her work at www.comeonshore.com.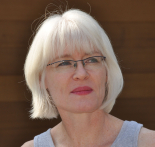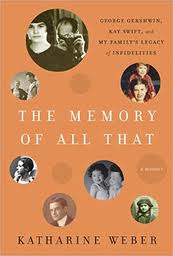 978-0307395887 – Crown – Hardcover – $24.00 – ebook editions also available
Katharine Weber is best known as a novelist – I interviewed her last year about her wonderful novel True Confections and she has written many more fine books.  The Memory of All That, subtitled "George Gershwin, Kay Swift and My Family's Legacy of Infidelities is both a memoir of her own family, as well as a history of a certain slice of twentieth century America, primarily focused on her grandmother, Kay Swift, whom she loved, and her quite unusual and difficult father, Sidney Kaufman, with whom her relationship was far more complicated to say the least.
Sidney Kaufman was a larger than life character, but mainly one of his own making, someone who spent years trying to "make it" in the movies and never succeeding.  He was also a narcissist, a husband who literally neglected his wife and family, and who had numerous long lasting affairs.  One most notable was an affair that lasted for years with Beatrice Buchman, wife of the famed (blacklisted) screenwriter, Sidney Buchman (who happens to be my father's first cousin).
Sidney Kaufman also was a target of a decades long investigation by the FBI, initially because the agency confused him with another Sidney Kaufman, a longshoreman who joined the Abraham Lincoln Brigade to fight fascism in Spain.  And hilariously, Kaufman was such a fantasist, that the FBI itself could not tell the facts about his life from the fiction.  Not so hilariously was the effect of Kaufman's absences and failures to relate to his family, which deeply affected the author of this book, as she recounts in some deeply moving passages in this book.
But in many ways, the focus of this book is really on Kay Swift, known even today for her wonderful music, as well as for her lengthy romance (and musical collaboration) with renowned composer George Gershwin.  Weber tells her grandmother's fascinating life story with a great deal of love, and of course intimacy, and provides an insider's view of many details of her life and relationships with her husbands and lovers.  Swift is in many ways an iconic, 20th century American woman, who made her way among men at a time when doing so was unusual and difficult, and required considerable verve and inner direction.  And while she had many material advantages, the challenges she faced and overcame, both personally and professionally, were significant and testament to her powerful inner being.
Weber's grandfather was James Paul Warburg, and here introduces us to him and the rest of his famous banking family.  Interesting stories are here in abundance.  Grandfather Warburg advised and feuded with President Franklin D. Roosevelt, great-uncle Aby Warburg, while eccentric to say the least, was responsible for significant theories in art and myth, and the family was at times dominated by the unusual psychoanalyst Gregory Zilboorg (who slept with his patients on a regular basis, and turned George Gershwin against Kay Swift when she decided to stop allowing him to sleep with her!)
Overall, this is an engaging, beautifully written and emotionally powerful book.  Katharine Weber's family has been complicated, brilliant, interesting, and influential in many areas of American life, and of course has made her the writer she is today.  She tells the story of her family with humor, love and a keen eye for emotional detail, and gives us a portrait of herself at the same time.
In my conversation with Katharine we talked about her father, and the complexities of his life, as well as her relationship with Kay Swift and how this book came to be written.  It's a terrifically engaging story she has to tell and we had a great talk about her really great book.
Katharine Weber's website is here.  The Memory of All That got a terrific review in the NY Times:
"…Ms. Weber's account of her relationship with her manipulative fabulist of a father brings to mind classic autobiographies of unmoored childhoods, like Mary Karr's "Liars' Club" and those companion volumes from the brothers Wolff, "This Boy's Life" (Tobias) and "The Duke of Deception" (Geoffrey)…It's when Ms. Weber remembers Papa that her considerable skills as a writer are most seductively on display. And it's not just because the exasperating Kaufman is such a good subject. It's that Ms. Weber is able to arrange words musically, so that they capture the elusive, unfinished melodies that haunt our memories of childhood. As her grandmother's lover might have put it, she's got rhythm." – Ben Brantley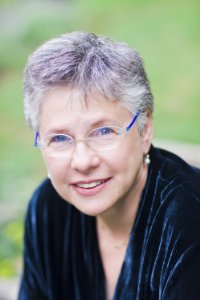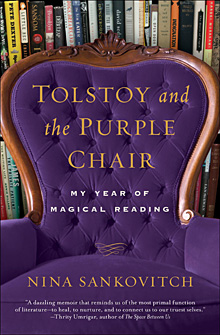 978-0061999840 – Harper – $23.99 – Hardcover (ebook version also available)
This is truly a wonderful book by an exceptional writer.  Nina Sankovitch was living a full, active life as an environmental lawyer, happily married with four children, when her beloved sister became ill with cancer and died far too young.  As she recounts in Tolstoy and the Purple Chair: My Year of Magical Reading, her initial response to her sister's death was to "live her life double," doing everything she could to try to make up for her terrible and painful loss.  After three frantic years she realized what she was doing was unsustainable.
Ironically, her apparent retreat from doing to experiencing through reading was in some ways no less radical.  Nina committed to reading a book a day for an entire year, no small commitment in itself, but further, she committed herself to writing a review or think piece about every book she read.  That is a very high bar to set for any modern parent, even with a patient and understanding family (when I started Writerscast, I committed myself to read at least one book each week and to interview its author, a far lesser commitment, and after two years of doing it, I know how difficult, even impossible it would be for me to read a book a day, for a short period of time, much less a full year).
But Nina turned to reading because reading has always been central to her life and experience.  Her immigrant parents read and loved books, as did Nina, from an early age.  In Tolstoy and the Purple Chair, Nina tells the story of both her families, the vibrant one she grew up in, and the supportive and happy one she has raised.  Many of the books she read in her magical year of reading are discussed here, as the stories of these books are part of the weave of how she transformed her experience of death into a celebration of life.  And that is the crux of this memoir.  By leaving her own experience to enter the realms of literally hundreds of writers, and making a place for those other stories in her own life, Nina was able to recreate and restore her own psyche – that's the magic, the alchemy, of her magical year.
I should mention that Nina lives near me and has become a valued friend, partly through books we've read and discussed, including a couple I gave her to read and which are included in her year of reading.  During that year she started an excellent blog called Read All Day where you can find all of her well written and exceptionally perceptive book reviews and essays.