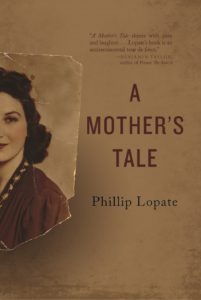 A Mother's Tale – Phillip Lopate – Mad River Books (Ohio State University Press) – Hardcover – 9780814213315 – 196 pages – $24.95 – ebook versions available at slightly lower prices – January 12, 2017
It might be said that a good memoir is a hard thing to find. It takes a special touch from a writer. The best memoirs have humor and self awareness – one must be selective in choosing what is important to share and what must be omitted, valuable to one's self but not so much for the reader.
Philip Lopate is a skilled and experienced writer who inherently understands the necessities of writing about self and family. His mother was a complicated person, his family life unusual and full of strange twists and turns that made him and his brother who they are as adults.
In 1984, Lopate convinced his mother, Frances, to allow him to interview her and record the story of her life. Frances was a powerful and strong willed figure. She was orphaned in childhood, married young, and had to make a life for herself without a support system, as a mother. She worked in a number of fields and late in life became an actress and singer. She appeared in television commercials and performed in plays in New York.
She told Philip all her many criticisms of her husband (his father), recounted the details of her affairs and sexual encounters, told him about her experiences with therapy and continuously complained about how the world had mistreated and misunderstood her. Locate set the tapes aside and never listened to them until thirty years later, when his mother had passed away. At that point Lopate was drawn back to the recordings, perhaps wanting to better understand his mother and himself through her confessions.
A Mother's Tale is essentially then a three-way conversation between Lopate today, his mother, and the younger self he hears talking to her on the tapes.
Lopate seeks to better understand and appreciate his mother and the husband she ostensibly despised, but could never leave. He cannot share her self-pity or the harping on blame assessed to everyone but herself. But through it all, he comes to see her anew, now as a grown man, recognizing more clearly the survivor, her powerful appetite for love and for life, and the ways he finally found to express his love for her.
It's a brave thing to expose oneself and one's family in such a personal piece of writing. Lopate has succeeded with this short memoir, giving us much to savor, appreciate, and ponder about ourselves and our own family histories. This is a terrific book.
"With his signature insight an candor, Lopate reveals his mother for the complicated and troubled character she was, and himself–her darling, her confessor, her victim, her judge–as the child behind the writer he was to become. I could not put it down." — Lynn Freed
Philip Lopate is the author of a number of well respected memoirs and personal essays, as well as two novellas, and is also the editor of several important anthologies. He has won a variety of awards for his writing, as well as for his work as a teacher. He is currently a professor at Columbia University's School of the Arts, where he teaches nonfiction writing.
Philip Lopate is a wonderful conversationalist and an easy person to interview. It was a tremendous pleasure for me to speak with him about this book and his intriguing mother.
Author website here. Author photo by Sally Gall.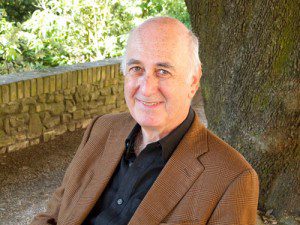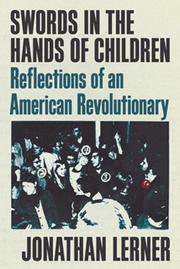 Swords in the Hands of Children: Reflections of an American Revolutionary – Jonathan Lerner – OR Books – Hardcover – 9781944869472 – $22 – 224 pages – December 5, 2017. Ebook versions available at a lower price. Order direct from the publisher, OR Books.
As Writerscast listeners doubtless know, I am interested in books about the sixties, a period in our history that shaped so much of what is now our current worldview and world situation, for better and for worse. This was a period in American history marked by social and political conflict, sparked principally by the Vietnam War. For many young people, it was the time in their lives when political and social idealism flourished, yet for some, directions taken and decisions made, acts committed, that would later appear misguided and wrong.
In the early sixties, Jonathan Lerner was a student at Antioch College, who almost accidentally became a full-time staff member of Students for a Democratic Society, the most powerful organization of the New Left (among its founders, the recently deceased Tom Hayden). In this book, Jonathan recounts the story of his life during the most fraught years of the political upheavals of this era.
Jonathan Lerner was at the center of many of the most important political events of that time. He became a founding member of the Weatherman faction of SDS, which ended up taking over the organization in 1969, and was the editor of its newspaper Fire! and an "above ground" representative of the Weather Underground organization, that was responsible for much of the far left spawned violence of the era.
The Weather Underground ultimately carried out a campaign of bombings across America. Some of its members died, many stayed underground for years, and some went to jail. Lerner tells some compelling stories about this time in particular and the people he worked and lived with. Overall, he seems to have been almost an accidental radical, who like many in the sixties, "went with the flow" of events and people around him, trying to find his place in a complicated environment.
Jonathan tells his story with brutal honesty, questioning much of what he once took for granted, as an insecure gay man existing in an environment that was not supportive in any way. This memoir has much to offer to those of us still seeking to understand the politics and culture of our youth, as well as for those too young to have experienced the sixties directly.
Lerner is the author of the novels Caught in a Still Place and Alex Underground, and is today a journalist focusing on architectural, urbanist and environmental issues. He lives in the Hudson Valley of New York state with his husband.
We had a great conversation in our wide ranging conversation. Visit Jonathan's website here.
"Imagine if your favorite uncle, a brutally honest, worldly, self-reflective gay raconteur, had been, as a twenty year-old, a lieutenant in an underground guerrilla army dedicated to the violent overthrow of the government of the United States. Jonathan Lerner is that favorite uncle you never had, telling unbelievable true stories―no bullshit―from the 'revolution' fifty years ago. This is the closest you'll ever get to being there." ―Mark Rudd, national secretary of SDS, founding member of the Weather Underground and author of Underground: My Life with SDS and the Weathermen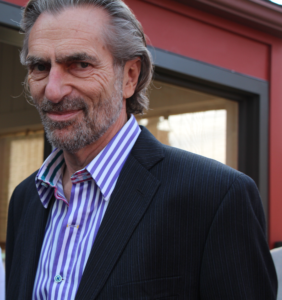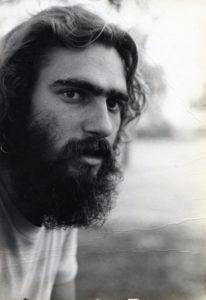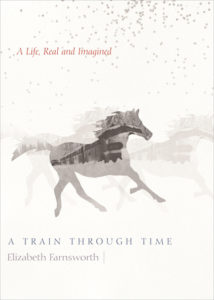 A Train through Time: A Life, Real and Imagined – Elizabeth Farnsworth – Counterpoint – Hardcover – $25.00 – 160 pages – February 14, 2017 – ebook versions available at lower prices
"I began this book with a sense of discovery and finished it in a state of exaltation. Along the way it broke my heart. It has been a long time since I read a book so moving, plain spoken and beautiful. The instant I finished it, I went back to the beginning and started in again." ―Michael Chabon
This slim – and gorgeously produced – memoir is one of the most striking and memorable books I have read recently. I have to simply echo what Chabon said about it – Elizabeth Farnsworth has written something very special, a book that does not fit easily into our conception of book categories – and that is a good thing. Her book is an exploration of childhood memories of loss and of family life that woven together with more recent stories of her work as a journalist and documentary film maker, are built into a fictional structure. The book forms an almost dream state to carry the author (and the reader) through her story.
Farnsworth interrogates her own understanding of events, real and imagined, to understand the arc of her life. It is a truly magical journey of self and psyche.
A Train through Time is illustrated with the remarkable photo art of Mark Serr, whose works contribute to the ethos and sensibility of the book, as well as providing us with a beautiful and dreamy cover image.
Of course it helps that Farnsworth is a fine writer and a terrific storyteller. I was deeply moved by this book, and really enjoyed having the opportunity to speak with the Ms. Farnsworth about her story, about trains, journeys, and life in general. As an experienced television personality, she is very comfortable in recorded conversation and we had a great talk together, which I hope you will enjoy.
Elizabeth Farnsworth is a filmmaker and a foreign correspondent. For many years, she was the chief correspondent on the PBS NewsHour hosted by Jim Lehrer. During her career, she traveled widely to report on stories in Cambodia, Vietnam, Chile, Haiti, Iraq, and Iran and many other places. Farnsworth grew up in Topeka, Kansas, has a B.A. from Middlebury College, an M.A. in history from Stanford University and now lives in Berkeley, California.
Her documentaries include The Judge and the General (2008) and The Gospel and Guatemala (1983).
You can learn more about the author and A Train Through Time at the Counterpoint website here.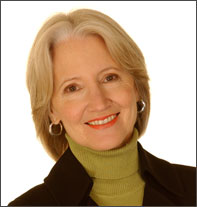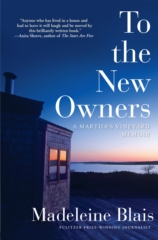 To the New Owners: A Martha's Vineyard Memoir – Madeleine Blais – Atlantic Monthly Press – Hardcover – 978-0-8021-2657-3 – $26.00 – 272 pages – July 2017 (ebook versions available at lower prices)
Madeleine Blais is a truly wonderful writer – she began her writing career as a journalist, now teaches journalism at the University of Massachusetts, and won a Pulitzer Prize for her 1994 book In These Girls Hope is a Muscle. But I had never really read her work before my friend George Gibson, knowing I had spent time on Martha's Vineyard, recommended this book to me. Reading this book was a great experience for me, one of those times when I found myself reading sections aloud to my wife, who spent most of her life going to Martha's Vineyard each summer. This book is full of beautiful passages about place, family, and the magical experiences that summer vacations engender for so many of us.
Back in the 1970s, Madeleine Blais married into the Katzenbach family, and with them, their somewhat rustic vacation house on Martha's Vineyard. Located on an old one-lane dirt road, the house was more a shack, without electricity or running water. But for spending old fashioned quiet vacations decompressing from daily life, the house was ideal, and very representative of the kinds of places that were then common in traditional east coast vacation spots.
The house was near Tisbury Great Pond, facing the ocean and open to the sky, and over the years, the old shack was rebuilt and modernized, but the more or less rustic lifestyle of the family and their visitors remained a constant. There was no heat, no TV, and no telephone, and typically terrible cell service. But as Blais documents, the days were marked by time spent on the beach and on the Vineyard's beautiful waters, meals prepared and enjoyed with extended family and their many visiting friends, all logged in a series of notebooks made by the family over the decades – almost half a century of family stories to be preserved and loved.
But life is full of changes and with the passing of the original family owners, in 2014, the house was sold. In To the New Owners, Madeleine Blais tells some of these stories of the house and her family's life within it, and stories of the Vineyard, including some of its recent history, and some of the people whose visits have now made it so well known.
But this book is really about the places that matter in our lives, the power of place to ground and center our lives and the importance of memory and stories to help us understand who we are.
While this book is a memoir about this one distinctive east coast island, it will resonate for the many of us who have experienced well-loved places that have changed over time. Change is the constant feature of modern life, and family summer places like this one may be disappearing forever. New generations will find their own ways to understand and appreciate the places around which they build their histories. Those of us who have had the pleasure of experiencing Martha's Vineyard will likely love this book as much as we love the island itself, and remind us of our own stories and the memories that keep us whole.
Madeleine Blais was a reporter for the Miami Herald for years before joining the faculty of the School of Journalism at the University of Massachusetts. She is the author of In These Girls, Hope Is a Muscle, Uphill Walkers, and The Heart Is an Instrument, a collection of her journalism. She lives in Amherst, Massachusetts.
Aside from being a fine writer, Madeleine also tells great stories, and gave us a wonderful interview. Special thanks to George Gibson for recommending this excellent book to me.
"For anyone who has ever been curious about life on the Vineyard, or fantasized about settling in, Blais offers a diverting portrait . . . Blais has stitched together [the memoir] from the writings and stories of others, as well as her own wistful, often wry observations . . . Throughout, Blais exhibits a veteran reporter's instinct for even-handedness."―Boston Globe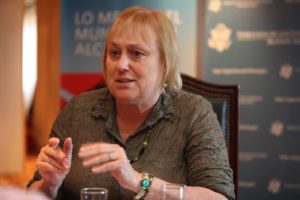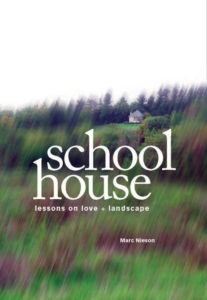 Schoolhouse: Lessons on Love & Landscape – Marc Nieson – Ice Cube Press – paperback – 9781888160925 – 272 pages – $19.95
Memoirs are most often stories of self discovery. To work for readers, they have to engage us indirectly – we have to buy into the narrator's central problem the story will show us being solved. Marc Nieson's memoir is about a period in his life when he was confused about love and self-identity. He left his home and long term lover in New York City to attend the famed Writer's Workshop at the University of Iowa, and ended up living in a former one room schoolhouse on 500 acres of beautiful Iowa landscape.
Escaping the travails of modern life, and living in the woods, the comparisons to Walden cannot help being made. City-bred Nieson learns how to observe the natural world, and in so doing, learns how to understand himself at the same time. Nieson keeps us involved throughout his narrative, and we come to the end of the story fully engaged in his personal adventure.
The book is structured like a schoolbook, each chapter being named after a school subject (i.e. Geography, History, Social Studies, What I Did On My Summer Vacation), which gives the book a certain charm, and while it's a conceit, this organization helps keep the narrative moving forward. It's a fully transformational story, even if you have never experienced the woods or the Iowa landscape.
As Nieson writes: "Here on a quiet Iowa hillside, I was hoping … to both learn and unlearn who I was. To try living not only alone and apart, but a more consciously observed life — both inside and out." I think he achieved what he was hoping to do in Iowa.
"Those of us who have lived in old one-room schoolhouses understand the solitude, solace, and proximity to nature that they provide. During his year living in Union #9, Marc Nieson embraced these opportunities for inner growth. His new memoir—a must read—traces the story of his journey of discovery along the trail through the woods surrounding his house and along the path of human relationships. Read Schoolhouse, and you will open the door to the mind of an engaging voice, a probing, reflective writer who delights the reader with his lyrical prose on every page."
—Mary Swander, author, Out of this World: A Woman's Life Among the Amish
Marc Nieson has degrees from both the Iowa Writers' Workshop and NYU Film School. His background includes children's theatre, cattle chores, and a season with a one-ring circus. He's been awarded a Raymond Carver Short Story award and recent fiction appears in Everywherestories: Short Fiction From A Small Planet (Press 53), Museum of Americana, and Tahoma Literary Review. He is also a screenwriter, whose credits include Speed of Life, The Dream Catcher, and Bottomland. He teaches at Chatham University in Pittsburgh, and is working on a new novel, Houdini's Heirs.
In this interview, Marc and I talked in detail about this excellent book and his work as a writer and teacher. Special kudos to Ice Cube Press for publishing this memoir.
Author website here.
Ice Cube Press website here.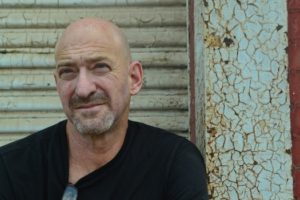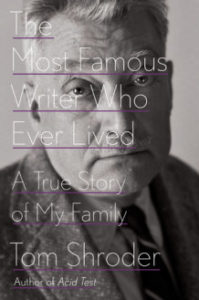 The Most Famous Writer Who Ever Lived: A True Story of My Family – Tom Shroder – Blue Rider Press – hardcover – 9780399174599 – 416 pages – $28 – published October 4, 2016 (ebook editions available at lower prices)
Tom Shroder is an excellent writer and an experienced editor who has had a long career as a journalist, as well as having also written some really interesting books. As it turns out, he is the grandson of the once-bestselling author, MacKinlay Kantor, who won the Pulitzer Prize in 1956 for his sprawling historical novel about the Civil War, Andersonville. I expect that a number of my listeners will have read that book, and many will quite possibly remember MacKinlay Kantor as someone who was an extremely well known and popular author in the fifties and sixties.
Like so many of us, Shroder grew up mostly taking his grandfather for granted, and while he was close with both his grandfather and grandmother, Tom did not really know very much about their actual lives before he was born, when their lives were very different. Their daughter, his mother, was also a writer as Tom was growing up, but he did not want to identify with the literary milieu of his youth. It was only later in his life that he was spurred to learn more about his family history, and to begin to understand himself within any kind of a personal literary context.
This book recounts the thoroughly compelling MacKinlay Kantor's very colorful and intentional life as a writer, as well as weaving together Shroder's own story, which is one of becoming a writer without perhaps intending to do so. It works amazingly well, and even if you have never read Andersonville or any of the other many books Kantor wrote during his long and checkered career, this particular book is likely to captivate you. It is full of wonderful stories and empathetic emotional connections.
Shroder's journey to understanding who his grandfather was turns out to be almost as epic as Kantor's actual life, full of twists and turns, discoveries and surprises. I read Andersonville long ago, and remember being fully engaged by its epic scope and historical detail. But I had forgotten that Kantor was also the ghost writer for Curtis Lemay later in his life, when things were not going so well for him. His was a complicated and very American 20th century story, story, and Shroder tells it exceptionally well.
Tom Shroder has been an award-winning journalist, writer and editor for nearly 40 years. His books include Acid Test: LSD, Ecstasy and the Power to Heal (2014), a mind-altering account of the resurgent research into the medical use of psychedelic drugs; Fire on the Horizon: the Untold Story of the Gulf Oil Disaster (2011) (co-author); and Old Souls: Compelling Evidence From Children Who Remember Past Lives (1999), a study of the border between science and mysticism.
He was the editor of The Washington Post Magazine between 2001 and 2009, where he oversaw Gene Weingarten's two Pulitzer Prize-winning feature stories, "Fiddler in the Subway" and "Fatal Distraction."
Shroder's The Hunt for Bin Laden (2011) was based on 15 years of reporting by The Washington Post. Shroder is also known for co-creating the Tropic Hunt, a mass-participation puzzle which has become The Washington Post Hunt in Washington, D.C.
Shroder was born in New York City in 1954.
You can visit Shroder's author website here.
"Fascinating…As Shroder vividly tells the story of this larger-than-life writer who was a generous and often doting grandfather, he contemplates the fleeting nature of fame….a biographical gold mine and an object lesson in the ultimate fading away of the best-selling, prize-winning success many writers dream about."
—Susan Cheever, The Washington Post
This book was a pleasure to read, and the conversation with Tom Shroder was a lot of fun for me as well. He made this interview extremely easy for me to conduct.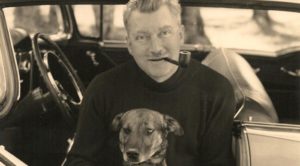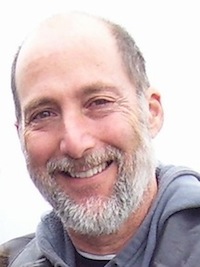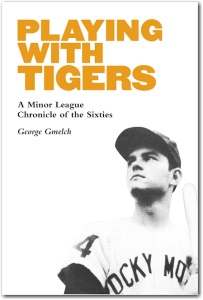 9780803276819 – University of Nebraska Press – 288 pages – Hardcover – $26.95 (ebook versions available at roughly similar prices)
Today, George Gmelch is a successful anthropologist, with a number of books to his credit. But when he was a young man, he was a very good baseball player, with the typical dreams so many shared of becoming a professional baseball player and making it to the Major Leagues. Growing up in an all-white suburb in California in the late fifties and early sixties, George led a fairly sheltered childhood, playing ball and having fun. In 1965 he signed a contract to play professional baseball with the Detroit Tigers organization and so began a four year period of coming of age, during which George experienced the challenges of life in baseball's minor leagues.
While learning to be a professional athlete, he also became aware of the realities of race and class; minor league baseball in the nineteen sixties was often played in small towns in the south where segregation was still in effect, despite the advances of the civil rights movement. And as an adolescent on his own with other boys in the cocoon like world of pro sports, he also had his first experiences of sex and romance, living, traveling and playing ball. Somewhat unlike most of his teammates, George paid attention to the events of the era, including the Vietnam War, the rise of the counter culture, and civil rights protests.
Playing with Tigers is a memoir certainly unlike most others written by baseball players. The sixties was a time of turmoil involving young people of all backgrounds and professional baseball was not immune from its disruption. George was likely more socially aware than most of his compatriots, and his direct experience of racial issues ultimately led to the end of his professional baseball career.
To write this book, George relied on the journals he kept as a player, as well as letters from that time, and in addition he used his skills and experience as an anthropologist to interview thirty former teammates, coaches, club officials – and even some former girlfriends. This is a unique story, documenting a socially disrupted period in American history through the lives of many of the young people who lived through it. We get to experience first hand the naivete, frustrations and joys of a young man trying to find his way in a complex time. And clearly, some of the motivation for writing this book was unfinished business, events, relationships with people, his baseball experience, on which George wanted to gain some closure.
I read alot of baseball books, as many listeners know. Among the many I have read the past couple years, I found Playing With Tigers extremely compelling, and one I had fun reading. I very much enjoyed the opportunity to speak with George Gmelch for the second time – in 2013, George and I talked for Writerscast about another of his baseball books, Inside Pitch. In addition to being an intensely personal memoir, Playing With Tigers opens a door to a period in our history that deserves a lot more exploration than it seems to have been given. George has some great stories and a deep understanding and love for the people and places he's experienced. This is a fine book and you do not need to know anything about baseball to like it.
George Gmelch is a professor of anthropology at the University of San Francisco and at Union College in Schenectady, New York. His books include In the Ballpark: The Working Lives of Baseball People, with J. J. Weiner (Bison Books, 2006), and Inside Pitch: Life in Professional Baseball (Bison Books, 2006). He is the editor of Baseball without Borders: The International Pastime (Nebraska, 2006). His writing has also appeared in the New York Times, the Washington Post, Psychology Today, Society, and Natural History.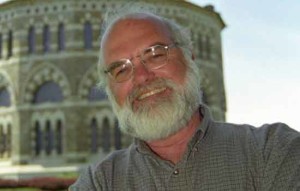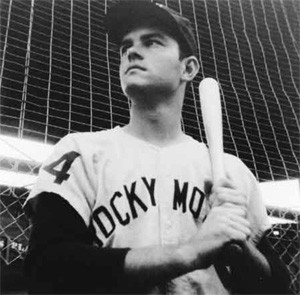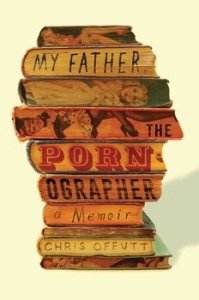 9781501112461 – Atria Books – 272 pages – Hardcover – $26.00 – ebook versions available at lower prices
Chris Offutt's father, Andrew Offutt, left behind an unusual legacy – a massive quantity of pornography he wrote over a long swatch of his life. Besides being at one time a respected insurance agent, and subsequently a successful but still minor science fiction writer, Andrew Offutt spent years writing pornography, and made himself the "king of twentieth-century smut."
During the 1970s, after Grove Press and other publishers had helped break down the barriers to legal publishing of pornographic and erotic literature, the floodgates of erotic writing opened up to meet a formerly unreachable demand. Several specialized, but relatively small commercial publishers created a mini-industry to satisfy an emerging market for written pornography and erotica of all kinds. During the height of the popularity of these books, some writers were able to make reasonable livings by turning out massive quantities of what was essentially pornographic pulp fiction.
Andrew Offutt was one of these writers, but unlike so many other high volume writers,  he was singular in his commitment to good writing and real plot lines, among other features of traditional fiction. As one might imagine, Andrew Offutt was an unusual man, and a strange and awkward parent keeping secrets about his work and the toll it took on his psyche.
Chris Offutt therefore grew up in a highly unusual world. His mother was the typist for all his father's books. The family lived in the Kentucky hills, where most kids grew up hunting and fishing, and learning the pleasures of traditional country woodcraft.
Andrew Offutt was more than a little eccentric, and was a fiery and unpredictable father. When he closed the door to his home office, he demanded silence and to be left alone to concentrate on his writing, terrifying and controlling his family. And Offutt took the entire family with him when he went off to science fiction conventions, where he was a sought after figure, playing the role of the exotic sci fi novelist. In the seventies, Chris' parents were evidently active swingers at these conventions.
During this time, Andrew Offutt wrote an incredible number of books – in total, more than four hundred novels, including pirate porn, ghost porn, zombie porn, and secret agent porn.
In 2013, after his father died, Chris Offutt returned to help his mother move out of his childhood home. In order to make sense of his father and his own childhood, Chris took on the herculean task of reading and organizing his father's manuscripts and the vast trove of memorabilia, journals, and letters that accompanied them. It was only through the lens of his father's writing that he was finally able to bring some closure to his understanding of this difficult and sometimes brilliant man. And at the same time he was able to gain a better understanding of himself as a person, father and of course, his own life as a writer.
This book is a remarkable literary and personal effort of psychic and literary exploration, truly one of the best memoirs I have read. Perhaps because my own father was similarly a writer who made his living through his work with words, this book meant a lot to me.
It was a great pleasure to have the opportunity to speak with Chris Offutt about his courageous and beautifully written memoir, and his own creative work as a writer.
Chris Offutt was born in 1958 in Lexington, Kentucky and grew up in the small town of Haldeman in the same state. He went to Morehead State University, and then to the University of Iowa, where he earned an MFA from the famed Iowa Writers Workshop. His first short story collection was Kentucky Straight, published in 1992. Along with fiction and memoirs, Chris has also written comics and journalism for several magazines and newspapers. In recent years, he has written for television as well (Weeds and True Blood).
Chris has received awards from the Lannan Foundation, the Guggenheim Foundation, the American Academy of Arts and Letters, and the National Endowment for the Arts. He received a Whiting Award in Fiction and Nonfiction.
"Chris Offutt owns one of the finest, surest prose styles around, ready and able to convey the hardest truth without flinching. Now Offutt enters the darkest and most mysterious of places—the cave of a monstrous enigma named Andrew J. Offutt—armed with nothing but his own restless curiosity. Spoiler alert: He makes it out alive, walking into the daylight to bring us a deeper, funnier, more tender and more heartbroken truth—and his masterpiece." —Michael Chabon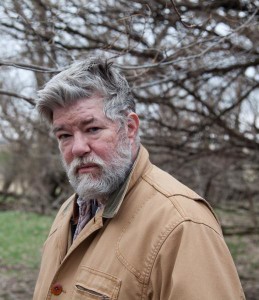 I'm as impressed as Michael Chabon is with this fine book.
And Offutt knows how to give a great interview too.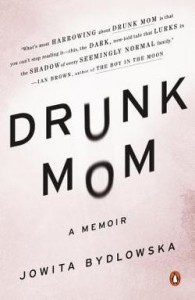 Drunk Mom – 978-0143126508 – Penguin – paperback – $16 (ebook editions available at lower prices)
What an incredible book. Tough, loving, uncompromising. So much power in this book, admittedly at times, very painful to read, and stunningly honest to the point of extremism. But Jowita is such a fine writer, it is impossible not to admire this book and despite all the terrible things she tells us about herself, that she is alive, and able to speak her truth is incredible.
You know that any book with a title like this is going to be amazing, but there is no way to get through this book without being thoroughly bowled over, and depending on one's tolerance for witnessing someone else's painful mistakes, perhaps more than in any other book you will ever read. And yes, Jowita is completely and terrifyingly honest about herself and her misadventures throughout.
It's valuable to understand that when Jowita first wrote this story, she wrote it pretending it was a novel. She had to get through that ironically deep denial as part of her ability to understand herself, one assumes. And that is part of the power of this book, that the author is able to uncover layers of denial, fear and guilt to get to a place where she can be honest with herself, and by telling that story to the world, reach a kind of absolution, a place in herself where she can be able to reconstruct herself, not forgiving, but finding the parts of her persona that are who she is not drinking. This is very powerful reading and a book I recommend no matter what you feel about yourself or others who are drinkers, addicted, lost, or found.
Short summary: Three years after she gave up drinking, Jowita Bydlowska found herself drinking again – at the party celebrating the birth of her son. Thus begins the harrowing tale of her descent, once again, into full blown alcohol and substance abuse. You have to read this one for yourself. Go buy this book, prepare yourself for a powerful experience, and read it now. Another good interview with the author on NPR here. And Jowita's website, worth a visit – "I was born in Warsaw, Poland. I moved to Canada as a teenager. I live in Toronto with my little family in a little house. I write, write, write (compulsively, happily, unhappily, obsessively)" here.
I very much enjoyed talking to Jowita, who does a great interview. This conversation runs a bit long at 36 minutes, but hopefully it's an experience well worth your time to hear.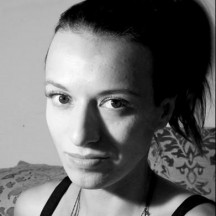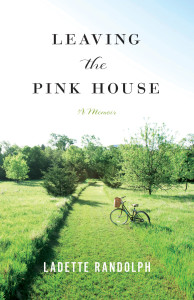 Leaving the Pink House: A Memoir – 978-1609382742 – University of Iowa Press – paperback – $18.00 (ebook editions available).
Ladette Randolph is both an editor and a writer; she is currently the editor of the fine literary magazine Ploughshares, whose founder, DeWitt Henry, I interviewed about that magazine's history, and she's written a total of four books and edited three more. She was previously an acquiring editor at University of Nebraska Press and earlier, the managing editor of Prairie Schooner. She has received four Nebraska Book Awards, a Rona Jaffe grant, a Pushcart Prize, a Virginia Faulkner award, and has been reprinted in Best New American Voices.
Ladette grew up and lived much of her life in Nebraska. In this really well written and beautifully composed memoir, Leaving the Pink House, she tells the story of her life through the houses she has lived in. At first, the book appears to be a relatively straightforward memoir of buying a dilapidated farmhouse to fulfill a dream of country living (the day after September 11, 2001), and the complication of leaving the pink house she and her husband had already turned into the house of their dreams.
But Randolph is writing to understand herself and where she comes from. Leaving one beloved house for another that is full of potential (for good and bad) spurs her into exploring her past life through the houses in which she lived. And she essentially tells herself – and her readers – where she came from, and how she became the person who is able to love and inhabit her own being in the present by exploring her life through the houses in which she lived from her early youth onward.
Randolph grew up in small towns in Nebraska; her father took his family with him as he worked to become an evangelical minister. Randolph tells us what it was like for her to experience the world through the lens of fundamentalism as she grew up and then into her early adult years. She experiences a series of awakenings, tragedies and struggles, all told without over dramatization and alternating with the mundane and always challenging work of remodeling the old house in the country and preparing to move from the pink house.
It's an engaging and perceptive form of storytelling and much like a remodeling job itself, we learn with her as she goes through the work of tearing down and rebuilding the structure of her life.  I greatly enjoyed reading this book, vicariously experiencing her challenges and accomplishments, and learning about her life experiences. Then having the opportunity to talk with Ladette about it only amplified my interest in her writing.  Her active and informative website is here (and worth a visit).