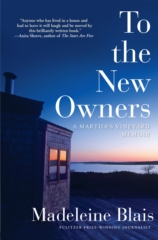 To the New Owners: A Martha's Vineyard Memoir – Madeleine Blais – Atlantic Monthly Press – Hardcover – 978-0-8021-2657-3 – $26.00 – 272 pages – July 2017 (ebook versions available at lower prices)
Madeleine Blais is a truly wonderful writer – she began her writing career as a journalist, now teaches journalism at the University of Massachusetts, and won a Pulitzer Prize for her 1994 book In These Girls Hope is a Muscle. But I had never really read her work before my friend George Gibson, knowing I had spent time on Martha's Vineyard, recommended this book to me. Reading this book was a great experience for me, one of those times when I found myself reading sections aloud to my wife, who spent most of her life going to Martha's Vineyard each summer. This book is full of beautiful passages about place, family, and the magical experiences that summer vacations engender for so many of us.
Back in the 1970s, Madeleine Blais married into the Katzenbach family, and with them, their somewhat rustic vacation house on Martha's Vineyard. Located on an old one-lane dirt road, the house was more a shack, without electricity or running water. But for spending old fashioned quiet vacations decompressing from daily life, the house was ideal, and very representative of the kinds of places that were then common in traditional east coast vacation spots.
The house was near Tisbury Great Pond, facing the ocean and open to the sky, and over the years, the old shack was rebuilt and modernized, but the more or less rustic lifestyle of the family and their visitors remained a constant. There was no heat, no TV, and no telephone, and typically terrible cell service. But as Blais documents, the days were marked by time spent on the beach and on the Vineyard's beautiful waters, meals prepared and enjoyed with extended family and their many visiting friends, all logged in a series of notebooks made by the family over the decades – almost half a century of family stories to be preserved and loved.
But life is full of changes and with the passing of the original family owners, in 2014, the house was sold. In To the New Owners, Madeleine Blais tells some of these stories of the house and her family's life within it, and stories of the Vineyard, including some of its recent history, and some of the people whose visits have now made it so well known.
But this book is really about the places that matter in our lives, the power of place to ground and center our lives and the importance of memory and stories to help us understand who we are.
While this book is a memoir about this one distinctive east coast island, it will resonate for the many of us who have experienced well-loved places that have changed over time. Change is the constant feature of modern life, and family summer places like this one may be disappearing forever. New generations will find their own ways to understand and appreciate the places around which they build their histories. Those of us who have had the pleasure of experiencing Martha's Vineyard will likely love this book as much as we love the island itself, and remind us of our own stories and the memories that keep us whole.
Madeleine Blais was a reporter for the Miami Herald for years before joining the faculty of the School of Journalism at the University of Massachusetts. She is the author of In These Girls, Hope Is a Muscle, Uphill Walkers, and The Heart Is an Instrument, a collection of her journalism. She lives in Amherst, Massachusetts.
Aside from being a fine writer, Madeleine also tells great stories, and gave us a wonderful interview. Special thanks to George Gibson for recommending this excellent book to me.
"For anyone who has ever been curious about life on the Vineyard, or fantasized about settling in, Blais offers a diverting portrait . . . Blais has stitched together [the memoir] from the writings and stories of others, as well as her own wistful, often wry observations . . . Throughout, Blais exhibits a veteran reporter's instinct for even-handedness."―Boston Globe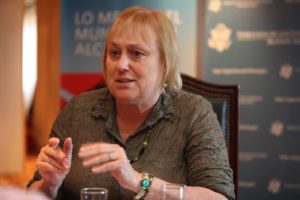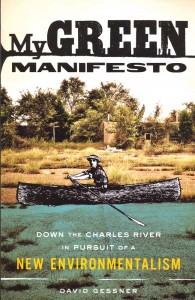 978-1-571313-24-9 – Milkweed Editions – paperback – $15 (ebook editions available)
David Gessner is a sort of post-modernist environmentalist.  He's written a number of books that celebrate the natural world and the wild, and he is a terrific writer capable of transcendent prose and has the keen observer's eye that anyone writing about nature must have.  But he understands the difficulties and contradictions that suffuse contemporary civilization.  And he has a sense of humor and irony (which environmentalists are not always known for).
In My Green Manifesto, he addresses a major issue that affects so many of us who feel strongly about the arc of modern civilization, that its inertia is overwhelming, the problems so great, the solutions so elusive, and the efforts of individuals so ineffectual as to make us lose all hope of being able to make meaningful change.
The book takes us through Gessner's journey from the headwaters of the Charles River to its end in Boston's urban harbor.  His trip is made for the most part in company with a true environmental hero, Dan Driscoll, who almost single-handedly spurred the suburban and urban communities along the once highly polluted river to make significant changes to both restore and protect the river and riverside ecology.  They travel in a leaky canoe, drink beer, sleep in tents, and enjoy the pleasures of a "limited-wild" experience.
Gessner takes heart from the work Driscoll has done, and shows us how important his practical efforts have been.  "This new picture is that of a man or woman who knows how to get things done, who understands the value of momentum, of focus on a particular project. Not a shrill or dry or particularly flowery environmentalism … Someone willing to get in [a] fight and 'Sue the bastards.' Someone willing to stick their nose in there and feel what it's like to get bruised. And someone willing to stay locked in that fight for years, even if it costs them emotional as well as actual capital.''
Gessner writes with great humor and joy about the pleasures of being in nature, wherever one lives, and that is the core of his manifesto.  His ideas will resonate for many who are not willing, able or equipped to spend significant time in distant wildernesses. And as a "manifesto" this book will be easy for most readers to digest and accept.  Gessner's message is positive and powerful because it is realistic and not preachy and because so many of us can relate to his experiences of the joy of being in nature and at the same time despair over the sheer extent of modern society's environmental unconsciousness.
Gessner reminds us that it is possible to hold two seemingly contradictory ideas in our minds at the same time, that complexity and contradiction are almost facts of life, but cannot defeat us from taking action to make change.  "The first idea was acceptance, the acceptance, totally without rancor, of life as it is, and men as they are … But this did not mean that one could be complacent, for the second idea was of equal power: that one must never, in one's own life, accept these injustices as commonplace but must fight them with all one's strength.''
Author website here (you can find a list of all his many fine books there)  Gessner's latest book is one I am interested in reading as well.  The Tarball Chronicles: A Journey Beyond the Oiled Pelican and Into the Heart of the Gulf Oil Spill chronicles his visit to the Gulf after it had passed out of the news.  Not an uplifting story, I fear.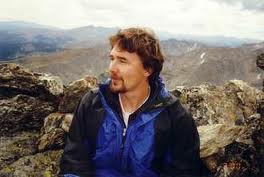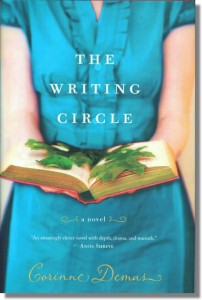 978-1401341145 – Hardcover – $23.99 (e-book edition available $11.99)
In choosing books for Writerscast, I have been trying to read as many books as possible from different styles, genres and viewpoints, to make an eclectic and interesting selection both for myself and for an audience of listeners.  I suspect that if it had not been for that effort, I simply would never have discovered Corinne Demas and her new novel The Writing Circle.
It's not so much that this novel is outside the scope of my literary tastes, as in fact, I really like well written novels that explore character and whose narrative is subtle and skillfully enough handled that I can't feel ahead what is going to happen.  I suppose in one way that just means I like to lose myself in a novel and not feel like I can feel the wheels and levers turning as I follow on.  But I just may not have picked this book off of a book display in a bookstore to read, maybe because it's a book about writers and that might normally seem sort of self reflexive to me.  Thus the lesson, if there is one, is to remain open to surprises and to not make judgments about a book just from it's title.  A funny idea indeed.
I definitely enjoyed reading this novel quite a bit.  Corinne Demas is a very fine writer.  I think the word that comes to mind for me is "deft."  There are a number of characters here, all of whom are important, and the way the story is told reminded me of an ever tightening spiral, as we start from the seeming mundane outside and move ever closer into the lives of these people around a series of events that provides the structure of the book.  This is a very well put together novel.  After reading it, I wanted to rush out and talk to Corinne Demas about the book and how she imagined it, and all the characters (guessing of course that she had been in writing circles herself).
I always feel that when I am talking to a novelist it's critical to balance between talking engagingly about a book I just read and that I feel excited about, and not giving away too much to anyone who might be listening and themselves eventually read the same book.  That certainly applied in this talk, as we danced around the story outline while talking in depth about the book's structure and her involvement with these very compelling characters.  That was fun too and I hope listeners will enjoy that balancing act.
Corinne Demas is a talented and accomplished writer – she's written adult novels, short stories, children's picture books and chapter books, a play and she writes poetry as well.  In addition, she teaches full time at Mt. Holyoke, which we also talked about a bit in this conversation.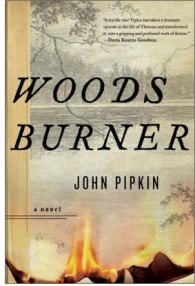 978-0385528658 – Hardcover – Nan A. Talese – $24.95
I first heard about this novel on NPR and was immediately attracted to the notion of a novel that was generated by this single almost unknown incident, when Henry David Thoreau accidentally set fire to the Concord woods in 1844.  I'd learned of this first from poet friend Jonathan Williams many years ago, but it never really hit me how paradoxical this event was.  John Pipkin has woven a truly original story out of the history surrounding this one event.
He starts with the historical Thoreau, imagining him not as the genius of outdoor philosophy he has become, but as a bumbling, confused and somewhat thoughtless individual who does yet fully know who he is or even why he is.  Pipkin adds other characters to the story, all of them confused and searching for something that perhaps only the accidental conflagration set off by Thoreau and his young friend can bring them.  There is Eliot Calvert, aspiring romantic playwright and accidental bookseller searching for meaning in a mundane life, the irresistibly named Norwegian orphan immigrant Oddmund Hus (whose past also involves an explosive accident) who is silently in love with the wife of the farmer he works for, and Caleb Dowdy, the strange, confused Episcopal minister who seeks salvation through self abasement.  And of course, Thoreau as Pipkin paints him, a young largely unfulfilled son of a pencil manufacturer, way over his head in the woods, searching for meaning in nature bit in no way ready for his destiny.
All will meet, all will be transfixed, transformed, formed, in the conflagration at the heart of this story.  I talked to first-time novelist John Pipkin early one morning in September about this truly excellent book.  In this interview he talks about what lead him to this story, and how he came to imagine it, as well as his research, the characters and of course, Thoreau himself.  Pipkin is a terrific writer, and just as good at talking about his work.  I am looking forward to reading more of his work, and recommend this novel to almost any reader – it is that good.