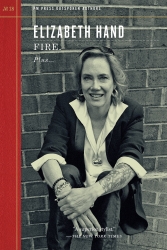 Fire (Outspoken Authors Series) – Elizabeth Hand – PM Press – paperback – 978-1-629632-34-6 – 128 pages – paperback – $12.98 (ebook version available at $9.99)
Over the years, I had heard of Elizabeth Hand, and knew she was a writer to be reckoned with, but I had never read her science fiction and mystery novels or stories. She was just not on my radar. Now, having read this fantastic short collection of some of her fiction and nonfiction, I have belatedly begun to understand the scope of her work and enjoyed the opportunity to experience her powerful writing.
Fire is a short book that packs a big punch. Maybe it is the ideal introduction to Hand's work, and maybe that was PM Press' intention in publishing it. The title story was written especially for this book. It is a powerful post-apocalyptic short story set in a world – our own – approaching global conflagration.
In a useful essay, "The Woman Men Couldn't See," Hand examines the work and life of Alice Sheldon, who wrote some stunning science fiction novels under the pseudonym "James Tiptree, Jr." in order to conceal identity from both readers and her bosses at the CIA. In another nonfiction contribution called "Beyond Belief," Hand talks about how she went from being a troubled teenager to a serious writer. Other pieces include some of her short fiction, a bibliography of her writing, and PM's own interview with the author (which I tried to not replicate in my own conversation with Elizabeth).
After seeing Patti Smith perform, Hand became involved in the nascent punk scenes in DC and New York. She worked at the Smithsonian's National Air and Space Museum in Washington, D.C. Hand is the author of a number of novels and three collections of stories and her work has been recognized by the Nebula, World Fantasy, Mythopoeic, Tiptree, and International Horror Guild Awards. Her novels have been chosen as notable books by both the New York Times and the Washington Post. Hand is a regular contributor to the Washington Post Book World and the Magazine of Fantasy and Science Fiction, and lives with her family on the coast of Maine.
Talking to Elizabeth Hand was great fun for me. She is as good a conversationalist as she is a writer, and has alot to say that I think listeners will find interesting.  I hope this interview with Elizabeth Hand will be a useful and meaningful contribution to our literary landscape. Now that I have become familiar with her work I intend to add Elizabeth Hand's fiction to my ever expanding list of "must-read" books. Thanks to PM Press for introducing me to this wonderful writer's work.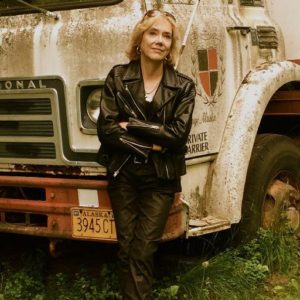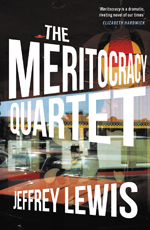 978-1-908323-45-3 – trade paperback – Haus Publishing – March 2015 – 742 pages –  $19.99 (ebook versions available at lower prices)
Jeffrey Lewis has had a really interesting life and career path. He went to Yale, where he was the Class Poet, graduating in the mid-sixties, and went to law school at Harvard. His first career was in law enforcement – he was an Assistant District Attorney in Manhattan. Then he left New York to work on the now famed television show, Hill Street Blues, embarking on what became a terrifically successful career in television and film writing. And then he more or less left television to write serious literary fiction.
In the past few years, Lewis has published a total of six novels. The four that make up the "Meritocracy Quartet" were originally published between 2004 and 2008 – Meritocracy: A Love Story in 2004, The Conference of the Birds in 2005, Theme Song for an Old Show in 2007 and Adam the King in 2008.
Before writing fiction, Lewis won a number of awards including two Emmys, the Writers Guild Award, the Humanitas Prize, the People's Choice Award, and the Image Award of the NAACP, as a writer and producer of Hill Street Blues. His work for television and film includes projects for HBO, Showtime, the BBC, TNT, and many of the major film studios. His last screenplay, before turning full-time to writing fiction, was Paint, set in the New York art world, and is the last unfinished project of the great director Robert Altman.
He lives in Los Angeles, California and Castine, Maine.
The four books in the "Meritocracy Quartet" take place in successive decades and are meant to document and explore what these periods meant to the post war baby boomers. Each novel in the series stands alone, but together, they are a powerful and really striking portrait of the inner and outer lives of the cultural elite of this generation.
Lewis is a wonderful writer. His work is clear, never over wrought and expressive of the emotional lives of his characters. The books all take place in environments Lewis lived in, periods he lived through. It would be all too easy to try to read these novels as romans a clef, but I think they are much more than that. As a true novelist, transforming the lived experience to find its meanings, both for himself and for his readers, Lewis becomes an alchemist of the soul, his words then, taking us to places far beyond. These books are really an impressive accomplishment, and well worth the effort to read all four together, at once, for a deeply rewarding experience.
"Lives are not seamlessly sewn together, but rather forged by coincidence, necessity, and expectation, a fact that Lewis brilliantly conveys. . . . Lewis' memories portray a modern, American life." (San Francisco Book Review)
I really enjoyed talking to Jeff about these books and his work as a writer.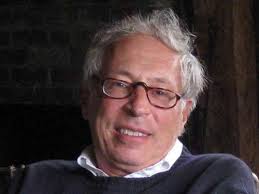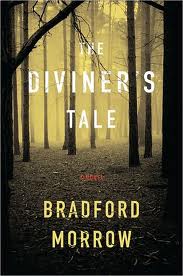 978-0547382630 – Hardcover – Houghton Mifflin Harcourt – $26.00 (ebook version also available)
I have read a number of truly fine books over the past couple of years, most of which I have talked about on Writerscast.  It's important to me that I've only been writing and talking about books I really liked.  A few of these wonderful books have just bowled me over, and Bradford Morrow's The Diviner's Tale is one of those.  It's a tightly woven story and powerfully interior, paradoxically, as it is set in a variety of geographic locales (all familiar to the author and therefore quite beautifully described).
Reading this book, I found myself propelled by the force of the story, and enthralled with the main character Cassandra Brooks, a single mother of two boys, daughter of a professional dowser, who is blessed and cursed by visions (Cassandra in Greek mythology had the gift of prophecy) and conflicted about her own ability to find water underground (the last name Brooks is no accident either).
The book opens with a chilling and frightening event – Cassandra is walking the woods for a client and comes across a hanged girl, who is to her, not an apparition.  But when she brings the local sheriff to the scene (he is a former love interest – it's a typical small town in upstate New York where everyone knows everyone), there is no sign of the hanged girl.  But they find another girl, and that launches the story's trajectory which ultimately forces Cassandra to confront long buried secrets in her past and some very real and dangerous possibilities for her in the present.
While the story is set in upstate New York, near the Delaware River, a significant part of the book takes place in the beautifully drawn islands of Maine near Mt. Desert – more water, more mystery, more danger for Cassandra and the reader.
Morrow is a terrific writer, and has written a number of very fine novels, but this one may well be his best book thus far.  The Diviner's Tale is a bit of a mash up, taking elements of mysteries, thrillers, and even supernatural novels, merging them into a dark melange that stands alone as an original work of modernist fiction.  I liked what Joyce Carol Oates said about it – "luminous and magical…a feat of prose divination."  Well put indeed.
This book is a great pleasure to discover.
And talking to Brad was a pleasure as well.  He knows himself, his work, and what it means.  He talks fluently about this book, and the story of how the novel was born is definitely worth hearing.  I hope you will enjoy our conversation as thoroughly as I did.
The author's website is worth a visit too – you get a chance to read some of his stories and find out more about his many projects (I knew Brad first as the editor of the extraordinary and long lasting literary magazine Conjunctions, now up to issue #55, and which has managed to retain its sense of discovery over many years and many different literary styles and genres).