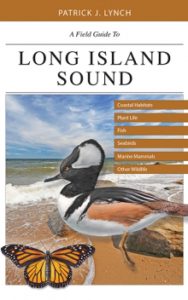 A Field Guide to Long Island Sound: Coastal Habitats, Plant Life, Fish, Seabirds, Marine Mammals, and Other Wildlife – Patrick Lynch – Yale University Press – paperback (flexibind) – $27.50 – 9780300220353 – 416 pages
I grew up around Long Island Sound, and have lived near it most of my life. I have always loved the shoreline and the water, the birds, marine life and the landscapes of the coast, and I have enjoyed its beauty and diversity, and even spent time as an amateur naturalist studying its ecosystems, but it was not until I read Pat Lynch's comprehensive guidebook that I felt I fully understood this magnificent environment.
This book is beautifully illustrated, and full of fascinating and readable information about the natural history of Long Island Sound, and its varying New York and Connecticut coastlines. This estuarine body of water is surrounded by millions of people – and threatened not only by over-population and industry, but now by climate change as well. While we have made a great deal of progress in recent decades in improving the ecological health of our waters, we must increase our level of involvement now, as climate change will have tremendous impacts on the all important marshlands of the Sound and other coastal zones.
Long Island Sound comprises a diverse collection of marine, estuarine, and terrestrial ecosystems, and is located in one of the most densely populated regions in the United States. The Sound and its coastlines are home not only to myriad species of plants and animals—from shorebirds and turtles to whales, seals, and fish—but also to more than twenty million people.
Author and illustrator Patrick Lynch has put together a thoroughly engaging guide to this incredibly complex set of environments. The book includes maps, photographs, and drawings, and covers every aspect of the Sound's various ecosystems and locales.
On reading the book, I felt that I learned more than I have done in a lifetime of living on or near the Sound and for me, it is now an indispensable companion whenever I walk the coastline or am lucky enough to get out on the water near where I live. If you live anywhere near New York or Connecticut, this book will help you fully understand the importance and breadth of the Sound environments. And even if you live in another part of the country, Long Island Sound is well worth learning about, just as any other great natural area would be. I only wish we could have had this conversation at the beach or some other interesting outdoor venue, but the Sound is too windy for making intelligible recordings.
Patrick J. Lynch is a former senior digital officer in Yale University's Office of Public Affairs and Communications and is an award-winning author, designer, illustrator, and photographer. He lives in North Haven, Connecticut. He was kind enough to spend some time with me in New Haven recently to talk about this book and his sense of the future of Long Island Sound.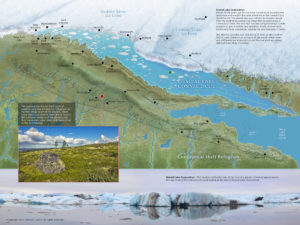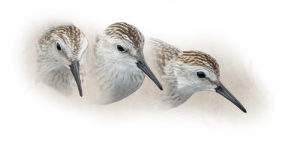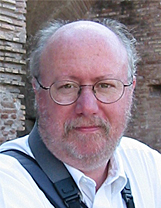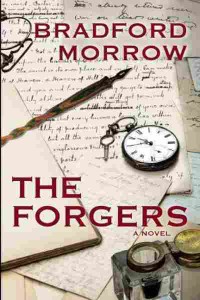 978-0802123213 – Mysterious Press – 258 pages – Hardcover – $24.00 (ebook editions available at lower prices)
Brad Morrow is really an excellent writer, mainly of literary fiction, and as listeners of Writerscast will likely know, I have interviewed him twice before, once for the fine novel, The Diviner's Tale (2011) and again for Publishing Talks about his now 25 year old literary magazine, Conjunctions.
The Forgers is a complex and finely crafted mystery novel. It is pretty clearly Brad's homage to the form, one which I assume he loves, and the writing style demonstrates just how much in command of his craft he is.
I myself am not generally a reader of mysteries and detective novels, though I appreciate a good one. So I am not as familiar with the intricacies of the form as are those who read deeply in this genre. One reviewer I read observed that The Forgers follows the form of one of Agatha Christie's most famous novels. Well it might. As I read the book, the writing style reminded me of early twentieth century English writers. Because its main character is a both a literary forger and a dedicated bibliophile, and much of the book's action takes place in Ireland, it has a decidedly British feel to it.
But it is an American story, and as such a grisly murder that opens the book is at its center. The setting for much of the novel is the farthest reach of Long Island, an isolated area that is perfect for this sort of crime.
The main character is one of those quirky characters that inhabit mysteries and suspense novels. He's very compelling, but he keeps his distance, to say the least. Morrow knows the world of books and collectors, as he is one himself, but I don't think anyone would mistake his main character for an authorial stand in. At least I hope not. The narrator takes us through a tangled web of a story, and while we get to know him, much is left to mystery.
Readers will enjoy the slow, building pace of the novel, and the payoff that comes at the end. It's a fun book to read, and as I said earlier, beautifully written by a masterful writer.
Brad Morrow has written a number of fine novels, teaches at Bard College, founded and still edits the literary journal, Conjunctions, and has won many awards for his work. If you have not read his work before now, you should! And The Forgers would be a good book to start with. Author website here.
It's always a great pleasure to speak with Brad about his work. He's a great conversationalist and very easy to talk to, and I think our discussion about The Forgers will be much enjoyed by listeners.
The Forgers is remarkable. Bradford Morrow is remarkable. The Real Thing, which is rare on this earthly plane.
—Michael Cunningham