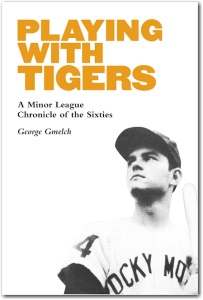 9780803276819 – University of Nebraska Press – 288 pages – Hardcover – $26.95 (ebook versions available at roughly similar prices)
Today, George Gmelch is a successful anthropologist, with a number of books to his credit. But when he was a young man, he was a very good baseball player, with the typical dreams so many shared of becoming a professional baseball player and making it to the Major Leagues. Growing up in an all-white suburb in California in the late fifties and early sixties, George led a fairly sheltered childhood, playing ball and having fun. In 1965 he signed a contract to play professional baseball with the Detroit Tigers organization and so began a four year period of coming of age, during which George experienced the challenges of life in baseball's minor leagues.
While learning to be a professional athlete, he also became aware of the realities of race and class; minor league baseball in the nineteen sixties was often played in small towns in the south where segregation was still in effect, despite the advances of the civil rights movement. And as an adolescent on his own with other boys in the cocoon like world of pro sports, he also had his first experiences of sex and romance, living, traveling and playing ball. Somewhat unlike most of his teammates, George paid attention to the events of the era, including the Vietnam War, the rise of the counter culture, and civil rights protests.
Playing with Tigers is a memoir certainly unlike most others written by baseball players. The sixties was a time of turmoil involving young people of all backgrounds and professional baseball was not immune from its disruption. George was likely more socially aware than most of his compatriots, and his direct experience of racial issues ultimately led to the end of his professional baseball career.
To write this book, George relied on the journals he kept as a player, as well as letters from that time, and in addition he used his skills and experience as an anthropologist to interview thirty former teammates, coaches, club officials – and even some former girlfriends. This is a unique story, documenting a socially disrupted period in American history through the lives of many of the young people who lived through it. We get to experience first hand the naivete, frustrations and joys of a young man trying to find his way in a complex time. And clearly, some of the motivation for writing this book was unfinished business, events, relationships with people, his baseball experience, on which George wanted to gain some closure.
I read alot of baseball books, as many listeners know. Among the many I have read the past couple years, I found Playing With Tigers extremely compelling, and one I had fun reading. I very much enjoyed the opportunity to speak with George Gmelch for the second time – in 2013, George and I talked for Writerscast about another of his baseball books, Inside Pitch. In addition to being an intensely personal memoir, Playing With Tigers opens a door to a period in our history that deserves a lot more exploration than it seems to have been given. George has some great stories and a deep understanding and love for the people and places he's experienced. This is a fine book and you do not need to know anything about baseball to like it.
George Gmelch is a professor of anthropology at the University of San Francisco and at Union College in Schenectady, New York. His books include In the Ballpark: The Working Lives of Baseball People, with J. J. Weiner (Bison Books, 2006), and Inside Pitch: Life in Professional Baseball (Bison Books, 2006). He is the editor of Baseball without Borders: The International Pastime (Nebraska, 2006). His writing has also appeared in the New York Times, the Washington Post, Psychology Today, Society, and Natural History.