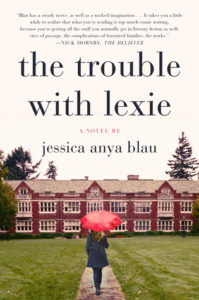 The Trouble with Lexie: A Novel – Jessica Anya Blau – HarperCollins – paperback – 9780062416452 – 336 pages – $14.99 – ebook versions available at lower prices.
I interviewed Jessica Anya Blau in 2014 about her previous book, The Wonder Bread Summer, which I found to be wonderfully entertaining and fun to read. Her latest novel, The Trouble with Lexie, displays Blau's signature wit and fast paced story telling. But it is a complicated book with a seriously flawed and emotionally scarred main character, who faces a very challenging situation in her life.
The book's opening is pretty compelling (as book openings should be!):
The problem wasn't so much that Lexie had taken the
Klonopin. And it wasn't even really that she had stolen
them . . . the problem, as Lexie saw it, was that she had
fallen asleep in the bed of the owner of the Klonopin.
And the owner of the Klonopin was the wife of her lover.
Lexie is an engaging and sometimes irritating main character. As we watch her try to figure out her life, I suspect most readers will want to reach into the pages of the book and tell Lexie directly when she is about to make a big mistake. But she is on her own path and we must follow along as she makes her way toward and through disaster.
Lexie James makes for a terrific main character. She is funny and thoughtful, comes from a decidedly untraditional family, and as a relatively young adult, has figured out how to conquer her panic attacks. She is also engaged to a truly nice guy, and has a job as a counselor at a prestigious private school (presumably in Massachusetts).
But with the wedding fast approaching, Lexie is faced with doubts about her future and who she really wants to be. She falls into a wild love affair with an older married man, a typically bad decision that readers know will have serious consequences.
Most of us have been in similarly fraught situations at one time or another, always convincing ourselves that we're different and "everything will work out" when we know that is not really true.
Lexie's story is an example of that central human foible, a form of hubris that makes us believe we can beat all the odds when we want something so much we know we cannot possibly attain. What makes this novel work is that despite knowing that she is headed for a cliff, we end up liking Lexie so much that we want to believe there is a better future for her, and by extension for ourselves. You will have to read the book to find out how this one turns out, no spoilers here.
I very much enjoy talking to Jessica about her books, her characters and stories, and hope you will find our conversation as enjoyable and entertaining as it was for me.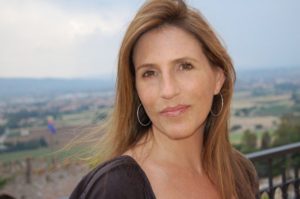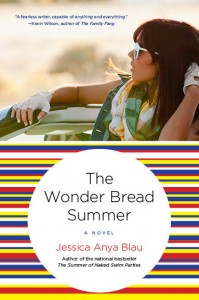 The Wonder Bread Summer: A Novel – 978-0062199553 – Harper Perennial – paperback – $14.99 (lower cost ebook versions available)
Discovering writers that are new to us and that we end up liking in a big way, is one of the pleasures of life. I'm fortunate that publishers and writers get in touch with me about books they want me to read for this podcast series. And sometimes, writers have told other writers about Writerscast, suggesting they contact me, a form of recommendation I appreciate. So I'm very glad that Jessica Anya Blau reached out to me about reading her novel, The Wonder Bread Summer, as it is most likely I would never have known about it otherwise.
And what a fun and complicated novel it is. The Wonder Bread Summer is a wild romp of a book, certainly a coming of age story, hilarious and sometimes scary. But underneath the nonstop breathless action of the story, there is a lot of complexity, and as her heroine, twenty year old Berkeley college student Allie Dodgson deals with issues of family, race, sexuality and friendship, she is becoming a real person, someone with agency, rather than someone to whom events happen. The story is pretty bold – Allie is working part time in a dress shop that turns out to be a front for drug dealing, and through a series of misadventures, she ends up on the run with an amazing amount of cocaine, driving her best friend's new car, drives to LA to where she thinks her father might be, runs across her estranged mother and her mother's new husband's band, has sex with a famous rock star, finds her father, and deals with some real dangers. There is alot going on in this novel!
I couldn't help but ask Jessica about the connection between Allie's adventures in the book and her own life experiences – not that I thought or believed it was an autobiographical novel – because the events and people she writes about seem so vivid and real. This is a fun book that takes risks and rewards the reader with its intelligence and emotional depth. Oh yeah, you might enjoy knowing that the reference to Wonder Bread is a bread bag full of cocaine.  Great image.
This is Blau's third novel and I'm looking forward to reading the first two soon.
Author website here. And another good interview (from 2011) with Jessica here.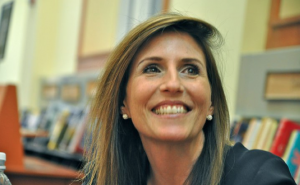 Thanks to John Cheary of John Marshall Media for use of their studio, and to Nathan Rosborough for sound engineering and editing.