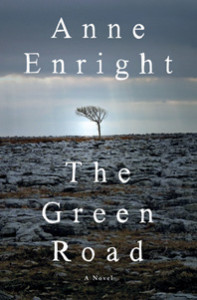 978-0-393-24821-0 – Hardcover – W.W. Norton – 2015 – 314 pages – $26.95 (ebook versions available at lower prices)
Anne Enright is an Irish fiction writer who has been widely praised for the lyrical quality of her prose and for eccentric characters and heartfelt renderings of modern family life, received the 2007 Man Booker Prize, the British Commonwealth's most prestigious literary award, for her novel, The Gathering (2007). In that year's competition, her book was considered a longshot for the prize, but nonetheless was was selected unanimously by the panel of judges. The Gathering was also named "Irish Novel of the Year" at the 2008 Irish Book Awards.
Subsequently, Enright wrote and published more novels, including The Forgotten Waltz (2012) which won the Andrew Carnegie Medal for Excellence in Fiction, about which Francine Prose said in her NY Times review, "a nervy enterprise, an audacious bait-and-switch. Cloaked in a novel about a love affair is a ferocious indictment of the self-involved material girls our era has produced."
Enright went to college at Trinity College, Dublin, and took an MFA in writing at University of East Anglia in England, but soon after ended up working in television production in Ireland, which she did successfully for several years. She then turned to writing, first short stories, and then novels, at which she clearly excels. Since the Man Booker prize raised her profile exponentially, she has won numerous awards and traveled widely in support of her novels.
Enright's newest book, The Green Road, is about a very modern Irish family, splintered and scattered, but always focused on the mother, the unhappy and complicated Doraleen. The family lives in County Clare, the farthest eastern shore of Ireland, as Enright says, the last stop before America, a place of immense beauty and also loneliness and struggle for those who continue to live there. And there is a real green road there, the old path along the water.
For the first half of the book, Enright alternates voices and scenes, from County Clare to New York to Africa to Dublin as she introduces us to the children in the Madigan family. And then the scene shifts back to the home turf of the family, as the children return for their mother's birthday, together for the first time in many years. And this is where the heart of the novel lives.
It's a beautiful book, one that has stayed with me after I read it, and even after I had the opportunity to talk about the book, the characters and the writing process with author Enright. She is an incredibly accomplished writer, able to convey immense depth about characters, a places, or events, with an economy of language and a piercing eye. We had a lively and interesting conversation while she was in New York on her book tour. And I am really pleased that she was willing to read two sections of the book, as hearing the author's voice in this particular instance is terrifically important as her tone and intonation helps us feel the book more deeply.
I also had the pleasure to welcome her to the United States as she is now the first official Irish Fiction Laureate. This recording is of a wonderful conversation with one of our best living novelists, about a novel I am happy to recommend to all readers. And here is a terrific piece she wrote about the writing of the book for The Guardian (which we did talk about in our conversation). While I could not find a website for Ms. Enright but here is a pretty nicely done fansite for her work. And for those of you who have become fans of Enright's work, this interview in the Paris Review about The Forgotten Waltz will be of interest as well.  Publisher WW Norton has a page for the author here.
Photo of Anne Enright credit Domnick Walsh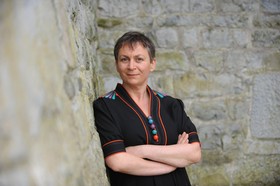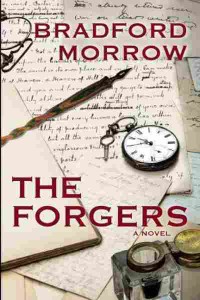 978-0802123213 – Mysterious Press – 258 pages – Hardcover – $24.00 (ebook editions available at lower prices)
Brad Morrow is really an excellent writer, mainly of literary fiction, and as listeners of Writerscast will likely know, I have interviewed him twice before, once for the fine novel, The Diviner's Tale (2011) and again for Publishing Talks about his now 25 year old literary magazine, Conjunctions.
The Forgers is a complex and finely crafted mystery novel. It is pretty clearly Brad's homage to the form, one which I assume he loves, and the writing style demonstrates just how much in command of his craft he is.
I myself am not generally a reader of mysteries and detective novels, though I appreciate a good one. So I am not as familiar with the intricacies of the form as are those who read deeply in this genre. One reviewer I read observed that The Forgers follows the form of one of Agatha Christie's most famous novels. Well it might. As I read the book, the writing style reminded me of early twentieth century English writers. Because its main character is a both a literary forger and a dedicated bibliophile, and much of the book's action takes place in Ireland, it has a decidedly British feel to it.
But it is an American story, and as such a grisly murder that opens the book is at its center. The setting for much of the novel is the farthest reach of Long Island, an isolated area that is perfect for this sort of crime.
The main character is one of those quirky characters that inhabit mysteries and suspense novels. He's very compelling, but he keeps his distance, to say the least. Morrow knows the world of books and collectors, as he is one himself, but I don't think anyone would mistake his main character for an authorial stand in. At least I hope not. The narrator takes us through a tangled web of a story, and while we get to know him, much is left to mystery.
Readers will enjoy the slow, building pace of the novel, and the payoff that comes at the end. It's a fun book to read, and as I said earlier, beautifully written by a masterful writer.
Brad Morrow has written a number of fine novels, teaches at Bard College, founded and still edits the literary journal, Conjunctions, and has won many awards for his work. If you have not read his work before now, you should! And The Forgers would be a good book to start with. Author website here.
It's always a great pleasure to speak with Brad about his work. He's a great conversationalist and very easy to talk to, and I think our discussion about The Forgers will be much enjoyed by listeners.
The Forgers is remarkable. Bradford Morrow is remarkable. The Real Thing, which is rare on this earthly plane.
—Michael Cunningham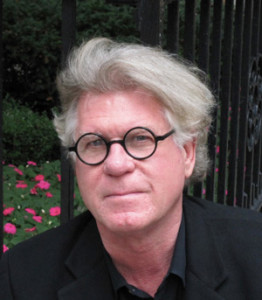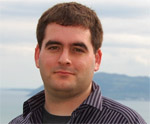 In this series of interviews, called Publishing Talks, I have been talking to book industry professionals about the future of publishing, books, and culture.  This is a period of disruption and change for all media businesses. How will publishing evolve as our culture is affected by technology, climate change, population density, and the ebb and flow of civilization and its economics? Publishing Talks interviews help us understand the outlines of what is happening, and how we might ourselves interact with and influence the future of publishing as it unfolds.
These interviews give people in the book business a chance to talk openly about ideas and concerns that are often only talked about "around the water cooler," at industry conventions and events, and in emails between friends.
I believe these interviews give people inside and outside the book industry a chance to hear first hand some of the most interesting and challenging thoughts, ideas and concepts being discussed within the industry.
Eoin Purcell works and lives in Dublin, Ireland. He is a publishing industry analyst and commentator. He runs Green Lamp Media, a publishing and publishing services company and also edits Irish Publishing News.
He has worked as Commissioning Editor with one of Ireland's oldest independent publishers Mercier Press and at Nonsuch Ireland (now The History Press Ireland). He writes occasional blog posts and columns on the Irish book trade for The Bookseller magazine.
I was prompted to talk to Eoin by his persuasive and cogent article that appeared in (Ed Nawotka's highly recommended online newsletter) Publishing Perspectives called "E-Books are a Cul-de-sac: Why Publishing Needs to Rethink its Digital Strategy."  In my view, Eoin consistently thinks and writes clearly about the unfolding future of a digital publishing future.  In this conversation we talked mainly about how publishers (and authors) can and must adapt to the emerging environment created by new technology (and new distribution models), including practical ideas and actions they can take to embrace new tools and methods of reaching readers in a profitable way.  He expressed his view that publishers need to focus on longer term trends, the values they can provide to readers (and writers) and then build their businesses around identifiable communities of readers.  We also talked about the differences in marketing paradigms that digital publishing establishes for publishers, the idea of "publishing as community" and much more.
Eoin provides a fresh, incisive perspective along with realistic ideas and strategies for publishers who want to embrace a new paradigm of publishing based on a web-centric environment.  I think this conversation will be valuable to anyone (publisher or author) who is interested in creating a successful digital strategy for the long term future.