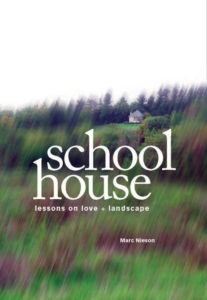 Schoolhouse: Lessons on Love & Landscape – Marc Nieson – Ice Cube Press – paperback – 9781888160925 – 272 pages – $19.95
Memoirs are most often stories of self discovery. To work for readers, they have to engage us indirectly – we have to buy into the narrator's central problem the story will show us being solved. Marc Nieson's memoir is about a period in his life when he was confused about love and self-identity. He left his home and long term lover in New York City to attend the famed Writer's Workshop at the University of Iowa, and ended up living in a former one room schoolhouse on 500 acres of beautiful Iowa landscape.
Escaping the travails of modern life, and living in the woods, the comparisons to Walden cannot help being made. City-bred Nieson learns how to observe the natural world, and in so doing, learns how to understand himself at the same time. Nieson keeps us involved throughout his narrative, and we come to the end of the story fully engaged in his personal adventure.
The book is structured like a schoolbook, each chapter being named after a school subject (i.e. Geography, History, Social Studies, What I Did On My Summer Vacation), which gives the book a certain charm, and while it's a conceit, this organization helps keep the narrative moving forward. It's a fully transformational story, even if you have never experienced the woods or the Iowa landscape.
As Nieson writes: "Here on a quiet Iowa hillside, I was hoping … to both learn and unlearn who I was. To try living not only alone and apart, but a more consciously observed life — both inside and out." I think he achieved what he was hoping to do in Iowa.
"Those of us who have lived in old one-room schoolhouses understand the solitude, solace, and proximity to nature that they provide. During his year living in Union #9, Marc Nieson embraced these opportunities for inner growth. His new memoir—a must read—traces the story of his journey of discovery along the trail through the woods surrounding his house and along the path of human relationships. Read Schoolhouse, and you will open the door to the mind of an engaging voice, a probing, reflective writer who delights the reader with his lyrical prose on every page."
—Mary Swander, author, Out of this World: A Woman's Life Among the Amish
Marc Nieson has degrees from both the Iowa Writers' Workshop and NYU Film School. His background includes children's theatre, cattle chores, and a season with a one-ring circus. He's been awarded a Raymond Carver Short Story award and recent fiction appears in Everywherestories: Short Fiction From A Small Planet (Press 53), Museum of Americana, and Tahoma Literary Review. He is also a screenwriter, whose credits include Speed of Life, The Dream Catcher, and Bottomland. He teaches at Chatham University in Pittsburgh, and is working on a new novel, Houdini's Heirs.
In this interview, Marc and I talked in detail about this excellent book and his work as a writer and teacher. Special kudos to Ice Cube Press for publishing this memoir.
Author website here.
Ice Cube Press website here.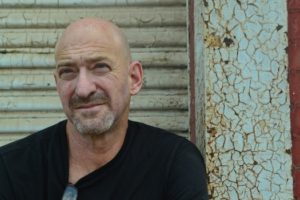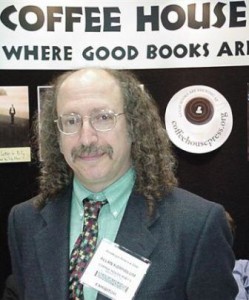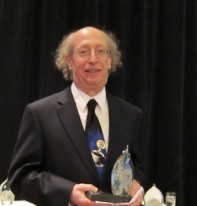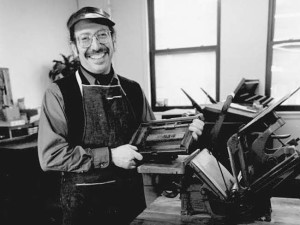 My good friend, long time publisher and poet Allan Kornblum passed away November 23, 2014. He was only 65, and will be missed by many.  Coffee House Press, which he and Cinda Kornblum founded as the successor to the earlier and more informal Toothpaste Press, has been in Minneapolis for over 30 years now, and has become a hugely important literary organization in its local community and far beyond, with national and international reach.
Allan and I first met in the mid-seventies when we attended a range of small press bookfairs around the country, and we shared many interests, both in poetry and in book production. Toothpaste was an early participant in the tiny midwestern literary project I started in 1976 called Truck Distribution Service.
When I traveled to Iowa to sell independently published literary books to local bookstores, I would stay with Allan and Cinda in their house in West Branch (proudly known as the birthplace of Herbert Hoover). They taught me alot about the local literary community and history, and as Allan became more involved in letterpress printing, Allan beautifully produced books and ephemera for my Truck Press (and later for Jim Sitter's Bookslinger, the successor to Truck Distribution, Allan turned out a long list of beautifully produced broadsides and small books). The list of great books published by Allan and Coffee House is pretty incredible. Visit the press' website to learn more about what Allan and his colleagues have accomplished, and to see the vibrant work the now well-established nonprofit press is doing today. Some really excellent publishing is going on there, and has been for a long time; no better legacy for Allan could be imagined than the books this press produces.
In later years, we I did not see Allan much more than once a year at the annual booksellers' conventions, but we kept in contact, did business together, and always shared news of each other's work and family. I interviewed Allan for Writerscast as part of the Publishing Talks series as I think the history of independent publishing needs to be documented, and first hand accounts by those involved seem to me the best way to preserve some of the knowledge and experiences of an important era in publishing. You can listen to it here if you want to get a feel for Allan and his work.
One moment with Allan still stands out for me. Probably six or seven years ago, when Amazon was first promoting digital conversion of print books, they put on presentations to publishers and distributors to convince us to convert as many of our books as possible to digital formats. I was perhaps naively convinced aready that the reflowable ebook format would be a great boon to reading. But Allan stood up and asked the pointed question – "What happens to the carefully designed pages we create for our books in this new digital format?" The Amazon representative bluntly stated something to the effect that "designed pages don't matter in our ebooks." That answer did not satisfy Allan, and somewhat presciently, he told me that this lack of interest and concern for design would be a big problem for e-readers and e-reading. How right he was then, and sadly, his views then about ebook design matters are still meaningful today. As he knew so well, the interaction between the reader and the word is where the magic of reading comes alive.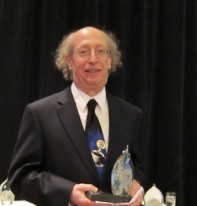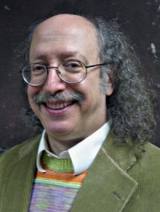 In this series of interviews, called Publishing Talks, I talk to book industry professionals and other smart people about the future of publishing, books, and culture.  This is a period of disruption and change for all media businesses.  How will publishing evolve as our culture is affected by technology, climate change, population density, and the ebb and flow of civilization and  economics?
I hope these Publishing Talks conversations will help us better understand the outlines of what is happening in publishing, books and reading culture, and how we can ourselves both understand and influence the future of books and reading.  Over the past couple of years, I've been talking to a wide variety of people in the book business, mostly about the future of writing, publishing, and reading. But the future is always built on what has gone before now.  And there has been so much incredibly creative and wonderful publishing work done in recent years, I've wanted to share some of the experiences of people who have accomplished so much, with vision, talent and amazing effort.
I've known Allan Kornblum, founder of Coffee House Press (and its predecessor, Toothpaste Press), a long, long time.  He and I started out in publishing in similar ways and around the same time, the early 1970s.  Allan started out as many of us did in those days publishing a handmade mimeo magazine.  But he discovered fine printing by taking classes at the University of Iowa with the renowned Harry Duncan (Cummington Press – there is a great interview with him in a wonderful book called Against the Grain, interviews with independent publishers, you can access this book online through Project Muse).  Allan's Toothpaste Press used letterpress printing to create beautiful poetry books and chapbooks for ten years beginning in 1973, when Allan and his wife Cinda lived in West Branch, Iowa (home of Herbert Hoover).
The Kornblums eventually faced an existential crisis with Toothpaste, to either become a letterpress "art press," producing limited editions at high prices, with limited readership and distribution, or to aim for a broader audience, which for a low margin literary press, requires financial support.  Kornblum elected to create a nonprofit publishing venture, renamed Coffee House Press, and moved to the Twin Cities in Minnesota, the literary mecca of the midwest (then as now), where the press has thrived along with several other excellent publishers, with a literary arts center, and an extremely supportive community of readers and writers.  Now having published there for almost thirty years, Coffee House is an established an active organization, with a strong board and staff, and a tremendous list of books to its credit, many of which have won awards and have sold extremely well.  Coffee House has maintained consistently high editorial and production standards, but it has also been a successful and innovative book marketer, embracing a wealth of tools and approaches to finding audiences for its books.
Interviewing Allan for Publishing Talks was a pleasure for me.  I'd also like to recommend listeners to a written interview with Allan from 2006 that can be found at NewPages.com.  And visit the Coffee House Press website to see their latest books as well as their exceptional and impressive backlist.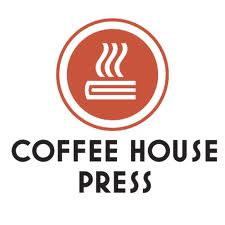 Listener alert!  These interviews with independent publishers, documenting their history and experiences, are longer than usual.  This one is 53 minutes long.  Pull up a chair….
In this series of interviews, called Publishing Talks, I have been talking to book industry professionals about the future of publishing, books, and culture.  This is a period of disruption and change for all media businesses.
How will publishing evolve as our culture is affected by technology, climate change, population density, and the ebb and flow of civilization and its economics? Publishing Talks interviews help us understand the outlines of what is happening, and how we might ourselves interact with and influence the future of publishing as it unfolds.
These interviews give people in the book business a chance to talk openly about ideas and concerns that are often only talked about "around the water cooler," at industry conventions and events, and in emails between friends.
I believe these interviews give people inside and outside the book industry a chance to hear first hand some of the most interesting and challenging thoughts, ideas and concepts being discussed within the industry.
Jan Weissmiller recently achieved her fifteen minutes of fame when President Barack Obama visited her store – and the picture of her selling him a book went viral very quickly.  But Prairie Lights Bookstore has more going for it than simply being the backdrop for the first  citizen's book buying habit writ large.  It's been a fixture in the strongly literary community of Iowa City since Jim Harris started the store there in the late '70s.
As times have changed, so has the store, and today Prairie Lights has an active web presence in addition to its longstanding role as "the" local bookstore in one of the great small towns of middle America.  I've been to the store many times over the years, and deeply admire the vision and care demonstrated first by Jim and Jan, when she was the first employee of the store, and now by Jan and her current wonderful staff of book devotees.  Many towns no longer have the opportunity to experience the depth of knowledge that a great bookstore can provide.  What Jan and Prairie Lights show us about bookselling is important – people use technology to make life easier, but people need other people to make life meaningful.
In case you missed it, here is the link to the NY Times story about Prairie Lights. And here's the now famous photo.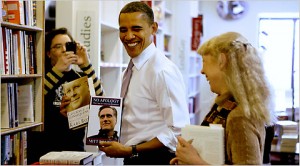 Jan Weissmiller was the first employee of Prairie Lights, beginning in 1979, and is now its co-owner.