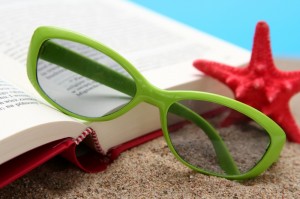 I have been posting two podcasts a week for the better part of the last year, which has been great fun.  But with the summer in full swing, weather wonderful and plenty of work in the hopper, it looks like I may be posting slightly less frequently for the next couple of months.  I'm not reading fewer books, but scheduling interviews seems to be more difficult in the summer too.  And publishers and technologists take vacations!   I do have some really good interviews coming along soon: Anna Lappe, Nick Mamatas, Dean Bakopoulos among other writers, and Kate Wilson of the great new kids publisher Nosy Crow for Publishing Talks.  And there will be more.
I've also started a new website I hope you will visit – it's called New Book Media (newbookmedia.com) featuring a long list of digital book events around the world, and a steady stream of news and information about the wildly expanding world of digital publishing.  Livewriters.com now has more than 2500 book and author related videos, and is still the only website focused exclusively on video about books, along with an entertaining and original literary blog called LiveWires.
If you've read a great book lately I want to know about it.  Direct message your recommendations to @writerscast.

Well not really. I've been posting author and book industry interviews at Writerscast now for just about two years, and while I like to feel that the work speaks for itself, I've often felt the need to share information and news with my (growing) audience. Aside from Twitter, which is lovely but oh-so-brief, there really has been no way for me to talk about matters related to the site and its content here.
By introducing this little section of Writerscast dubbed "Pipeline," I can let you know when I come across interesting publishing related news, talk about books that may not be among those whose authors I interview, or just tell you when I am going on vacation and won't be posting new interviews for a few days. I'll spare you any thought pieces or pontifications about publishing here (saving that for www.booktrix.com.)
In Pipeline I can also tell you about some of the upcoming posts on Writerscast, or other sites I have discovered I think you should know about, information I hope will be helpful to everyone who visits this site.
For example, my next author interview is with Mickey Leigh about his memoir, I Slept with Joey Ramone. My next Publishing Talks interview is with the always interesting Rick Richter, who has founded a new digital publishing company called Ruckus Media. I think you will enjoy both of these talks.
Please feel free to email me, David Wilk, at david@booktrix.com. Your suggestions, comments, complaints, etc. are always welcome. Praise too, if you hear something you really like at Writerscast. I'm always looking for interesting people to interview, so let me know who is out there I should be talking to and how to reach them.
And for those of you, like me, buried in snow, just remember that spring is less than 60 days away!