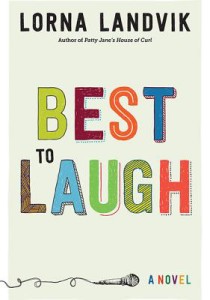 978-0-816698-97-4 – University of Minnesota Press – Paperback- 312 pages  – $16.95 (ebook editions available at lower prices)
I have been reading and enjoying Lorna Landvik's wonderfully funny books for a long time. I can't remember how I discovered her writing but am guessing it might be the fact that she is from Minnesota that got me to try out one of her early books. And then since her books so perfectly capture the Minnesota social landscape and ethos, I kept going and read most of her novels. I come by my Minnesota interest because part of my family is from Minnesota, and I lived in St. Paul for a few years in the seventies, and I maintain a strong interest in the North Country and especially its literary life (oh and their baseball team too — see my recent interview with former Minnesota Twin Jim Kaat).
I suspect Landvik gets typecast by many readers as a "women's" writer – her books are rich with female characters and speak to and for women's social ethos. And in a book business that lives and dies by book categorization, maybe she is typecast also because her books are funny, and have titles that sound like they come from a female centric universe (Angry Housewives Eating Bon Bons, Your Oasis on Flame Lake, Patty Jane's House of Curl). But it's a mistake for any reader to overlook Landvik as there is a lot going on in these books. Landvik is certainly entertaining – her background as a stand up comedian and actor informs her writing and her stories. But comedians and comedic novelists are usually mining something deeper, and Landvik's humor leverages a clear understanding of human nature and both our fallibility and the strength that allows us to live through pain and grief and the difficulties of daily life.
Best to Laugh is Landvik's most recent novel, published last year by the adventurous University of Minnesota Press. It's her most autobiographical novel, for sure. Her main character in this book, Candy Pekkala is half Korean and half Norwegian (unlike Landvik). She goes to Hollywood to follow her dream to be a stand up comedian (as Landvik did). The book follows her adventures in La-La land as she falls in with her neighbors in Peyton Hall, a class LA building that houses a cast of interesting and compelling characters, who all become Candy's family as she becomes the success she has aimed to become. The combination of "old Hollywood" and less romantic 70's era Los Angeles makes for a terrific backdrop. And the characters are picture perfect. Candy, her friends and family are impossible to resist.
In real life, Landvik did work as a stand up comedian in Los Angeles, temping at places like Atlantic Records and the Playboy Mansion (writing film reviews for Hugh Hefner's private VHS tape collection) while pursuing her showbiz dream. Despite her success as a comedian, Landvik eventually turned to writing, which she turned out to be pretty good at doing. She still likes to perform – her 'Party in the Rec Room' is performed once a year at the wonderful Bryant Lake Bowl theater in Minneapolis (yes, theater in a bowling alley!) This is an all-improvised show based on audience suggestion. Landvik describes it this way "While I enjoy a meaty, dramatic role, to me there's nothing more satisfying than making a roomful of people snort beer up their noses as they laugh."
You might find yourself doing the same while reading Best to Laugh.
Author website here. Author page, on Goodreads, worth a visit.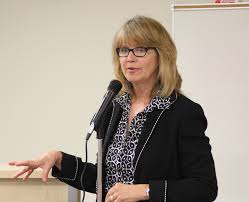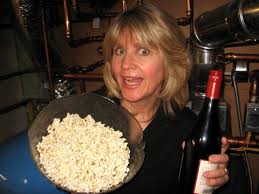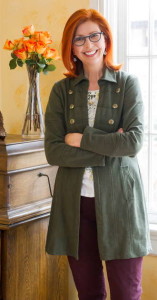 I interviewed Mary Kay about her wonderful novel, Man Alive! in May 2014. This is what I said about it then:
I loved reading this book. It has a great sense of humor, it's complex without being too serious about itself, and a story that grabs you from the beginning and won't let go. Mary Kay Zuravleff is a terrific writer, original and entertaining. And there's a lot going on to keep you thinking throughout. Man Alive! tells a great story. There is a perfect summary of the book on her very active website in case you want to know the story without any risk of spoilers:
All it takes is a quarter to change Owen Lerner's life. When lightning strikes the coin he's feeding into the parking meter, the pediatric psychiatrist survives, except that now he only wants to barbecue. The bolt of lightning that lifts Dr. Lerner into the air sends the entire Lerner clan into free fall, and Man Alive! follows along at that speed, capturing family-on-family pain with devastating humor and a rare generosity. This novel explores how much we are each allowed to change within a family—and without.
This book is a fun read and I recommend it no matter what kind of fiction you like. It's a funny book with a solid heart and great characters. And I am very happy that I recorded Mary Kay reading an excerpt from the book to add to the Authors Voices series. Since last year the book is out in paperback from Picador – 978-1250056054 – $16 (and ebook versions are still available at lower prices). I like the new cover too.
Please listen and enjoy.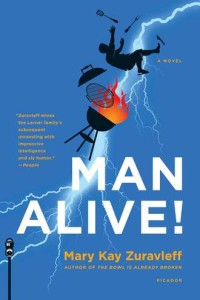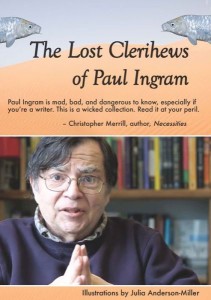 The Lost Clerihews of Paul Ingram – 978-1-888160-77-2 – paperback original  – Ice Cube Press – $19.95 (no ebook edition!)
The clerihew is a somewhat obscure form of poetry invented by the English writer Edmund Clerihew Bentley as an alternative to the limerick. It has a particular focus, which is to skewer or make fun of a famous person, is only four lines long, with irregular line length and meter. Rhymes follow the AABB structure with as much humorous contrivance as possible to do what needs to be done to accomplish the goal of the poem – fun at the expense of a well known individual.
I first was introduced to this form by my old friend and mentor, Jonathan Williams, whose quirky and creative sense of humor was perfectly fit for this fun form. He wrote a wonderful book called the Fifty Two Clerihews of Clara Hughes, which is well worth seeking out (produced in a limited edition and long out of print, but should be available in a few libraries, and I found a audio version of it online.)
Brits invented the form and seem to like it a lot. Auden wrote clerihews and so did Bentley's friend G.K. Chesterton. One of Bentley's earliest clerihews is still one of his best:
Sir Christopher Wren
Said, "I am going to dine with some men.
If anyone calls
Say I am designing St. Paul's.
And now we have another great collection of clerihews, written by the hilarious and well read Iowa City based bookseller, Paul Ingram. Paul has been a friend of mine (and of hundreds of writers) for a long time. He's known far and wide as one of the great booksellers and talkers about books and visitors to Iowa City seek him out at the wonderful Prairie Lights Bookstore* to talk to him about books.
As he tells us in the introduction to his book, Paul has been writing clerihews for more than twenty years, mostly as the spirit struck, often on tiny pieces of paper that seemed to disappear. Thus the "lost" in the title of the book. We can only be grateful that this packrat managed to keep and find most of the poems he wrote so that we can enjoy them here. As Roz Chast says "after you read it, you will need to put aside whatever important work you are doing and write several of your own." Clerihews are like candy.
Almost all of Paul's clerihews are fun, hilarious, some are political, and some are much more weighty than the form suggests, like this one:
General Custer
Lost all of his luster,
And most of his pride
On his final ride
It is difficult to resist consuming this book like candy.  I enjoyed having the chance to hear Paul about his own writing, poetry and book selling. You will too. This is a fun book with alot to say. Like the author himself.
Paul's book has wonderful illustrations by the Chicago artist Julia Anderson-Miller. Publisher website here.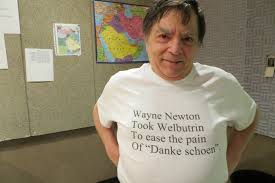 *I interviewed Jan Weissmiller, proprietor of Prairie Lights, for Writerscast a few years ago,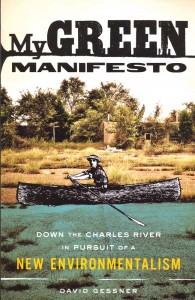 978-1-571313-24-9 – Milkweed Editions – paperback – $15 (ebook editions available)
David Gessner is a sort of post-modernist environmentalist.  He's written a number of books that celebrate the natural world and the wild, and he is a terrific writer capable of transcendent prose and has the keen observer's eye that anyone writing about nature must have.  But he understands the difficulties and contradictions that suffuse contemporary civilization.  And he has a sense of humor and irony (which environmentalists are not always known for).
In My Green Manifesto, he addresses a major issue that affects so many of us who feel strongly about the arc of modern civilization, that its inertia is overwhelming, the problems so great, the solutions so elusive, and the efforts of individuals so ineffectual as to make us lose all hope of being able to make meaningful change.
The book takes us through Gessner's journey from the headwaters of the Charles River to its end in Boston's urban harbor.  His trip is made for the most part in company with a true environmental hero, Dan Driscoll, who almost single-handedly spurred the suburban and urban communities along the once highly polluted river to make significant changes to both restore and protect the river and riverside ecology.  They travel in a leaky canoe, drink beer, sleep in tents, and enjoy the pleasures of a "limited-wild" experience.
Gessner takes heart from the work Driscoll has done, and shows us how important his practical efforts have been.  "This new picture is that of a man or woman who knows how to get things done, who understands the value of momentum, of focus on a particular project. Not a shrill or dry or particularly flowery environmentalism … Someone willing to get in [a] fight and 'Sue the bastards.' Someone willing to stick their nose in there and feel what it's like to get bruised. And someone willing to stay locked in that fight for years, even if it costs them emotional as well as actual capital.''
Gessner writes with great humor and joy about the pleasures of being in nature, wherever one lives, and that is the core of his manifesto.  His ideas will resonate for many who are not willing, able or equipped to spend significant time in distant wildernesses. And as a "manifesto" this book will be easy for most readers to digest and accept.  Gessner's message is positive and powerful because it is realistic and not preachy and because so many of us can relate to his experiences of the joy of being in nature and at the same time despair over the sheer extent of modern society's environmental unconsciousness.
Gessner reminds us that it is possible to hold two seemingly contradictory ideas in our minds at the same time, that complexity and contradiction are almost facts of life, but cannot defeat us from taking action to make change.  "The first idea was acceptance, the acceptance, totally without rancor, of life as it is, and men as they are … But this did not mean that one could be complacent, for the second idea was of equal power: that one must never, in one's own life, accept these injustices as commonplace but must fight them with all one's strength.''
Author website here (you can find a list of all his many fine books there)  Gessner's latest book is one I am interested in reading as well.  The Tarball Chronicles: A Journey Beyond the Oiled Pelican and Into the Heart of the Gulf Oil Spill chronicles his visit to the Gulf after it had passed out of the news.  Not an uplifting story, I fear.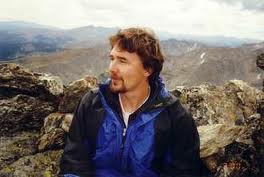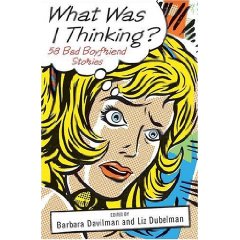 ISBN# 978-0-312-38472-2
St. Martin's Press, Hardcover $21.95
This fun WritersCast podcast has host David Wilk interviewing Liz Dubelman, co-editor of the wonderfully entertaining collection of first person essays by women describing those special moments in relationships when they suddenly realized: it's not going to work.  WHAT WAS I THINKING: 58 Bad Boyfriend Stories will be published February 3, 2009.  Dubelman, co-founder of www.vidlit.com, talks about the genesis of the book, how she and co-editor Barbara Davilman (co-author of YIDDISH WITH DICK AND JANE) collected the essays in the book, how women are responding to it, and why it seems men do not have the same sensibilities about relationships that women do.  Dubelman also talks about "Come to Your Senses Day" – February 15, and the book's website www.c2ysd.com.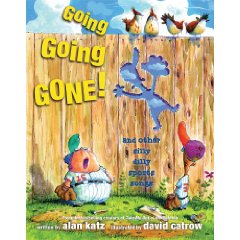 Going, Going, Gone!: And Other Silly Dilly Sports Songs
Alan Katz and David Catrow
ISBN# 978-1416906964
Simon & Schuster, Hardcover $16.99
The first WritersCast podcast of 2009 has host David Wilk interviewing author humorist Alan Katz, author of more than 20 books for children and adults. His newest book is Going, Going, Gone, coming in February 2009. Wilk and Katz talk about a wide range of subjects, including Katz's writing methods and experience as a writer. Alan Katz gives his first public performance of songs from his newest book.