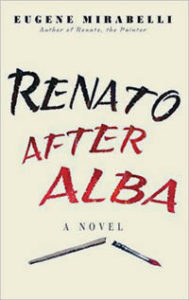 Renato After Alba – Eugene Mirabelli – McPherson & Company – hardcover – 978-1-62054-026-8 – 192 pages – $24.00
Eugene Mirabelli has been writing novels since the late 1950s. His first book, The Burning Air, was published by Houghton Mifflin in 1959. Over the years, his style has changed and matured as he developed his voice as a novelist. I was introduced to Gene's work by his current publisher, Bruce McPherson, who is the kind of publisher who hands you a book and says, "you need to read this." Over the years, I have made many literary discoveries by following Bruce's recommendations.
Renato After Alba is the sequel to Gene's 2012 novel, Renato, the Painter. It is warm, painful, and and highly personal. This book is called a grief novel for a reason. Do not be afraid to pick up this short novel, and dive into this writer's exploration of sadness and beautiful sorrow. It is moving and entertaining, and revelatory, and as the best fiction does, will make you feel deep emotion in a transformative way.
Artist Renato Stillamare's beloved wife of fifty years dies unexpectedly, leaving him heartbroken and dazed. The novel is a pastiche of fragments, much like a collage, with the artist trying to discover where all the pieces of his life and memories belong. He recounts stories of the members of his Sicilian-American family, conversations with friends, family members, and even new people in his life. All of it is an effort to rebuild a life without Alba, or with the memory of her, in a way that will enable Renato to continue living. There is humor, and pain and discovery, all the things in life that make it worth living, and a book well worth reading.
One of the pleasures Writerscast has brought me is the opportunity to read great books and to talk to their authors about writing, art and life. Meeting Gene Mirabelli through his writing and in conversation has been a singular pleasure for me.
"For anyone who loves the work of James Salter or William Trevor, Eugene Mirabelli is another writer to treasure, and Renato After Alba is one of the best books I've read in ages — a beautiful, profound and exhilarating novel about what sustains us in the face of inevitable loss." — Elizabeth Hand, author of Hard Light and Generation Loss
As Robert Gray reported in Shelf Awareness:
November 4, 2016 was proclaimed Eugene Mirabelli Day in Albany, N.Y. In her proclamation, Mayor Kathy M. Sheehan noted that in his most recent book, Renato After Alba–a sequel to his 2012 novel Renato, the Painter (both published by McPherson & Co.)–the 85-year-old author "touches upon universal aspects of human existence by creating lovably flawed characters who subtly express the full range of human emotion and experience, from great joy to crushing loss, from deep love of life to rage against the inevitability of death. All written with clarity and cleverness and craft."
Eugene Mirabelli is the author of nine highly acclaimed novels — five of which feature members of Renato's extended family and his friends. Visit Eugene's website is here. Publisher McPherson & Co. website is here.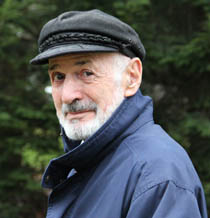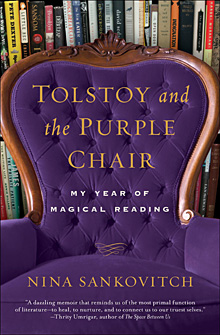 978-0061999840 – Harper – $23.99 – Hardcover (ebook version also available)
This is truly a wonderful book by an exceptional writer.  Nina Sankovitch was living a full, active life as an environmental lawyer, happily married with four children, when her beloved sister became ill with cancer and died far too young.  As she recounts in Tolstoy and the Purple Chair: My Year of Magical Reading, her initial response to her sister's death was to "live her life double," doing everything she could to try to make up for her terrible and painful loss.  After three frantic years she realized what she was doing was unsustainable.
Ironically, her apparent retreat from doing to experiencing through reading was in some ways no less radical.  Nina committed to reading a book a day for an entire year, no small commitment in itself, but further, she committed herself to writing a review or think piece about every book she read.  That is a very high bar to set for any modern parent, even with a patient and understanding family (when I started Writerscast, I committed myself to read at least one book each week and to interview its author, a far lesser commitment, and after two years of doing it, I know how difficult, even impossible it would be for me to read a book a day, for a short period of time, much less a full year).
But Nina turned to reading because reading has always been central to her life and experience.  Her immigrant parents read and loved books, as did Nina, from an early age.  In Tolstoy and the Purple Chair, Nina tells the story of both her families, the vibrant one she grew up in, and the supportive and happy one she has raised.  Many of the books she read in her magical year of reading are discussed here, as the stories of these books are part of the weave of how she transformed her experience of death into a celebration of life.  And that is the crux of this memoir.  By leaving her own experience to enter the realms of literally hundreds of writers, and making a place for those other stories in her own life, Nina was able to recreate and restore her own psyche – that's the magic, the alchemy, of her magical year.
I should mention that Nina lives near me and has become a valued friend, partly through books we've read and discussed, including a couple I gave her to read and which are included in her year of reading.  During that year she started an excellent blog called Read All Day where you can find all of her well written and exceptionally perceptive book reviews and essays.