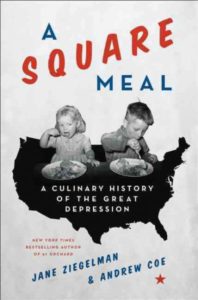 A Square Meal: A Culinary History of the Great Depression – Jane Ziegelman and Andrew Coe – HarperCollins – paperback now available – 9780062216427 – 336 pages – $15.99 – ebook versions available at lower prices.
First, let me say that this is one of the most interesting, readable and thought-provoking works of American history I have read in a long time. It's interesting to think about how two writers can work together to create a consistent and compelling authorial voice – Andrew and Jane have done that brilliantly. One must assume they have a very special marriage that enables them to both collaborate and live happily together.
If you are interested in food and how the American palate has changed over time, this book will certainly have much to offer. But I think the story here is broader than it may first appear. It's not just a "culinary history" but a comprehensive social history of one of the most important periods of American life told through the issues surrounding food and nutrition in a challenging time.
Yes, it is "an in-depth exploration of the greatest food crisis the nation has ever faced – and how it transformed America's culinary culture," but I think the larger story is that this book uses food as the lens to through which to view how Americans lived during our greatest economic and cultural crisis.
History writing that brings the past to life and engages us in the human dimensions of the big moments of the past is real storytelling. This kind of writing helps us understand and sympathize with the people who came before us. It makes us better able to deal with our own crises, of which there are indeed many.
So this book is important whether food is "your thing" or not. I'd recommend reading it no matter your specific interests, just because it will make you think, will make you care, and will help you to feel that the past really is always prologue. It was a great pleasure to have the opportunity to talk in person with Jane and Andrew about A Square Meal.
Jane Ziegelman is the director of the Tenement Museum's culinary center and is founder and director of Kids Cook!, a multiethnic cooking program for children. Her writing on food has appeared in numerous publications, and she is the coauthor of Foie Gras: A Passion.
Andrew Coe is a writer and independent scholar specializing in culinary history, and the author of Chop Suey: A Cultural History of Chinese Food in the United States, which was a finalist for a James Beard Award. He appeared in the documentaries The Search for General Tso and Eat: The Story of Food. Jane and Andrew live in Brooklyn, New York. And recently, A Square Meal was announced the winner of the 2017 James Beard Award for best nonfiction book of the year.
NPR's Fresh Air did a wonderful interview (called "Creamed, Canned and Frozen") with Jane and Andy about this book in August, 2016. And I interviewed Andy about his book, Chop Suey for Writerscast a few year ago.
Photo of the authors by Sasha Maslov for The New York Times.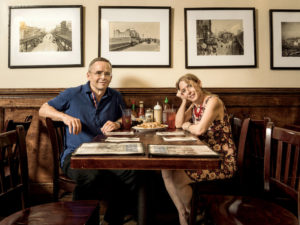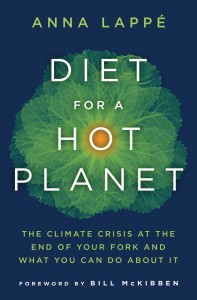 978-1-60819-465-0 – Bloomsbury – Paperback – $15.00 (ebook editions available)
Anna Lappe´ is the daughter of the well-known activist and writer Frances Moore Lappe´, author of the classic Diet for a Small Planet, a book that introduced Americans to the idea of thinking about food and its role in ecology and the world economy, and how food is so deeply intertwined with economics and politics.  Anna has therefore been involved in food issues since she was a child.  She and her mother collaborated on another interesting and challenging book, Hope's Edge in 2002. So it's not a surprise that she is so thoroughly cogent and coherent writing and talking about food issues in the context of climate change.
As Anna says on one of her many website, takeabite.cc, "the food system is responsible for as much as one-third of all greenhouse gas emissions. These emissions are particularly alarming because the food sector is the biggest driver behind methane and nitrous oxide emissions, which have global warming effects many times more powerful than carbon dioxide."  In Diet for a Hot Planet, Lappe´ goes straight to the heart of the issue: if we are going to think about the global climate crisis, we have to think about our food system, and if we are going to make change to mitigate the effects of climate change, we must make changes (now) in the global industrialized food system that dominates most of the world today.
This book was extensively and deeply researched; Lappe´ talked to many scientists, went to UN, governmental, corporate, and grassroots agriculture conferences, worked her way through many lengthy and dense reports and studies, and also visited organic farms around the world.
In this book she has put together an impressive array of facts proving that global industrial agriculture—specifically the use of hazardous chemicals, concentrated animal feeding operations, biotech crops, and processed foods—is impoverishing the land, destroying rain forests, polluting waterways, and emitting nearly a third of the greenhouse gases that are heating the planet.
By contrast, intelligently designed and operated organic-farming methods reduce carbon emissions and toxic waste while at the same time nurture soil and biodiversity.  Lappe´is convinced (and will likely convince you) that eating according to ecologically appropriate principles can not only influence the marketplace and help combat world hunger and climate change, but will make us healthier and safer as well.  Lappé also decodes food labeling, exposes Big Ag's "greenwashing" tactics, and offers "seven principles of a climate-friendly diet."
With a terrific foreword by the brilliant Bill McKibben, Diet for a Hot Planet should be essential reading for anyone who is trying to grapple with making real change in the way we live on this fragile planet.  Anna is a terrific public speaker and our talk for WritersCast is lively, full of information, and optimistic and positive as Anna herself.
Anna Lappe´related organizations and websites should be on your bookmark list:
Take a Bite Out of Climate Change
Small Planet Fund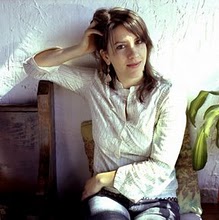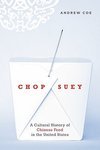 978-0195331073 – Hardcover – Oxford University Press – $24.95
Andrew Coe is a very fine writer indeed – his experience as a journalist shows.   Like Mark Kurlansky (Cod, still one of my favorite books among many others he has written), Andrew takes deeply researched historical information and presents them smoothly, telling stories that are packed with fascinating details to bring a subject we think we know into much clearer perspective.
In Chop Suey, Coe takes us on a long journey, beginning in 1784 with the earliest contacts between Americans and China.  Throughout, it is hard not to be surprised and sometimes embarrassed by the incredible self centered and disrespectful Americans.  At times they were better at understanding and working with the absolute foreignness of Chinese culture and experience than were the Europeans, but only marginally so.  At the time the first wave of Chinese immigrants came to America in the mid-19th century, only a few Americans knew anything meaningful or substantive about China and the Chinese, and much of what they did "know" was untrue or seriously exaggerated.  And later, American xenophobia reached astonishing heights, as Coe documents, with the now forgotten banning of citizenship to Chinese people who had as much right to be here as any other immigrants.
The gulf of understanding between Americans and Chinese had a great deal to do with the way Chinese food was received in this country, but Coe documents in compelling detail, the way that Chinese cuisine came to become the integral part of the American cuisine that it is today, with over 40,000 Chinese restaurants of many different kinds.  With the gradual Chinese migration to the East Coast, eventually New York "Bohemians" discovered Chinese restaurants, and made wildly popular, the seemingly new dish, chop suey.  In fact, according to Coe, it was a peasant cuisine from one part of China that came to dominate Chinese-American restaurants.
There are many great stories along the way to where we are today.  Coe talks about how American Jews fell in love with Chinese restaurants and in particular makes a great story of President Richard Nixon's 1972 trip to China and how it opened minds and palates across America.  This was a particularly fun part of the book for me.  For anyone who loves food of any kind, and especially the intersection of food and culture, this book will be a pleasure to read.
Talking to Andrew was a pleasure.  He gives a terrific interview – fully in command of his subject, and really fun to talk with.  I think that hearing our discussion will encourage readers to seek out this wonderful book.  I am certainly looking forward to his next book.