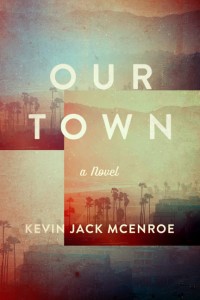 978-1-61902-528-8-1 – Hardcover – $25.00 – Counterpoint – 229 pages
ebook versions available at lower prices
I happened across this young, tattooed writer sitting in a publisher's exhibit space at Book Expo earlier this year, and since it was Counterpoint, a publisher whose work I deeply respect, I shook his hand and took a copy of the book.
It took me a couple weeks before I started reading this novel, and then I was immediately captivated. Our Town is a great story, interestingly constructed, and really well written. The author plays with voice and perspective throughout, there are shifts in narrative viewpoints, and as it is telling a story through time about a number of different characters, all that prismatic dancing really worked for me.
This is McEnroe's first novel, and there are inevitably some rough patches, and maybe even some missing pieces (I would have liked a bit more writing about the main characters' children, for example). The novel traces the life of a minor Hollywood actress, Dorothy White, her husband Dale, and their children, Dylan and Clover. It's a feat of imagination on the part of author McEnroe, to inhabit place, time and people whose lives he could never possibly have experienced in any direct way. I thought he captured that hazy, sometimes glowing world of Hollywood in the fifties and sixties quite brilliantly.
There is an incredible amount of sadness and pathos in this novel, unavoidably, as the lives that are traced here are broken in so many ways. These are people who are trying to be real but who are trapped in the imagery of pop culture, not strong enough themselves to find themselves in the trappings of fame and celebrity, unable to be self aware enough to become whole, or even close to whole. Their tragedies are inevitable by products of impossible aspirations.
McEnroe captures the desire, and the striving and the power of hope throughout. From what I can tell, he has his own demons to wrestle with, but as they motivate him to go deeper into his own understanding, his sure handed talent will serve him well. Our Town is a terrific novel – I resisted the hackneyed impulse to say "first novel" by the way – demonstrating that the author has a terrific set of writing skills and the promise of much more to come. Definitely a book to read and ruminate on.
Kevin Jack McEnroe lives and writes in Brooklyn, New York. He received his MFA from Columbia University.
"From Lou Reed to Joan Didion, the tale of the young and the not-so-young Hollywood starlet has been treated with a gimlet-eyed intelligence. What makes Kevin Jack McEnroe's Our Town so striking is not just his fierce intelligence —although there is certainly that— but his masterful flexibility of tone. Written with both razor-keen irony and surprising, startling depth of sympathy, Our Town is magnificent." —Matthew Specktor, author of American Dream Machine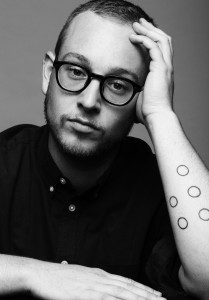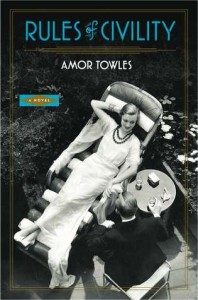 978-0670022694 – Viking – Hardcover – $26.95 (ebook and audiobook versions also available)
Amor Towles' Rules of Civility has become my favorite books.  This WritersCast interview series has allowed me to read some incredibly good books this year; Amor Towles' story of New York City in 1938 has risen to the top of my list of novels I fell in love with.
Rules of Civility opens with the book's heroine, older, successful, married, with her husband viewing the famous mid-sixties Museum of Modern Art showing of Walker Evans' 1938 New York City subway photographs. She and her husband see and talk about two particular photographs – a man she knew in 1938 and who mattered hugely to her life and helped shape the arc of her entire life.  Then the real story begins, as flashback to that high intensity period of her life, when by accident, she began the process of becoming the person we meet at the opening of the book.
It's a great way to start a book.  Reminding us of just how much a role chance and happenstance – and what we make of it – means to our lives.  Author Towles loves the way opportunity winds around us, especially it seems at the fraught time in our lives when we are setting out in the world to define ourselves, when we make the choices that define our lives, sometimes purely accidental, sometimes with just an inkling that these choices will have monumental effects.
There is a wonderful story here.  Our heroine, Katey (who grew up as Katya, an immigrant's daughter), is living in Manhattan.  It's 1938, still Depression era America, but just on the cusp of its ending.  New York is both gritty and glitzy at the same time.  Katey is working as a legal assistant, going out at night with her limited funds and her few friends.
One night, she and her best friend meet a man who will thrust Katey into a new life, where she meets the smart set of society, and gains the confidence to become a modern, successful woman, in many ways mirroring the American story arc of the same period.
Towles is a terrific writer, and I found myself reading some passages aloud to revel in the beauty of his sentences.  He brings New York in 1938 to life, reminding us how close we actually are to what is now almost a forgotten period of our history.  The book made me want to see again some of the great movies of this era, all of which shared the ironic understanding of modern culture this book displays.  I'm quite certain Towles has seen them all and internalized their values.
You need to read this story for yourself – it's complicated and has an utterly rewarding denouement.  Suffice to say, Katey learns a great deal about the people she meets, loves some, despises others, and absorbs what she learns on the way to becoming herself.  This one year is the pivot point for her entire life, and the sense we get from the story is that New York has engendered the same for millions who came there for a very long time, though probably for many less self-aware than Katey and her author, Amor Towles.    Here's one of the great lines from the book that in some ways encapsulates the story it tells: "from this vantage point Manhattan was simply so improbable, so wonderful, so obviously full of promise — that you wanted to approach it for the rest of your life without ever quite arriving."  Perfect.
This is Amor Towles' first published novel.  In our discussion, we talked about how he was able to write it, despite having a full time job and a family.  And we talked about the story of the novel, and its characters, and about New York in the 1930s, a great and somewhat neglected period for fiction.  It's a great book and I hope an equally rewarding conversation for listeners.
Amor Towles website is worth a visit.  And you also might enjoy George Washington's Rules of Civility (& Decent Behaviour In Company and Conversation) which plays a critical role in this novel.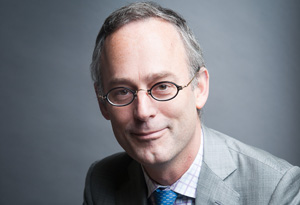 And a nonfiction piece he wrote called What I learned from Cole Porter on Oprah.com.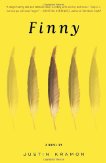 978-0812980233 – Random House – Paperback – $15.00 (also available as an ebook at $9.99 or less)
Finny is a wonderful first novel, a coming of age novel (and more), at the center of which is a wonderful character – Delphine "Finny" Short of course.   This is Justin Kramon's first novel, and he is a very good writer.  He's been writing and publishing short stories up to now, in literary magazines like Glimmer Train, TriQuarterly and elsewhere, but I think his future lies in the longer form a novel affords.
This novel begins when Finny is 14, and continues on through many more years of her life, with many adventures, and a large cast of really well drawn characters.  Many reviewers have mentioned Dickens as a comparative, and that is apt, as Justin himself makes clear that the Dickensian model was on his mind when he was writing this book.  He does very well with the large story arc, which gives the author enough room to really explore the inner life of his major characters.
Life is complicated, relationships that seem to have promise fall apart, and sometimes we have to deal with surprises in the way things actually work out.  As Finny says herself about life, it is "hilariously funny and devastatingly sad. And only if you saw both things could you ever have a realistic idea of the subject.''  It's hard not to agree with the author and his character on this point, especially after spending time with Finny and her life story.
So even though there's much in Finny's life that is difficult, sad or disappointing, in both family relationships, love life and friendships, overall, her character comes through as positive about life and how she has lived it, somewhat idiosyncratically, and with a good bit of humor.  That's probably true of the author as well, and it's a compelling journey for the reader.  There's a lot of richness here, and a thoroughly enjoyable novel it is.
I also enjoyed talking to Justin about his book, its characters, how he came to write this novel, his work as a writer and where he is going in the future.  He's got a really good sense of himself as a writer,an engaging personality, and a fine command of his craft at this early stage of his career.  I think there's much more good work to come from this novelist, work I will certainly be looking forward to reading.
I do also want to mention Justin's website, which is one of the better author or book sites I have seen lately.  There's alot of fun stuff there, especially fun is the section called "Finny's World" where the characters in the novel are drawn as imagined by artist David Ostow.  It's definitely worth a visit.