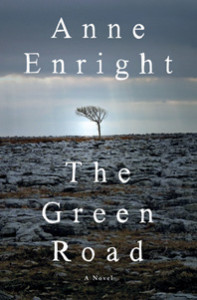 978-0-393-24821-0 – Hardcover – W.W. Norton – 2015 – 314 pages – $26.95 (ebook versions available at lower prices)
Anne Enright is an Irish fiction writer who has been widely praised for the lyrical quality of her prose and for eccentric characters and heartfelt renderings of modern family life, received the 2007 Man Booker Prize, the British Commonwealth's most prestigious literary award, for her novel, The Gathering (2007). In that year's competition, her book was considered a longshot for the prize, but nonetheless was was selected unanimously by the panel of judges. The Gathering was also named "Irish Novel of the Year" at the 2008 Irish Book Awards.
Subsequently, Enright wrote and published more novels, including The Forgotten Waltz (2012) which won the Andrew Carnegie Medal for Excellence in Fiction, about which Francine Prose said in her NY Times review, "a nervy enterprise, an audacious bait-and-switch. Cloaked in a novel about a love affair is a ferocious indictment of the self-involved material girls our era has produced."
Enright went to college at Trinity College, Dublin, and took an MFA in writing at University of East Anglia in England, but soon after ended up working in television production in Ireland, which she did successfully for several years. She then turned to writing, first short stories, and then novels, at which she clearly excels. Since the Man Booker prize raised her profile exponentially, she has won numerous awards and traveled widely in support of her novels.
Enright's newest book, The Green Road, is about a very modern Irish family, splintered and scattered, but always focused on the mother, the unhappy and complicated Doraleen. The family lives in County Clare, the farthest eastern shore of Ireland, as Enright says, the last stop before America, a place of immense beauty and also loneliness and struggle for those who continue to live there. And there is a real green road there, the old path along the water.
For the first half of the book, Enright alternates voices and scenes, from County Clare to New York to Africa to Dublin as she introduces us to the children in the Madigan family. And then the scene shifts back to the home turf of the family, as the children return for their mother's birthday, together for the first time in many years. And this is where the heart of the novel lives.
It's a beautiful book, one that has stayed with me after I read it, and even after I had the opportunity to talk about the book, the characters and the writing process with author Enright. She is an incredibly accomplished writer, able to convey immense depth about characters, a places, or events, with an economy of language and a piercing eye. We had a lively and interesting conversation while she was in New York on her book tour. And I am really pleased that she was willing to read two sections of the book, as hearing the author's voice in this particular instance is terrifically important as her tone and intonation helps us feel the book more deeply.
I also had the pleasure to welcome her to the United States as she is now the first official Irish Fiction Laureate. This recording is of a wonderful conversation with one of our best living novelists, about a novel I am happy to recommend to all readers. And here is a terrific piece she wrote about the writing of the book for The Guardian (which we did talk about in our conversation). While I could not find a website for Ms. Enright but here is a pretty nicely done fansite for her work. And for those of you who have become fans of Enright's work, this interview in the Paris Review about The Forgotten Waltz will be of interest as well.  Publisher WW Norton has a page for the author here.
Photo of Anne Enright credit Domnick Walsh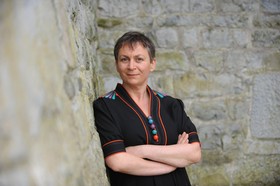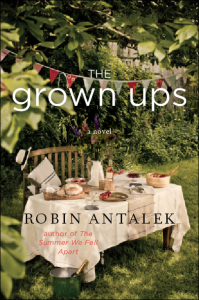 978-0-06-230247-2 – William Morrow – 384 pages –  trade paperback- $14.99 (ebook editions available at lower prices)
I genuinely enjoyed this evocative coming-of-age novel.  I thought it captured the current generation of almost-thirty somethings really beautifully.  It's well written and well structured and very sympathetic on a number of levels for a wide range of readers.
The book starts with the central character in this faceted story, Sam Turner, in the summer he is fifteen, the crucial and in some ways defining moment in his life. Just as he connects with Suzie Epstein, the gorgeous girl next door, his mother abandons his family without warning or explanation. While his older, hard working brother Michael, who is a freshman in college and their attorney father both appear to accept her absence as a matter of course, Sam cannot. He is confused, and more deeply hurt by his mother's departure and struggles to understand how she could simply disappear and leave her family behind.  And at the same time, Suzie's family suddenly moves away as well. This sense of loss is something he will carry with him throughout the rest of the story.
From this opening, the rest of the book covers the years as Sam and his friends (and brother) grow into adulthood. As one might expect, life is complicated, shit happens, good and bad, and life goes on. Author Antalek navigates this territory brilliantly, telling the stories of the key characters in alternating voices.
Suzie has her own family issues, and remains separated from her old friends for many years. Then a chance meeting with Michael reunites her with Sam and her former best friend Bella, whose first love was Sam. The Grown Ups explores the complicated process of growing up in the modern world. And through it all, we come to understand and appreciate the way her characters handle what it means for them to take on the mantle of adulthood. For most of us, it seems this is how growing up really works, accidents mixed with intentions to create being, meaning, and love. This book is a rewarding read, and one I thoroughly enjoyed. And I felt the same way talking to author Antalek about her book. We had a very fun time talking together about the writing of this book, her characters and life in general.
Robin Antalek is also the author of The Summer We Fell Apart (HarperCollins 2010) which was chosen as a Target Breakout Book. Her non-fiction work has been published at The Weeklings, The Nervous Breakdown and was been featured in several collections, including The Beautiful Anthology, Writing off Script: Writers on the Influence of Cinema, and The Weeklings: Revolution #1 Selected Essays 2012-2013. Her short fiction has appeared in 52 Stories, Five Chapters, Sun Dog, The Southeast Review and Literary Mama among others. Robin has received three honorable mentions in Glimmer Train's Family Matters and New Fiction Writer's contests as well as an honorable mention for the Tobias Wolf Fiction Award.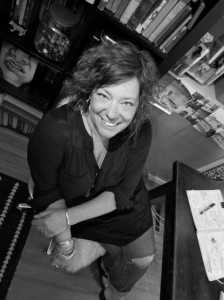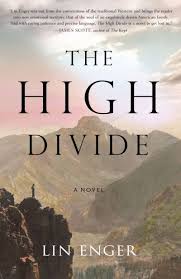 The High Divide: A Novel – 978-1616203757 – Algonquin Books – Hardcover – $24.95 – ebook versions available at lower prices. Paperback edition due to be published in 2015.
This is a wonderful novel, set in a period and place I have long been drawn to, the northern plains of the late 19th century. In The High Divide, Enger tells the story of a family – father, mother and two young sons – who are living a typical hard life in Minnesota. One day Ulysses Pope, the father walks out and when he fails to return, his family must try to cope, and of course, try to understand why he left and where he has gone. Driven by a desperate need to know more, the two sons set out to find him, leaving their mother, Gretta, at home to worry about her family, and then herself to set out on her own journey, now to search for her missing family.
Their searches lead them to the rough frontier country of Montana, that still reverberates with the terrible era of conquest of American Indians and destruction of the buffalo, massive changes in land and culture. Gretta must grapple with the possibility of losing her husband to another woman, and the boys must decide where their loyalties lie, and what they must do to save their family. Ultimately, the father's secret must be uncovered, his story told, and the family come to terms with their history, in order to be able to go on. In my discussion with Lin, we covered alot of interesting territory. I very much enjoyed our conversation and the opportunity to talk to him about this excellent book and his thinking about writing.
The High Divide is a confidently told and powerful story, set in a period when modern terms of psychological awareness and emotional understanding did not exist. All the characters are ultimately trying to come to terms with the damage done by war and violence. Enger is fully in command of his story and characters, and pulls the reader through to a well earned climax. I really enjoyed this book, and am happy to have discovered a writer whose work I will now be following with interest.
Lin Enger
I grew up in Minnesota, have spent most of my life in the state, and now live in Moorhead, where I teach English at Minnesota State University. Over the years I have received several awards for my fiction: a James Michener Fellowship, a Minnesota State Arts Board Fellowship, a Jerome travel grant, and a Lake Region Arts Fellowship. I have an MFA from the Iowa Writers' Workshop, where I was a Teaching-Writing Fellow. My first novel, Undiscovered Country, was published by Little, Brown and Company in 2008. My short stories have appeared in Glimmer Train, Ascent, Great River Review, American Fiction, and other journals. During the 1990s my brother, the novelist Leif Enger, and I had a great time collaborating (as L. L. Enger) on a series of mystery novels for Pocket Books.
"The High Divide is a deeply moving, gripping novel about one man's quest for redemption and his family's determination to learn the truth. Written with lean, crisp prose, Enger seamlessly blends historical events with the personal, and deftly pulls the reader into America's Great Plains during the 19th Century. The narrators' voices are captivating, and I was spellbound by the author's ability to express the human condition and especially the complicated bonds between fathers and sons. Layered with meaning, this remarkable novel deserves to be read more than once. The High Divide proves Enger's chops as a masterful storyteller." —Ann Weisgarber, author of The Promise
"The High Divide, a novel about a family in peril, is haunting and tense but leavened by considerable warmth and humanity. Lin Enger writes with durable grace about a man's quest for redemption and the human capacity for forgiveness."
—Benjamin Percy, author of Red Moon
"Lin Enger sets out from the conventions of the traditional Western and brings the reader into new emotional territory, that of the soul of an exquisitely drawn, American family. Told with caring patience and precise language, The High Divide is a novel to get lost in."
—James Scott, author of The Kept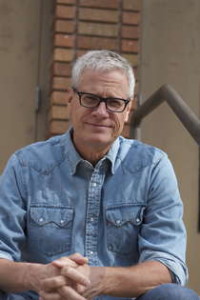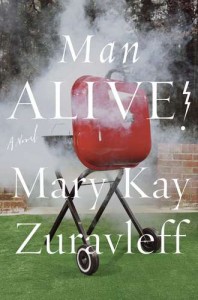 Man Alive! (a novel) – 978-0374202316 – Hardcover – Farrar, Straus & Giroux –  $25.00 – eBook versions available (and paperback to be published October, 2014)
I loved reading this book. It has a great sense of humor, it's complex without being too serious about itself, and a story that grabs you from the beginning and won't let go. Mary Kay Zuravleff is a terrific writer, original and entertaining. And there's a lot going on to keep you thinking throughout. Man Alive! tells a great story. Rather then me bending myself into a pretzel to tell you about it without giving away too much, here's the author's own short summary (from her terrific website – just like her writing, a busy and interesting place to visit):
The one-paragraph version, no spoilers:
All it takes is a quarter to change Owen Lerner's life. When lightning strikes the coin he's feeding into the parking meter, the pediatric psychiatrist survives, except that now he only wants to barbecue. The bolt of lightning that lifts Dr. Lerner into the air sends the entire Lerner clan into free fall, and Man Alive! follows along at that speed, capturing family-on-family pain with devastating humor and a rare generosity. This novel explores how much we are each allowed to change within a family—and without.
I'm late getting this interview posted. I talked to Mary Kay shortly after Man Alive! was published in late 2013. I wish I had known about her work before, but at least now I know I have two more books of hers to read.  And I am looking forward to her next book.  It's not often you can have this much fun with a novel. Talking with her about this novel, as well as how she works as writer, was a distinct pleasure, and very entertaining. She is as fun to talk to as it is to read her work. Alice McDermott called her writing "exuberant." I can't think of a better word myself.
Mary Kay's previous novels were The Bowl Is Already Broken and The Frequency of Souls. She received the American Academy's Rosenthal Award and the James Jones First Novel Award, and was nominated for the Women's Prize for Fiction. She lives in Washington, D.C., with her husband and two children. Mary Kay serves on the board of the PEN/Faulkner Foundation and is a cofounder of the D.C. Women Writers Group.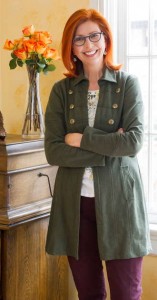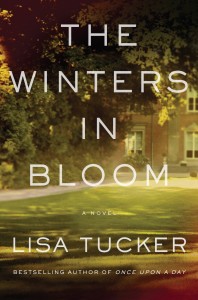 978-1416575405 – Atria – Hardcover – $24.00 (ebook editions available)
From the author's website describing The Winters in Bloom:
Together for over a decade, Kyra and David Winter are happier than they ever thought they could be.  They have a comfortable home, stable careers, and a young son, Michael, whom they adore.  Yet because of their complicated histories, Kyra and David have always feared that this domestic bliss couldn't last – that the life they created was destined to be disrupted.  And on one perfectly ordinary summer day, it is: Michael disappears from his own backyard.  The only question is whose past has finally caught up with them. David feels sure that Michael was taken by his troubled ex-wife, while Kyra believes the kidnapper must be someone from her estranged family, someone she betrayed years ago.
As the Winters embark on a journey of time and memory to find Michael, they will be forced to admit these suspicions, revealing secrets about themselves they've always kept hidden.  But they will also have a chance to discover that it's not too late to have the family they've dreamed of; that even if the world is full of risks, as long as they have hope, the future can bloom.
The Winters in Bloom is the first book I have read by Lisa Tucker, whose books are about families and relationships.  I wasn't sure when I started it whether I was going to finish, I was worried that it was going to be formulaic and predictable, and especially at the outset of the novel, where the two parent characters are introduced, I was very nervous about where this book might go and whether I could stay with it.
It turned out that I could not put it down.  It is full of surprises, deeply felt, complicated in ways that are better left for the reader to discover for her or himself.  I ended up of course, loving the book, and looking forward to talking with Lisa about her characters and her writing.  And did I say, she is a terrific writer?
As with the title itself, which has a subtle ambiguity, this novel will offer readers depth and a kind of thoughtfulness about what a family can and should be, that runs counter to our initial expectations for it.  I really liked being surprised by this book.  Lisa also gives a great interview and I think you will enjoy hearing our conversation about her book.
I really liked this quote about the book too:
"Brilliant, tender, and  riveting. . . Reading The Winters in Bloom is like falling into some beguiling dream,  one you don't want to wake from. There is a fascinating strangeness at work here, an off-kilter logic that keeps you enrapt and breathless. This is what can happen to people like us when the past comes calling. Lisa Tucker has not  described a world; she has created one unlike any you've never seen. She has breathed life into her characters, and they will breathe life into you."
— John Dufresne, author of Requiem, Mass
Lisa Tucker's website is worth a visit also.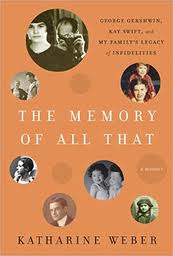 978-0307395887 – Crown – Hardcover – $24.00 – ebook editions also available
Katharine Weber is best known as a novelist – I interviewed her last year about her wonderful novel True Confections and she has written many more fine books.  The Memory of All That, subtitled "George Gershwin, Kay Swift and My Family's Legacy of Infidelities is both a memoir of her own family, as well as a history of a certain slice of twentieth century America, primarily focused on her grandmother, Kay Swift, whom she loved, and her quite unusual and difficult father, Sidney Kaufman, with whom her relationship was far more complicated to say the least.
Sidney Kaufman was a larger than life character, but mainly one of his own making, someone who spent years trying to "make it" in the movies and never succeeding.  He was also a narcissist, a husband who literally neglected his wife and family, and who had numerous long lasting affairs.  One most notable was an affair that lasted for years with Beatrice Buchman, wife of the famed (blacklisted) screenwriter, Sidney Buchman (who happens to be my father's first cousin).
Sidney Kaufman also was a target of a decades long investigation by the FBI, initially because the agency confused him with another Sidney Kaufman, a longshoreman who joined the Abraham Lincoln Brigade to fight fascism in Spain.  And hilariously, Kaufman was such a fantasist, that the FBI itself could not tell the facts about his life from the fiction.  Not so hilariously was the effect of Kaufman's absences and failures to relate to his family, which deeply affected the author of this book, as she recounts in some deeply moving passages in this book.
But in many ways, the focus of this book is really on Kay Swift, known even today for her wonderful music, as well as for her lengthy romance (and musical collaboration) with renowned composer George Gershwin.  Weber tells her grandmother's fascinating life story with a great deal of love, and of course intimacy, and provides an insider's view of many details of her life and relationships with her husbands and lovers.  Swift is in many ways an iconic, 20th century American woman, who made her way among men at a time when doing so was unusual and difficult, and required considerable verve and inner direction.  And while she had many material advantages, the challenges she faced and overcame, both personally and professionally, were significant and testament to her powerful inner being.
Weber's grandfather was James Paul Warburg, and here introduces us to him and the rest of his famous banking family.  Interesting stories are here in abundance.  Grandfather Warburg advised and feuded with President Franklin D. Roosevelt, great-uncle Aby Warburg, while eccentric to say the least, was responsible for significant theories in art and myth, and the family was at times dominated by the unusual psychoanalyst Gregory Zilboorg (who slept with his patients on a regular basis, and turned George Gershwin against Kay Swift when she decided to stop allowing him to sleep with her!)
Overall, this is an engaging, beautifully written and emotionally powerful book.  Katharine Weber's family has been complicated, brilliant, interesting, and influential in many areas of American life, and of course has made her the writer she is today.  She tells the story of her family with humor, love and a keen eye for emotional detail, and gives us a portrait of herself at the same time.
In my conversation with Katharine we talked about her father, and the complexities of his life, as well as her relationship with Kay Swift and how this book came to be written.  It's a terrifically engaging story she has to tell and we had a great talk about her really great book.
Katharine Weber's website is here.  The Memory of All That got a terrific review in the NY Times:
"…Ms. Weber's account of her relationship with her manipulative fabulist of a father brings to mind classic autobiographies of unmoored childhoods, like Mary Karr's "Liars' Club" and those companion volumes from the brothers Wolff, "This Boy's Life" (Tobias) and "The Duke of Deception" (Geoffrey)…It's when Ms. Weber remembers Papa that her considerable skills as a writer are most seductively on display. And it's not just because the exasperating Kaufman is such a good subject. It's that Ms. Weber is able to arrange words musically, so that they capture the elusive, unfinished melodies that haunt our memories of childhood. As her grandmother's lover might have put it, she's got rhythm." – Ben Brantley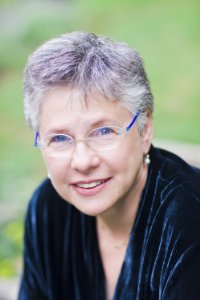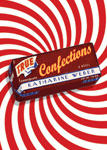 978-0307395863 – Hardcover – Shaye Areheart Books – $22.00
What a fun (and challenging) book!  Any novel that takes place in my favorite city, New Haven, Connecticut, is a book I will want to read.  And I did really enjoy reading this book.  Katharine Weber has created a wonderful main character, the complicated and challenging Alice Tatnall Ziplinsky, who has married into the family that runs the famous Zip's Candy Company.  True Confections is her story, and through her, it is also the story of an immigrant family in America, the romance of candy, family secrets, and the complexity of relationships.  Because the entire story is told by Alice, we don't ever quite know what is real and what is not, and we are forced to confront actual meaning of narrative.
So it turns out that this this funny, warm, and sometimes poignant novel masks an underlying depth of transposed loves, where family becomes defined by relationship rather than blood.  In fact, almost every important character in the book has to deal with displacement.  It's great to read a book with depth and complexity.  As the author says: "… at its heart, True Confections is about timeless and universal themes: love, betrayal, and of course, sweets."  I should also add that fire – of the destructive kind – also plays an important role in this story, so it's not all about the sugar.
I enjoyed the opportunity to interview Katharine Weber about the novel, her characters, and of course, New Haven, where she lives, and where this novel is set.  The book is rich in subjects and so is our discussion; we talked extensively about her novel, New Haven, the unreliability of narrators, candy, Jewish families and their businesses, and of course, candy.  True Confections is a terrific novel; Katharine Weber is a fine writer who also knows how to talk engagingly about her work.