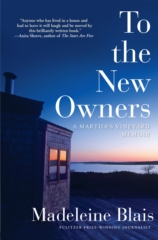 To the New Owners: A Martha's Vineyard Memoir – Madeleine Blais – Atlantic Monthly Press – Hardcover – 978-0-8021-2657-3 – $26.00 – 272 pages – July 2017 (ebook versions available at lower prices)
Madeleine Blais is a truly wonderful writer – she began her writing career as a journalist, now teaches journalism at the University of Massachusetts, and won a Pulitzer Prize for her 1994 book In These Girls Hope is a Muscle. But I had never really read her work before my friend George Gibson, knowing I had spent time on Martha's Vineyard, recommended this book to me. Reading this book was a great experience for me, one of those times when I found myself reading sections aloud to my wife, who spent most of her life going to Martha's Vineyard each summer. This book is full of beautiful passages about place, family, and the magical experiences that summer vacations engender for so many of us.
Back in the 1970s, Madeleine Blais married into the Katzenbach family, and with them, their somewhat rustic vacation house on Martha's Vineyard. Located on an old one-lane dirt road, the house was more a shack, without electricity or running water. But for spending old fashioned quiet vacations decompressing from daily life, the house was ideal, and very representative of the kinds of places that were then common in traditional east coast vacation spots.
The house was near Tisbury Great Pond, facing the ocean and open to the sky, and over the years, the old shack was rebuilt and modernized, but the more or less rustic lifestyle of the family and their visitors remained a constant. There was no heat, no TV, and no telephone, and typically terrible cell service. But as Blais documents, the days were marked by time spent on the beach and on the Vineyard's beautiful waters, meals prepared and enjoyed with extended family and their many visiting friends, all logged in a series of notebooks made by the family over the decades – almost half a century of family stories to be preserved and loved.
But life is full of changes and with the passing of the original family owners, in 2014, the house was sold. In To the New Owners, Madeleine Blais tells some of these stories of the house and her family's life within it, and stories of the Vineyard, including some of its recent history, and some of the people whose visits have now made it so well known.
But this book is really about the places that matter in our lives, the power of place to ground and center our lives and the importance of memory and stories to help us understand who we are.
While this book is a memoir about this one distinctive east coast island, it will resonate for the many of us who have experienced well-loved places that have changed over time. Change is the constant feature of modern life, and family summer places like this one may be disappearing forever. New generations will find their own ways to understand and appreciate the places around which they build their histories. Those of us who have had the pleasure of experiencing Martha's Vineyard will likely love this book as much as we love the island itself, and remind us of our own stories and the memories that keep us whole.
Madeleine Blais was a reporter for the Miami Herald for years before joining the faculty of the School of Journalism at the University of Massachusetts. She is the author of In These Girls, Hope Is a Muscle, Uphill Walkers, and The Heart Is an Instrument, a collection of her journalism. She lives in Amherst, Massachusetts.
Aside from being a fine writer, Madeleine also tells great stories, and gave us a wonderful interview. Special thanks to George Gibson for recommending this excellent book to me.
"For anyone who has ever been curious about life on the Vineyard, or fantasized about settling in, Blais offers a diverting portrait . . . Blais has stitched together [the memoir] from the writings and stories of others, as well as her own wistful, often wry observations . . . Throughout, Blais exhibits a veteran reporter's instinct for even-handedness."―Boston Globe