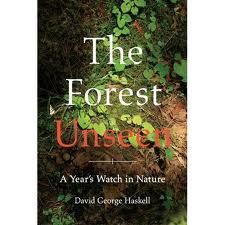 9780143122944 – Penguin – paperback – $16.00 (ebook versions available, hardcover also)
Most of us are not very good at seeing the details in the world that surrounds us.  We're in a hurry, we're overloaded with information, and we don't really have the patience for the kind of looking that it takes to absorb and think about that kind of information.
The brilliant geographer, Carl Ortwin Sauer observed this about naturalists:
"Much of what [they] identify and compare lies outside of quantitative analysis. Species are not recognized by measurements but by the judgment of those well experienced in their significant differences. An innate aptitude to register on differences and similarities is joined to a ready curiosity and reflection on the meaning of likeness and unlikeness. There is, I am confident, such a thing as the "morphologic eye," a spontaneous and critical attention to form and pattern. Every good naturalist has it…"
This is a fairly apt description of the work that naturalist David George Haskell undertook before writing The Forest Unseen: A Year's Watch in Nature.  And what a beautiful book it is!
Haskell is a biologist at the University of the South in Sewanee, Tennessee.  He located a small piece of old growth forest nearby (old growth forest typically still exists in relatively tiny pockets in places where the terrain was too difficult for loggers to get into).  With a certain nod to Buddhism, Haskell found a one meter by one meter square piece of forest he termed his mandala, and committed to spending a full year in close observation of this tiny sampling of an original and relatively undisturbed ecosystem.
Over the course of that year, he intrepidly sat and watched, and sometimes closely examined with a magnifying glass, what happened in his square meter of land.  Each time he visited what ultimately became his meditation place, he recorded what he saw, and then researched and wrote about what had happened during that day.  Of course this sounds mundane and almost plodding.  And in lesser hands, this would just be a perhaps valiant exercise in close observation,.  But it's in the writing and the meditative exploration that Haskell was able to transform his seen experience into magical prose explorations of nature and what it means to us.
Finding a tick on him leads to a discourse on the life cycle of the tick that is worth re-reading several times.  Hearing a chickadee in winter leads him to write about the amazing ways that these little birds survive the winter.  Finding a golf ball in his sacred space (this may be a piece of wilderness but it's boundaries by a nearby golf course) provides Haskell with the opportunity to explore the meaning of what is the definition of "natural" and the relationship of humans to nature.
David Haskell writes beautifully about nature, but as well, writes brilliantly about the ideas that closely examining the natural world inspire in an intelligent and perceptive human being.  You can read this beautiful book simply to learn a great deal about a wide range of creatures and plants that we often take for granted, how an ecosystem works across time and changing seasons, and how in fact any of us could learn more by close observation.  You can also read this book simply for the sheer beauty of the writing, and the brilliance of its descriptive passages.  Haskell has extended beyond scientific or nature writing with a poetic and spiritual grace and the power of contemplative thought to create something very special and uniquely his own.
This is a book I have been buying frequently to give to friends and family (I am related to two active biologists), and recommend to everyone as one of my favorites.  It was a great pleasure to talk to David Haskell about his work.  I've been enjoying reading his blog, called Ramble, now on a regular basis, it's a wonderful journey for anyone interested in the natural world and how to see it clearly.
Haskell holds degrees from the University of Oxford  (B.A. in Zoology) and from Cornell University (Ph.D. in Ecology and Evolutionary Biology). He is Professor of Biology at the University of the South, where he has served both as Chair of Biology and as an Environmental Fellow with the Associated Colleges of the South. He is a Fellow of the American Council of Learned Societies and was granted Elective Membership in the American Ornithologists' Union in recognition of "significant contributions to ornithology." He served on the board of the South Cumberland Regional Land Trust, where he initiated and led the campaign to purchase and protect a portion of Shakerag Hollow, where the The Forest Unseen is set, a forest that E. O. Wilson has called a "cathedral of nature."  David Haskell lives in Sewanee, Tennessee, where he and his wife, Sarah Vance, run a micro-farm (with goat milk soaps available for purchase at Cudzoo Farm's pretty cool website).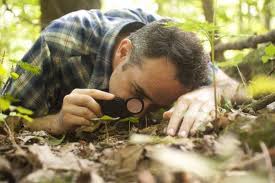 Note to listeners – I read this book in its lovely Viking hardcover edition, this interview is being posted in February, 2012; as of the end of March 2012, the paperback edition will be available.  The cover here is of the hardcover edition.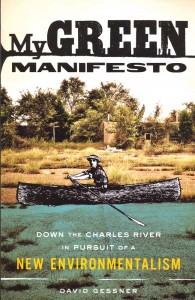 978-1-571313-24-9 – Milkweed Editions – paperback – $15 (ebook editions available)
David Gessner is a sort of post-modernist environmentalist.  He's written a number of books that celebrate the natural world and the wild, and he is a terrific writer capable of transcendent prose and has the keen observer's eye that anyone writing about nature must have.  But he understands the difficulties and contradictions that suffuse contemporary civilization.  And he has a sense of humor and irony (which environmentalists are not always known for).
In My Green Manifesto, he addresses a major issue that affects so many of us who feel strongly about the arc of modern civilization, that its inertia is overwhelming, the problems so great, the solutions so elusive, and the efforts of individuals so ineffectual as to make us lose all hope of being able to make meaningful change.
The book takes us through Gessner's journey from the headwaters of the Charles River to its end in Boston's urban harbor.  His trip is made for the most part in company with a true environmental hero, Dan Driscoll, who almost single-handedly spurred the suburban and urban communities along the once highly polluted river to make significant changes to both restore and protect the river and riverside ecology.  They travel in a leaky canoe, drink beer, sleep in tents, and enjoy the pleasures of a "limited-wild" experience.
Gessner takes heart from the work Driscoll has done, and shows us how important his practical efforts have been.  "This new picture is that of a man or woman who knows how to get things done, who understands the value of momentum, of focus on a particular project. Not a shrill or dry or particularly flowery environmentalism … Someone willing to get in [a] fight and 'Sue the bastards.' Someone willing to stick their nose in there and feel what it's like to get bruised. And someone willing to stay locked in that fight for years, even if it costs them emotional as well as actual capital.''
Gessner writes with great humor and joy about the pleasures of being in nature, wherever one lives, and that is the core of his manifesto.  His ideas will resonate for many who are not willing, able or equipped to spend significant time in distant wildernesses. And as a "manifesto" this book will be easy for most readers to digest and accept.  Gessner's message is positive and powerful because it is realistic and not preachy and because so many of us can relate to his experiences of the joy of being in nature and at the same time despair over the sheer extent of modern society's environmental unconsciousness.
Gessner reminds us that it is possible to hold two seemingly contradictory ideas in our minds at the same time, that complexity and contradiction are almost facts of life, but cannot defeat us from taking action to make change.  "The first idea was acceptance, the acceptance, totally without rancor, of life as it is, and men as they are … But this did not mean that one could be complacent, for the second idea was of equal power: that one must never, in one's own life, accept these injustices as commonplace but must fight them with all one's strength.''
Author website here (you can find a list of all his many fine books there)  Gessner's latest book is one I am interested in reading as well.  The Tarball Chronicles: A Journey Beyond the Oiled Pelican and Into the Heart of the Gulf Oil Spill chronicles his visit to the Gulf after it had passed out of the news.  Not an uplifting story, I fear.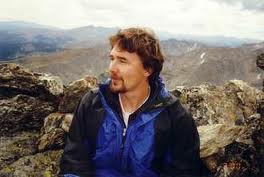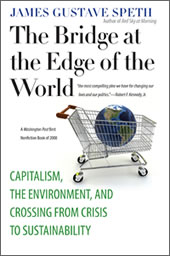 978-0300151152 – paperback – Yale University Press – $18.00
While I was reading The Bridge at the Edge of the World, I often would exclaim out loud as so many of the ideas the author talks about are ones I believe in and feel are important to the dialog about the future of our planet.  This is an important book that should be widely read, discussed and used as the basis of action – and soon!
Co-founder of the NRDC, former Yale University dean, and former White House advisor James Gustave Speth has been a leader in the environmental movement for more than 30 years.
Now, faced with overwhelming evidence of galloping degradation of the planet, Speth has concluded that the environmental project—his project—has failed. No matter how hard environmentalists work, the current of destruction against which they are swimming is simply too swift. In order to preserve a livable planet for future generations, Speth argues in The Bridge at the Edge of the World that the current itself must be altered. And the current is that untouchable edifice, American-style consumer capitalism.
I found this book to be powerful and compelling and wanted to talk to "Gus" Speth about the implications of his thinking.  How should we go forward when we know that the way we live today is putting us on a collision course with the natural world?  How do we build new ways of living that are sustainable?  And how are we going to do this in the face of so many entrenched interests that will oppose the essential changes we feel are necessary for human survival and for the preservation natural systems in a viable planet earth?
While this interview is perhaps all too brief, Speth talks in depth about some of his ideas and answers my questions with his typical incisiveness and intelligence.