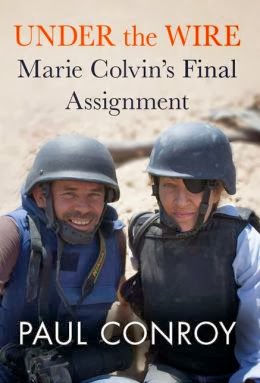 978-1602862364 – Weinstein Books – hardcover – October 8, 2013 – $26.00 (ebook versions available, prices vary depending on retailer)
Marie Colvin was an award-winning journalist who wrote principally for the London Sunday Times for almost thirty years until she was killed covering the siege of Homs in Syria in February, 2012.  She was raised in Oyster Bay (Long Island), NY, graduated from Yale in 1978 who worked for the British newspaper The Sunday Times from 1985 until her death.
Marie was an activist journalist in the best sense of the word, committed to reporting the lives and conditions of the oppressed and especially civilians suffering in wars, armed conflicts and governmental actions.  Her writing was vivid and clear, gripping and very muscular.
Colvin specialized in the Middle East, but also worked in East Timor, Sri Lanka, Chechniya and the Balkans. She was recognized by the British Press awards for her reporting in Chechniya (and an amazing escape from that war zone, also grippingly reported). In East Timor in 1999, she helped save the lives of 1,500 refugees stranded in a United Nations compound that was surrounded by the Indonesian Army after the Timorese chose independence from Indonesia in a referendum.  Colvin and two other journalists refused to leave and forced the UN to stay as well, and eventually the refugees were extracted and taken in by Australia.
In 2001 she became the first Western journalist in years to enter Tamil Tiger rebel territory in northern Sri Lanka. When she returned to the government-controlled area, her group was fired on by Sri Lankan military, and she was wounded by shrapnel, losing the use of an eye.  She famously wrote a 3,500 word dispatch about her adventure while in the hospital in NY for surgery. From that time onward, her black pirate-style eye-patch became  the emblem that represented her irrepressible spirit to all.
John Burns, the veteran New York Times foreign correspondent, called her "one of the most respected and celebrated reporters on Fleet Street…She was, of course, absolutely fearless, though she knew the dangers well."
Alan Philps, a former Telegraph foreign correspondent said: "What she brought to journalism was being a great eyewitness and being incredibly brave. It was a role she settled into and she never saw another form of journalism she wanted to do, but that meant she sacrificed everything for the job."
In 2010 at a London newspaper industry service for fallen British journalists, she gave a moving speech about the work and risks of foreign correspondents: "We always have to ask ourselves whether the level of risk is worth the story. What is bravery, and what is bravado?
"Journalists covering combat shoulder great responsibilities and face difficult choices. Sometimes they pay the ultimate price."
Marie Colvin reported from Libya in the middle of many battle zones during the revolution against Qadaffi, where she worked with photographer Paul Conroy, who became a close friend of Colvin's.  In 2012, the two of them, working for the Sunday Times, made their way into Homs in Syria, where the government was bombarding the local population into submission.
Under the Wire is Conroy's story about his friendship and work with Marie Colvin in Libya and Syria.  Most of the book is a blow by blow account of their time in Homs, where Marie was killed while trying to leave Homs after many days in terrible danger, along with French photographer Remi Ochlik and Conroy was grievously wounded as well.
The book is a vivid and powerful account, not only of the work of the foreign correspondents who went to Syria to document what was going on there, but of the people in the country on the rebel side, who wanted Marie, Paul and other western journalists there to report what was happening.  Acts of bravery, selflessness and heroism abound.
Paul Conroy's story is a gripping and painful celebration of the human spirit, full of bravery and hope and a wonderful memorial to the work and life of Marie Colvin.  It's also a reminder, as the civil war in Syria continues, of how much we need people like Marie to serve as a public conscience in the face of oppression and state sponsored violence.
Marie Colvin's work has been published as On the Front Line: The Collected Journalism of Marie Colvin.   Visit her website to learn more about her life and work, and the Marie Colvin Memorial Fund.  The Colvin family has established a memorial fund in honor of Marie. The fund will direct donations to charitable and educational organizations that reflect Marie's lifelong dedication to humanitarian aid, human rights, journalism and education.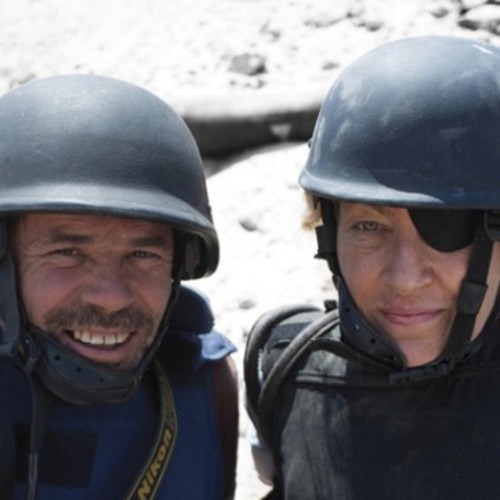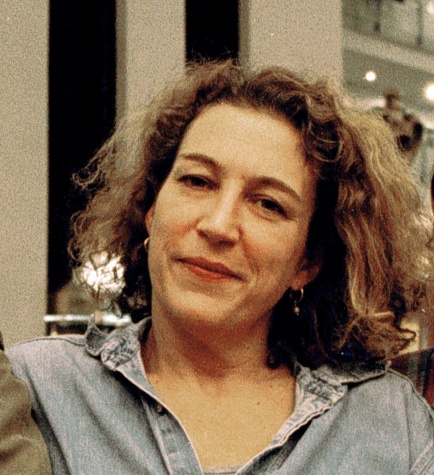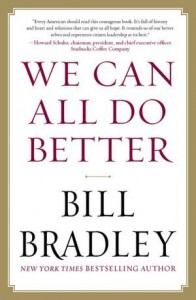 978-1593157296 – Vanguard Press – Hardcover – $24.99 (ebook versions available at lower prices)
Bill Bradley is one of my favorite contemporary politicians.  I felt badly for all of us when he left the national political scene and then went to work in investment banking.  Much like another politician I admire, Mario Cuomo, he is smart, well versed in a wide range of subjects, able to communicate complicated ideas without dumbing them down, and above all, he is passionately a humanist, who clearly likes people, and loves what America could and should be, as a leader on the world stage.
While I certainly do not agree with all of his ideas, what he has to say is well worth paying attention to, especially since he is so intelligent, and his arguments are so well reasoned, grounded in ideas and carefully constructed (how novel!)  Moreover, he represents what the current political discourse so desperately needs, namely leadership that does not trivialize, demonize or mock those with whom one disagrees.
Bradley believes deeply in the power of citizens to make change, and dispensing with so much of what goes for political discourse these days, in We Can All Do Better Bradley makes a strong case for why America cannot continue on its current deeply divided, politically gridlocked, and ineffectual political, social and foreign policy paths.
Bradley first reviews the current "state of the nation."  He makes clear that, contrary to right wing pronouncements,  government is not the cause of our problems. He rightly points out the damaging and dangerous role of money and politics, talks cogently about why and how our existing foreign policy, electoral, and economic paths will lead to a dismal future for America, and sets forth clearly and coherently what needs to be done to for us to  make changes for the better.
As the book title says, "we can all do better."  Rather than blaming and scapegoating (groups of other citizens, the other political party, or just government itself) or as so many do, simply ignoring what we don't like, and disengaging from the political process, Bradley continually and powerfully makes his case we can all—elected officials and private citizens alike—do a better job together.  Bradley is a great voice for uniting rather than dividing, for working together, and for allowing ourselves to see more clearly who we are – and can be – as citizens and participants in the modern world.
Bill Bradley, born and raised in Missouri, was a star basketball player at Princeton, a Rhodes scholar, and then had a Hall of Fame career in the NBA.  He was a three term senator from New Jersey, and ran for president in 2000.  We Can All Do Better is his sixth book.  He's been involved in investment banking and serves as a corporate director for a number of companies.  He hosts a radio show called American Voices on Sirius/XM satellite radio.
("For 40 years, I've traveled around America listening to the stories Americans tell about their lives. I was always moved, and so I wanted to create a show where you can hear some of them too." – Sen. Bill Bradley)
It was a great pleasure for me to have the opportunity to speak to Senator Bradley about We Can All Do Better for Writerscast.  You can learn more about the book at Sen Bradley's website.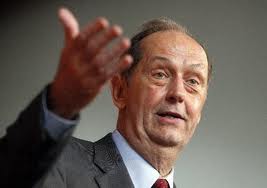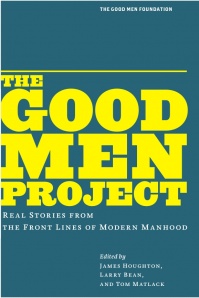 978-0615316741 – Paperback – The Good Men Foundation – $14.99
A bit more than year ago, longtime friends and former venture capitalist partners Tom Matlack and James Houghton began talking about exploring the meaning of manhood by getting men to share their stories. Today, the Good Men Project is a nonprofit foundation that benefits at-risk boys through the sales of its recently released book and a companion documentary, both titled "The Good Men Project: Real Stories from the Front Lines of Modern Manhood." The book is a collection of 31 essays by men from all over the country, gay and straight, revealing experiences that are often harrowing but ultimately redemptive.  There's also a DVD of the film available.
Not long ago, I read a story about this book and the fact that the editors could not find a publisher ("no one wants to read about men").  Being entrepreneurs and successful business people, of course they went ahead and published the book themselves – and did a very nice job of it too.  The book is divided into sections – Fathers, Sons, Husbands, Workers – pretty much all the categories that men will identify themselves at one time or another.  The stories are powerful, emotional without being cloying or sentimental, transformative, in some cases, plain and simply the telling of personal truths that benefit others.
This is a new generation of men talking about their lives, and while some things are different for men certainly than they were in the era when talking about one's emotional life was unimaginable and unaccepted, it's still not easy for men to talk meaningfully about the real things that motivate them, or worry them, or even scare them deeply.  The book certainly resonated with me, as I am sure it will for many men.
The Good Men Project is not, however, about therapy and simply talking to each other.  There's a real agenda here, to make a difference, to make change, to do good (The Good Men Foundation is a registered New York State 501(c)(3) charitable corporation dedicated to helping organizations that provide educational, social, financial or legal support to men and boys at risk. All proceeds from the sales of The Good Men Project: Real Stories from the Front Lines of Modern Manhood book and documentary film DVD will be distributed to the Foundation and will be used exclusively for the charitable mission of the Foundation).
The book features a wide range of writers, some professionals, many not.  The writing is very good throughout.  My interview with Tom Matlack covered alot of territory, including the story behind the whole project, and about this book, the other men who are involved with it, and how the Good Men Project works.  This is a valuable effort that I hope will be broadly successful.