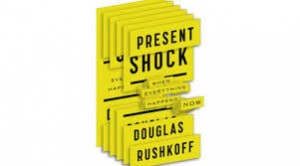 978-1591844761 – Current – Hardcover – $26.95 (ebook versions available at lower prices, and paperback edition due February 2014)
"If the end of the twentieth century can be characterized by futurism, the twenty-first can be defined by presentism."
As it happens, I started this Writerscast project as an antidote to my own sense of what Douglas Rushkoff calls Present Shock, which is about how time, technology, attention, human intelligence, culture, meaning, advertising, commerce and belief systems that mark 21st century modern life have changed the way we experience our lives.  This is an important book that having read and thought about, I can highly recommend.
What is ironic is that all of the things about our time that Rushkoff talks about in Present Shock, our feeling of being too busy and overwhelmed with input, our inability to filter out what does not matter to us and to focus on what does matter most are all the reasons why so many people I know will end up not reading this book at all.  In fact the author felt those same issues during the writing of the book, and had to devise a plan and method that allowed him to concentrate on getting the work done.
You are not alone if you are feeling the need to make some space for yourself.  It took me much longer to read this book than it would have some years ago.  And it took me much longer to find the space in my life to write this short piece and post it than I am comfortable with.  Technology in communication has enabled tremendous gains for many of us, while at the same time enslaving us to our devices.
Rushkoff brilliantly describes what has happened to us – the end of narrative, changes in the way we perceive and operate in time, what he calls digiphrenia – mental chaos provoked by digital experience – our need to escape the present, and our inability to filter information and sensory input.  We instinctively know what he is talking about because we experience it ourselves every day.
But most of the time, most of us believe all of these concerns are personal and individual – how do I learn how to cope with the modern world?  I think Rushkoff's point in this book is that these are not individual problems, they are structural, and we need to start thinking about ways we can alter the course of our culture, to take control of technology, to act rather than be acted upon.  In that way, this is an inspiring book, which I hope will lead to change in thinking and behavior.
I interviewed Doug about one of his earlier books, Program or Be Programmed.  He is a terrific talker as well as writer and I am sure you will enjoy listening to our conversation.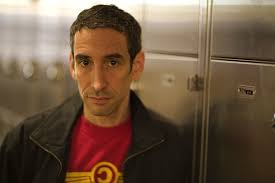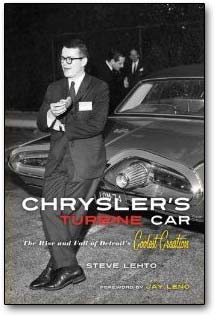 978-1569765494 – Hardcover – Chicago Review Press – $24.95 (e-book edition available)
Steve Lehto's portrait of the Chrysler Corporation's amazing effort to engineer a turbine powered automobile is a terrific book, and alot of fun to read.  You don't have to love cars to enjoy this book, though I am sure it helps.  But even if you don't care about engines, and the dedicated engineers who spent years working on the turbine car program, you will learn a great deal about the industrial, social and cultural history of post World War II America.
Like so many kids who grew up in the 50s and 60s, I was enthralled with cars of all kinds, and when the Chrysler Turbine was first unveiled in 1964, along with millions of other Americans, I was fascinated and captivated by it – not only was it a beautifully designed car, futuristic and smooth, but it featured an engine like nothing else the world had ever seen up to that time.  It was the Jet Age in automotive design, and here was a car with an airplane inspired engine in it.
The Chrysler Turbine represents an incredible commitment on the part of a major American automobile manufacturer to develop and popularize a truly radical alternative powerplant to the American driving public.
Chrysler's turbine could run on almost any fuel – diesel, peanut oil, perfume, even tequila.  Imagine what would have happened if the company had been able to devote hundreds of thousands more engineering and testing hours to the development of this engine over an additional 40 or 50 years.  It's entirely possible that we would not be worrying about hybrids, diesels and electric cars today.  Reading Chrysler's Turbine Car will give you a great understanding of the challenges any major new automotive development must face in order to become widely popular.
After a number of years of development and several generations of engine development, Chrysler hand built 50 examples of the the Turbine (that was its only name) and made them available to selected members of the general public for testing.  Drivers could keep the cars for three months and were required to keep detailed logs of their experiences.  Chrysler personnel maintained all the cars, flying all over America to repair and sometimes rescue cars that had problems, large or small.  In all, the fleet registered over a million miles of testing, and performed extraordinarily well.  Chrysler gained a huge amount of publicity and increased sales of their regular new cars, as well as learning a tremendous amount through the extensive practical use of their radically designed and built Turbine car by real drivers.
Unfortunately, for a variety of reasons, Chrysler ultimately abandoned the program completely, and destroyed most of the cars they had built.  Only a few were saved and sent to museums to be put on display – which is where most of them still are today.  Interestingly, Jay Leno was able to buy one of Chrysler's own survivors and now drives it regularly. Author Lehto was able to drive Leno's Turbine as part of his research for the book, and Leno contributed a foreword to this book.
Lehto interviewed every surviving member of the Chrysler team that built and maintained the cars during their short period of glory.  He also spoke to many of the people who were lucky enough to be participants in the public lending program; their stories help make the book a fun and enjoyable read.
In many ways it is understandable why the Turbine car program was killed by Chrysler, even after so much effort and money had been invested in it.  For a single car manufacturer to introduce a radical new powerplant completely outside the mainstream of engineering practice was ultimately economically unsustainable.  But it's impossible for us not to regret that Chrysler gave up on the multi-fuel efficient turbine in 1967, especially today, as we are facing a future when do not have a viable alternative engine to replace our dependable and thirsty reciprocating gasoline dependent engines.
This is a fun and worthwhile book to read, whether you are interested in cars, American history, culture, business or general nonfiction.  Author Lehto, an adjunct professor at University of Detroit – Mercy, has written a very readable book, full of interesting characters and great stories you don't have to be a car nut to enjoy.