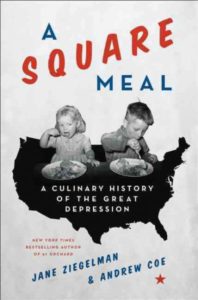 A Square Meal: A Culinary History of the Great Depression – Jane Ziegelman and Andrew Coe – HarperCollins – paperback now available – 9780062216427 – 336 pages – $15.99 – ebook versions available at lower prices.
First, let me say that this is one of the most interesting, readable and thought-provoking works of American history I have read in a long time. It's interesting to think about how two writers can work together to create a consistent and compelling authorial voice – Andrew and Jane have done that brilliantly. One must assume they have a very special marriage that enables them to both collaborate and live happily together.
If you are interested in food and how the American palate has changed over time, this book will certainly have much to offer. But I think the story here is broader than it may first appear. It's not just a "culinary history" but a comprehensive social history of one of the most important periods of American life told through the issues surrounding food and nutrition in a challenging time.
Yes, it is "an in-depth exploration of the greatest food crisis the nation has ever faced – and how it transformed America's culinary culture," but I think the larger story is that this book uses food as the lens to through which to view how Americans lived during our greatest economic and cultural crisis.
History writing that brings the past to life and engages us in the human dimensions of the big moments of the past is real storytelling. This kind of writing helps us understand and sympathize with the people who came before us. It makes us better able to deal with our own crises, of which there are indeed many.
So this book is important whether food is "your thing" or not. I'd recommend reading it no matter your specific interests, just because it will make you think, will make you care, and will help you to feel that the past really is always prologue. It was a great pleasure to have the opportunity to talk in person with Jane and Andrew about A Square Meal.
Jane Ziegelman is the director of the Tenement Museum's culinary center and is founder and director of Kids Cook!, a multiethnic cooking program for children. Her writing on food has appeared in numerous publications, and she is the coauthor of Foie Gras: A Passion.
Andrew Coe is a writer and independent scholar specializing in culinary history, and the author of Chop Suey: A Cultural History of Chinese Food in the United States, which was a finalist for a James Beard Award. He appeared in the documentaries The Search for General Tso and Eat: The Story of Food. Jane and Andrew live in Brooklyn, New York. And recently, A Square Meal was announced the winner of the 2017 James Beard Award for best nonfiction book of the year.
NPR's Fresh Air did a wonderful interview (called "Creamed, Canned and Frozen") with Jane and Andy about this book in August, 2016. And I interviewed Andy about his book, Chop Suey for Writerscast a few year ago.
Photo of the authors by Sasha Maslov for The New York Times.