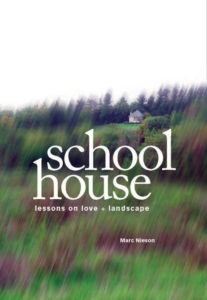 Schoolhouse: Lessons on Love & Landscape – Marc Nieson – Ice Cube Press – paperback – 9781888160925 – 272 pages – $19.95
Memoirs are most often stories of self discovery. To work for readers, they have to engage us indirectly – we have to buy into the narrator's central problem the story will show us being solved. Marc Nieson's memoir is about a period in his life when he was confused about love and self-identity. He left his home and long term lover in New York City to attend the famed Writer's Workshop at the University of Iowa, and ended up living in a former one room schoolhouse on 500 acres of beautiful Iowa landscape.
Escaping the travails of modern life, and living in the woods, the comparisons to Walden cannot help being made. City-bred Nieson learns how to observe the natural world, and in so doing, learns how to understand himself at the same time. Nieson keeps us involved throughout his narrative, and we come to the end of the story fully engaged in his personal adventure.
The book is structured like a schoolbook, each chapter being named after a school subject (i.e. Geography, History, Social Studies, What I Did On My Summer Vacation), which gives the book a certain charm, and while it's a conceit, this organization helps keep the narrative moving forward. It's a fully transformational story, even if you have never experienced the woods or the Iowa landscape.
As Nieson writes: "Here on a quiet Iowa hillside, I was hoping … to both learn and unlearn who I was. To try living not only alone and apart, but a more consciously observed life — both inside and out." I think he achieved what he was hoping to do in Iowa.
"Those of us who have lived in old one-room schoolhouses understand the solitude, solace, and proximity to nature that they provide. During his year living in Union #9, Marc Nieson embraced these opportunities for inner growth. His new memoir—a must read—traces the story of his journey of discovery along the trail through the woods surrounding his house and along the path of human relationships. Read Schoolhouse, and you will open the door to the mind of an engaging voice, a probing, reflective writer who delights the reader with his lyrical prose on every page."
—Mary Swander, author, Out of this World: A Woman's Life Among the Amish
Marc Nieson has degrees from both the Iowa Writers' Workshop and NYU Film School. His background includes children's theatre, cattle chores, and a season with a one-ring circus. He's been awarded a Raymond Carver Short Story award and recent fiction appears in Everywherestories: Short Fiction From A Small Planet (Press 53), Museum of Americana, and Tahoma Literary Review. He is also a screenwriter, whose credits include Speed of Life, The Dream Catcher, and Bottomland. He teaches at Chatham University in Pittsburgh, and is working on a new novel, Houdini's Heirs.
In this interview, Marc and I talked in detail about this excellent book and his work as a writer and teacher. Special kudos to Ice Cube Press for publishing this memoir.
Author website here.
Ice Cube Press website here.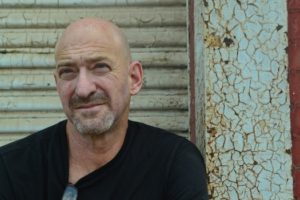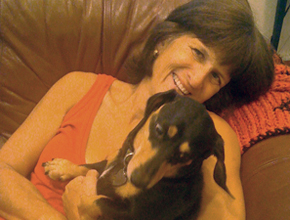 This interview with the talented essayist Marion Winik is unusual, as it is about three different (short) books Marion has published with the relatively new digital publisher SheBooks ("Every Woman Has a Story").  Since Winik, for a long time composed audio essays for NPR's "All Things Considered" (archived here), she is pretty smart about doing interviews, so I thought we would be able to cover these three books, as well as talking a bit about SheBooks and Marion's career as writer. I think she did a great job on all counts. I'd recommend a visit to her website too, lots of links, current information, and general literary goings on.
The three short books from SheBooks we talk about in this interview, all of which reflect Marion's wonderful wit and stylish writing:
August in Paris is a collection of travel stories told with great humor and affection, "from lost teenagers and missed connections to overpriced drinks and gambling mishaps." I don't know how she does it, but she keeps her bearings throughout.
The End of the World as We Know It collects nine essays about parenting and family, beginning with the story of her second wedding and subsequent move to rural Pennsylvania. She covers a broad range of subjects, from blended families, to having kids in her 40's and eventually to dealing with the legal problems that sometimes arise with teenage boys. Very much along the lines of her NPR pieces.
Guesswork is a collection of essays about memory and identity. One of my favorites, "The Things They Googled" looks at search engines and their effects on our lives. These eight essays will inspire you to reconsider your own history and sense of self from new angles: how treasured places and objects fit in, how your life as a reader shapes who you are.
You can purchase these and other books directly from SheBooks (they already have a really extensive and impressive list of publications) here or from Barnes & Noble, Amazon and probably other ebook retailers, all at reasonable prices. Buy direct and you support the publisher and its authors.
Marion Winik's (very abbreviated) biography in her own words:
"I was born in Manhattan in 1958 and raised on the Jersey shore. I graduated from Brown in 1978 and got my MFA from Brooklyn College in 1983.
Throughout my childhood and into my twenties, I wrote poetry. Some of it was published in two small-press books. In the late eighties—by which time I was living in Austin, Texas with my first husband, Tony—I began writing personal essays.
These days I live with my daughter Jane and our dachshund, Beau, in the beautiful Evergreen neighborhood of Baltimore. What a fabulous, underrated town this is. I teach writing in the MFA program in Creative Writing & Publishing Arts at the University of Baltimore. I write a column at BaltimoreFishbowl.com, and have a new memoir from Globe Pequot Press. It's called Highs in the Low Fifties: How I Stumbled Through The Joys of Single Living."
And here is something about the digital publishing start up, Shebooks: a curated collection of short e-books written by women, for women. All of our stories are easy to download and read on any digital device—and so good you'll finish them in an hour or two. We like to think of ourselves as an e-book boutique, the kind where you'll always find a story to fit your busy life.
Whether short fiction, memoir, or journalism, all Shebooks are handpicked by discerning magazine and book editors and written by women you either know of or will want to know. And because we offer our e-books by subscription as well as individually, you need never be without a great story to read.
As anyone who listens to WritersCast knows, I'm always interested in new publishing models. SheBooks certainly represents one of those new models. I think we will revisit them in a little while to see how this venture turns out. I hope it works – we need more digital publishing that tries to break out of the existing structures and models to try out different approaches to engaging with readers.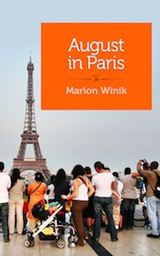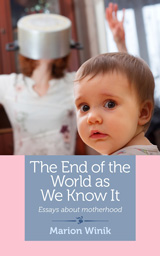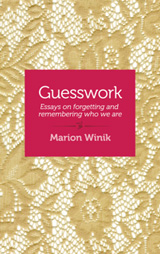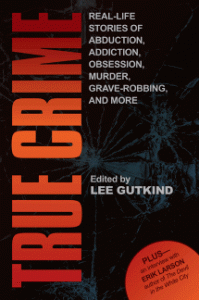 True Crime: Real-Life Stories of Abduction, Addiction, Obsession, Murder, Grave-Robbing and More – 978-1-937163-14-3 – paperback – InFACT Books – $15.95 (ebook versions available at lower prices)
Lee Gutkind is a long time writer and teacher of writing. He is the author or editor of more than 25 books and is also the founder and editor of Creative Nonfiction, a literary magazine that publishes narrative nonfiction exclusively. In many ways, he is a central figure in the growing category of creative nonfiction, a category of writing that has become significant only in the past thirty years.
True Crime is a collection, mostly but not all first person narratives of some very scary stuff. I think true crime writing can be much more disturbing than even the scariest fiction stories, mainly because we know these stories are true, and that the suffering we are reading about was experienced by real people. At the same time, what makes these experiences meaningful to us is the writers' ability to transform direct experience into compelling narrative. They've still got to tell a great story or else the experiences they write about, regardless of their factual existence, will not have truly deep or meaningful impact on readers.
While this sometimes painful to read book is not what I usually am drawn to read, since my goal with Writerscast has always been to broaden my reading, with Lee Gutkind's True Crime, I have certainly succeeded in going beyond my regular literary consumption. This is a powerful collection of narratives, almost all of which really do achieve the status of literary works, by virtue of their success in the transformation of direct experience into story telling. There is some excellent writing here, and stories well worth reading.
If I had to pick a favorite, it would be Girl Fighting, by Laurie Lynn Drummond, a former Louisiana police officer who is now (a very good) writer. Perhaps the most powerful and emotionally wrenching piece for me is Gabrielle Giffords Shooting: A Fatal Chain of Events Unfolds, a retelling that made me cry; perhaps the most painful and thought provoking is Spectacle: The Lynching of Claude Neal, but there are many others that moved me, and there were no stories I did not find interesting to read.
I can recommend this book to anyone interested in contemporary American writing.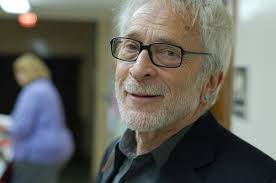 Don't mistake this book for journalism, recounting of violent crimes to entertain. This book is about the nature of violence and the varieties of human behavior we experience but sometimes do not understand.
Received a few days after I posted this interview: Open Road Media is pleased to announce the ebook publication of six classic works by Lee Gutkind, hailed by Vanity Fair as "the godfather behind creative nonfiction," available on March 11, 2014.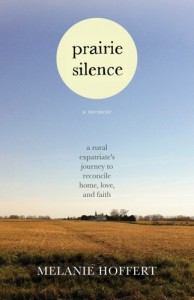 978-0807044735 – Beacon Press – hardcover –  $24.95
(ebook editions available at lower prices)
Melanie Hoffert's Prairie Silence is about growing up on the prairie of North Dakota.  The silence she talks about is most often her own, though there are many other kinds of silences in the small town she grew up in.  Her story is about growing up gay in a place that seems alien to her, in a family she felt she could reveal her true self to (until much later in her life after she had moved away – her eventual coming out story is just emblematic of the awkwardness that she mostly recognizes now was projected rather than felt).
Now living in Minneapolis, Hoffert feels the need to return home to her family farm, to work with her farmer father and brother, reconnect to her mother, and to better understand the place she came from.  Interacting for a solid period of time with family, friends and neighbors gives the book its narrative, and places her in the complicated nexus of self, place and other.
Prairie Silence is a warm, sometimes surprising memoir that combines an internal voice with a clear eyed reflection of the northern plains we often call the "heartland," whose residents often and perhaps ironically, have terrible challenges connecting with their own hearts and souls, and thus are unable to sympathize with the hearts of others, especially those who don't share their own values.   But as she learns more about the people she left behind, Hoffert does find connections, and real ones, with many of those to whom she could not trust to reveal herself.
Hoffert's prose is plainspoken and clear, just as she was in her interview with me about this strong debut work of nonfiction.  A warm and loving memoir I highly recommend and an excellent introduction to a fine new writer.
Melanie has an MFA in creative writing from Hamline University, and her work has appeared in several literary journals. She received the 2005 Creative Nonfiction Award from the Baltimore Review and the 2010 Creative Nonfiction Award from New Millennium Writings. Since 2008 she has worked for Teach For America as managing director of TFANet, the online social-networking hub for their corps members and alumni.
Author website here.
"Sometimes at dusk, when the world is purple, I go searching for elements of a small town in the city. I usually walk down alleys, where yellow light spills from the back of houses onto piles of dusty red bricks and onto old lumber; where forgotten white Christmas lights crawl like vines over many of the fences; where junk cars sit as if in a museum; and recycling bins display the ingredients of meals consumed weeks ago. In alleys people do not have a need to present a manicured life and I feel closer to the neighbors I will never know. In these alleys, where the roads are narrow and life is presented as it is lived—messy and whimsical—I see glimpses of what I left behind."