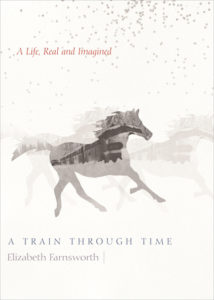 A Train through Time: A Life, Real and Imagined – Elizabeth Farnsworth – Counterpoint – Hardcover – $25.00 – 160 pages – February 14, 2017 – ebook versions available at lower prices
"I began this book with a sense of discovery and finished it in a state of exaltation. Along the way it broke my heart. It has been a long time since I read a book so moving, plain spoken and beautiful. The instant I finished it, I went back to the beginning and started in again." ―Michael Chabon
This slim – and gorgeously produced – memoir is one of the most striking and memorable books I have read recently. I have to simply echo what Chabon said about it – Elizabeth Farnsworth has written something very special, a book that does not fit easily into our conception of book categories – and that is a good thing. Her book is an exploration of childhood memories of loss and of family life that woven together with more recent stories of her work as a journalist and documentary film maker, are built into a fictional structure. The book forms an almost dream state to carry the author (and the reader) through her story.
Farnsworth interrogates her own understanding of events, real and imagined, to understand the arc of her life. It is a truly magical journey of self and psyche.
A Train through Time is illustrated with the remarkable photo art of Mark Serr, whose works contribute to the ethos and sensibility of the book, as well as providing us with a beautiful and dreamy cover image.
Of course it helps that Farnsworth is a fine writer and a terrific storyteller. I was deeply moved by this book, and really enjoyed having the opportunity to speak with the Ms. Farnsworth about her story, about trains, journeys, and life in general. As an experienced television personality, she is very comfortable in recorded conversation and we had a great talk together, which I hope you will enjoy.
Elizabeth Farnsworth is a filmmaker and a foreign correspondent. For many years, she was the chief correspondent on the PBS NewsHour hosted by Jim Lehrer. During her career, she traveled widely to report on stories in Cambodia, Vietnam, Chile, Haiti, Iraq, and Iran and many other places. Farnsworth grew up in Topeka, Kansas, has a B.A. from Middlebury College, an M.A. in history from Stanford University and now lives in Berkeley, California.
Her documentaries include The Judge and the General (2008) and The Gospel and Guatemala (1983).
You can learn more about the author and A Train Through Time at the Counterpoint website here.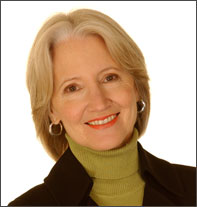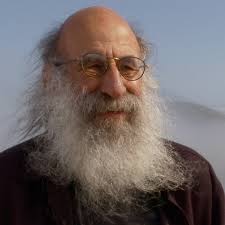 I think of Malcolm Margolin and Heyday Books as one of the iconic independent publishers of the modern era. Founded in 1974 in Berkeley, then and now a hotbed of independent publishing, Heyday began because Malcolm had written a book about walking in the East Bay called East Bay Out and wanted to publish and sell it himself as a locally based book. Its somewhat unexpected success led to his work on a book called The Ohlone Way, about native Americans of California, and by then Heyday was on its way to becoming an important cultural node that over its forty years has produced more than 350 titles.
The history of Heyday is documented in its newly published The Heyday of Malcolm Margolin: The Damn Good Times of a Fiercely Independent Publisher. The book, compiled by Heyday editor Kim Bancroft, is a wonderful collection of oral histories told by Margolin, his family, authors, friends, current and former staffers and some of the many Californians that have been involved with the press and its cultural work for so many years.
This book is a must read for anyone interested in the history of independent publishing and especially the inspiring Bay Area publishing movement of the last half century. Malcolm is truly one of the great story tellers of our time. Unassuming and irreverent, he is now experienced enough to have become an elder statesman, much loved by all who have worked with him.
Heyday is now a well-run and highly respected nonprofit organization. It has produced a significant body of work, and as an ongoing operation, it reflects the values and beliefs of its founder. Heyday, like Malcolm, is committed to the voices of authors, the beauty and power of California as place, and valuing culture as lived by individuals, more important than institutions. And the quality of the work has always been paramount. Every book produced by Heyday displays a high level of care and attention, learned and practiced over many years.
Heyday board member and former staffer Patricia Wakida describes the quintessential image of Margolin getting into his 1997 Volvo to drive to California's high country to hear yet another story around the campfire. "That's what it's all about," she says. "Forty years of listening."
I'm proud to offer this conversation with Malcolm, which gives you the singular opportunity to hear his wonderful voice and persona, to get a sense of why Malcolm and Heyday are so important and meaningful to so many – and what an impact a truly independent publisher can have.
Running time: 47 minutes. Enjoy!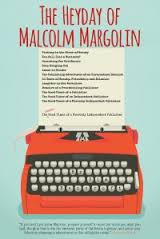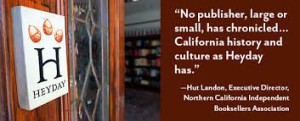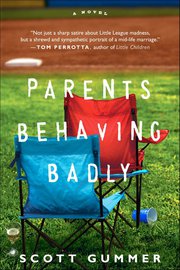 978-1451609172 – Simon & Schuster Touchstone – hardcover – $23.00 (ebook versions available)
Scott Gummer's Parents Behaving Badly appealed to me right away – a novel about Little League, what more fun could you want?  Baseball is one of my greatest passions and having been a Little League parent and coach, I was looking forward to reading a novel set in this rich environment that so full of potential for conflict and frustration, as well as great joy.
In any kid sports environment, you have parents' overwrought desires and expectations, the fraught interactions of coaches and parents, and the difference in outlook between any given 10 year old and any parent is especially fertile ground.  And don't forget the potential for unexpected romance among the suburban parental set.
Reading Parents Behaving Badly, which is, by the way, laugh out loud funny, did not disappoint in any way.   Gummer is funny and extremely perceptive, and what really makes the novel work is that he tells a good story, writes believable characters, explores their inner lives, and keeps us guessing about what will happen next.
And there's more here than Little League, fun and sometimes as painful as that particular piece of Americana can be.  His main character is back in the hometown he grew up in, along with his wife, and they've been married long enough for them to know each other all too well.  Gummer is very sharp in his depiction of the mid-life married life of modern American suburban couples, especially the challenges they face as their lives become focused on their children at the risk of losing sight of themselves and their relationships.  He uses Little League, small town life, pop culture and thwarted desires as fodder for a wonderful story that ultimately ends better than one might have imagined.
Tom Perrotta gave a great blurb to author Gummer for this book: "Parents Behaving Badly isn't just a sharp satire about Little League madness; it's also a shrewd and sympathetic portrait of a mid-life marriage. Scott Gummer writes with equal insight about wayward spouses and conniving coaches."  Perrotta is among my favorites of contemporary novelists, and I'm happy to say that if you like his work, you will love Parents Behaving Badly, which while in no way derivative, is certainly in the same vein as Perrotta's novels.
Scott gives a great interview, doubtless because of his years of experience as a working journalist.  He knows how to talk about his work and to present his story vividly without giving too much away.  I recommend his website as well.  He's also written a couple of very interesting nonfiction books about golf (this is his first published novel).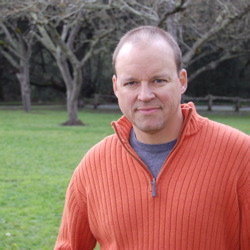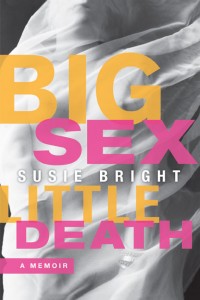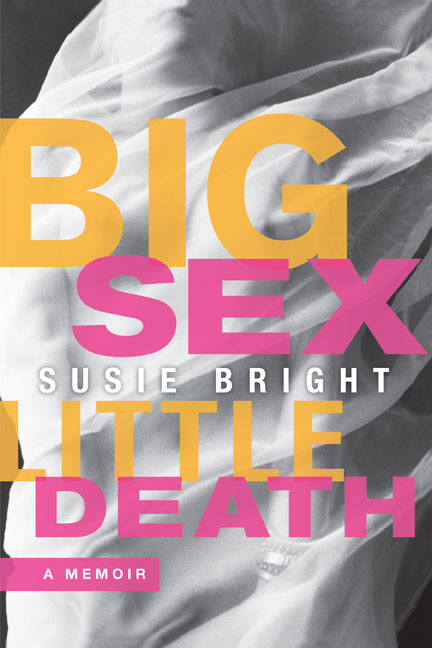 978-1580052641 – Seal Press – $24.95 – Hardcover (ebook and unabridged audio book available)
Reading Big Sex Little Death was a big surprise for me.  I've known Susie Bright for a long time and have worked with her at various times over the years.  I've long admired her work as a sex-positive revolutionist and a terrifically intrepid personality.  I guess I was expecting a sexual travelogue as memoir and a pop culture tone of voice, and maybe some dishing on what it's like to be a famous sexpert.
In fact Big Sex Little Death is mostly a really well written story that focuses more on Susie's early years with her very difficult though intelligent mother (and later years when she was able to live with her anthropologist/linguist father), and her very active life as a political radical.  In Southern California in the 70's, Susie worked on a high school magazine called Red Tide, and later was an activist in the socialist movement of that period.  Where, yes, there was a lot of sex (and sexism).  Her radical political history was all new to me, and is very interesting to read about.
That was all before she became part of the pro-sex feminist movement in the 80's, worked at the now famous Good Vibrations feminist sex shop, and helped found the now-famous lesbian sex magazine, On Our Backs, which for its seven year lifespan was hugely important in helping women define and own their sexuality.  And in many ways that is what is most important about this memoir, that it connects politics and sexuality and helps us remember where so much of the culture we take for granted today came from.
Writing mostly about her earlier years, Susie leaves room, I suppose, for a sequel where she can talk about her later work as a nationally known sex expert, talented writer, and important editor of innumerable anthologies of writing about sex and sexuality.
As one might expect, we had a great time talking about her book and some of her many exploits as a public sex figure in a bizarrely prudish society.  Ultimately this book should be read by anyone interested in late 20th century American culture, regardless of one's gender, sexuality, interest in sex, out there or puritanical, it's well worth your time.   And I am a big fan of Susie's blog too – and I recommend her latest on "sex positive parenting" to anyone who has ever thought about what they are teaching (or not) their children about their own values.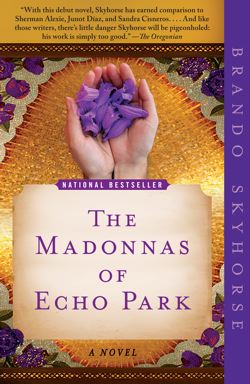 978-1439170847 – Free Press – Paperback – $14.00 (ebook versions also available)
Brando Skyhorse's spectacular debut is a novel created from a series of interlocking stories, all of which take place in the mostly Mexican Echo Park neighborhood of East Los Angeles.  Like the rest of Southern California, Echo Park is in a constant state of flux, being invented and reinvented constantly as new populations arrive and are absorbed into the diverse culture of the city.
The opening line of the book sets the stage: "We slipped into this country like thieves, onto the land that once was ours."
Each of the stories here focuses on the story of one character, and as the stories unfold, we realize that all of the characters we are meeting are entwined with each others lives, and particularly with the central tragedy that gives the book its name, the shooting of a three year old girl during a weekly afternoon Madonna dance party hosted by a group of local moms and their young daughters.
It took me some effort to keep track of all the characters and how they are related (it probably would have helped to have had a family tree), but all of them are so brilliantly written, I ended up caring about them enough not to worry too much about the details of their relationships.  Every one of the characters in this novel experiences pain and loss and redemption.  Each is in one way or another transcendent.  Brando's love for all of them, and for the community they live in and which lives in them, is palpable.
It's no accident that this book has so much to say about identity, and how individuals make their own, both because of and in opposition to their surroundings.  The author, Brando Skyhorse, grew up with five different stepfathers.  He grew up most of his life believing he was Native American and only learned he was Mexican as an adult.  Born and raised in Echo Park, Brando graduated from Stanford University and from the MFA Writers' Workshop program at the University of California, Irvine. For ten years, and until recently, he worked as an editor in New York publishing.
In our conversation, we covered a wide number of issues, the background and basis for this novel, how it evolved over the years he wrote it, and much about the characters and locale of the book.  We talked about identity, and what it means for fiction, for this author.
I really liked this book and recommend it highly to anyone who who likes modern fiction.  And I am not alone – in March, 2011, Brando received the 2011 PEN/Hemingway Award for a distinguished first book of fiction.  I'm looking forward to reading many more of his books.

Visit the author's website for more information, appearance schedule, etc.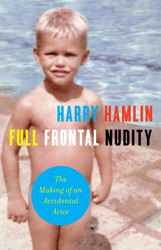 978-1439169995 –  Hardcover – Scribner – $24.00 (e-book edition available)
Harry Hamlin's autobiographical memoir is not what you might expect if you are looking for a traditional "famous actor" tells-all but really tells-very-little story.  Full Frontal Nudity is a completely honest, sometimes hilarious, sometimes sad, sometimes mind-boggling story about Hamlin's growing up in suburban California and coming of age through two different college experiences and the beginning of his life as a professional actor.
This book is a thorough pleasure to read; Harry is a fine writer, and has a remarkable sense of the accidents and sometimes mysteries that go into making us who we are.   And it's also true throughout, whether intentional or not, by telling his own story, he becomes part of the larger social fabric of the 50's, 60's and early 70's, and thus helps us understand what it was like to be alive during that now famous era of history.  And for those many of us who were also there then, his story will remind us of some of the beauty and dangers we lived through.
The subtitle of this engaging memoir is important too: "The Making of an Accidental Actor." Hamlin is clear that who he is today and how he got there represent the sum of a long series of accidents and choices with unintended consequences.  As the book opens, we discover that Harry has an arrest record from 40 years ago that has suddenly prevented him from traveling to Canada, where he actually now lives part of each year.
How this happened is a great story, but what I liked most about it was the way that Harry told it on himself, unafraid to bare the truth about his life.  I know that really good actors must learn how to do this, but they're usually acting someone else's drama, and thus are always protected on some level.  There's no hiding here, and it's a refreshing turn.  Hamlin is an actor, and a good one
Hamlin grew up in California, in a not quite normal household, and after high school headed for Berkeley at what some would say was just the right time – 1969.  On the way to college, he managed an accidental detour that got him, shall we say, distracted.  Intending to sign up for an architecture major, he found that there were no courses available, and the only ones available were drama, thus he embarked on what would eventually become his career.  His time at Berkeley was suitably exotic, and included the drug possession arrest that later caused him so much trouble with the Canadian immigration folks.  His time at Berkeley came to an untimely and early end because of a fire at the fraternity whose president he had become, and almost by magic, and again accidentally, he headed for Yale, where he flourished.  Then another more or less accidental turn – he gives up a safe job as a PBS production assistant and takes an offer from the American Conservatory Theater, where a role in the play Equus ultimately led him to an outstanding film and TV career (notably LA Law, many others).
Overall Full Frontal Nudity is a terrific and wonderfully enjoyable book, and unsurprisingly, we had a thoroughly interesting and revealing conversation about the book and many of the stories he wrote about.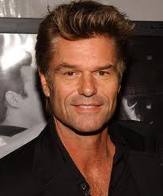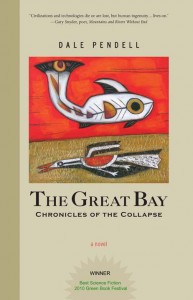 978-1556438950 – North Atlantic Books – Hardcover – $21.95
This is an amazing novel.  Consider it a work of "ecological science fiction" as some have called it.  I found it captivating, terrifying, incredibly emotive and reading it becomes almost a spiritual exercise.  Pendell posits a worldwide collapse of population from a biological war gone amok.  More than 95% of humanity disappears, almost overnight.  He actually does not spend much time on this part of the story, horrific as it is, because that catastrophe is really just the lead in for the much bigger story of what happens next.
Aside from the critical principle of understanding, that modern human society will simply collapse, that going back to prior technologies becomes impossible because people no longer have the knowledge or skills, to live the way our ancestors did, and critically, cannot relearn them overnight in the face of societal collapse, the central tenet of this novel is that climate change will have been unleashed by what modern society *has already done* to the natural world.  The computer models of planetary climate change are simply not able to fully contain and predict the massiveness of what is about to happen to the planet and the natural world that inhabits it.
The novel is essentially a brilliant imagining of what might or could be the future of the planet over the next hundreds, thousands of years, based on the supposition that humans have already begun this process of change.  It's a rich set of interlocking stories, mostly focused on the area that is known today as California, a bio-geographic landscape that author Pendell knows well, and imagines changing in profound and sometimes painful ways for the reader of his story.
This is a very unusual novel – really the main character is the planet and there are no traditional heroic human characters at its center.  While we might search for and find labels for it ("dystopian" or "utopian," "science fiction" or even "parable"), I'd rather think of it as a kind of vision-telling, a myth in the making, that seeks to change the way we think about ourselves.  Indeed, there is a great deal of suffering and difficulty in the book, and at the same time, a powerful sense of continuity, what truly sustains.   As the great poet Gary Snyder (who is a fictionalized character in the book, as it happens), says about the novel: "Civilizations and technologies die or are lost, but human ingenuity–families, tribes, and villages, the musicians, shamans, philosophers, and people of power–live on."  I'd add that not only does human ingenuity live on, so does Gaia, our planet home, adjusting and re-adjusting its inner and outer being, regardless of which or how many humans may be hanging on for dear life.
In my conversation with Dale, we talked about his background as a writer, poet, biologist, and how this brilliant vision of a book came into being.  It's an interview and a book I'd recommend to all my friends and colleagues – it's impossible to read and not do alot of thinking about the future, as well as what we need to do about it – right now.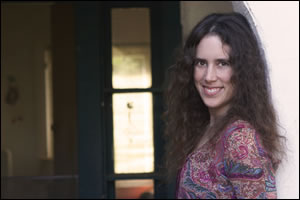 978-0345492623 – Ballantine – Paperback – $15.00 (also available as an e-book at $9.99)
Writerscast is proud to present the third in a series of authors reading from their work, called AuthorsVoices.   I hope you will agree that hearing these works read aloud by the original authors adds to your experience of the writing.
I love getting a sense of the author's distinct sense of her or his own words. With writers touring in support of their books less frequently now, these podcasts should provide readers with an opportunity to hear some of our best contemporary authors reading from, and sometimes performing their own works.
Gayle Brandeis' Delta Girls was a great discovery for me.  I loved her writing, her characters, and the pace and flow of the novel.  I particularly enjoyed the way Gayle set up the alternating stories of the two women, Izzy and Karen and of course brought them together with what was for me a very surprising climax to the story.  In this reading from the novel, Gayle reads the opening two chapters, where the two characters are introduced and their ultimately intertwining stories begin.
Gayle has a terrific website where you can learn more about her and her work.  Her's her brief bio as a writer:
Gayle Brandeis grew up in the Chicago area and has been writing poems and stories since she was four years old. She is the author of Fruitflesh: Seeds of Inspiration for Women Who Write (HarperOne), Dictionary Poems (Pudding House Publications), the novels The Book of Dead Birds (HarperCollins), which won Barbara Kingsolver's Bellwether Prize for Fiction in Support of a Literature of Social Change, Self Storage (Ballantine) and Delta Girls (Ballantine), and her first novel for young readers, My Life with the Lincolns (Holt).  It's great hearing her own voice here speaking the words she has written.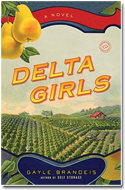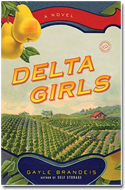 978-0345492623 – Ballantine – Paperback – $15.00 (also available as an e-book at $9.99)
I think I have been lucky lately – I keep finding new novelists I have never heard of before, whose work turns out to be really good.  Literary discovery is very exciting.  Gayle Brandeis is one of those novelists whose work is completely new to me.  Delta Girls is her third novel for adults, and she has one other for young adults.  Her social awareness as a writer has been recognized for a previous novel (that I now want to read) called The Book of Dead Birds – it won Barbara Kingsolver's Bellwether Prize for Fiction in Support of a Literature of Social Change, which I consider high praise indeed.  One of Gayle's great accomplishments in Delta Girls is to include a strong undercurrent of social awareness in a way that enhances the story and does not in any way intrude on one's enjoyment of the novel and its characters.
Delta Girls is a terrific novel (great cover too, and yes, I do think the overall book package does contribute to the experience for the reader).  Its construct is unusual – each chapter is the alternating story of two characters whose relationship is not divulged until nearly the end of the book.  First is Izzy, who with her nine year old daughter Quinn, is constantly on the move as an itinerant fruit picker in California.  As the story opens, they arrive at a pear orchard in the Sacramento River Delta.  As with all her stops, Izzy has no intention of staying very long. But the orchard, its locale, and the family that owns it has a strong attraction for both Izzy and Quinn, and they both allow themselves to become involved and attached to the orchard and its people.   We know that Izzy has a secret in her past, and that she has worked hard to stay away from the public eye, but events occur that put her in the middle of developments in the Delta and she will have to risk everything to save the ones she loves.
In the alternating narrative of the book, we meet Karen, a rising young star in figure skating with a pushy mother and a powerful and attractive new skating partner.  Nathan is sexy, dangerous, and deeply attractive to Karen.  As she reaches her 18th birthday, events come to a head in an unexpected and very public way.
Each main character is faced with a sudden thrust into the spotlight, and of course their narratives become more connected — but you will need to read the book to find out the surprising way their lives will intersect.
This is a very satisfying novel to read, with great characters, and of course the pear orchard and the Delta of the Sacramento River is a terrific backdrop for the book.  The author's deep love for her characters as well as her understanding of the power of place, and its influence on people's lives show constantly throughout the novel.
Gayle is a thoughtful and accomplished writer whose work I am really pleased to have discovered.  It is writing I want to explore more deeply.  Talking to her about this book was a pleasure I am happy to share here.  You can visit Gayle's website here to learn more about her work.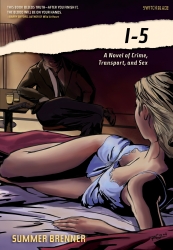 978-1-60486-019-1 – Paperback – PM Press – $15.95
This is a slim novel that packs a pretty powerful punch.  Summer Brenner was best known to me as a poet, but it turns out she has been writing fiction for quite some time.  She has a political interest, as this novel demonstrates, but it is not a tract.  It's a sensitive portrayal of an Eastern European woman who has been tricked into coming to America, where she has been enslaved in a money for sex ring that makes a business out of the correlation between the desires of women to escape the misery of their lives and men who are willing to pay for sex of all kinds with women, whose real lives they care nothing about.
As the story of I-5 unfolds, Anya, the main character, is traveling the interstate corridor up central California from Los Angeles to Oakland; adventures ensue, some of them strange, some of them desperate, all of them painful and sad.  Still, Brenner's characters matter, she is sympathetic to all of them as human beings, even the worst exploiters in the crew.  That makes this novel much more than a book about sex, money, power and violence; in Brenner's hands, these characters transcend their typologies to become real people trapped in their individual gulags.  She writes visually, so that with a relatively few words, we can see what she wants us to see, the places her characters inhabit, and even their interior worlds.  It's gut wrenching book, but our faith in the ability of people to overcome the obstacles between themselves and their humanity is never lost.
This is really a terrific book; yes, the cover makes it look like a trashy paperback from the 50s, but done in a modern enough way that there is no mistaking it for anything exploitative.  I-5 is a hardboiled story, and it is as noir as any book you will read, but it's a transformative experience to read and one that should not be missed.  In my interview with Summer, we talked quite a bit about the how she came to write this book, and many of the issues of sexual slavery in America and worldwide today.  She expresses a deep emotional connection with the characters in her novel, based on her own experiences as a woman.  Her abilities to imagine her characters and their stories is remarkable.  Summer Brenner is a writer more people should know, and one who important things to say.