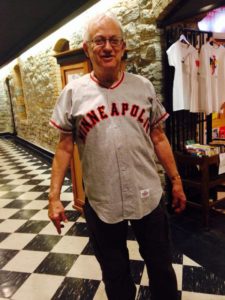 Publishing Talks began as a series of conversations with book industry professionals about the future of publishing, books, and culture. As we continue to experience disruption and change in all media businesses, I've been talking with some of the people involved in our industry about how the book business might evolve as our culture is continues to be affected by technology and macro-economic factors.
I've now expanded this series to include conversations that go beyond the future of books and publishing. I've talked with editors, publishers, booksellers and others who have been innovators and leaders in independent publishing, and will continue to explore the ebb and flow of writing, books, and publishing in all sorts of forms and formats, as change continues to be the one constant we can count on.
For the past several years, I've been talking to editors and publishers of independent presses about their work, including a number of important literary publishers. In this conversation, I am speaking with an old friend and colleague, David Unowsky, founder of the outstanding St. Paul bookstore, the Hungry Mind, which evolved into many other book related ventures, including a literary review and a successful independent press.
The store eventually sold its name to help stay in business in the face of ever increasing financial pressures, and ultimately, under its new name, Ruminator Books, closed in 2004. Which means it was in business for over 30 years, and was for most of that time an incredibly important place, not only to Twin Cities residents, but for the many writers and publishers whose work the store supported, and importantly provided an entry point into the book business for many individuals who have gone on to a wide variety of positions in the book industry.
The Hungry Mind was and remains for many, a special place, and David Unowsky was its beating heart and soul. I'm really pleased to have the chance here for David to talk about his work as a bookseller, communitarian, publisher and entrepreneur. David and "the Mind" – and all the wonderful people and books that passed through its doors –  are central to our understanding of what might eventually be considered a "golden age" of books in our country.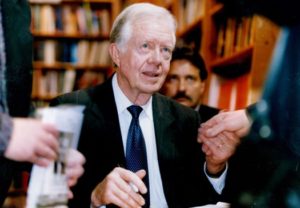 Jan. 12, 1994: Former President Jimmy Carter made an appearance at the Hungry Mind Bookstore in St. Paul to sign his latest book,"Turning Point: A Candidate, a State and a Nation Come of Age." In the book, Carter describes how his first race in the pre-civil-rights South almost was taken away by a political boss.
Photo: Minneapolis Star Tribune.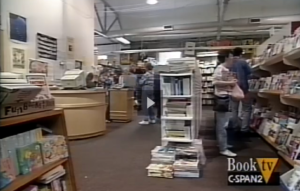 Screen shot from a 1998 C-Span program about Hungry Mind
In this series of interviews, called Publishing Talks, I have been talking to book industry professionals about the future of publishing, books, and culture.  This is a period of disruption and change for all media businesses.
How will publishing evolve as our culture is affected by technology, climate change, population density, and the ebb and flow of civilization and its economics? Publishing Talks interviews help us understand the outlines of what is happening, and how we might ourselves interact with and influence the future of publishing as it unfolds.
These interviews give people in the book business a chance to talk openly about ideas and concerns that are often only talked about "around the water cooler," at industry conventions and events, and in emails between friends.
I believe these interviews give people inside and outside the book industry a chance to hear first hand some of the most interesting and challenging thoughts, ideas and concepts being discussed within the industry.
Jan Weissmiller recently achieved her fifteen minutes of fame when President Barack Obama visited her store – and the picture of her selling him a book went viral very quickly.  But Prairie Lights Bookstore has more going for it than simply being the backdrop for the first  citizen's book buying habit writ large.  It's been a fixture in the strongly literary community of Iowa City since Jim Harris started the store there in the late '70s.
As times have changed, so has the store, and today Prairie Lights has an active web presence in addition to its longstanding role as "the" local bookstore in one of the great small towns of middle America.  I've been to the store many times over the years, and deeply admire the vision and care demonstrated first by Jim and Jan, when she was the first employee of the store, and now by Jan and her current wonderful staff of book devotees.  Many towns no longer have the opportunity to experience the depth of knowledge that a great bookstore can provide.  What Jan and Prairie Lights show us about bookselling is important – people use technology to make life easier, but people need other people to make life meaningful.
In case you missed it, here is the link to the NY Times story about Prairie Lights. And here's the now famous photo.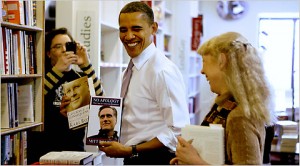 Jan Weissmiller was the first employee of Prairie Lights, beginning in 1979, and is now its co-owner.