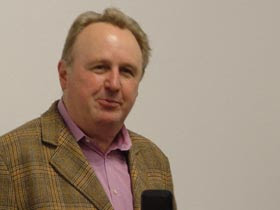 Publishing Talks began as a series of conversations with book industry professionals and others involved in media and technology about the future of publishing, books, and culture. As we continue to experience disruption and change in all media businesses, I've been talking with some of the people involved in our industry about how publishing might evolve as our culture is affected by technology and the larger context of civilization and economics.
I've now expanded the series to include conversations that go beyond the future of publishing. I've talked with editors and publishers who have been innovators and leaders in independent publishing in the past and into the present, and will continue to explore the ebb and flow of writing, books, and publishing in all sorts of forms and formats, as change continues to be the one constant we can count on.
For the past several years, I've been talking to editors and publishers of independent presses about their work, including a number of important literary publishers. It's a great pleasure for me to add Bill Corbett to this group. He's been a key figure in the Boston literary scene for more than forty years, though he has now moved to Brooklyn.
Corbett's house in the South End was an essential literary salon for local and many visiting artists, poets, and writers. Corbett has been active in what has been known as the "New York School" of poets, with a deep and abiding interest in the intersections of art and poetry. In a review of Corbett's All Prose, Kevin Gallagher said "Corbett is ambassador to a strange land."
Editing and publishing have also been central to Corbett's work. He edited the literary journal Fire Exit with Fanny Howe and The Boston Eagle, with Lewis Warsh and Lee Harwood, wrote for the Boston Phoenix, and has been involved with literary magazines Ploughshares, Agni, and Grand Street. In 1999, Corbett founded Pressed Wafer, a small press publishing poetry, essays, and art writing. Corbett taught writing at MIT, and also has taught at Harvard and Emerson.
Patrick Pritchett summed up Corbett's work rather well as follows:
For several decades now, Corbett has been one of our leading men of letters – the phrase itself has been rendered almost extinct in this age of ubiquitous bloggery and relentless peer-review – but I use it here to indicate a breadth of range and a fineness of attention that once upon a time was the norm, rather than the exception. As poet, essayist, memoirist, art critic, literary historian, publisher and tireless promoter of other writer's work, Corbett is – yet ought not to be – sui generis. But even if the present time were more thickly populated by writers of comparable range, he would still be a force to be reckoned with, in a category of his own.
In this conversation, we talked about a wide range of topics, but it seems we may have barely scratched the surface of Corbett's work in art and writing. I hope we will have a chance to talk again soon.
Links:
Pritchett essay about Bill Corbett on the blog Writing the Messianic
Pressed Wafer books "poetry fiction essays art memoir etc"