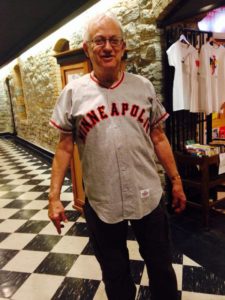 Publishing Talks began as a series of conversations with book industry professionals about the future of publishing, books, and culture. As we continue to experience disruption and change in all media businesses, I've been talking with some of the people involved in our industry about how the book business might evolve as our culture is continues to be affected by technology and macro-economic factors.
I've now expanded this series to include conversations that go beyond the future of books and publishing. I've talked with editors, publishers, booksellers and others who have been innovators and leaders in independent publishing, and will continue to explore the ebb and flow of writing, books, and publishing in all sorts of forms and formats, as change continues to be the one constant we can count on.
For the past several years, I've been talking to editors and publishers of independent presses about their work, including a number of important literary publishers. In this conversation, I am speaking with an old friend and colleague, David Unowsky, founder of the outstanding St. Paul bookstore, the Hungry Mind, which evolved into many other book related ventures, including a literary review and a successful independent press.
The store eventually sold its name to help stay in business in the face of ever increasing financial pressures, and ultimately, under its new name, Ruminator Books, closed in 2004. Which means it was in business for over 30 years, and was for most of that time an incredibly important place, not only to Twin Cities residents, but for the many writers and publishers whose work the store supported, and importantly provided an entry point into the book business for many individuals who have gone on to a wide variety of positions in the book industry.
The Hungry Mind was and remains for many, a special place, and David Unowsky was its beating heart and soul. I'm really pleased to have the chance here for David to talk about his work as a bookseller, communitarian, publisher and entrepreneur. David and "the Mind" – and all the wonderful people and books that passed through its doors –  are central to our understanding of what might eventually be considered a "golden age" of books in our country.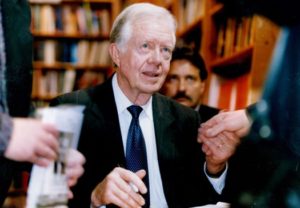 Jan. 12, 1994: Former President Jimmy Carter made an appearance at the Hungry Mind Bookstore in St. Paul to sign his latest book,"Turning Point: A Candidate, a State and a Nation Come of Age." In the book, Carter describes how his first race in the pre-civil-rights South almost was taken away by a political boss.
Photo: Minneapolis Star Tribune.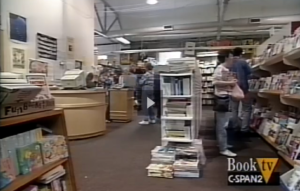 Screen shot from a 1998 C-Span program about Hungry Mind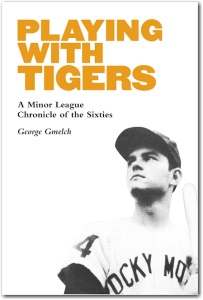 9780803276819 – University of Nebraska Press – 288 pages – Hardcover – $26.95 (ebook versions available at roughly similar prices)
Today, George Gmelch is a successful anthropologist, with a number of books to his credit. But when he was a young man, he was a very good baseball player, with the typical dreams so many shared of becoming a professional baseball player and making it to the Major Leagues. Growing up in an all-white suburb in California in the late fifties and early sixties, George led a fairly sheltered childhood, playing ball and having fun. In 1965 he signed a contract to play professional baseball with the Detroit Tigers organization and so began a four year period of coming of age, during which George experienced the challenges of life in baseball's minor leagues.
While learning to be a professional athlete, he also became aware of the realities of race and class; minor league baseball in the nineteen sixties was often played in small towns in the south where segregation was still in effect, despite the advances of the civil rights movement. And as an adolescent on his own with other boys in the cocoon like world of pro sports, he also had his first experiences of sex and romance, living, traveling and playing ball. Somewhat unlike most of his teammates, George paid attention to the events of the era, including the Vietnam War, the rise of the counter culture, and civil rights protests.
Playing with Tigers is a memoir certainly unlike most others written by baseball players. The sixties was a time of turmoil involving young people of all backgrounds and professional baseball was not immune from its disruption. George was likely more socially aware than most of his compatriots, and his direct experience of racial issues ultimately led to the end of his professional baseball career.
To write this book, George relied on the journals he kept as a player, as well as letters from that time, and in addition he used his skills and experience as an anthropologist to interview thirty former teammates, coaches, club officials – and even some former girlfriends. This is a unique story, documenting a socially disrupted period in American history through the lives of many of the young people who lived through it. We get to experience first hand the naivete, frustrations and joys of a young man trying to find his way in a complex time. And clearly, some of the motivation for writing this book was unfinished business, events, relationships with people, his baseball experience, on which George wanted to gain some closure.
I read alot of baseball books, as many listeners know. Among the many I have read the past couple years, I found Playing With Tigers extremely compelling, and one I had fun reading. I very much enjoyed the opportunity to speak with George Gmelch for the second time – in 2013, George and I talked for Writerscast about another of his baseball books, Inside Pitch. In addition to being an intensely personal memoir, Playing With Tigers opens a door to a period in our history that deserves a lot more exploration than it seems to have been given. George has some great stories and a deep understanding and love for the people and places he's experienced. This is a fine book and you do not need to know anything about baseball to like it.
George Gmelch is a professor of anthropology at the University of San Francisco and at Union College in Schenectady, New York. His books include In the Ballpark: The Working Lives of Baseball People, with J. J. Weiner (Bison Books, 2006), and Inside Pitch: Life in Professional Baseball (Bison Books, 2006). He is the editor of Baseball without Borders: The International Pastime (Nebraska, 2006). His writing has also appeared in the New York Times, the Washington Post, Psychology Today, Society, and Natural History.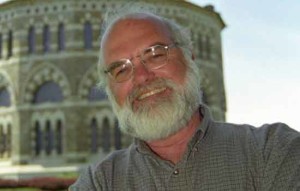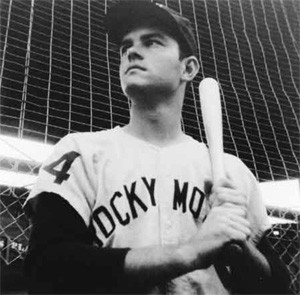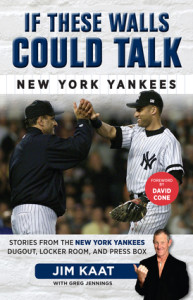 978-1-62937-024-8 – Paperback – Triumph Books – $14.95  – written with Greg Jennings, foreword by David Cone (ebook editions available at lower prices).
Doing this podcast has been great fun for me. I've gotten to read some wonderful books, and have met and talked to well over 200 interesting and intelligent writers. Now I can add having a conversation with one of my favorite baseball pitchers to the rewards of being a literary podcaster not long after having the honor of interviewing a Man Booker award winning author (Anne Enright).
Jim Kaat was a Major League pitcher from 1959-83 with the Washington Senators (1959-60), Minnesota Twins (1961-73), Chicago White Sox (1973-75), Philadelphia Phillies (1976-79), New York Yankees (1979-80) and St. Louis Cardinals (1980-1983).
Kaat was an amazingly durable left-handed pitcher, winning 283 games against 237 losses, with an ERA of only 3.45 (that's average runs allowed over nine innings) and 2,461 strikeouts in 4,530 innings. Kaat had his best year in 1966 while with the Twins, going 25-13 with a 2.75 ERA and 205 strikeouts in 304 innings over 41 starts. Jim was a three-time All-Star and a winner of 16 Rawlings Gold Glove Awards for best fielder at his position, 12 of which ran consecutively from 1962-73. Both Gold Glove marks were long-standing records for pitchers until being eclipsed by Greg Maddux (13 consecutive from 1990-2002, 18 overall).
Kaat's career spanned four decades and seven U.S. Presidential administrations, and at the time of his retirement in 1983, his 25 years of Major League service were a record. Since then, only Nolan Ryan (27) and Tommy John (26) have logged more seasons.
After all those years of playing baseball at a really high level, Jim went on to become a talented and skilled baseball announcer. He worked first in the minor leagues but showing a natural skill as an observer of the game, he quickly moved up to the big leagues, broadcasting first for the Minnesota Twins and later many years for the New York Yankees. After he retired from his second career, he made another comeback and is still working today as an announcer for the MLB network. For his broadcasting work, Kaat won an Emmy in 2006 for "On-Camera Achievement" after being nominated for two Emmys the previous year for "Outstanding Live Sports Coverage."
If These Walls Could Talk is an enjoyable collection of anecdotes and stories, organized loosely around the positions on a baseball team. It's mostly about the Yankees, and New York fans will love this book, of course. But there is much more in this book than Yankees stories – in it, Kaat tells his own story in his natural and appealing manner. Anyone who appreciates baseball will find these stories told from the perspective of a 60 year veteran of the game to be compelling and engrossing.
It was great fun for me to have the chance to talk to one of my heroes, Jim, "Kitty" Kaat. Thanks Triumph Books for publishing this fun book. And to those Hall of Fame voters on the Golden Era committee – please vote Jim Kaat into the Baseball Hall of Fame – he deserves to be there!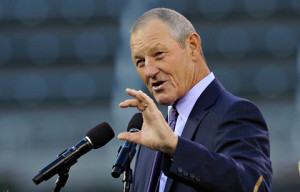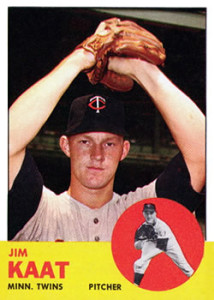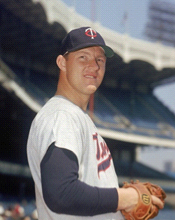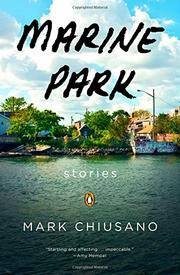 Marine Park: Stories – 978-0143124603 – paperback original – Penguin Books – $15.00 – ebook versions available at lower prices
Mark Chiusano grew up in Marine Park, perhaps the most isolated and least well known neighborhood of the now hip New York borough of Brooklyn. He spent some of his summers playing baseball in Switzerland.
He went to Harvard University, where he was the recipient of a Hoopes Prize for outstanding undergraduate fiction. Mark is still young – mid-twenties – but has been a prolific writer of short stories since college, some of which have appeared in literary magazines, including Guernica, Narrative, Harvard Review, and online at Tin House and The Paris Review Daily.
This first book is a collection of stories called Marine Park, after his boyhood neighborhood. It's a diverse collection, but linked by tone, perspective, and some recurring characters. Stories revolve around kids growing up in the tight-knit neighborhood, portraits of its denizens, adventures and misadventures. Eight of the stories, perhaps the core of the book, revolve around the brothers Jamison and Lorris, as they grow up from late childhood into adults in the almost present. 
Overall, these are really well written stories, any one of which can stand alone, but collected, create a cohesive outlook and impact on the reader. There's a palpable love and joy that shines through the narratives without ever falling prey to sentimentalism.
This is clearly a first book, with some stories seeming to experiment with different manners and tropes, as the author is feeling his way toward his authentic voice. But Chiusano is such a fine stylist, we tend to forgive any missteps or methodological repetitions. He is an original voice in many ways and we can expect more great writing from him as his work continues to grow.
Chiusano is now an editor at Vintage Books and is working on his next book.I'm guessing that his work, where he must spend time reading and editing other writers' work will help make him even better than he already is. I'm looking forward to reading more from this fine new writer. I think you will find our conversation both interesting and revealing of how a wonderfully creative writer thinks about the work.
This interview was recorded at John Marshall Media, New York City in summer 2014.
Author website –  where you can find a great quote about the book: "Here's the spirit of dear Sherwood Anderson in Mark Chiusano's Marine Park."—Ron Carlson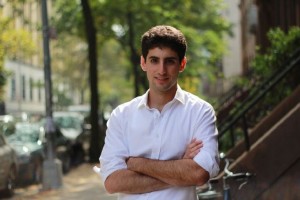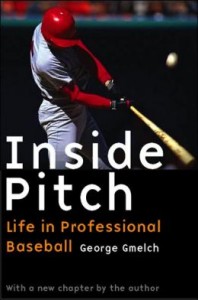 978-0803271289 – University of Nebraska Press Bison Books – paperback – $16 (no ebook edition available!)
Given my longstanding interest in baseball and an early background in anthropology, it's kind of surprising to me that I missed knowing about the work of George Gmelch until very recently.
I ran across George's books in some random searching having to do with baseball, and happily was able to get an introduction to him through my anthropologist brother.  When he was young, George was a baseball player, and a pretty good one.  Like so many others, he played for several years in the lower minor leagues, but never made it to the Major Leagues.  It's possible he quit too early, but it's also likely that he made the right choice to quit baseball and go back to school (and got his Ph.D. at UC Santa Barbara) and then became an accomplished cultural anthropologist, studying tourism, sport cultures, and migration. He has worked among and written about Irish Travellers, English Gypsies, return migrants in Ireland and Newfoundland, commercial fishermen, Alaska natives, and Caribbean villagers and tourism workers, and has taught at several universities.
Given his training as an anthropologist and his unusual background as a minor league baseball player, it made sense that he could study baseball players, perhaps in ways that non-players could never manage.  So some 30 years after his playing days ended, George arranged with friends still in the game to spend time with major and minor league players as an observer.  Over the course of five years, he interviewed more than 100 players, coaches and managers, and got to experience and document the inner workings and social milieu of modern day baseball as it is lived by its participants.
Inside Pitch: Life in Professional Baseball is nothing like a typical anthropological ethnography.  There's a great deal of George's personal story throughout, and it's neither dry nor academic.  But the observational techniques and abilities of the trained anthropologist are brought to bear, as George ruminates on the differences between modern players and those of his own era.
It's unusual for us to get an insider's view of the game that gets past the public relations walls that the institution and all its participants have build around it to protect the image of the game.  Minor league players, though rarely interested in George's own experience as a player, were always willing to tell him about their experiences, and even normally wary major leaguers were willing to talk to him once he explained that he was a former player doing anthropology, not a reporter looking for an angle.
So if you love baseball, Inside Pitch is a terrific read, and will enrich your understanding of what it is really like to play professional baseball.  I was especially taken with the writing about and the interviews with players that illustrated the psychological struggles that players go through.  I recently read the excellent RA Dickey memoir, Wherever I Wind Up: My Quest for Truth, Authenticity, and the Perfect Knuckleball, which is a terrific complement to Inside Pitch, as so much of Dickey's story is about how he managed to conquer his personal demons and harness his inner being to finally become a successful pitcher after years of struggle.  Gmelch both give us many quotes of players talking about their mental struggles and writes about these issues perceptively.
Baseball is generally considered a cerebral game because of its complexity and pace.  That, and the fact that there are so many games in a very long season, create a very challenging emotional and psychological environment for players.   We rarely, if ever, get to see close up what that can mean for them.  And because the vast majority of players who play in the minor leagues never make it to the majors or only get there for a brief time, reading about their struggles can change the way you think about the players who do get to the majors and stay there for any length of time.  They really do have to be special, lucky and to have developed a solid psyche in order to be able to survive and thrive in such a difficult and fraught environment.
George Gmelch has written eleven books and now teaches at the University of San Francisco, where he co-directs the anthropology program. I've now got an earlier book of his, In the Ballpark: The Working Lives of Baseball People on my reading list as well.  Talking to him about his experiences as a player, anthropologist and writer was a terrific pleasure for me.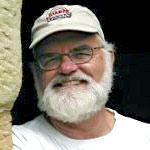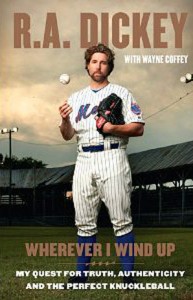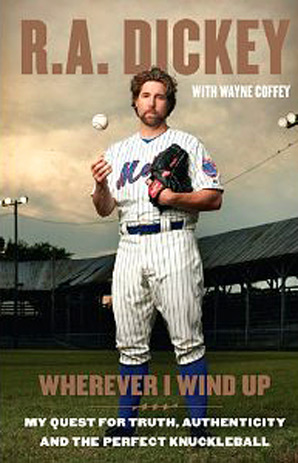 Alert to listeners: we had such a good conversation that I lost track of time, and this is a longer than average podcast at 54 minutes.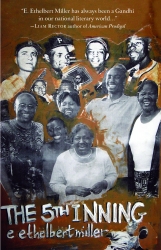 978-1604865219 – PM Press – Paperback – $15.95 (ebook versions available at lower prices)
E. Ethelbert Miller  is a writer and literary activist.  He is currently the board chairperson of the Institute for Policy Studies (IPS).  Since 1974, he has been the director of the African American Resource Center at Howard University.  Ethelbert is also the former chair of the Humanities Council of Washington, D.C. and a former core faculty member of the Bennington Writing Seminars at Bennington College.  He's published more than ten books, in both poetry and prose, has edited a number of anthologies, and his writing is widely anthologized.  He's won all sorts of awards and recognition for his writing and for his longstanding work in support of writing as a community and cultural effort.   In addition, for several years he hosted the popular weekly radio program Maiden Voyage on WDCU-FM, as well as Vertigo On The Air on WPFW.
Ethelbert has long been a favorite poet of mine, whom I got to know years ago when I lived in Washington, D.C., where Eth still resides.  We're of a similar age and share various passions, not the least of which is baseball.
So it is no wonder that I jumped at the chance to read his memoir, The Fifth Inning, and then to talk to him about it on Writerscast.  This is a terrific book, unusual in its shape and structure, which is both poetically charged and carefully built.  Ethelbert allows himself to write honestly and purely about his own life, his insecurities, pain and suffering, but without ever becoming self indulgent or overwrought.  There is always hope, and the sense that something good, or even great, will come from all this "stuff" we go through in life.
Thinking of a baseball game, the fifth inning out of nine is, of course, the turning point.  After the fifth inning, a game can end early but still be considered an official game – a life lived, though abbreviated.  So here he is, in the fifth inning of his imagination, looking back at the beginning of the game, and at the present where it's about to start the last stretch toward the end and the final score.  It's a good time to take stock and get ready to see what you can do to get past the hitters coming up to bat.  When you're pitching you need to pace yourself, remember what worked and didn't work in the early innings, and use what you have learned to keep the hitters off stride and getting the outs you need to win the game.
Poets' memoirs are sometimes brittle and too carefully built to sustain a personal story.  Ethelbert is not that kind of poet.  He's active and alive in every moment, and brings his readers right into his head and heart.  This is a beautifully constructed and written piece of personal writing that I hope will find a audience far beyond the literary community.  What Ethelbert has to say about being human and growing older is important for all of us to hear.
Ethelbert's website is here, well worth a visit.  And I wanted to mention that this is a Busboys & Poets book published by PM Press, a publisher I hope readers will learn about and support.  Buy the book direct from the publisher to support independent publishing and alternative culture.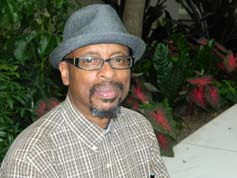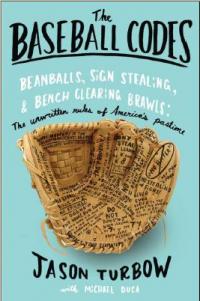 978-0375424694 – Random House – $25.00 (e-book editions also available at $9.99)
The subtitle of this book is long but tells you why almost any baseball fan (and some cultural anthropologists and sociologists) will be interested in this book: "Beanballs, Sign Stealing, & Bench Clearing Brawls: The Unwritten Rules of America's Pastime."
This is both an entertaining and fun read.  It will work for serious fans of course, but just as well for more desultory followers of baseball, and really even readers who only have a passing interest in baseball.  The basic notion is that baseball has had unwritten codes of conduct covering all sorts of on and off field behavior, probably for as long as the game as been played professionally.  In years past, it would have been unusual for anyone outside of the closed professional baseball fraternity and maybe the regular baseball writers and broadcasters to know the details of how "the code" works.
The code is really a set of home grown rules, in some instances expressing sportsmanship, in other instances expressing the underlying social (and economic) values between players and teams.  It is really fascinating to think about just how comprehensive human beings are in creating ad hoc systems of governance.  The formal rules of the game, enforced by team owners, leagues and ultimately the Commissioner of baseball are written down and codified, as are the contracts between players and teams.  The day to day rules of behavior among players, of course, are unwritten, passed on from one generation to the next, and highly subject to interpretation, ongoing disagreement and of course the change in social mores and behavior in the overall culture as well.
To write this book, Turbow and Duca spent a great deal of time talking with former and current players, coaches and managers.  They are able to report back about the code, past and present, but the richness of the book lies in their many anecdotal examples of its application.   And of course how the code has actually changed over the years as baseball and its players have changed is another theme of the book.
The Baseball Codes express and amplify not only the great Game of Baseball itself, but the richness of human culture and its history.  This book was alot of fun for me to read, I knew some of the stories, but there were many more that were new to me, or which, by hearing the players talk about them, enabled me to understand much better what I knew about some of the interesting events in baseball history.  Talking to co-author Jason Turbow was also great fun.  He's a passionate observer of the sport of baseball, and knows how to tell great stories.  It's the middle of the 2010 baseball season as this interview is posted, and a great time to listen to some baseball lore.  And the Jason maintains an active blog that will keep fans up to date on current code behavior, also fun and recommended.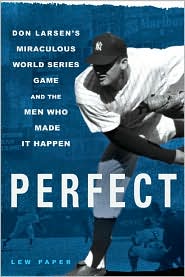 978-0451228192 – Hardcover – New American Library – $24.95
An entire book about one baseball game is probably unimaginable to many people.  Even diehard fans, even those who feel they have heard the story of Don Larsen's unique feat more than enough times, will be surprised at how easy this book is to (avidly) consume.  Lew Paper manages to keep our attention, even though we know how the story comes out, even though we may know the game, the players, the era so well.  And there are plenty of surprises in these pages.
Paper is a very good writer, almost effortless, and a he is a natural storyteller who plainly loves the material he is writing about.  He uses the game as the structure for telling much more than the story of a single game, of course.  He portrays many of the players in this game, Dodger greats like Jackie Robinson, Carl Furillo, Roy Campanella, Junior Gilliam, and hard-luck pitcher Sal Maglie, the powerful Yankee team of the fifties, which sported Mickey Mantle, Yogi Berra, Billy Martin, Gil McDougal, Moose Skowron and Hank Bauer, all in the prime of their careers.  He brings to life the story of this great team rivalry between two boroughs of the greatest city on earth in the middle of the 1950s, an era that still can fascinate and enthrall us.  And of course baseball is the constant through time, whose essence does not change at all.
It does help to be a baseball fan to like this book, I am sure, and maybe having grown up in or near this great era of intra-New York City competition adds to one's interest as well.  It was definitely a different time than today, when even star players held real jobs during the off season, and the amount of money won in a World Series could be just enough to give a player some modest luxuries and fleeting financial security.  And of course many of these players had grown up during the Depression, lived through or even fought in World War II or the Korean War.  That may account for some of the different attitudes and behaviors they exhibited on the field and among friends.
But there can be no doubt that Lew Paper has brought this game, these players, this era, vividly to life in a beautiful and brilliant manner.  Talking to him about this book, the research he did to write it, and some of his experiences in talking to surviving players, relatives and witnesses to Don Larsen's spectacular (and still unique) feat , was a great pleasure for me.  I do love baseball, the game and its history have a terrific pull on me, as it does on many others, but baseball is also just a wonderful lens through which to see human beings, our culture, our foibles, our strengths and our desires.  Thanks to Lew Paper for this book and a terrific interview about it.