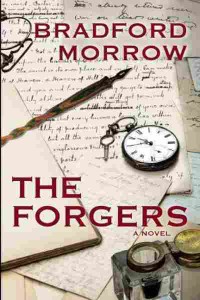 978-0802123213 – Mysterious Press – 258 pages – Hardcover – $24.00 (ebook editions available at lower prices)
Brad Morrow is really an excellent writer, mainly of literary fiction, and as listeners of Writerscast will likely know, I have interviewed him twice before, once for the fine novel, The Diviner's Tale (2011) and again for Publishing Talks about his now 25 year old literary magazine, Conjunctions.
The Forgers is a complex and finely crafted mystery novel. It is pretty clearly Brad's homage to the form, one which I assume he loves, and the writing style demonstrates just how much in command of his craft he is.
I myself am not generally a reader of mysteries and detective novels, though I appreciate a good one. So I am not as familiar with the intricacies of the form as are those who read deeply in this genre. One reviewer I read observed that The Forgers follows the form of one of Agatha Christie's most famous novels. Well it might. As I read the book, the writing style reminded me of early twentieth century English writers. Because its main character is a both a literary forger and a dedicated bibliophile, and much of the book's action takes place in Ireland, it has a decidedly British feel to it.
But it is an American story, and as such a grisly murder that opens the book is at its center. The setting for much of the novel is the farthest reach of Long Island, an isolated area that is perfect for this sort of crime.
The main character is one of those quirky characters that inhabit mysteries and suspense novels. He's very compelling, but he keeps his distance, to say the least. Morrow knows the world of books and collectors, as he is one himself, but I don't think anyone would mistake his main character for an authorial stand in. At least I hope not. The narrator takes us through a tangled web of a story, and while we get to know him, much is left to mystery.
Readers will enjoy the slow, building pace of the novel, and the payoff that comes at the end. It's a fun book to read, and as I said earlier, beautifully written by a masterful writer.
Brad Morrow has written a number of fine novels, teaches at Bard College, founded and still edits the literary journal, Conjunctions, and has won many awards for his work. If you have not read his work before now, you should! And The Forgers would be a good book to start with. Author website here.
It's always a great pleasure to speak with Brad about his work. He's a great conversationalist and very easy to talk to, and I think our discussion about The Forgers will be much enjoyed by listeners.
The Forgers is remarkable. Bradford Morrow is remarkable. The Real Thing, which is rare on this earthly plane.
—Michael Cunningham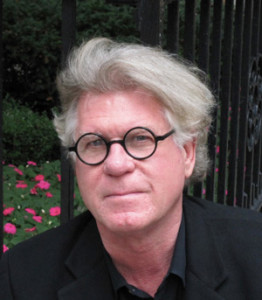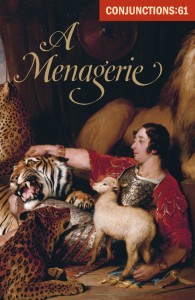 Publishing Talks began as a series of conversations with book industry professionals and others involved in media and technology about the future of publishing, books, and culture.  As we continue to experience disruption and change in all media businesses, I've been talking with some of the people involved in our industry about how they believe publishing might evolve as our culture is affected by technology and the ebb and flow of civilization and  economics.
Recently, the series has expanded to include conversations that go beyond the future of publishing.  I've talked with editors and publishers who have been innovators and leaders in independent publishing in the past and into the present, and will continue to explore the past, present and future of writing, books, and publishing in all sorts of forms and formats, as change continues to be the one constant we can count on.
It's my hope that these conversations can help us understand the outlines of what is happening in publishing and writing, and how we might ourselves interact with and influence the future of publishing as it unfolds.  My latest interview reflects my interest in the history of independent literary publishing, an area I have been involved in for a very long time.
Bradford Morrow is an accomplished novelist and poet. In fact we talked about his outstanding novel The Diviner's Tale in 2011. Brad is also the founder and editor of Conjunctions magazine, which he began in 1981. Conjunctions is truly an exceptional literary endeavor that is now sponsored and hosted by Bard College. Conjunctions has long provided a platform for a host of unknown writers, many of whom are now well known, as well as enabling a number of established writers to create work that challenges reader expectations. Every May and November the magazine publishes anthology form collections around specific themes that include significant long-form work.
Conjunctions has embraced digital publishing, offering a weekly online journal of new work by individual authors, called Web Conjunctions, as well as a multimedia collection of recorded readings, and an archival collection of full-text selections from the anthologies. In particular, I like this line on their website, as an appropriate epigraph for the three-plus decades Conjunctions has been publishing: "a living notebook in which authors can write freely and audiences can read dangerously." I can't think of a better motto under which to publish.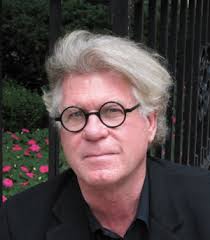 It was a pleasure for me to spend some time talking to Brad about the past, present and future of Conjunctions and the challenges and enjoyments of the work of literary publishing, and I hope also just as much a pleasure for you to hear what Brad has to say here.
(Alert to listeners – as are many of the Publishing Talks interviews, this one is quite long at 51 minutes, but you can always pause and return if it's too long for one sitting)